I like to review wines the way most people taste them, with food. Many of the wine reviews you'll see on this site are accompanied by a recipe. When we test recipes we usually open a few different wines of various styles that we think will work, then write about the best pairing.
But often we taste wines — either those sent as samples for review or those we purchase on our own – that are definitely worthy of mention even though they weren't part of a recipe post. These wines below fit that bill.
These were some of the highlights from the last several weeks. We're heavy on selections that I think would be pretty awesome for Thanksgiving this year.
Still not sure what to pair with Thanksgiving dinner? Check out our revised guide for pairing wines with this upcoming holiday.
For more of my favorite wines make sure you're subscribed to our mailing list. Every Friday we list a "Wine of the Week" where we go into deeper stories and detail about the chosen wine. A couple of these have made that list.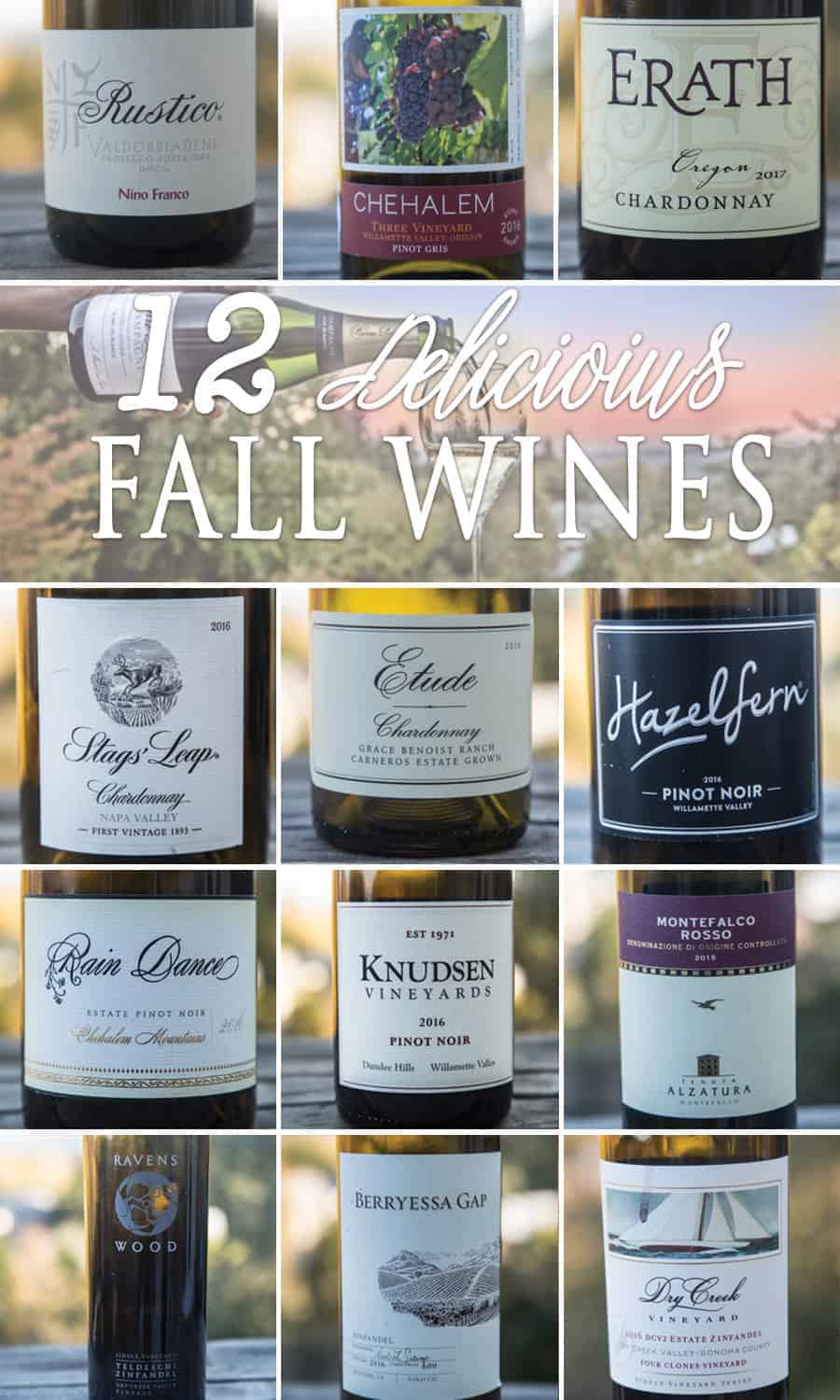 NV Nino Franco Rustico (Valdobbiadene Prosecco Superiore, Italy)
Crisp, refreshing, and lively this tasty bottle of bubbly is filled with peaches, tart apples, juicy peach, toasted almonds and lively acidity. It's elegant and fresh at the same time and overall pretty darn delicious and a great value! Try it with your Thanksgiving dinner, or enjoy with friends this holiday season.
11% abv | $18
2016 Chehalem Three Vineyard Pinot Gris (Willamette Valley, Oregon)
Sourced from their three estate vineyards, this Pinot Gris is fruity with lots of juicy pear, citrus ginger, and spice, balanced with bright acidity and a dry finish. Even my mom loved it (and my mom is very hard to please when it comes to wine!). Very refreshing and paired well with Spicy Chipotle Salmon.
13.2% abv | $20
2017 Erath Chardonnay (Oregon)
The grapes from this wine were sourced from Willakia Vineyard, within the Eola-Amity Hills appellation of Oregon's Willamette Valley. The wine has lot of citrus and apricot with juicy apple and pear flavors. Big bold flavors with just a smidge of sweetness, I think it would be a nice crowd pleasing wine.
12.5% abv | $18
2016 Stag's Leap Chardonnay (Napa Valley, California)
Really liked this one. It has a vibrant personality, filled with Meyer lemon, pear, and crisp apples. The oak on this was restrained, and the wine went through no malolactic fermentation, keeping a nice freshness throughout finishing with bright acidity. Really nice style. Would be a great one to try with grilled fish (thinking salmon or halibut).
14.3% abv | $30
2016 Etude Chardonnay Grace Benoist Ranch (Carneros, California)
Sourced exclusively from their estate vineyard at Grace Benoist Ranch, located in the Carneros appellation of California, this wine is smooth and mildly rich with enticing caramel notes along with some peach, green apples, fresh lemons and minerals. Would love to try this one with a creamy pasta dish, or even test it with this smoked tri tip mac and cheese. Yum.
13.6% abv | $32
2016 Hazelfern Pinot Noir (Willamette Valley, Oregon)
Sourced from three different vineyards in different parts of the Willamette Valley, and aged 12 months in 100% French Oak, this wine is both fruity and savory, with black cherries, cranberries, cola, and baking spices with a small hint of smoke. Try this one with a whole roaster smoked chicken.
14% abv | $35
2016 Rain Dance Estate Pinot Noir (Chehelem Mountains, Oregon)
Nicely balanced mix of dried herbs, spice, vanilla bean, and rich black cherry fruit. It had really nice depth to it, making it pair awesome with this lamb dish.
14.1% abv | $40
2016 Knudsen Vineyards Pinot Noir (Dundee Hills, Willamette Valley, Oregon)
I tasted the very first vintage of this wine several years ago, and I love trying it year after year. And one of the biggest things I get is consistency. It's always incredibly elegant, pretty, and balanced. A lighter style for the Willamette Valley, but not lacking in flavor, it has black cherry, cranberries, minerality, a touch earthy, with some spice and good acidity. This was one of the wines I brought onto AM Northwest to pair with Thanksgiving dinner.
14.1% abv | $55
2015 Tenuta Alzatura Montefalco Rosso (Montefalco, Umbria, Italy)
A blend of Sangiovese, Merlot, and Sagrantino, this wine had a lot going on for wine you can find for under $10! Concentrated red berry fruit, ripe cherry, chocolate, blueberries, and fresh ground pepper. Juicy with a medium body, this paired awesome with NY strip steaks with a peppercorn sauce, but would also be great with your pizza night.
Great value!
14% abv | $10
2015 Ravenswood Zinfandel Teldeschi Vineyards (Dry Creek Valley, California)
Robust and concentrated but not jammy, this wine has a lot going on. A blend of 78.2% Zinfandel, 15.8% Petite Sirah, 5% Carignane, 1% Alicante Bouschet, filled with lush blackberry and plum, along with a hint of blueberry, violets, black pepper, coffee and dark chocolate. Yeah, a lot going on and it's good. There was even this minty note throughout that was intriguing. Full-bodied and smooth, this is one to pair with something big like lamb, or even wine braised beef short ribs.
15.1% abv | $42
2016 Berryessa Gap Zinfandel (Yolo County, California)
Lots of deep cherry and plum flavors, along with some strawberry and lots of spice. Very smooth sailing with this wine, I'm thinking it would be a winner on the holiday dinner table as it's both crowd pleasing and food friendly, and also a good value if you can find it under $20.
14.6% abv | $22
2016 Dry Creek Vineyard DCV2 Estate Zinfandel (Dry Creek Valley, California)
Dark, spicy, and big! Lots of dark berry fruit and plenty of spice on this wine that hails from one of my favorite regions for growing Zinfandel. This full bodied wine contains about 4% Petit Sirah and would be fantastic with some salt and pepper smoked ribs.
14.3% abv | $42
---
*Most of these wines were were media samples for review. See my sample policy here.
---