I like to review wines the way most people taste them, with food. Many of the wine reviews you'll see on this site are accompanied by a recipe. When we test recipes we usually open a few different wines of various styles that we think will work, then write about the best pairing.
But often we taste wines — either those sent as samples for review or those we purchase on our own – that are definitely worthy of mention even though they weren't part of a recipe. These wines below fit that bill.
This winter spring has been killing me! It feels like winter hasn't ended with the never-ending rain and grey and gloom and more rain. Did I mention rain? If you're thinking of moving to Portland, just follow the weather lately (because it will help you change your mind).
That being said I have full faith in the return of better weather. And to prove it, I've been drinking lots of fresh spring-like wines. You know the saying, if you drink it (spring) it will come! I'd happily drink any of these wines to welcome brighter weather.
2015 Hazelfern Chardonnay (Willamette Valley, Oregon)
This is from a winery I've been meaning to visit, but haven't yet. Now I really want to go! This lovely chardonnay has a minerally nose filled with fresh flowers, lemon zest, baked apples, and baking spices. The palate is interesting, it has this nice balance between richness and creaminess with freshness and also a slight tartness lingering on the finish. Bright and elegant.
13.1% abv | $34
2014 Gran Moraine Chardonnay (Yamhill-Carlton District, Oregon)
I've been on an Oregon Chardonnay kick lately (see here), and this is part of the reason why. There is a lot of Chardonnay diversity in OR, not to mention balance of flavors from producer to producer. This one has a nice mix of mineral notes, lemon, peaches and apples, with a kiss of French oak. It's not too heavy, not too light, it's just right.
13% abv | $45
2015 Tommasi le Rosse Pinot Grigio (Veneto, Italy)
Really pleasant wine with ripe peaches, tart apples, and tropical fruit. It's crisp, clean, and dry. It's also a pretty good value (found often under $15), so a good one to have on hand for brunches and gatherings. Would pair with a wide range of foods (from appetizers and salads to light seafood and poultry dishes.
12% abv | $15
2016 Martin Ray Sauvignon Blanc (Russian River Valley, Sonoma County, CA)
The more and more I drink Sauvignon Blanc from California the more I prefer it more than it's counterparts produced in different parts of the world. They just have this nice balance between the minerally French style, and the intensity of citrus from the famous New Zealand styles. This one has a nice mix of pink and white grapefruit with some tropical passion-fruit mid-palate. It's bright and balanced and more of a juicy fruity style (rather than minerally focused).
13.5% abv | $20
2015 Ron Rubin Green Valley of Russian River Valley Pinot Blanc (Green Valley of Russian River Valley, Sonoma County, CA)
If I would have tasted this wine blind I would have thought it was from Oregon with it's subtle freshly picked Bosc pear, green apple flavors, and balance. A little lemon and floral notes peek out. You can really sense this is from a cool climate with its great acidity and restrained fruit flavors and that mild pear holding you over from beginning to finish.
13.5% abv | $30
NV Codorniu 'Anna' Brut Rosé Cava (Catalonia, Spain)
And now for some bubbles. Made from a blend of 70% Pinot Noir and 30% Chardonnay, I really dig this wine year after year. It's bright and zesty with fresh cherry and lots of strawberry flavors with a touch of citrus. Fruity style and bright, would be nice to have on hand for parties or poolside (that season is coming, right?). It's also widely available so you should be able to find it nearly everywhere (and for as low as $10!).
12% abv | $15
Besserat de Bellefon "Cuvee des Moines" Brut Rosé Champagne (Champagne, France)
Intriguing, beautiful, elegant, indulgent. What's not to like? You're greeted with a lovely mix of minerality, fresh strawberry, and sweet Meyer lemon. Then the palate gives you some nice baked bread mixed with savory, stony, and lime-y flavors and a tangy feel. Absolutely delicious. I actually wrote delicious about three times in my notes. Yes, I did.
12.5% abv | $50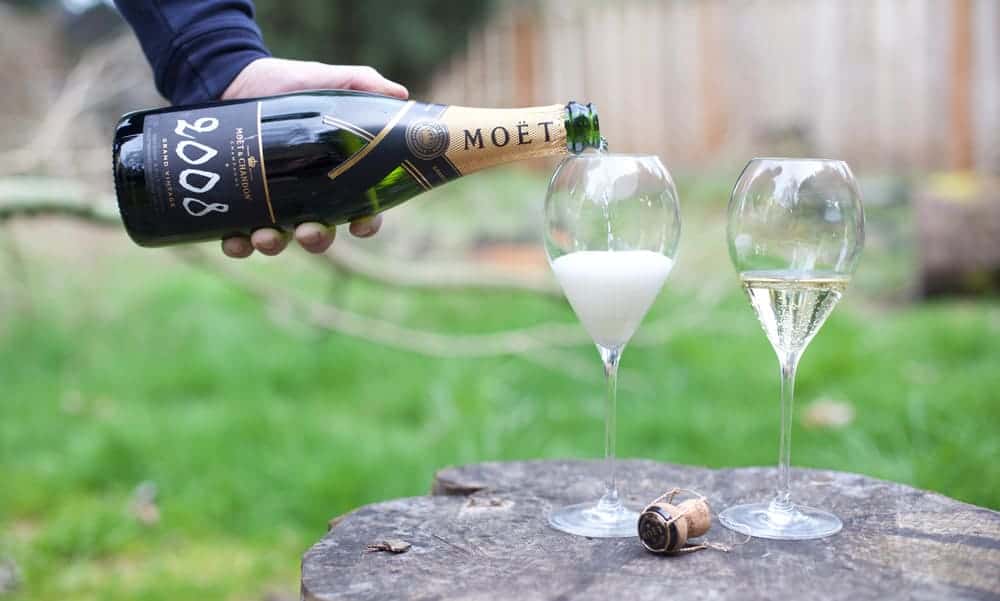 Moët & Chandon Grand Vintage Brut Champagne 2008 (Champagne, France)
A blend of 40% Chardonnay, 37% Pinot Noir, 23% Meunier, and made entirely from the 2008 vintage, which was a rather cooler year. While most Champagnes are non-vintage (meaning a blend of different vintages) and intended to showcase consistency from year to year, vintage Champagnes like this one are meant to showcase individuality and uniqueness. This was darn tasty and quite unique. Fresh and bright initially with crisp apple, Meyer lemon, and sweet pastry aromas. It was both creamy yet crisp in the mouth with a pleasant tartness on the finish.
12.4% abv | $55-$65
Laurent-Perrier "Cuvée Rosé" Brut Rosé Champagne (Champagne, France)
Made from 100% Pinot Noir grapes, this is one of the reasons I love rosé Champagne so darn much. This one has a beautiful balance of elegance, minerality and chalkiness, freshness, and fruit, all in one. Every sip is different and tells you more about the wine. Lemon citrus notes, yes. Fresh red berry fruit, yes. Yet you can still taste the chalky soils while also discovering orange blossom, and then some orange peel, and even the slightest white pepper note. It's so interesting and evolving. This is one to pop open with someone special and slowly sip and enjoy the heck out of your afternoon!
12% abv | $70-90
2013 Ron Rubin Green Valley of Russian River Valley Pinot Noir (Green Valley of Russian River Valley, Sonoma County, CA)
We had a similar experience tasting this wine as we did the Pinot Blanc above (also from the same producer). The first thing Sean said when he tasted this wine was, "This tastes very familiar. Almost Oregon-ish." Now I know most California winemakers probably don't want to be compared to Oregon, but that's a true compliment coming from this house where CA Pinot was once synonymous with overripe, high alcohol, intensity. This has a fun hint of funk/earth (I like to call it the "Pinot funk") with rich just ripe cranberry, cherry, and blueberry. We really appreciated the balance of funkiness and red berry fruit balanced. And for this price you don't find many balanced and interesting Pinots in this range.
13.7% abv | $40
2014 Van Duzer 'Dijon Blocks' Pinot Noir (Willamette Valley, Oregon)
This was made from a combination of four different Dijon clones each contributing their own elements to create this fantastically balanced wine. You get this lovely balance of dusty earth, deep cherry and blueberry fruit, baking spices, along with some fresh pepper notes, and a hint of smoke in the finish, all of which are in check. Really nice.
13.5% | $60
Pedroncelli 'Signature Selection' Dry Rose of Zinfandel (Dry Creek Valley, California)
We have a whole post coming out soon all about rosé, but I thought I'd jump the gun a little, because, well, rosé!
I usually opt for a lighter style rosé but this one was quite refreshing for such a dark rosé. It was almost cranberry in color, which made me think it would be intense and big, but it had nice restrain and freshness. There's some citrus to balance out some fragrant candied strawberry fruit and cherry flavors. It's definitely bigger than a Provence style rosé, for example, but nicely demonstrated the range of possibility of rosé. Bigger, richer style, but still fresh and dry.
13.7% abv | $14
---
*Most of these wines were were media samples for review. See my sample policy here.
---