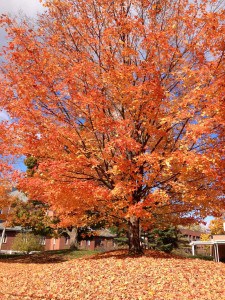 We are bombarded with fall themed recipes this time of year.  Everywhere you look it's pumpkin flavored this, apple flavored that.
And I'll admit, I am not tired of them.  Not at all!  In fact, most of the time I spend on Pinterest lately is seeking out fall themed recipe ideas for my family.  As cliché as it is I actually *really* look forward to pumpkins, squash, apples, everything roasted or candied, you name it, this time of year.  We make pumpkin pancakes every other weekend.  I eat Trader Joe's Pumpkin Spice Granola nearly everyday.  I can't stop making Ina Garten's Old Fashioned Apple Crisp!  And I'm constantly buying squash at the grocery store, whether I have a plan for it or not.  It is a staple in our house this time of year.  You never know when it will come in handy for those fall cravings.
Case in point, this past Monday night.  With nothing planned for dinner, and a handy butternut squash sitting on my counter, I quickly whipped up one of my favorite soups — curried butternut squash soup (recipe here) — and paired it with a wine that I thought would compliment it well.
2010 Robert Mondavi Winery, Napa Valley Chardonnay
$20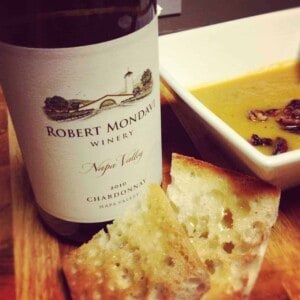 I always seek a hearty white wine to pair with the richness and spicy flavors of this soup.  This wine did not disappoint.  In fact, this wine was just as good on its own as it was pared with the soup.
Aromas of fall filled the glass (I kid you not!); freshly picked red apples, pears, and lightly buttered toast, with an appealing amount of butterscotch and caramel.
Surprisingly, the soup brought out some nice minerality on the wine that wasn't noticeable before.
On its own the oak flavors (toast, butterscotch) are dominant, so fans of a little oak will be happy drinking this wine on its own.  But paired with the soup, however, the fruit, mineral, and oak notes were all in balance.
It's totally geeky, but everything worked with this pairing — from the curried spice in the soup complimenting the fruit in the wine, the crunchy sweet candied pecans on top bringing out the wines nutty flavors, and the salted buttered toast we had as a side dish married with the similar flavors of the Chardonnay.  The wine really did the meal justice, and vice versa.
If you want a super simple fall recipe paired with a lovely Chardonnay I definitely suggest this pairing.  Though I must say, I have a feeling this wine will be just as good in winter, spring, and summer too.
I received this wine as a sample for review. My opinions, as always, are my own.