Raise your hand if you love Chardonnay!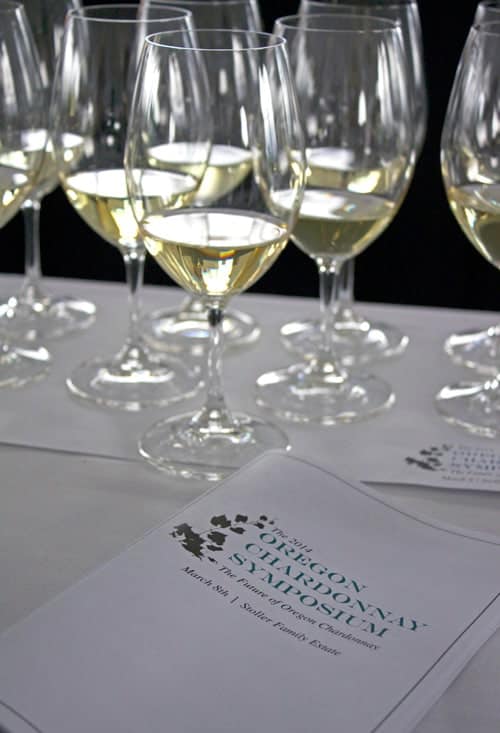 That should be all of you! Because those of you who think you don't love Chardonnay have just been drinking the wrong Chardonnay. That's right. I said it. Back in my winery working days you were my absolute favorite guest.
Me: "Would you like to try our Chardonnay?"
Chardonnay Hater: "No. I don't drink Chardonnay?"
Me: "Could I convince you to at least give it a taste? If you don't like it you can always dump it out in the spit bucket. No harm, no risk."
Chardonnay Hater: "Well, okay."
9.999 times out of 10 the guest loved the wine and purchased a bottle (or more).
That's because Chardonnay is a phenomenal grape and, when done well, can express an enormous range of flavors, characteristics, and textures; like gorgeous fruit, minerality, creaminess, silkiness, crispness, body, lightness, freshness, weight, and sometimes caramel, vanilla, and other toasty oak characteristics.
Chardonnay is a chameleon, kinda like chicken, as I wrote last year in my article for Palate Press about Oregon Chardonnay. It runs the gamut of flavors and styles depending on where it was made and what style it was made into.
And quality Chardonnay, especially from the great state of Oregon, is on the rise. And I couldn't be more excited!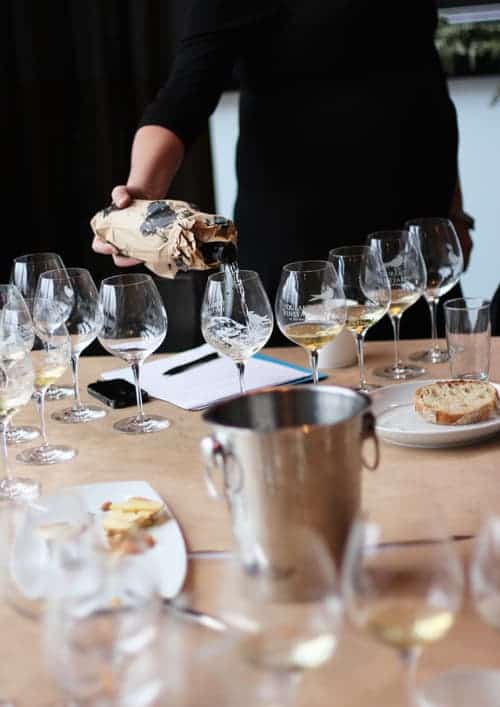 Last December I had the honor of serving on a small panel of wine professionals, tasting more than 90 Oregon Chardonnays to determine the best of the bunch that would be featured in the upcoming 2015 Oregon Chardonnay Symposium. It's quite an experience putting a group of winemakers, sommeliers, wine buyers, and wine writers in a room together to determine which Chardonnays were most deserving of being featured. I can tell you we weren't always in agreement!  You can see what my friend and fellow wine writer Julia had to say about the experience over on her site The Real Wine Julia.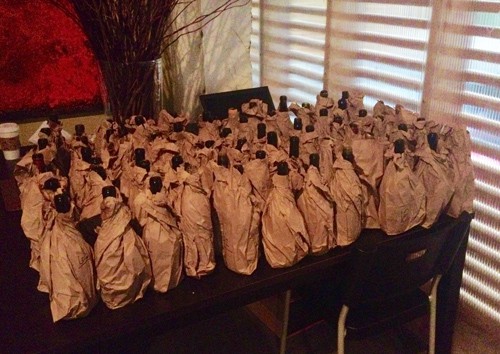 We did manage to narrow down the lot to the 40 top wines; those that best represented the state of Oregon.  All of this was just a precursor to the fourth annual Oregon Chardonnay Symposium coming up next month. This is an event for the geekiest of wine geeks, and the thirstiest of Chardonnay lovers.
This year's event will be held Saturday, March 14, 2015 at Stoller Family Estate.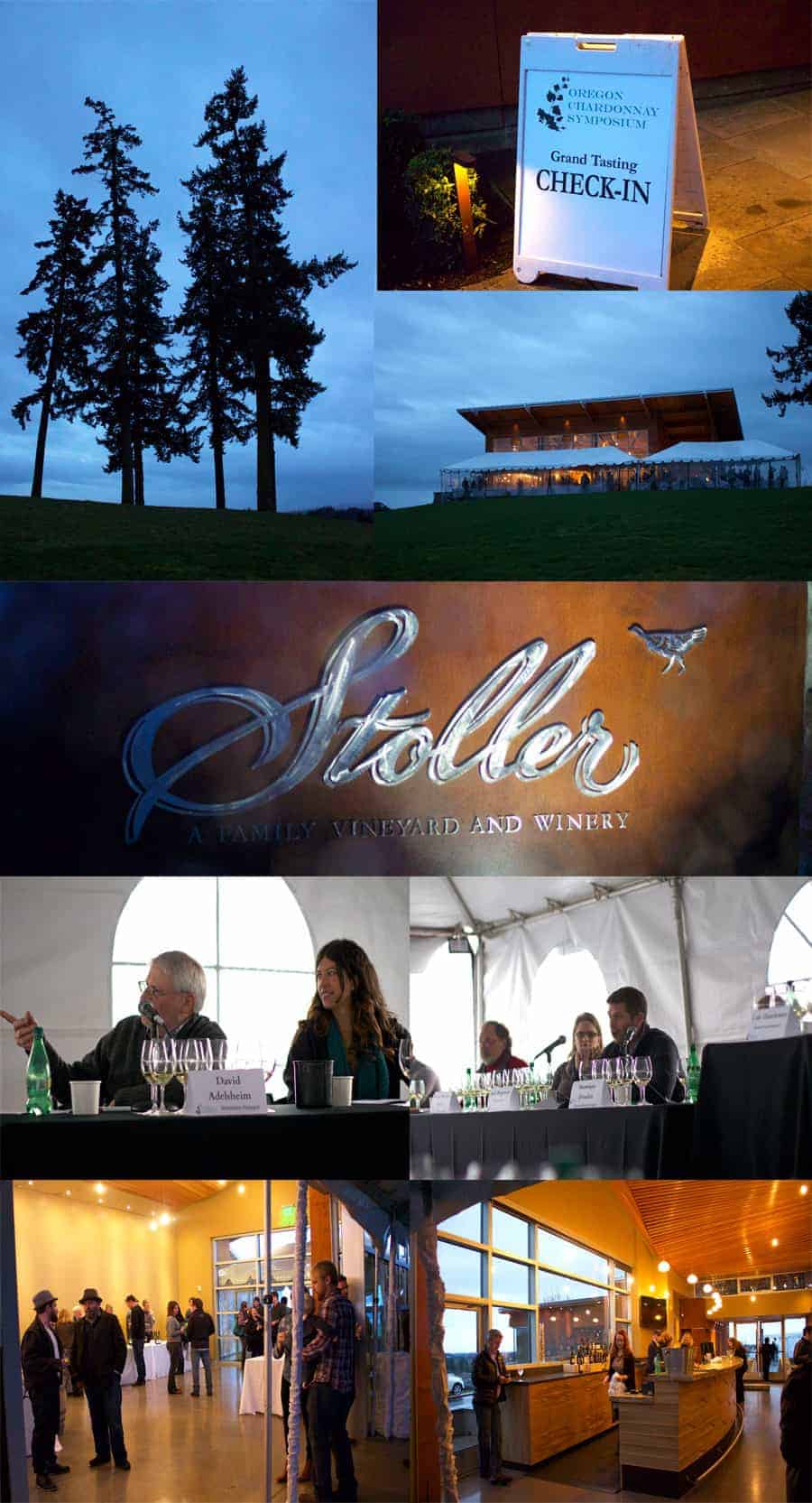 Like years past there will be two separate portions of the symposium: A Technical Panel and Tasting & A Chardonnay Grand Tasting.
The technical session is where the true geeks will be most excited. Led by Rajat Parr — sommelier, winemaker and James Beard award winning writer — this session will focus on the subject of clones, including heritage and Dijon, and their contribution to Oregon Chardonnay. (Think Star Wars: Episode II Attack of the Clones. But for the world of Oregon Chardonnay)
The panelists for this session include:
Rajat Parr — Evening Land Vineyards
Jason Lett — The Eyrie Vineyards
John Paul — Cameron Winery
Craig Williams — X Novo Vineyard
Mimi Casteel — Bethel Heights Vineyard
Thomas Bachelder — Bachelder Wines
Not into the panel??
That's okay. There is also a separate grand tasting featuring one of the largest and most encompassing tastings of Oregon Chardonnay to date. This is your chance to see the best the state has to offer and to experience the quality of fruit from our region. And I can promise you, from having an opportunity to taste them all last December, you're in for a treat!
Want to know who will be there? I thought so.
Participating wineries include:
Argyle
Adelsheim
Airlie
Alexana
Antica Terra
Authentique
Bachelder Wines
Belle Pente
Beaux Freres
Bergstrom
Bethel Heights
Big Table
Brickhouse
Brittan Vineyards
Cameron Winery
Carabella
Chehalem Wines
Crowley Wines
Dancin
DeLancellotti
Division
Dobbes Family Estate
Domaine Drouhin
Domaine Serene
Durant Vineyards
Dusky Goose
EIEIO
Eyrie Vineyards
Evening Land Vineyards
Fairsing Vineyard
Foris
Hyland
Johan Vineyards
Kramer
Lange Estate Winery
Left Coast Cellars
Lemelson
Lundeen
Matello
Matzinger Davies
Monte Ferro
Omero Cellars
Phelps Creek
Rex Hill
Roco
Seven of Hearts
Shea Wine Cellars
Sokol Blosser
Solena
Soter
Stoller Family Estate
Tendril
Utopia Vineyard
Walnut City Wine Works
Walter Scott
Winderlea
---
DETAILS
DATE: March 14th, at Stoller Family Estate
TECHNICAL PANEL & TASTING
2:00-4:00 pm, $150 per ticket (includes entrance to the grand tasting)
CHARDONNAY GRAND TASTING
4:00-6:00 pm, $50 per ticket
For more information and to purchase tickets check out the 2015 Oregon Chardonnay Symposium website
I'll be there. Will you?