I started this post almost two years ago and never published it.  With summer on the horizon I thought this might still be useful to families as they begin to make travel plans… Or if you're like me, you really don't "plan" at all, and instead rely on last minute recommendations on the fly, then this post is for you. 
Up until July 2011 I had never eaten a lobster.  I had eaten things that had lobster IN them (like lobster bisque), but had never actually eaten a real bona fide whole lobster.   I was living in New England now, and clearly needed to remedy this situation.   What a better place to do this than Maine.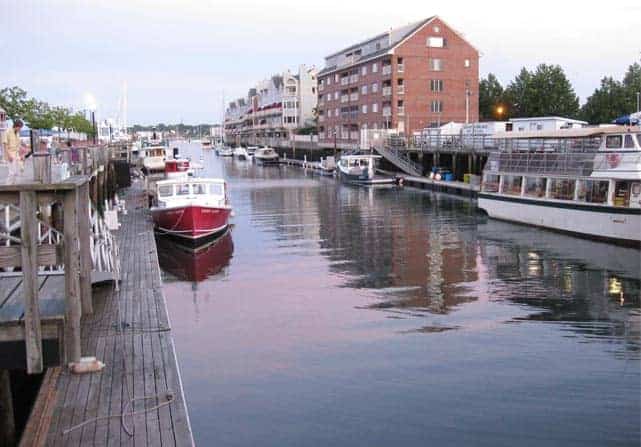 One of the benefits of living in Connecticut has been the close proximity to so many new places I had never explored before.  We decided to take advantage of that one summer weekend by embarking on a road trip to Portland, Maine.   Being a lobster virgin I also decided to make this trip about all things lobster.   If I was going to eat my first lobster I may as well live it up, go big, and eat everything I could possibly find along the way with lobster in it, on it, or made from it.
The trip from central CT to Portland is just over 200 miles — a manageable road trip with no stopping needed, but with two babies in tow we decided to break the trip up by stopping in Salem, MA, for lobster dish #1.
I had seen an episode of Diners, Drive-Ins and Dives (yes I am a Guy Fieri fan, don't judge!) featuring this Salem dive bar that left a lasting impression on me.  In particular I was intrigued by a cocktail Fieri featured on the episode – a Lobster Martini.  I had to try it!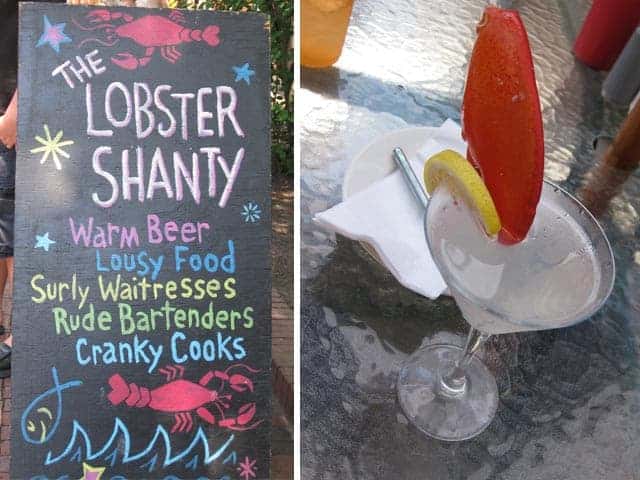 Similar to a dirty martini, the Lobstertini is a vodka martini made with "lobster essence" and vodka, shaken, and then garnished with a lemon twist and a lobster claw.  The "essence" is made from reduced lobster stock (made in the restaurant) and used in place of vermouth found in a typical martini, giving the drink a salty, briny, and uniquely "lobster" flavor.   I don't care much for vermouth so this was a unique alternative, and a tasty treat.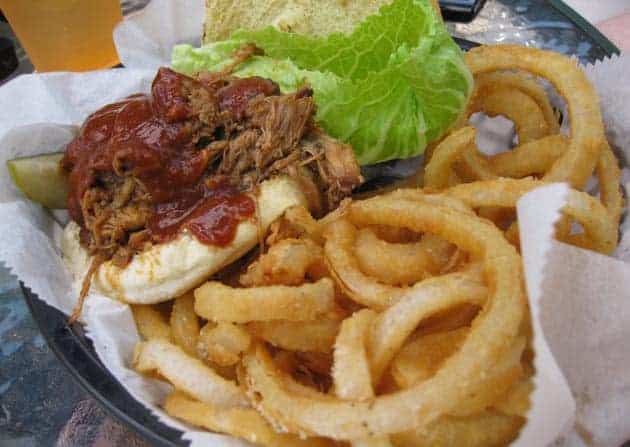 As for the food, we shared a pulled pork sandwich.  Good flavor, tender, and juicy, but hubby and I decided our own pulled pork was better.  Not to downplay their sandwich, which was nicely done and I recommend it if you find yourself there, but we make some pretty killer pulled pork that's hard to beat.
Just be warned, any place featured on DD&D is probably going to turn into somewhat of a tourist trap at some point, so be willing to wait, or do as we did and show up early.
After our lunch pit stop we continued on the road to Portland, stopping in Cape Elizabeth, at Two Lights State Park for an obligatory New England lighthouse photo shoot.  Ya gotta do it!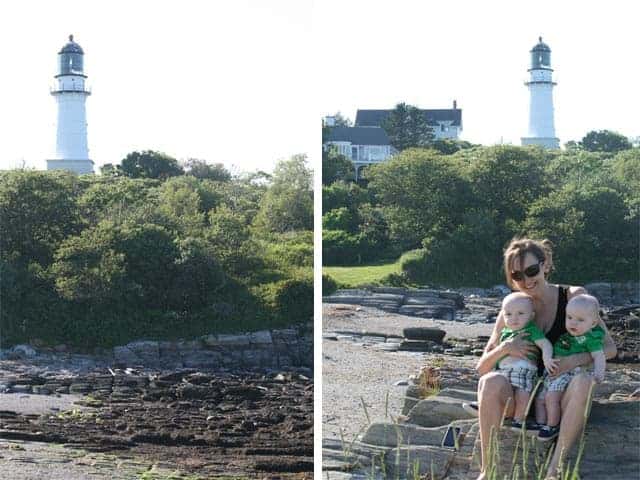 My cousin, who lives in Maine, mentioned the casual restaurant at Two Lights has good food, but we were saving ourselves for the main event – my full lobster dinner!
A quick Google search on this restaurant reveals the name of this establishment has changed and that the retail space where we purchased our lobster is currently closed (but their shipping and wholesale business is still up and running). 
My goal for dinner was to get a whole lobster and eat it back in our hotel room, where the kids (who were learning to crawl at the time) could tumble amuck and we could eat without the pressure of having to take two babies into a restaurant.  After a day of driving with two babies and already eating at one sit down restaurant, I just wanted to relax and eat my lobster in peace – meaning take out!  I didn't care where we ordered from, as long as it was somewhere with fresh, live, local lobster.
I hadn't done much research in advance and instead relied on my trusty Yelp app to find the closest place to our hotel that sold take out lobster.   Several places would have fit what I was looking for, including Three Sons.  More of a fish market than a restaurant (though they do have a picnic table outside on the deck overlooking the harbor if you can find a seat), you can order live lobster or have them steam it there and take it to go.  That is exactly what I wanted.
We ordered two 2-pound lobsters and then walked back to our spacious room in the Hampton Inn Waterfront where I experienced my first fresh, buttery, lovely, lobster.  Delicious, fresh, and exactly how I imagined it to be.  The shop even set us up with plates, napkins, utensils, and a lobster cracker!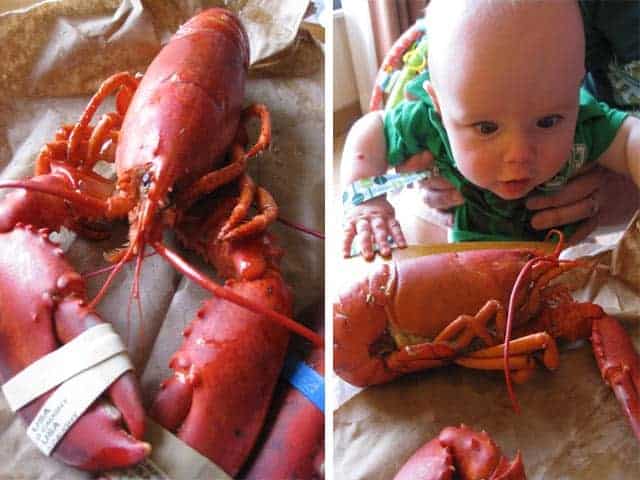 You'd think I'd have been satisfied by now with the amount of lobster I had consumed that day, but no.  I wasn't done.  I still had breakfast the next day.
Another recommendation via Yelp, and also just down the road from our hotel, was Porthole Restaurant where I had… wait for it… Lobster Eggs Benedict.  My all time favorite breakfast dish, but loaded with chunks of fresh lobster (instead of ham) topped with a fresh well-made hollandaise sauce.  I loved it, though the potatoes on the side were rather undercooked.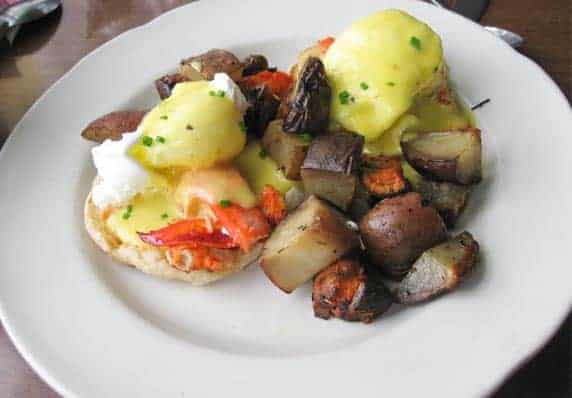 Last fall the restaurant had a bit of an unfortunate situation where it was shut down due several health code violations (ick!), but reopened this spring under new management.  The name of the restaurant remains the same and features many of the same popular dishes, including this very Lobster Eggs Benedict, but in a completely remodeled restaurant under fresh new management.
You won't find anything but contact information on their new website, but they seem to be using Facebook to keep customers in the loop of changes, specials, and events.  For the location with views of the harbor, and that memorable Lobster Benedict I would happily give that place a second chance.
~~~
Though the spots I visited on my crustacean vacation seem to be ever changing and evolving from where they were two years ago my best piece of advice, especially when traveling with kids, is to determine what you want (i.e. a sit down restaurant, take out, outdoor dining, etc), and read current reviews to find something that describes what you're looking for.  Don't go to a fish market expecting fine dining, and if you travel with kids look for places that are loud and family friendly.   Reviews can be telling, but they can also be full of people who are just whining, so you have to read beyond how many stars a restaurant is rated and read the actual descriptions, determining for yourself if it is the type of establishment you wish to spend your money.  I am notoriously bad at planning details in advance, and tend to rely on up to date reviews and descriptions when visiting a new city.
Know what you want, seek it out, trust your gut.  In this case I found exactly what I was looking for – the perfect first experience with lobster – while balancing a vacation with two (very) young kids.
I will say this for certain; the Hampton Inn Portland Downtown Waterfront was a great spot for our family.  When traveling with kids I tend to rely on Hilton properties for ease and familiarity.  This property provided us with spacious rooms in a great location overlooking the harbor and close to dozens of restaurants, bars, and sightseeing opportunities.   I'd definitely stay there again.
As for lobster, I'm still exploring!
What are your favorite New England lobster joints?  I'd love to know!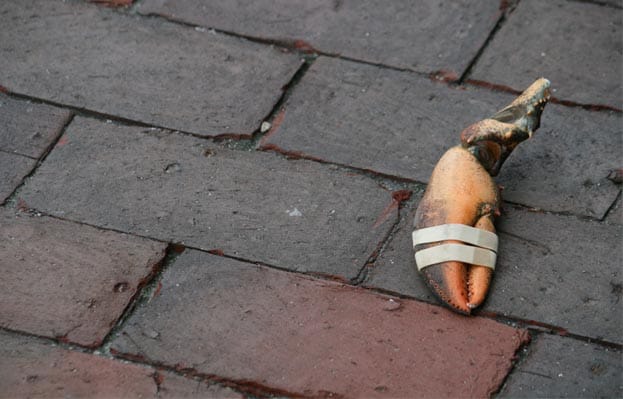 Want more?  If you liked what you read you can subscribe to Vindulge and have new posts delivered directly to your inbox.