A much better alternative to dying your food green on this festive day.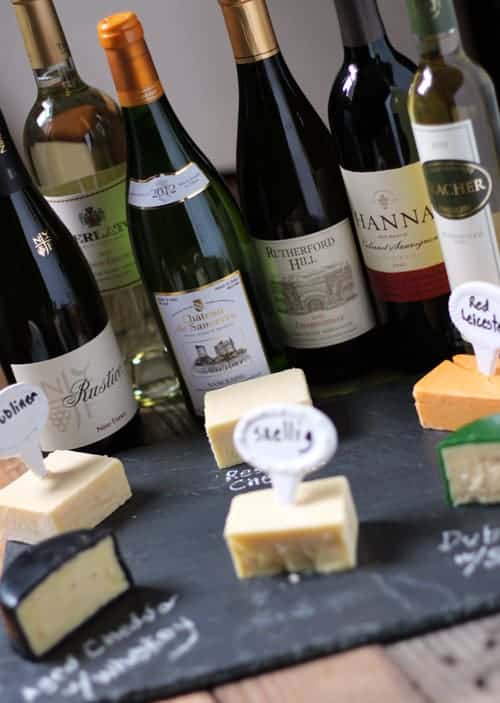 I met a chef recently who said pairing food and wine is really quite simple.  "If you have good food and good wine people will be happy. There's really not much more to it."  While he has a point, I would argue that to make a truly good pairing, one that elevates the experience making the whole greater than the sum of its parts, there has to be much more to it than just having two good stand alone products.
That being said, pairing food and wine should not be intimidating, and in many cases it really can be as simple as presenting good food and good wine together.
Take Cheese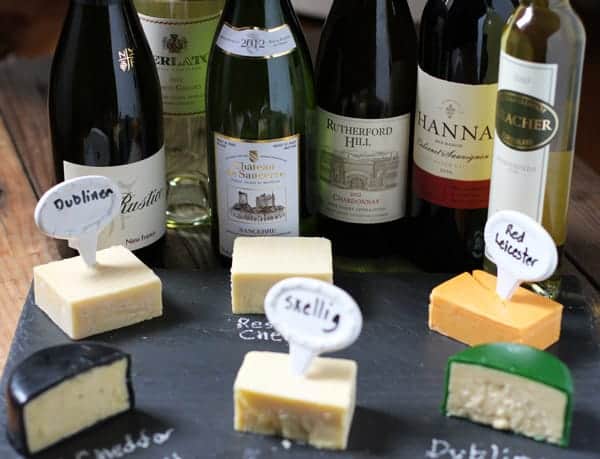 I was recently sent a selection of Kerrygold Irish Cheeses (most of them different types of cheddar) to pair with six very different wines.  I recruited two of my good friends, Becky and Zack, to test the lineup (I mean, that's what friends do, right, help you with rough assignments like eating cheese and drinking wine?)
Side note, the last time I recruited their help on a project it was to paint our living room.  I think this project beats that one by a landslide. 
The Lineup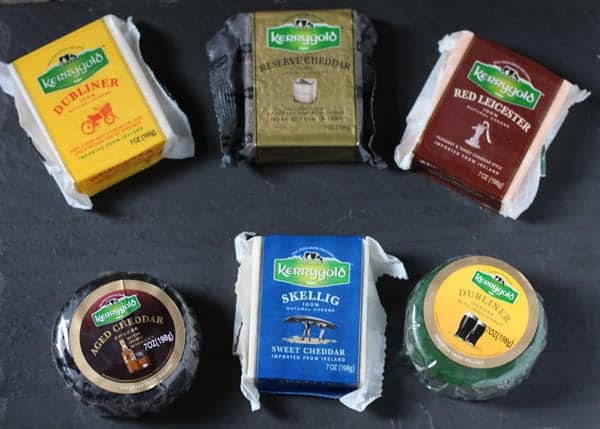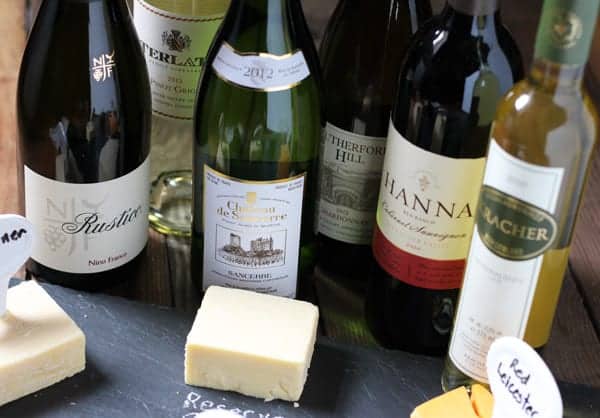 NV Nino Franco Rustico Prosecco Superiore ($20), with Dubliner
2012 Chateau de Sancerre Blanc ($29), with Reserve Cheddar
2012 Terlato Family Vineyards Pinot Grigio ($16), with Red Leicester
2012 Rutherford Hill Chardonnay ($20), with Dubliner with Stout
2010 Hanna Cabernet Sauvignon ($40), with Skellig
2010 Kracher Beerenauslese ($35), with Aged Cheddar with Irish Whiskey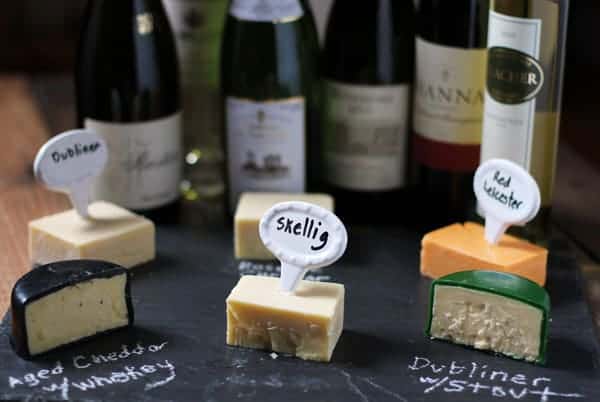 It's hard to find a food that does not pair well with sparkling wine.  The fruity aromas on the Nino Franco Rustico Prosecco Superiore and crisp mouthfeel was a nice match for the nutty Dubliner.  In fact the wine was the most versatile pairing with all the cheeses, and the cheese was the most versatile among the six wines.
The Chateau de Sancerre Blanc had powerful citrus and grapefruit aromas and very minerally and steely in the mouth.  The grapefruit was almost a bit overpowering of a flavor, but surprisingly the reserve cheddar tamed the powerful citrus.   In this case I think the cheese made the wine taste better than it was alone.
The Terlato Family Vineyards Pinot Grigio spent some of its life aging in oak barrels, and you can tell by the aromas and flavors (this atypical style is not generally my preference for Pinot Grigio as it masks the natural fresh apple and pear characteristics).  The oak shares the space with some peach and apricot flavors, however it remained a bit distracting and was probably my least favorite pairing with the Red Leicester.  The cheese, however, had a great nuttinesss to it and, as a side note, melts incredibly well.  We used it later in the week for homemade mac and cheese and it was a great use for the tangy leftover cheese.
Rutherford Hill Chardonnay had sweet vanilla aromas along with some apple and citrus, with a creamy texture in the mouth.  It reminded me of apple pie without the excess sugar.  The Dubliner with Stout was quite delicious with distinct nutty flavor that went well with the aforementioned characteristics of the wine.   The wine was a good pairing for this particular cheese, but when I tasted the same wine with the Skellig (mentioned next) it definitely clashed.  A much better pairing for the nutty sweeter cheeses.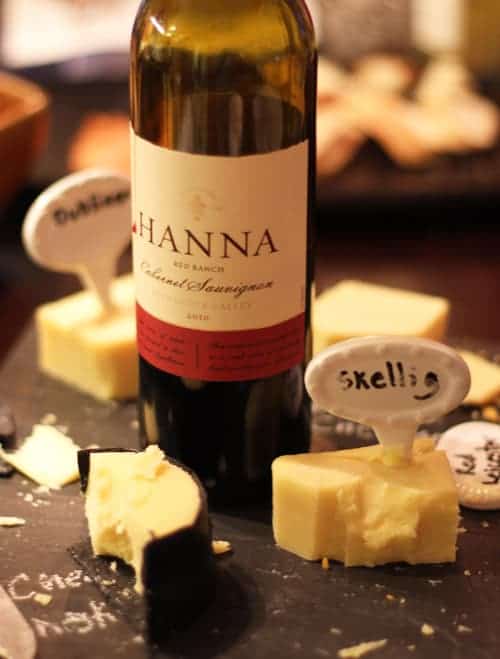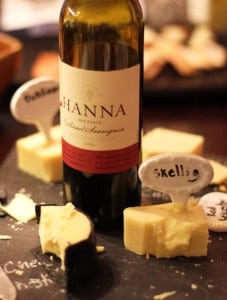 Speaking of the Skellig Sweet Cheddar, this full-flavored cheese was creamy, tangy, and (as the name alludes to) slightly sweet.  Paired with the only red wine of the flight, the 2010 Hanna Cabernet Sauvignon, was a bit of a risk but I think it worked well (though I was alone in that assessment!).  This rich wine had lots of sweet vanilla, and lush dark berry fruit aroma and flavors.  Silky and soft in the mouth, it had mild tannins, which made it more food friendly.  I thought the wine was so rich that the cheese balanced it out, though the other tasters found it to be the least appealing pairing.  The wine alone, however, was the overall favorite among the group and the first wine to be emptied that afternoon.
The final wine, Kracher Beerenauslese, was a dessert wine from Austria displaying sweet aromas of honey, meyer lemon, passionfruit, and marzipan, with a rich and creamy texture.  While I am a huge fan of pairing this style of wine with a pungent cheese like blue cheese, this was paired with Aged Cheddar with Irish Whiskey, which was soft, rich, creamy, and sweet.  While this particular cheese was probably my favorite of the entire lot, I think the sweet + sweet combo created a bit of a sweetness overload when paired together.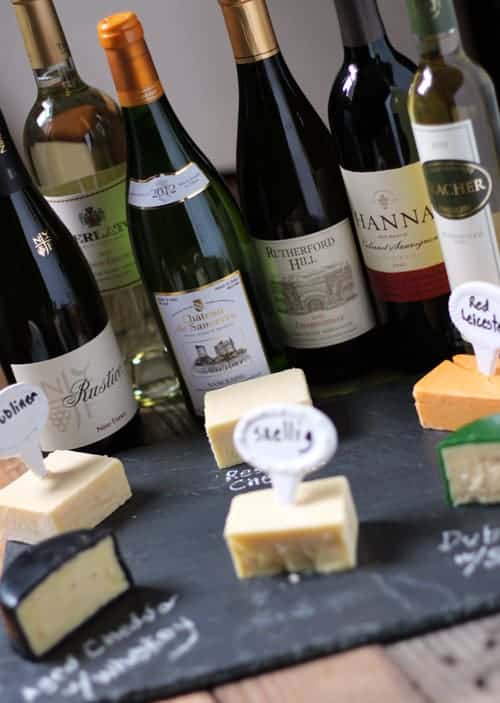 Were any of these pairings life changing? 
No.  But none of them completely clashed either.  It was certainly a fun experiment, and a great idea for a party.  Grab a selection of these cheeses and the wines and mix and match to see what your favorite pairing is.  Much like the chef said, if you start with good food and pair it with good wine, it's hard to go wrong.  I'd also add good company always makes for positive experience.  In this case I'd say we had all three factors going for us…. with the addition of our taste testers in training.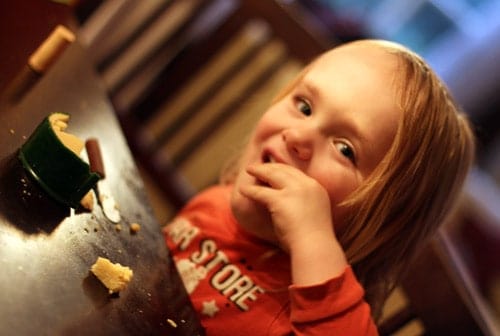 While the little ones skipped on the wine, they had a lot to say about the cheeses — especially the Dubliner with Stout.  That one didn't make it through the night after this little guy got his hands on it.  
And since today is St. Patrick's Day it's the perfect opportunity to seek out these awesome Irish cheeses.  It's a much better alternative to dying your food (or wine) green!