The day after I arrived home from the Wine Bloggers Conference I was exhausted.  Hubby, who had been on twin patrol solo for four days, was arguably even more exhausted than I was.  Neither of us felt like cooking. More importantly, neither of us felt like cleaning dishes after dinner.  This was a job for take out.  I'd had mad cravings for Thai for several weeks so we put in a call to my favorite local Thai joint.
You'd think after four days of wine immersion I'd want a break from wine.
Nope.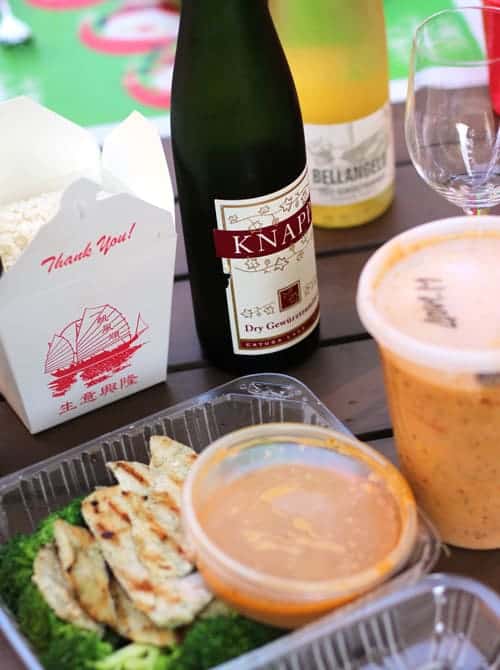 But few wines are brave enough to stand up to Thai food, especially the way I like it — hot (specifically spicy red curry). Spicy foods, like Thai curry, pair best with fruity and/or aromatic wines that have some sweetness (or residual sugar).  This is because the sweetness in the wine will cool and refresh the palate after each bite of fiery hot food.  Think about how refreshing it is to take a gulp of ice-cold beer after eating something spicy.  Gewürztraminer (especially one with a bit of sweetness) is one of those wines folks always recommend with spicy cuisine, such as Thai, for that exact reason (so is semi-sweet Riesling).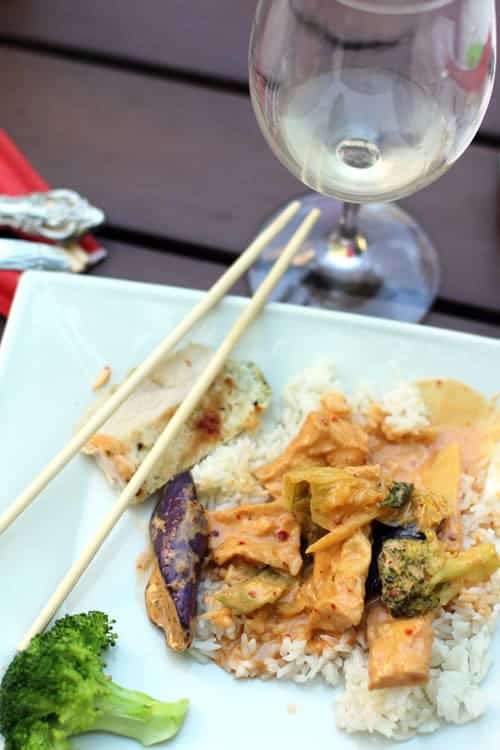 Gewürztraminer also happens to be one of my least favorite wines to drink on its own (i.e. sans food).  It's true.  In general, I'm just not a fan of the aromatics of most Gewürztraminers.  "Floral" is the proper word, but I find them too "soapy" for my taste.  BUT with the right food, Gewürztraminer can really shine.  I've been waiting and waiting for someone to change my mind on this grape variety, but it has yet to happen.
I'd been holding onto these two Gewürztraminers from the Finger Lakes region of New York for some time.  I was sent them as a part of a virtual tasting series.  However, the day of the tasting I was sick, had no ability to smell anything, so I held onto the wines for the right time.
Because I'm never, ever, craving Gewürztraminer, these poor souls just sat in my cellar waiting for their knight in shining armor to rescue them.  Thai food to the rescue.

We also seized the opportunity to teach the boys to use chopsticks 
I also became suddenly eager to open them that evening, not just because of the Thai for dinner, but because on the last day of the Wine Bloggers Conference it was announced that the 2015 conference would be located in New York's Finger Lakes Wine Region.
This was fantastic news to me. Not only am I a huge fan of this region, but also my in-laws live nearby.  This means we get to make a family vacation out of the trip next summer.  We visit wineries in the Finger Lakes each time we visit my in-laws, but I'm thrilled at the chance to get to dig deeper and learn directly from the experts (and I'm sure my kids will be thrilled to spend some QT with Grandma).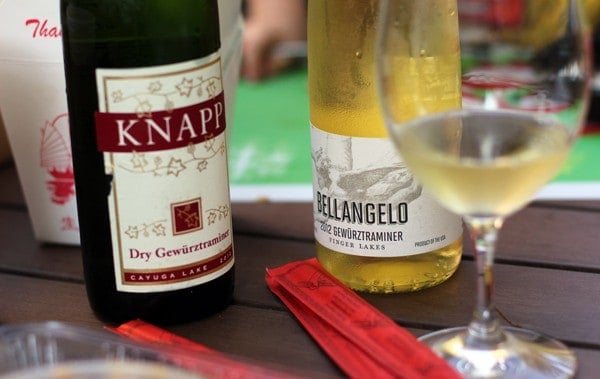 2012 Villa Bellangelo Gewürztraminer
Finger Lakes, New York
12.9% abv | 1% residual sugar ("medium dry")  |  $20 (media sample)
Very floral aromas with lots of rose pedal, along with some melon and spice.  Sweet enough to stand up to the spicy curry, but not overly sugary sweet.  It has a nice acidic backbone to balance out the sweetness which I appreciated. Great pairing.
2012 Knapp Winery Dry Gewürztraminer
Cayuga Lake, Finger Lakes, New York
12.5% abv | less than 1% residual sugar ("dry")  |  $15 (media sample)
This one had just a touch of sweetness to it.  It has some floral notes (but not soapy!), along with some tangerine, Meyer lemon, and melon to offset those floral tones I'm typically turned off by.  I actually preferred this one alone as opposed to paired with the curry, though it did pair quite well with the lemongrass chicken with peanut sauce.
What's your favorite wine for Thai food?
I'm partial to Riesling (for similar reasons to the Gewürztraminers described above), semi-sweet bubbles, or an ice cold Singha (yum!).
 ******
Related Reading: