Announcement: Now writing for Bottlenotes           

I'm excited to share I'm now writing freelance for The Daily Sip by Bottlenotes. If you're unfamiliar with the site, Bottlenotes is a fun, educational, and entertaining website focusing on wine and beer. They do this through their daily newsletter, national events, and social media platforms. I'll be focusing on one of my favorite topics, recipes and wine pairings, through their Daily Sip newsletter. My first article, Wines to Pair with Tailgating Classics, was published last month.
My second piece, Expert Advice on Pairing Wine with Mushrooms, was published last week. I had the chance to interview Christopher Czarnecki, chef and owner of the mushroom-focused restaurant The Joel Palmer House here in Oregon, to get his take on what wines pair best with mushrooms. His answers may surprise you.
Check out Expert Advice on Pairing Wine with Mushrooms HERE.
And make sure to subscribe to The Daily Sip newsletter while you're there!
Recent Articles — Creamy Wild Mushroom Soup and Wine Pairing (On Wine4.Me)
"The greatest birthday gift I ever gave my husband was a cooking class. Now this might sound selfish on my part, but hear me out…"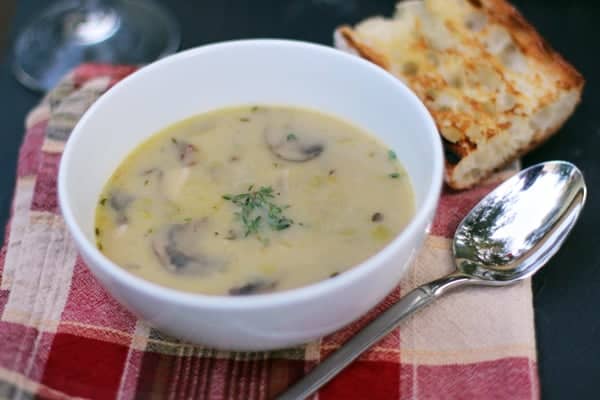 Read all about the cooking class I gifted to the hubby over twelve years ago and how it transformed the way he cooked and gave him confidence in the kitchen. It was seriously the gift that is still giving more than a decade later!
You'll also find a recipe for one of my favorite fall soups, Creamy Wild Mushroom Soup, along with wines to pair! All over on the Wine4.Me blog. 
Coming soon — Shroom
If that wasn't enough mushroom madness for you, I'm in the middle of reading a fascinating cookbook all about mushrooms called Shroom. Stay tuned for the full review in a few days.
**********
Want more? If you liked what you read you can subscribe to Vindulge and have new posts delivered directly to your inbox.