Things that make me happy – summertime and reading this post from BuzzFeed (click here).
Another thing that makes me happy is sitting in the sun, sipping on a glass of freshly chilled wine, and eating fresh food inspired by summer.
Though it can be made year round ceviche is one of my favorite summertime foods.  Light, fresh, herbaceous and citrus, and is served cold.  It is a dish I love ordering at restaurants while dining al fresco. There was a time when I was intimidated at the idea of making it at home, thinking it was produced with some fancy ingredients that I don't typically keep stocked or required a special technique to cook it.  But what it boils down to is quite simple – fresh raw fish that is cooked by marinating in citrus juice, usually lemon or lime. It's that simple.
Since having kids we don't go out to eat as much as we used to (shocker!). So I have been challenging myself to make dishes at home that remind me of my restaurant favorites. In the process I discovered that ceviche is as simple as making salsa.
Last summer we made a lot of it.  We experimented with different types of fish (tilapia, halibut, shrimp) but my favorite is made with ahi tuna.  Ahi is loaded with flavor, texture, and richness and I like those added elements it contributes to the dish.   With all of the acidity from the lime juice I recommend pairing it with a wine that is also high in acidity.  Matching acid with acid.
Last week I participated in live twitter tasting sponsored by Wines of Chile featuring eight white wines from coastal Chile, with the majority being Sauvignon Blanc. Sauvignon Blanc is a popular summer sipper with its freshness and bright acidity and pairs well with light seafood dishes.  Thus the perfect opportunity arose to make some ceviche and enjoy with an array of zesty wines and daydream of summer.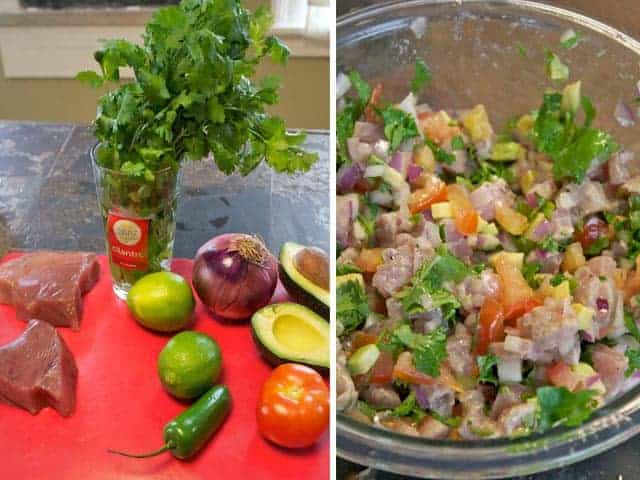 Ahi Tuna Ceviche
Ingredients:
½ lb Sushi grade Ahi Tuna, cut into small bite sized cubes
1 teaspoon jalapeño (approx 1 small jalapeño), minced
½ medium sized onion (about ½ cup), diced
1 small tomato, diced
½ avocado, diced
Zest of one lime
2 limes juiced (about 1/3 cup)
½ tablespoon soy sauce
1 small handful cilantro, roughly chopped
1 teaspoon salt and pepper
Tortilla chips or baguette slices to serve
Instructions:
Place all ingredients into a bowl and gently toss together.  Cover the bowl with plastic wrap and let marinade in the refrigerator for 30 minutes to an hour.  Occasionally stir the ceviche to mix it all together.
Serve with tortilla chips or toasted baguette slices.
The wines: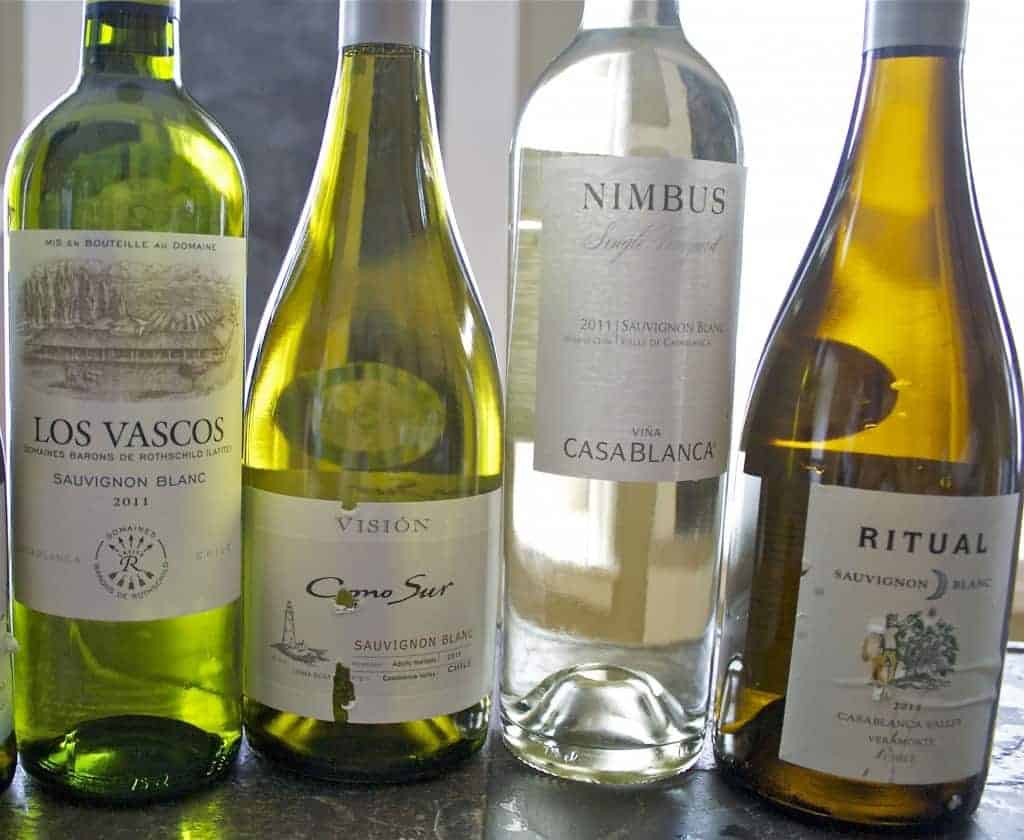 Produced in coastal regions of Chile, these wines all offered unique qualities and all paired well with the ceviche. It wasn't a matter of whether they were good or bad. They are a solid lineup of Sauvignon Blancs and I recommend the ones listed below.  Instead of pegging one vs. another, it becomes a matter of stylistic preference – fruity and richness vs. more light, citrusy, and tangy ones.
The Veramonte Ritual provided a nice balance between juicy pear fruit, pineapple, citrus, and tang.  I liked this one for the balance in flavors and a slightly richer body.  The Los Vascos was like a citrus party where the guest of honor was lime. Light bodied and fresh, it had me daydreaming of a hot summer day, napping in a shady spot on the grass.  The Cono Sur fell somewhere in the middle with bright lemon, lime, lime peel, slightly floral with some juicy peach in the mix.  The Viña Casablanca Nimbus was fresh, zesty and herbaceous and also provided the best value at $12.99.
Summer is so close folks and all of these wines, except the Los Vascos, had screwcap closures, making them perfect for taking to the park or beach.  So with summer on the horizon, consider adding these wines, and perhaps some fresh ceviche, to your list of things to try out this summer.  And with 80 degree temperatures on the forecast for this week here in New England I think summer weather may be here to stay. I hope so.
My recommended picks from the tasting:
Los Vascos Sauvignon Blanc 2011, Casablanca Valley
$13.99  |  13.5% abv
Cono Sur Visión Single Vineyard Sauvignon Blanc 2011, Casablanca Valley
$14.99  |  13% abv
Viña Casablanca Nimbus Single Vineyard Sauvignon Blanc 2011, Casablanca Valley
$12.99  |  13.8% abv
Veramonte Ritual Sauvignon Blanc 2011, Casablanca Valley
$18.00  |  13.5% abv
These wines were provided as samples by Wines of Chile, but as always the opinions are my own.