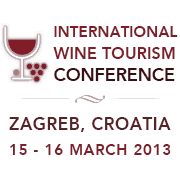 I am off to Croatia in just a few short hours for the International Wine Tourism Conference (IWINETC).  Quite literally.  I am sitting in the JFK airport terminal right now typing this waiting for my flight to board.
I will be speaking at the conference on the Importance of Staff Training and Development for your Wine Business; a topic I am quite passionate about.   I wholeheartedly believe that the people who work in winery tasting rooms are some of the valuable members of any winery business.  Focusing on the training and ongoing development of front line staff is vital to both staff retention and increasing profit.  This doesn't stop at just wineries either, as the information is applicable to any tourism or hospitality based business.  To learn more about my presentation you can check out an interview I did for the IWINETC website.
Following Croatia I will be headed to the Friuli region in Northern Italy for a blogger/media trip.
Needless to say I am thrilled about this upcoming experience as this will be my first visit to both the Friuli region and Croatia.
I can't wait to share all I learn on this journey!
Feel free to follow along on Facebook and Twitter (@marycressler and @vindulge). I'll do my best to stay updated on social networks! 
For more information on the International Wine Tourism Conference click here