This coming Thursday is a BIG day.   Not only is it my birthday (wohoo!), but it's premiere day for some of my favorite guilty pleasure TV shows, including Grey's Anatomy and Scandal.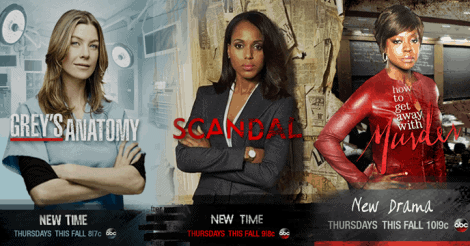 (Photo source)
This year Shonda Rhimes, the creator of the two aforementioned TV shows, is premiering her newest show as executive producer — How To Get Away With Murder, a law school thriller. That's three straight hours of Shondaland shows!
So what does one drink while watching these long awaited premieres?
Let's start with Grey's Anatomy
I've been watching Grey's Anatomy since it began back in 2005.  Now in its tenth season I admit the show has had its ups and downs, and I haven't always agreed with some of the decisions made (like killing off Mark Sloan! Seriously, whyyyyy?!), but I have remained a loyal fan.
Now, we know the doctors of Seattle Grace Hospital generally prefer booze to wine (though Callie and Arizona do tend to enjoy a nice bottle of red from time to time). The shows main character Meredith Grey is more often seen doing shots of tequila and having dance parties with her BFF Christina (who recently moved to run a hospital in Zurich), than drinking anything else (other than coffee, which she is seen drinking in almost every single episode).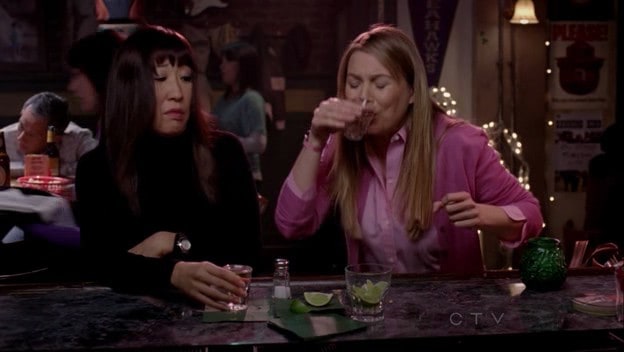 (Photo source)
So, to start this three-hour TV marathon, I recommend you start with a shot of your favorite tequila and a cup of Joe. It's the only way you'll be able to stay awake and alert for the next two shows.
Scandal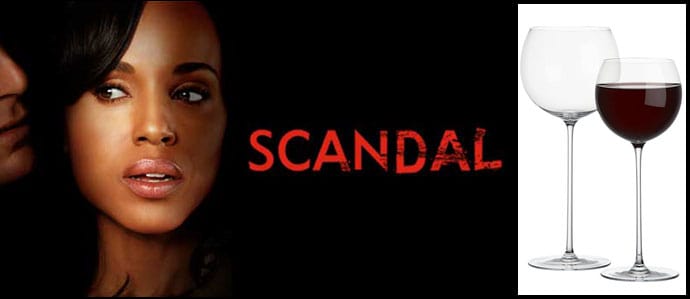 (Photo source)
The one thing I love more than Olivia Pope's incredible wardrobe, and also the fact that I no longer hate Tony Goldwyn for killing Patrick Swayze in Ghost, is that Pope is an avid wine drinker. She drinks a lot of wine. Good wine.
We've witnessed her chugging wine from her monstrotious wine glass since the show began, but it wasn't until season three that we learn where she developed her appreciation for it.  In this particular flashback episode Olivia is having dinner with her father, Eli Pope, when he pours her a glass of wine. Her response? "I don't like wine. I've never had the taste for it."  What the?!
He then responds, "Because you've never really had fine wine." He hands her the glass, she takes a sip, has her wine epiphany, and from that moment on, she's hooked. Boom! That was, however, the only positive thing that came from this dinner conversation. Moments later, Olivia learns that her father is the head of B613, the super secret spy assassin training organization.  He's a really really bad man. We learn just how evil he becomes in the season three finale, where we left off last April.
Though we never really discover the exact wines Olivia drinks during her late night conversations with President Fitz (the labels are always cleverly hidden), or while discussing unethical decisions made with Cyrus Beene, we can assume it's really "fine" wine, similar to the wine her evil dad introduced her to years ago. My guess is really good Bordeaux, Châteauneuf-du-Pape, or expensive California Cabernet Sauvignons.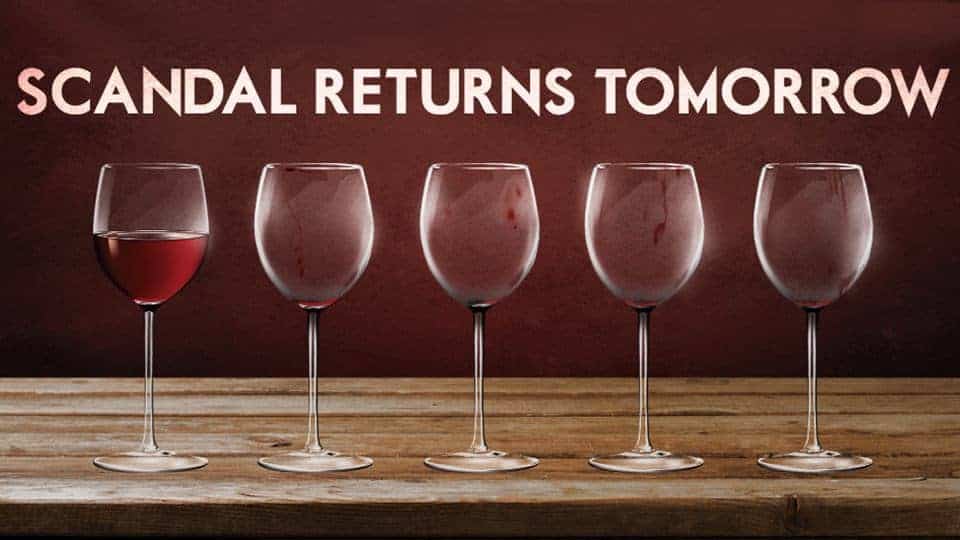 (Photo source)
And that's exactly what I'll be sipping on Thursday night, paired with popcorn. Hey, it's what Olivia Pope would do.
How to Get Away with Murder
I have no idea what to expect from this law school thriller, except that it will probably be awesome. Viola Davis plays the lead role, how can it not be awesome!?
So, without knowing what the characters sip on to unwind after a grueling day at law school, I'll go with my favorite wine – Champagne.  Besides, I saw the characters toasting with some bubbly in a promo for the show (that's enough convincing for me).  Plus it is my birthday, so I get to drink whatever the heck I want. And if I'm going to make it to 11:00pm that night I'll need something bright and refreshing to sip on to keep me awake.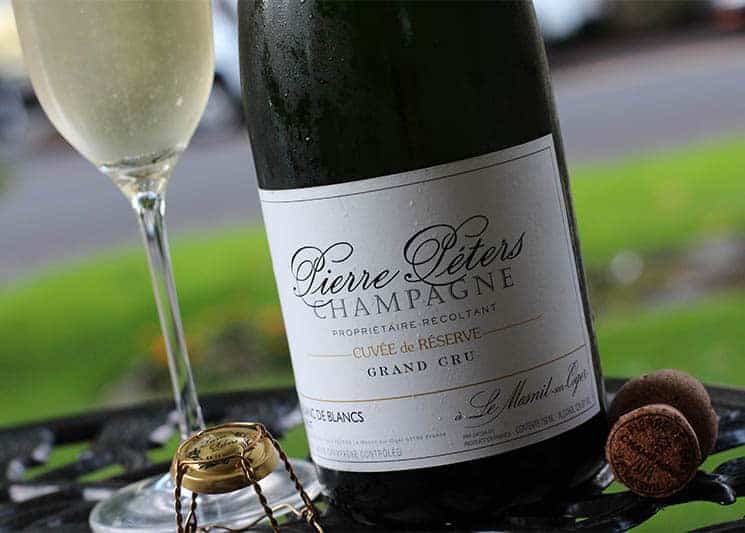 My bubbly of choice? Pierre Peters "Cuvée de Réserve" Brut Blanc de Blancs Champagne, because hubs gets me a bottle of it every year for my B-day and I have no doubt he will continue the tradition this year.
What will you be drinking this Thursday to celebrate the premiere of these awesome shows?