A quick, simple, mayo-free, and versatile coleslaw.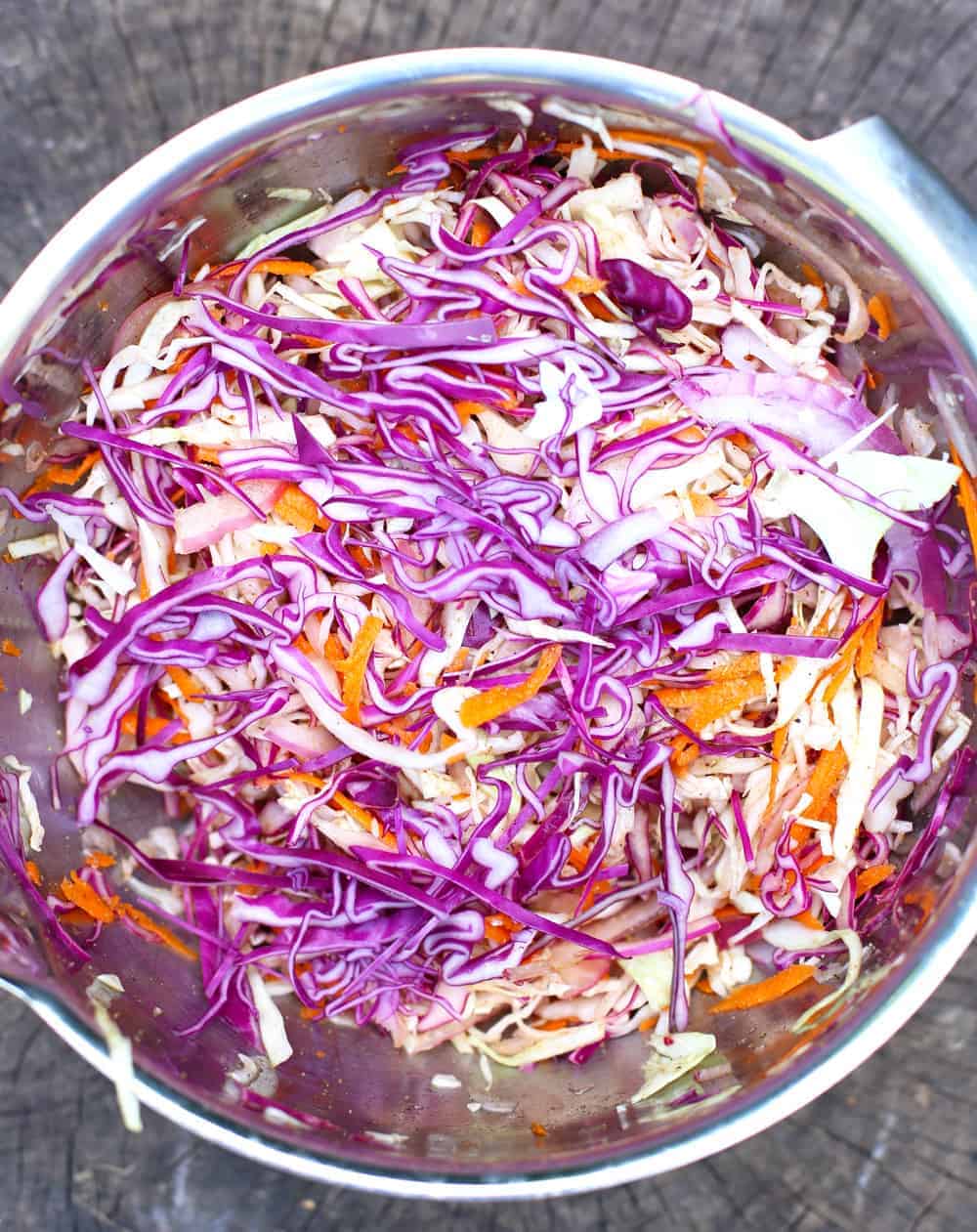 Where does your allegiance lie when it comes to coleslaw? Are you a mayo fan or mayo-free?
Most mayo-haters don't like it in a coleslaw or other summer salads because of fear of food born issues that may happen from the dish sitting out all day. I don't know what it is but I just cannot stomach mayo, period. At all. It just leaves my stomach feeling oily and uneasy. For some bizarre reason, I'm okay with some mayo substitutes, but generally, the store-bought real mayonnaises don't do it for me.

MY LATEST VIDEOS
And when it comes to coleslaw, those that require heavy amounts of mayo are so rich and oily that they can easily overpower the dishes they are meant to highlight.
This here, is a perfect solution. It's light, fresh, crunchy, and tasty (from it's two secret ingredients). And it's so stinking simple. And it's my favorite coleslaw to pair with dishes like pulled pork sandwiches, like these here…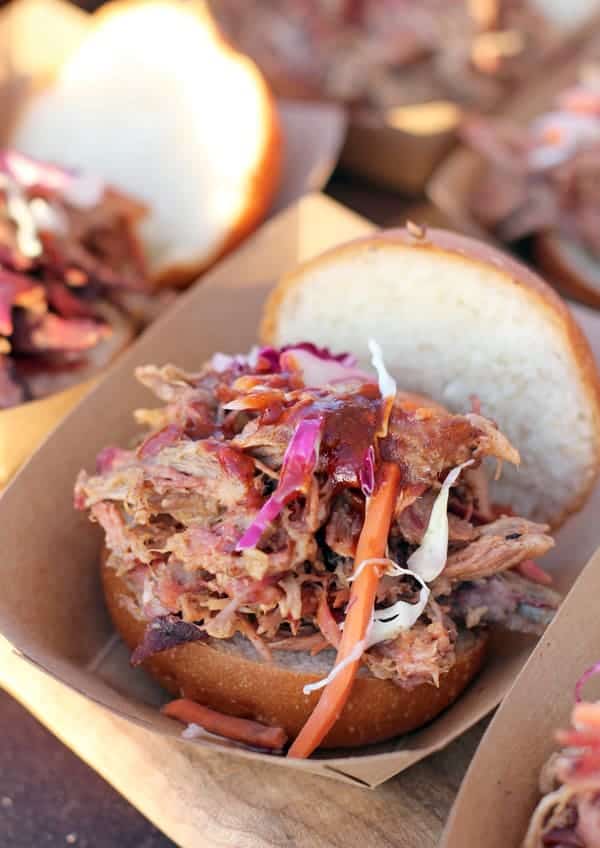 … Ah-yeah.
And after last week's post I've realized we should be sharing more of our favorite vegetarian options here on the blog. Thanks to all who reached out after our last post on those killer smoked tofu bowls (hi!! thank you so much!), we decided to start sharing some more of our favorite veggie dishes. This one just also happens to be vegetarian AND the perfect side dish.
Now if you're looking for a rich, creamy, mayo-based slaw, you're in the wrong place. This one is crisp, light and fresh, with nice acidity. Though if you really want that creamy texture you can add your favorite mayo substitute like those produced at Hampton Creek Foods (those are vegan and not heavy on the stomach). But go easy. This is meant to be a simple and light side dish. Something to accompany your favorite summertime barbecued and grilled dishes.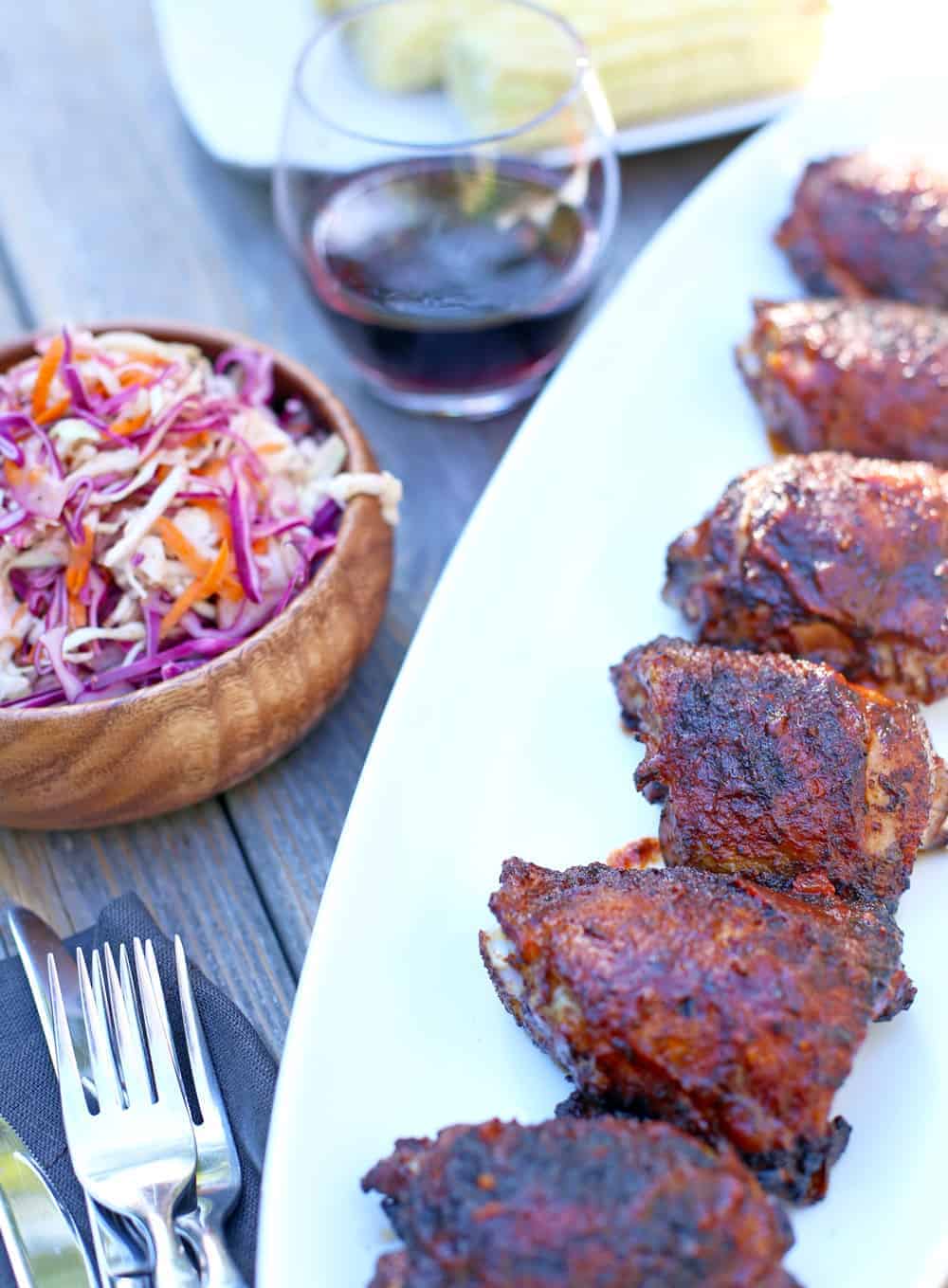 This is really the easiest recipe ever. It's just shredded cabbage and carrots, mixed with some onion, salt and pepper, and our little secret additions — cumin and apple cider vinegar.
If you're just making a small amount feel free to buy a pre-packaged coleslaw mix to keep things simple. BUT if you're cooking for a crowd you get so much more bang for your buck by buying a head of cabbage.
One head goes a long way!
Just beware. If you try to take a picture of your fresh heads of cabbage you run the risk of photobombers and cabbage thieves.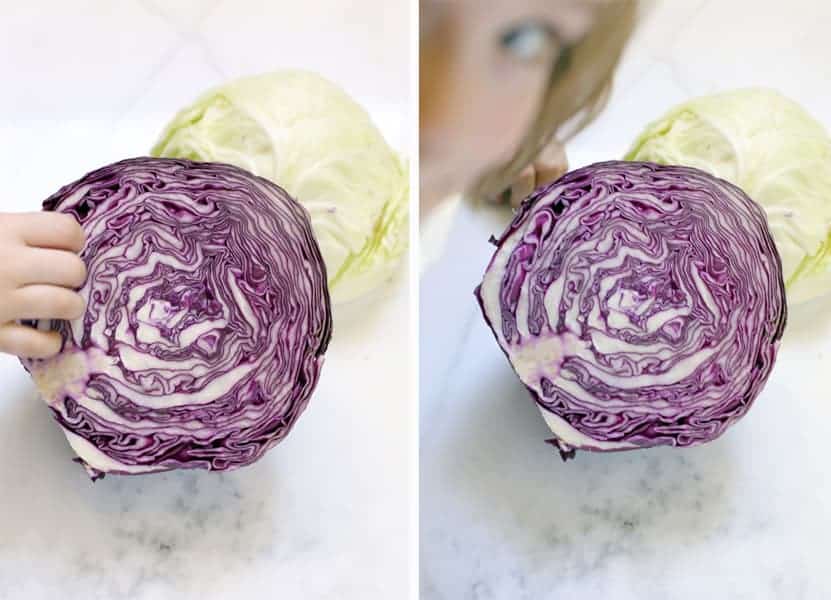 Like this little guy.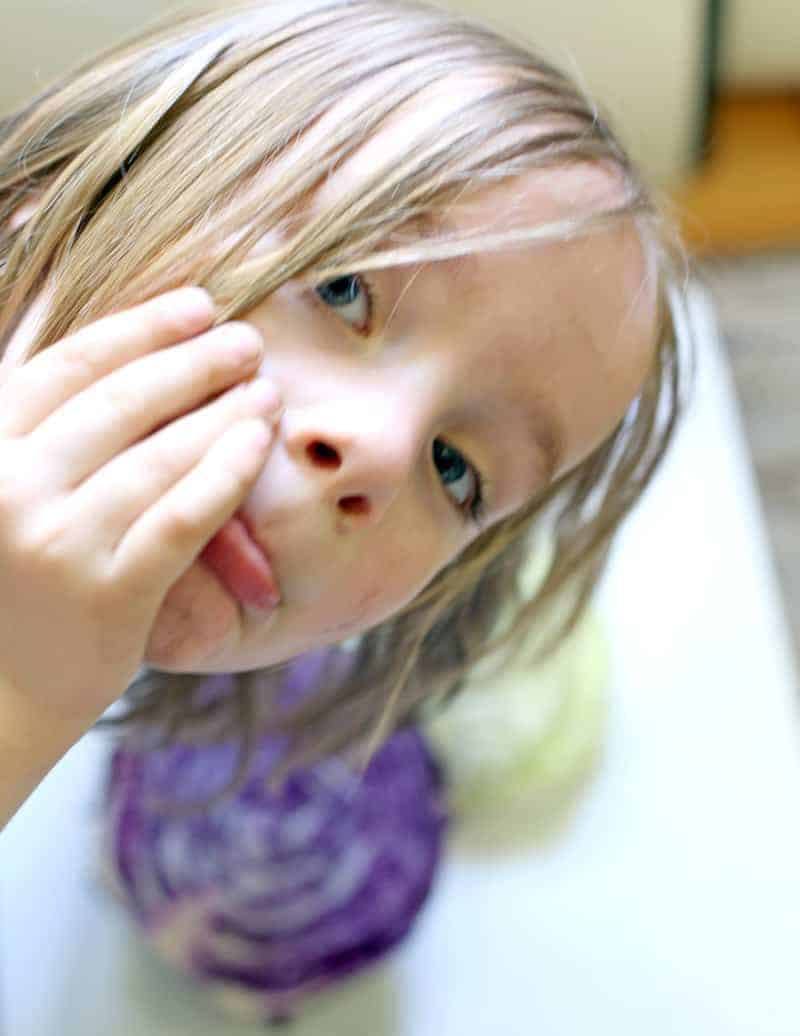 Just don't let yourself get too distracted by taking the perfect cabbage photo, you've got people to feed!
Next all you have to do is shred it yourself, either thinly sliced with a knife or using a mandolin slicer.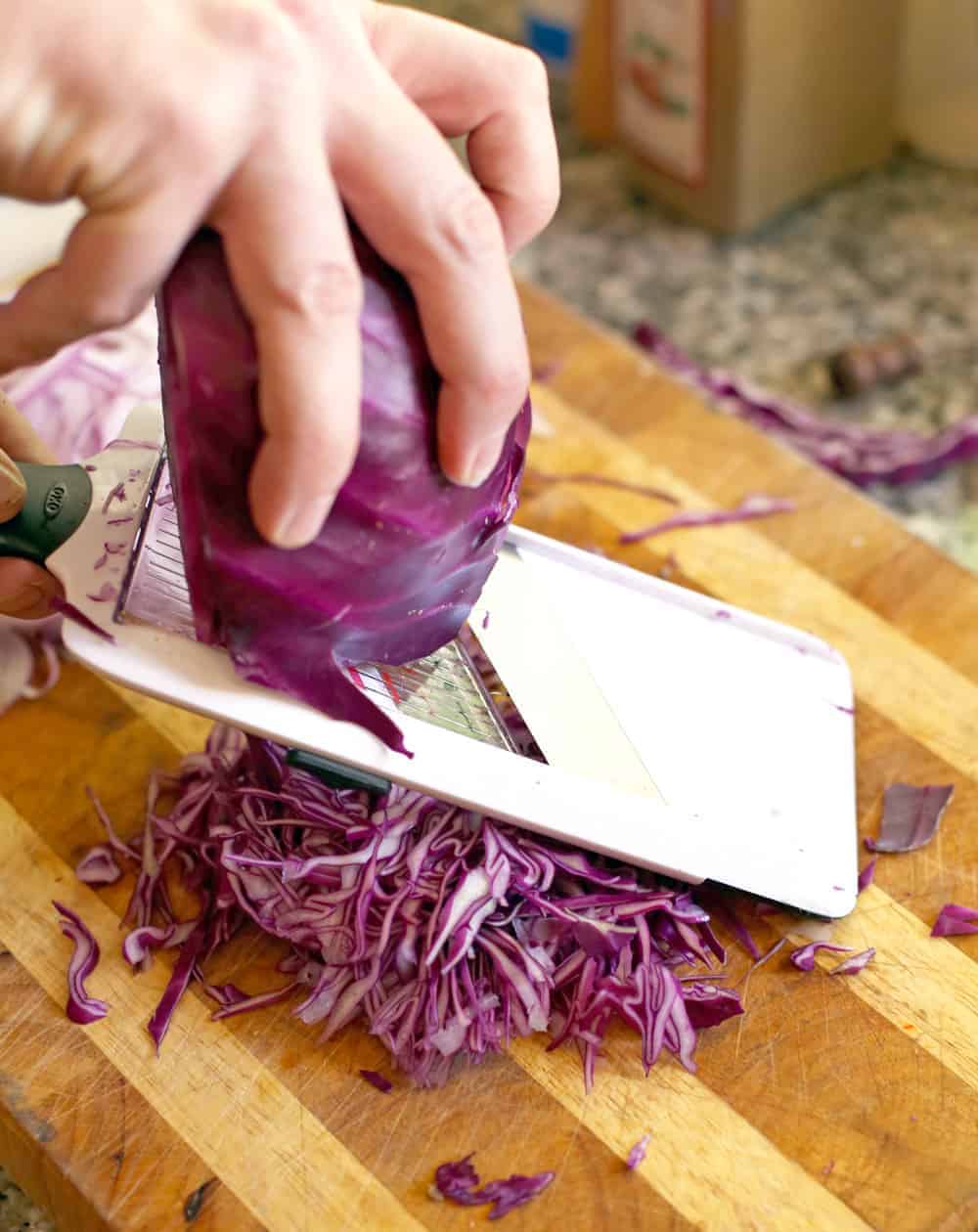 *** BUT WORD OF CAUTION!***
Watch those precious fingers when using a sharp device like a mandolin slicer. I learned that the hard way the very first time I used mine (suuuuuch a painful rookie mistake!). Slice carefully, and with caution. That is if you appreciate your fingertips. 😉
Next up mix up the shredded cabbage with some grated carrots and sliced onions. Toss together with some apple cider vinegar, salt and pepper, and…. wait for it…. cumin.
That's right, cumin.
Cumin is a pretty strong flavor, so start small if you're afraid. But every single time we make this coleslaw we always have someone look up at us with delight saying, "Wow, I love this slaw. What's that unique flavor in it?"
It's cumin, my friend. And that fresh zesty tang you get from the apple cider vinegar. No mayo needed.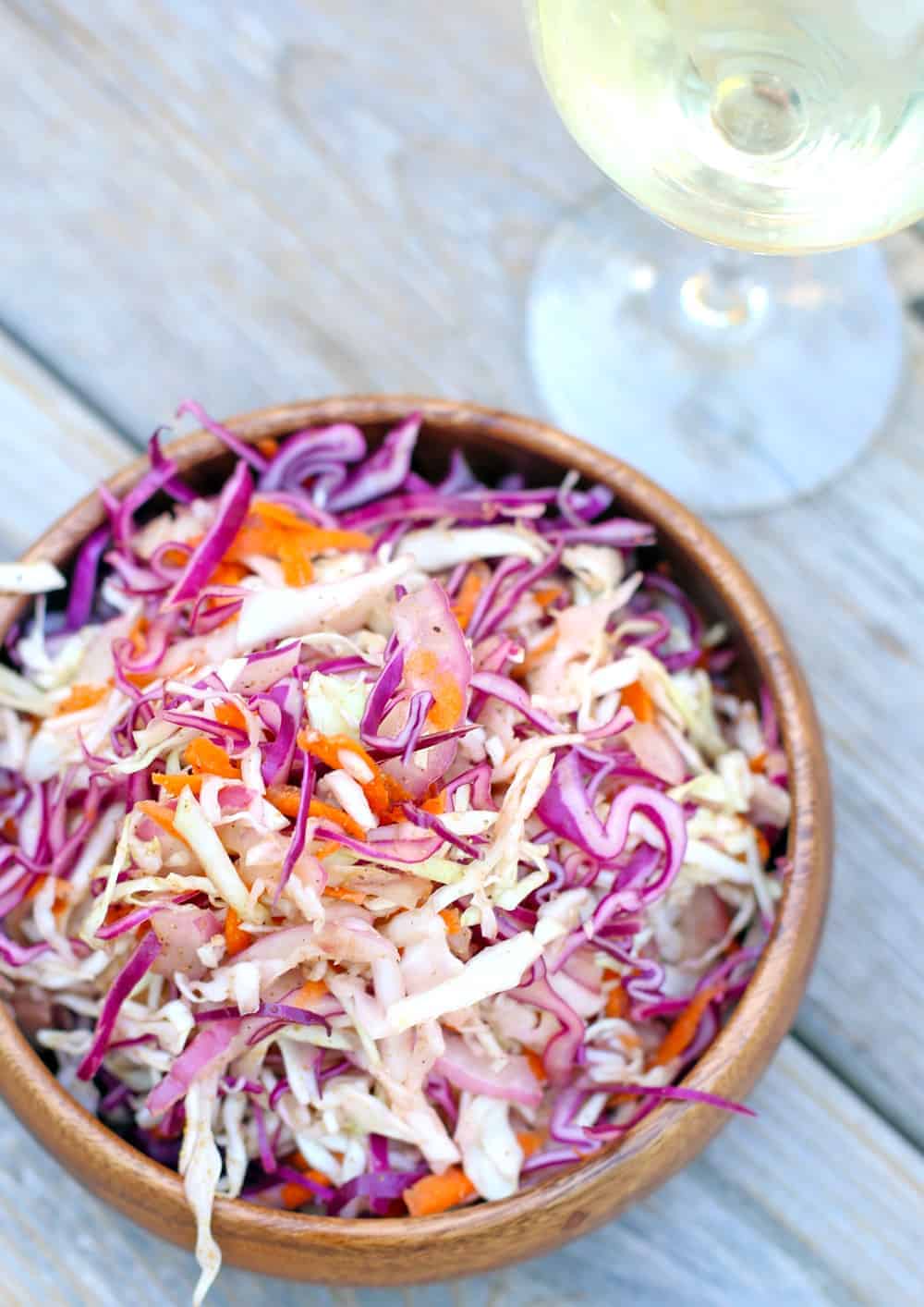 This is truly an awesome side dish for barbecues, parties, and it's fantastic on top of pulled pork sandwiches.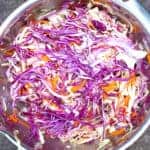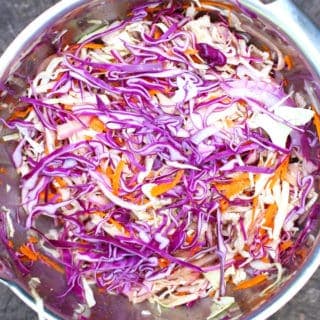 Easy Mayo-Free Coleslaw
A super simple mayo-free coleslaw made with shredded cabbage, sliced carrots and onions, salt and pepper, cumin and apple cider vinegar. Easy and delicious.
Cuisine:
barbecue, bbq, coleslaw, side dishes
Ingredients
1

cup

red cabbage

shredded

3

cups

white cabbage

shredded

1

cup

red onion

very thinly sliced

2/3

cup

carrots

shredded

1/2

tablespoon

salt

1/4

teaspoon

fresh ground pepper

1/2

tablespoon

cumin

1/4

cup

apple cider vinegar
Instructions
Toss everything together in a large bowl and serve. Easy as that! - Feel free to pull back on the apple cider vinegar if you don't want the "wet" look in the slaw, we just love the taste and acidity. It really pairs well with fatty smoked foods.
Recipe Notes
This amount is great for a party of around 10-12 people. Or if you are just using it to top a pulled pork sandwich you'll just need a touch (a couple tablespoons). Adjust portion sizes for the size of your gathering, small to large.
What about you? What are your thoughts on mayo in coleslaw? Are you a fan? 
---
For more tasty recipes, BBQ tips and tricks, check out the Recipe Index.
Want more? If you liked what you read you can subscribe to Vindulge and have new posts delivered directly to your inbox.