I like to review wines the way most people taste them, with food. Many of the wine reviews you'll see on this site are accompanied by a recipe. When we test recipes we usually open a few different wines of various styles that we think will work, then write about the best pairing.
But often we taste wines — either those sent as samples for review or those we purchase on our own – that are definitely worthy of mention even though they weren't part of a recipe post. These wines below fit that bill.
These were some of the highlights from February. A mix of winter reds, Valentine's Day bubbles, and delicious rich white wines.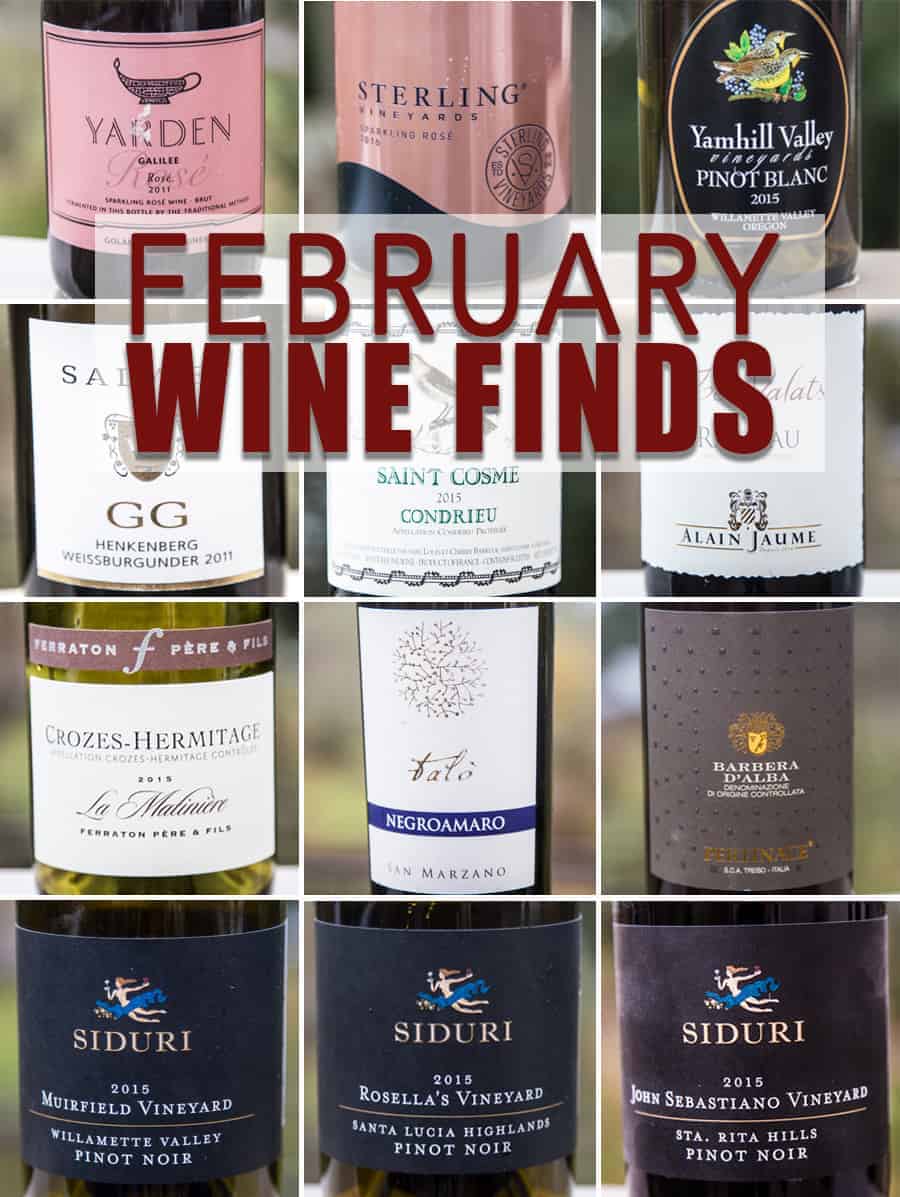 2011 Golan Heights Winery Yarden Rose Brut (Galilee, Israel)
This Kosher wine from Israel made up of 70% Chardonnay and 30% Pinot Noir is tart up front, with underripe red berry fruit that was quite nice, followed by some bright grapefruit! Loved the acidity and brightness of this.
12% abv | $38
2016 Sterling Vineyards Sparkling Rosé (California)
We tried the inaugural Sterling bubbly last month, and this one, found in a standout pink bottle, shortly thereafter. Solidly made, this has a fresh strawberry focus, nice acid, and a smooth lingering crisp finish.
12% abv | $25 average
2015 Yamhill Valley Vineyards Pinot Blanc (Willamette Valley, Oregon)
I'm a huge fan of Oregon Pinot Blanc and think there's just not enough made here. This one was a touch sharp, but smoothed out after being open just a little bit. It had nice bright apple flavors mixed with some pear, fresh lemon, lime and lime zest. I'd definitely try it out again if I could find it for under $20.
13.5% abv | $22
2011 Salwey GG Henkenberg Weissburgunder (Baden, Germany)
I'm on a mission to find out more about this wine because both Sean and I loved it. It's made from Pinot Blanc grapes (see, there it is again, more delicious Pinot Blanc! I need more of it in my life.), but this time from Germany. It's fresh and bright, but with some texture and body, with tropical notes, along with some apples and baking spices and lemon zest. I need to find this again and pair it with some seared scallops or smoked trout.
13.5% abv | (I honestly have no idea what the average price is on this one. I'm seeing prices online range from $15-$40. I'm hoping for that $20-ish sweet spot.)
2015 Saint Cosme Condrieu (Condrieu, Rhone, France)
This Viognier, from Condrieu in the Rhone region of France, was simply gorgeous. Beautiful and vibrant aromas of Meyer lemon, citrus zest, tangerine, and juicy apricot up front. It has rich textures, yet beautifully balanced with bright acidity. If I could afford to I'd drink this one on a regular basis, but it's definitely more of a special occasion wine. This would be awesome with a smoke roasted chicken.
14.5% abv | $74
2015 Alain Jaume Rasteau Les Valats (Rasteau, Rhone, France)
Delving into some of the sub-appellations of the Rhone we were excited about this one from Rasteau. It was big and rich with power (but not intense!), filled with spice, dark berries, black cherries, plums, cedar, and even a little mint in there. We had this one with smoked beef short ribs and it was an incredible match.
14.5% abv | $24
2015 Ferraton Père & Fils, La Matinière, Crozes-Hermitage (Rhone, France)
This one is initially quite earthy with leather and black pepper, and opens to a wide mix of berry aromas (cherry, raspberry, strawberries, even blackberry). Smooth, round, and aromatic.
13% abv | $20 average
2015 San Marzano "Talò" Negroamaro (Salento, Puglia, Italy)
This one was really fun to smell as it was to drink. It had this intriguing mix of earth and tobacco, with fresh red berry and black cherry fruit, and prunes, but light and fresh and savory in the mouth. It could stand up to substantial food, but also fresh enough to sip alone or a nice red to drink as we ease into the warmer season. Try this with some grilled skirt steak.
13.5% abv | $15
2014 Pertinace Barbera D'Alba (Barbera d'Alba, Piedmont, Italy)
Dark cherry, juicy strawberry, with a touch of vanilla and spice. on this lovely wine made from 100% Barbera grapes. Smooth, easy drinking, great value. What's not to love? Pick a bottle of this up for your next pizza night or if you feel so bold to make some homemade smoked marinara sauce for your next pasta night.
14% abv | $15
A trio of Siduri Pinot Noir
I always enjoy tasting through Siduri's lineup of Pinot Noirs that range from California all the way up to the Willamette Valley. These three were all great examples of the range and quality you find. Let's start closest to home first.
2015 Siduri, Muirfield Vineyard, Pinot Noir (Willamette Valley, Oregon)
This one comes from the Chehelam Mountains region (up where I live, hi!), displaying more red-focused fruit, deep cherry, cranberry a little dusty earth. It's quite complex and pretty darn delicious to drink. Would be killer with this smoked lamb.
14.4% abv | $50
2015 Siduri, Rosella's Vineyard, Pinot Noir (Santa Lucia Highlands, California)
This was the most bold and spicy of the three with some rich black cherry, vanilla, spice, and some dark chocolate undertones with a slight earthy note in there. I would love to pair this with this salmon recipe!
14.8% abv | $55
2015 Siduri, John Sebastiano Vineyard, Pinot Noir (Sta. Rita Hills, California)
This one, from near Santa Barbara, was quite bold, but very well made and balanced. It has some dark cherry and currant, along with some spice and even floral notes. Rich and absolutely a pleasure to drink, as were all three of these.
14.2% abv | $50
*Bonus* — The Walking Dead Wines
Say whaaaaa?!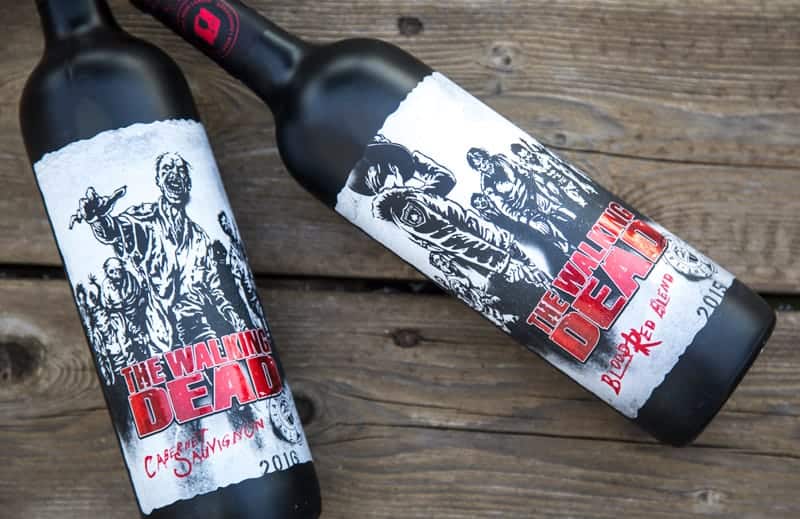 That's right. Typically I'm one to shy away from gimmicky wines or branded wines linked to movies, TV shows, or celebrities. BUT I just couldn't resist trying these in honor of Sean's favorite show, which I broke up with last year. I tried to get into this show. I really did. And I succeeded for a few seasons, but I, like many, broke up with the show last year after the whole Negan thing (if you watch the show you know exactly what I'm talking about!). But Sean is a die hard nerd fan, and he's committed. But even though I'm a whole season behind I felt it was only appropriate to try these wines while watching the latest episode, because Rick would want it that way.
Speaking of Rick (and all the other survivors) I'm pretty sure they're not sitting down to very many nice meals and a glass of bold red these days. But if they did I'm pretty sure they'd go straight for the wines with zombie labels, right?
Speaking of the labels, the cool thing about these, and what makes them different than most other branded wines is they come with a smartphone app, featuring augmented reality technology where you can watch the labels come to life! Check it out here.
It's a little creepy, a little nerdy, and super cool.
I kinda just want to meet the guy or gal who decided, "Hey, you know what this apocalyptic zombie show is missing? A wine named after it with an app that makes zombies come to life." Genius.
But how are the actual wines? I'm not gonna lie, they're pretty darn solid. I kinda wanted to not like them, because I'm not supposed to like wines because of their labels, but these were smooth, rich, and super drinkable.
The 2015 Walking Dead Blood Red Blend featuring badass Rick tipping his hat to angry zombies had a little sweetness to it, which is strange because Rick is a pretty serious guy lacking a sweet side, but it also had rich red berry flavors and smooth mild tannins (a little more Rick's style). I'd say it reminded me more of Glenn, but then again we all know what happened to him. 🙁
The 2015 Walking Dead Cabernet Sauvignon featuring just zombies on the labels, no heroes, was similar to the blend. Rich, ripe, and bold, with more of those smooth tannins. I'm kinda bummed they didn't put Daryl on the label instead of a zombie, because he's much easier to look at.
Overall both were easy drinking and paired well with season 8, episode 8 of The Walking Dead.
---
*Most of these wines were were media samples for review. See my sample policy here.
---