A roundup of my favorite things from the week in the categories of wine, food, travel, and lifestyle.
WINE & FOOD
Anniversary Food & Wines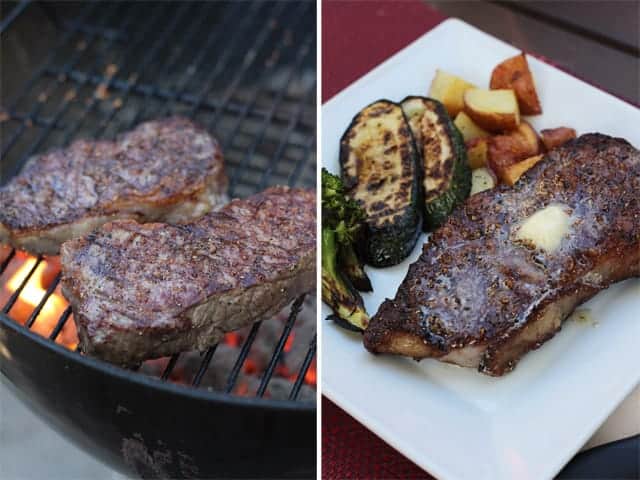 This week marked hubby and my 9th wedding anniversary. Though it fell on a weekday it didn't stop us from going big for dinner. Hubs grilled up some amazing NY strip steaks doused with smoked butter (yes "smoked" butter. More on that another time). I've been collecting bottles of wine from our anniversary year (2005) to open during various anniversaries. We don't open one every year, but this year was different. In light of the devastating Napa earthquake last weekend we decided to drink Napa. Northern California holds a very strong place in our hearts, not only because we lived there for several years, but we also got married there, just outside of wine country.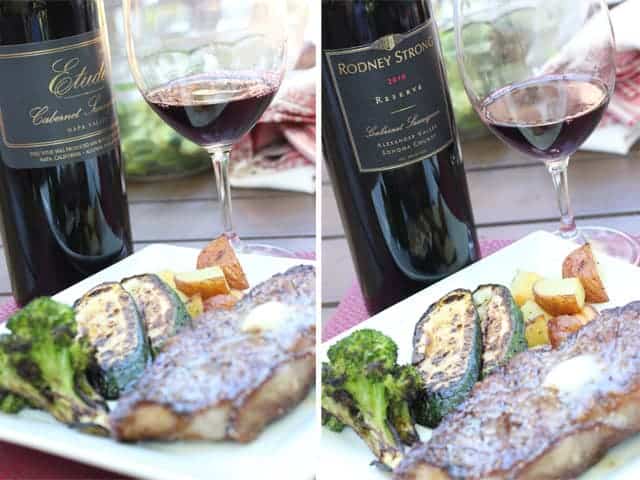 2005 Etude Cabernet Sauvignon
Napa Valley, CA
14.4% abv | $ unknown (purchased several years ago)
Though it had a little age to it, the wine still had some rich expressive dark berry, currant, and rich cherry fruit, with lots of depth and complexity, barely showing signs of age with a hint of stewed tomatoes, and still had some bold tannins. In addition to the rich fruit, we also tasted some spice, sage, mint, eucalyptus, with some chocolate and leather. It left my palate with a lingering minerality. Perhaps it was the mint, but it tingled in an awesome way. As it opened it became more meaty, herbal, and minty. Delicious.
I also wanted to see how the steak would compare with a younger Cab, so we opened one from 2010. Hey, it was our anniversary; we were allowed to open as much wine as we pleased 😉
2010 Rodney Strong Reserve Cabernet Sauvignon
Alexander Valley, Sonoma County, CA
15% abv | $45 (media sample)
If any year holds more significance to us than 2005 it would be 2010, the year our twins were born. This bottle, however, was sent to me as a sample, so I wasn't going to lay it down for my kids to enjoy when they're old enough to drink it 😉
… Though I'm now tempted to buy a bunch for myself simply due to the fact that it's a delicious wine!
This bold Cab began with rich red and black berry fruit, black currant, black cherry, with a touch of cocoa, sweet vanilla and oak. Velvety and smooth textures on the palate with solid tannic backbone. Since this was a younger example, it rightfully showed much more fruit flavors up front, and those rich fruit notes paired beautifully with the succulent juicy seared steak.
I actually preferred this with the steak to the Etude. I think the Etude would have been better suited for a stew or slow braised beef.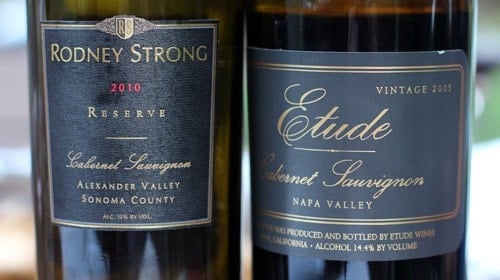 This specific Etude Cab may be hard to find now that the winery is onto the 2010 vintage, but I did spy it on Wine.com and K&L, and though Rodney Strong is now onto their 2011 vintage release of this wine you should still be able to find some of the 2010 out in the market.
Beaches and Boxed Wine
I may have mentioned before that we live in the coolest neighborhood in Portland, and on the coolest street in our neighborhood. We decided to take a neighborhood trip to the beach last weekend with all those cool people. With several people to feed I decided to truck some of the box wine samples I'd received over the summer.
Yeah I said that, I'm about to recommend a boxed wine!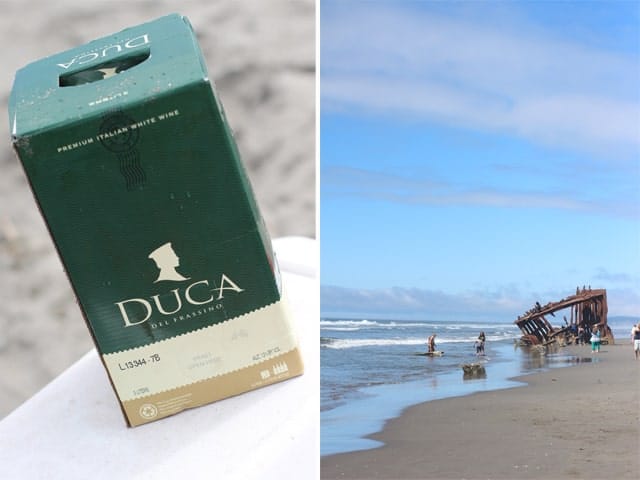 DUCA Garganega/Pinot Grigio 2013
$20 for a 3-liter box (media sample)
This box holds the equivalent of 4 regular bottles of wine, and avoiding excess glass, weight, and room in the cooler proved to be a good thing on the beach.
With soft aromas of pear and apple the wine is crisp, dry, light, and refreshing. The wine was quite light and simple, but definitely did the job of being a refreshing cheap and cheerful offering for this group of thirsty beachgoers on a hot afternoon. It was definitely a winner for our crowd and great for a hot day at the beach and went quite well with the sausages we grilled up.
Good for: the beach, camping, picnics, day drinking, and casual parties (serves a lot for the equivalent of $5/bottle).
TRAVEL (Preview)
Horse Heaven Hills Wine Region
Next week the hubby and I are headed out to a media tour of the Horse Heaven Hills region of Washington State.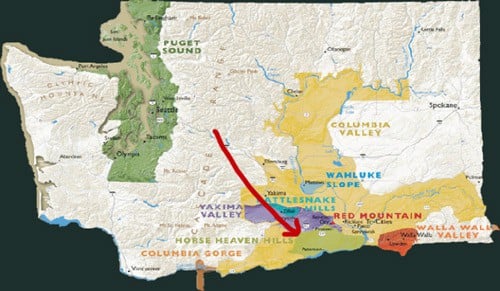 Located in Southeast Washington, with the Yakima Valley appellation to the north and the Columbia River to the south, the Horse Heaven Hills region comprises 570,000 acres (with 11,062 planted to grapes). This region represents 25% of Washington's total grape production! Though there are over 25 vineyards, there are only 6 commercial wineries and tasting rooms within the region. Suffice to say, it's fairly remote, yet incredibly important to the states grape production! It's all about the land and the vineyards here, along with the people behind them.
We will be there meeting with winemakers and growers (most of whom are family farmers) throughout the weekend and soaking up all I can about this incredible region.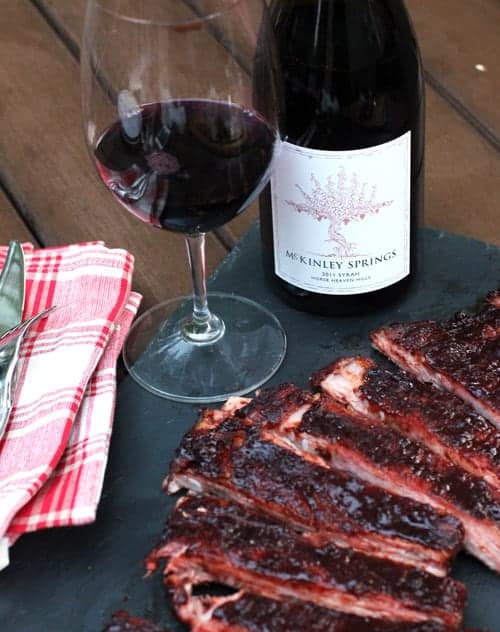 So to prep for the trip, we opened up a bottle of 2011 McKinley Springs Syrah, Horse Heaven Hills, WA ($24, media sample), to pair with some smoked ribs earlier in the week. This wine was gorgeous with the rich flavors from the BBQ sauce and tender meat.
The wine was rich and jammy, but not overly intense, with dark black berry fruit, pepper, spice and chocolate. The wine was co-fermented with 4% Viognier adding lovely fragrant aromas. All things added up to a great pairing for bold flavored meat, like smoked ribs.
If this wine is any indication to what lies ahead next week then I'm very excited… especially the potential for some great BBQ finds!
LIFESTYLE (Preview)
The Oregon Wine Country Half Marathon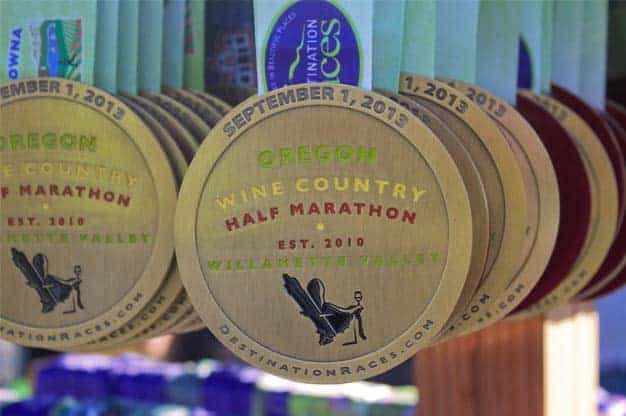 This weekend is the annual Oregon Wine Country Half Marathon, and this will make my second year participating. I even twisted hubby's arm into joining me this year! I loved running this event last year and can't wait to do it this year. Even better is that I get to share the load with the hubs!
Stay tuned…
---