A weekly roundup of my favorite things from the week, in the categories of wine, food, travel and lifestyle.
WINE
Bubbles!
Last Friday I participated in a twitter tasting of sparkling wines from the Franciacorta DOCG in the larger Lombardy region of northern Italy. Produced in the traditional Champagne method, these sparkling wines undergo secondary fermentation in the bottle. With a DOCG status, these wines undergo some of the strictest regulations in Italy. In one word, they are awesome.
A quick rundown of the DOCG regulated styles for Franciacorta, according to the Franciacorta imports website:
Saten: Composed of Chardonnay and Pinot Bianco grapes (max 50%), Saten is unique for its lower bottle pressure (5 atmospheres as opposed to 6) which results in a very fine, creamy perlage. Produced only as brut.

Rose: Composed of Chardonnay, Pinot Bianco and Pinot Noir grapes (min 25%). The red and white grapes are vinified separately.

Millesimato: Vintage wines are labled according to the "millesimo" or year of the harvest. At least 85% must be from the vintage stated on the label.

Pas Dose: The absense of dosage makes this the driest style. Less than 3 grams of sugar per liter are permitted.

Brut: The most versatile food wine, up to 15 grams of sugar per liter are permitted.
When it comes to bubbles and Italy most people associate the country with fruity and friendly Prosecco, made in the regions just east of Lombardy, but this neighboring region is making complex, intriguing, and serious wines in the traditional method with mostly traditional grapes (Pinot Noir, Chardonnay, along with Pinot Bianco).
This under the radar wine region is producing stellar bubbles that are as close to what you can get in the quality of true Champagne without paying $50+ price tag. In fact, all six wines I tried retail between $20-$30 and have a depth of flavors and complexities that blew me away and may surprise most wine enthusiasts.
I truly enjoyed tasting through all six of these wines, some more than others for various reasons. But overall, they all express complexity, personality, finesse, and the diversity of what can be found within this region.
These are definitely wines for folks who want something more complex than your average Prosecco but perhaps not wanting to pay the pricetag for most Champagnes. They are also great wines for the bubbly curious. Folks like me, who are on a quest to try the best bubbles from every wine growing region on the planet.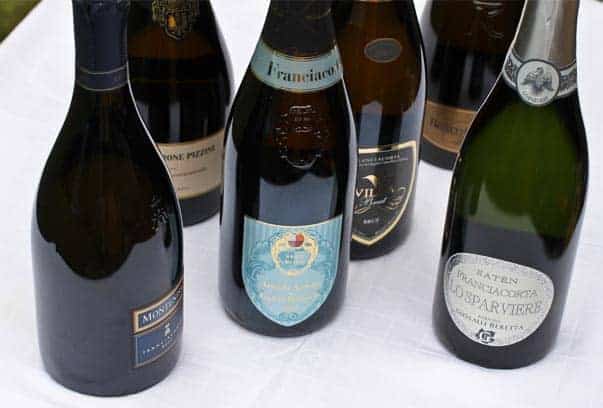 Be on the lookout for the following wines. ** Denotes my favorites of the tasting for reasons of personal taste, complexity, and style.
Lo Sparviere Saten ($25): 100% Chardonnay
**Barone Pizzini Brut ($35): 90% Chardonnay, 10% Pinot Nero (aka Pinot Noir)
Montenisa Brut ($37): blend of Chardonnay, Pinot Bianco, and Pinot Nero
**Ronco Calino Brut ($30): 80% Chardonnay, 20% Pinot Noir
Azienda Agricola Fratelli Berlucchi Brut Rosé, Vintage 2008 ($27): 70% Chardonnay and Pinot Blanc, 30% Pinot Noir
Villa Franciacorta Brut, Vintage 2007 ($35): 80% Chardonnay, 20% Pinot Nero
FOOD
I've been solo with the kids all week (no hubby, no help, no sanity), which means I prepped most of our meals last weekend for easy preparation and little mess. What I do is make anything time consuming on Sunday (like roasted chicken, a big batch of pasta sauce, pre-made pancakes that I freeze for later use, etc.), and have them ready for easy meals throughout the week.
So instead of spending a lot of time in the kitchen this week getting creative it means I've been living vicariously through Pinterest for new inspiring food ideas. Here are some that are on my radar.
These Pumpkin Ravioli with Hazelnut Brown Butter Sauce and Balsamic Drizzle, from Will Cook For Friends
Now I'm the last person in the world to jump the gun on embracing fall. I live for summer and want to soak up every last minute of it. But I saw these raviolis on Pinterest earlier this week and they have me drooling. I love all things pumpkin. In fact, one of my favorite all time meals is the pumpkin pancakes that my hubby makes for me every year on my birthday, which incidentally is next week. Therefore I usually wait for my birthday to welcome fall, but I have to admit, these raviolis have me almost ready for the season.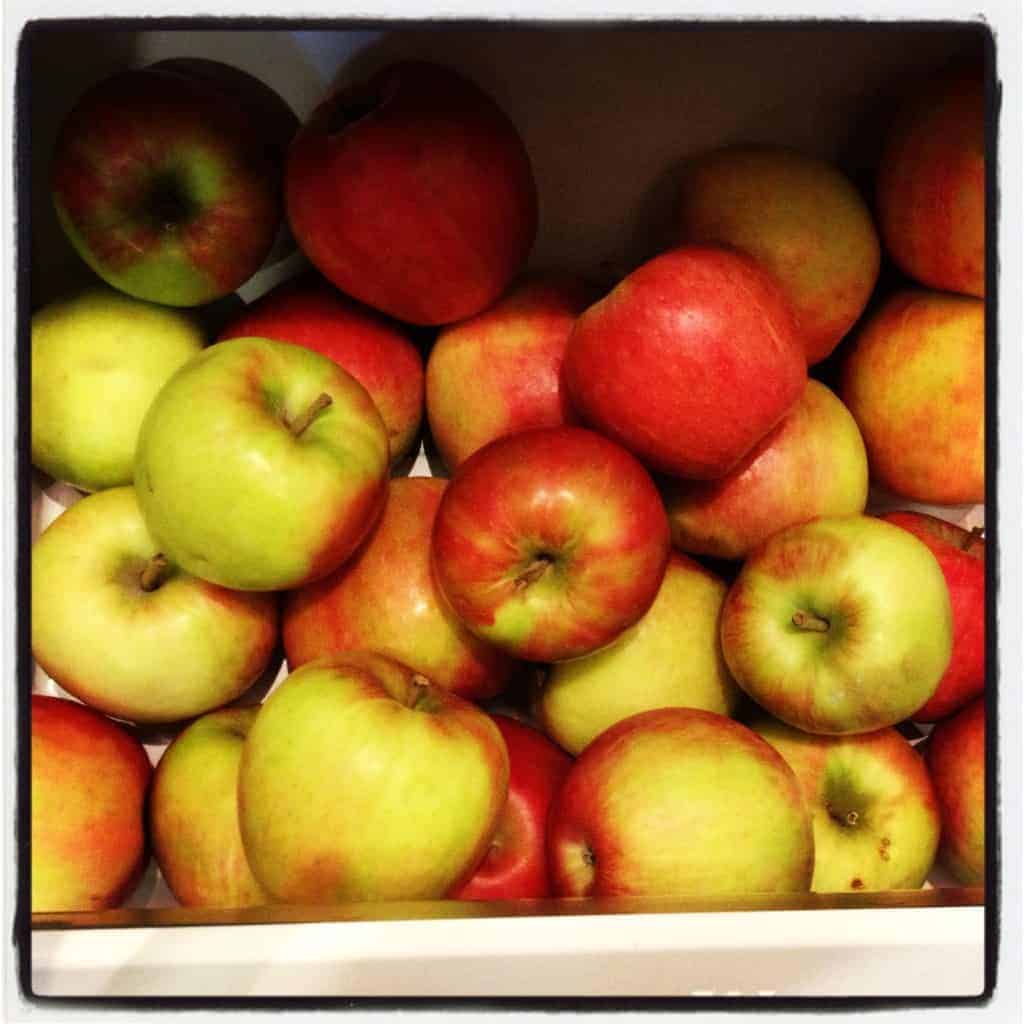 Speaking of fall, I came home from Bordeaux last week to a fridge drawer FULL of apples that the boys picked up in Hood River while I was away. I'm thinking Barefoot Contessa's Old-Fashioned Apple Crisp is in our very near future.
My all time favorite use of apples from my all time favorite cook
TRAVEL
It's officially harvest season in the Willamette Valley here in Oregon — my favorite time to visit wineries and vineyards. If you're in the area it's the perfect day trip to see what harvest is all about. It may not be advisable to go walking through the actual vineyards (as people are hard at work), but it's a great opportunity to pop into the tasting room and talk with the staff to see what's going on and learn more about harvest and the winemaking process. Several wineries even offer harvest tours.
In fact, I had the incredible opportunity to work a day of harvest this week at Kramer Vineyards in Gaston, OR, and get my hands dirty while experiencing their winemaking process first hand. The day started with winemaker Kim Kramer handing me a pair of sharp red shears and ended with a lovely brunch and a taste of their newly released 2011 Brut Sparkling Wine. This awesome experience will be open to consumers starting next fall. I will tell you all about it next week in a post dedicated to what I experienced, along with several photos of the process (that is if I can narrow it down from the over 200 photos I took that morning!). In the meantime here's a couple sneak peeks…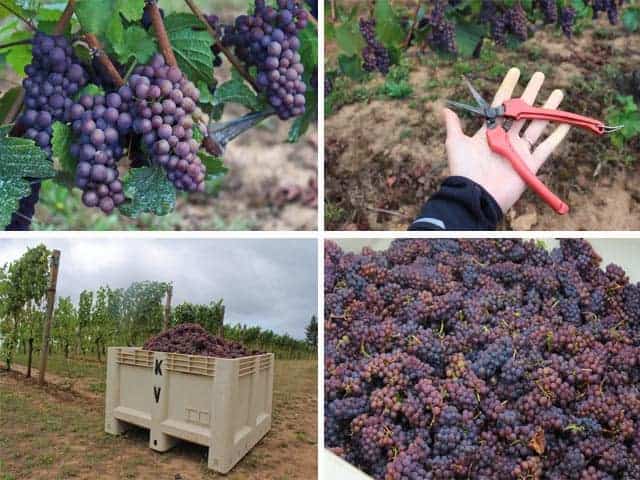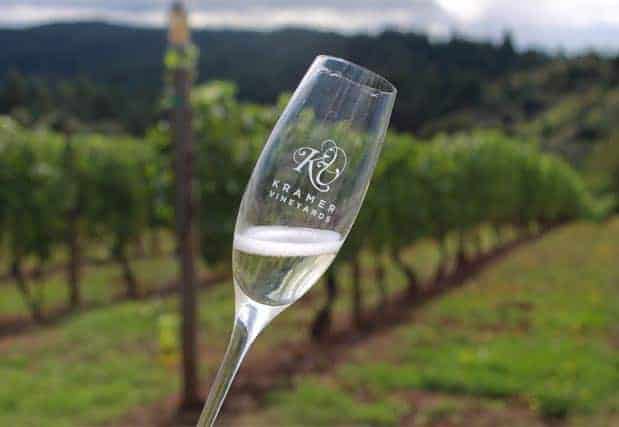 Stay tuned for more on my harvest experience at Kramer… next week.
CHEERS!
Have a fantastic weekend everyone. I'm off to begin celebrating my birthday week! I figured when your birthday falls on a Wednesday you get the distinct pleasure of celebrating it the weekend before AND after. It's only fair that way.

*****
Why I write these Friday Favorite Posts
Previous Friday Favorite Posts
Want more? If you liked what you read you can subscribe to Vindulge and have new posts delivered directly to your inbox.