A weekly roundup of some of my favorite things this week in the categories of wine, food, travel, and lifestyle.
This week has been a juggling act of unpacking, taking care of the tots, and working, while trying to also spend some QT with my visiting mom and getting the kids out to explore their new city. My mom did most the cooking this week, because that's what she loves to do most (lucky me!), but I did manage to get in a couple turns at cooking for her, starting with one of my favorite summer salads.
FOOD
Roasted Beet and Goat Cheese Salad
We saw these beets at the farmers market last weekend and I had to get them.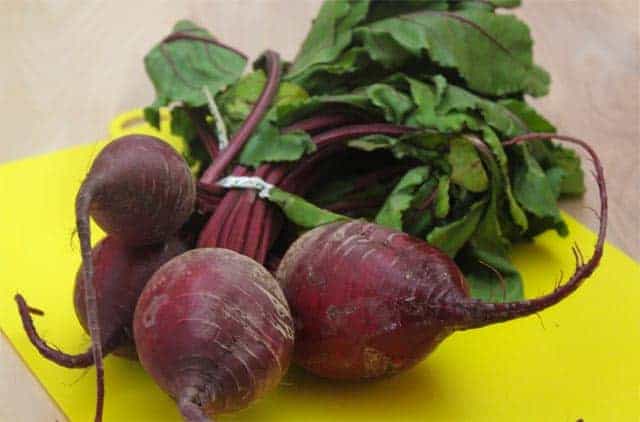 My mom mentioned she had never had roasted beets before, only canned (what the?!). I tried to explain to her that the flavor of freshly roasted beets is vastly different from canned. All I received in return was a blank stare from her, leaving me with the conclusion that the only way to prove this was to show her. It was finally MY turn to teach my mom how to cook something. Game on! I decided to make her one of my favorite summer salads, pairing the beets with goat cheese tossed with arugula and a simple vinaigrette served along side roasted chicken breasts. You can see the original recipe for the salad HERE.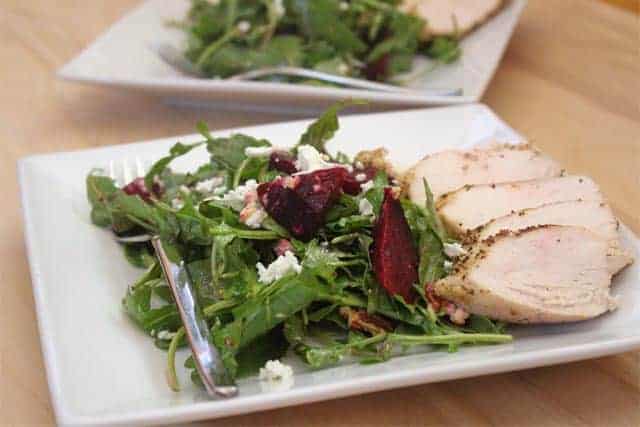 The verdict?
She loved the salad, and even requested double the amount of beets that I initially put on her portion, admitting that the canned version is too soft and lacks the flavor and texture you get from roasting. I think that says enough. Believe me, this one is a tough critic!
Favorite Foodie Read
This article – How to Make the Perfect French Omelet, by Kerry Newberry in MIX.
This article, written by a friend and talented local writer, explains in detail — along with step-by-step photos and a video demonstration — the proper way to make one of my favorite breakfast dishes. Who knew I had been doing it wrong my entire life?
Wait… oh yeah… my mom! Mom has been making omelets this way as long as I can remember — primarily folding the omelet in the three fold technique, not folded in half (the way I've always done it). I will be giving this method a shot this weekend. The only thing I'm not looking forward to is the "I told you so" that is sure to come when she sees me folding the omelet in three.
WINE
Phelps Creek Cuvée Alexandrine Pinot Noir
Earlier this week I was invited to a vertical tasting of Cuvée Alexandrine, one of Phelps Creek Vineyards reserve level Pinot Noirs. I've been a fan of Phelps Creek wines ever since I was first introduced to them while working in the Columbia Gorge wine region several years ago.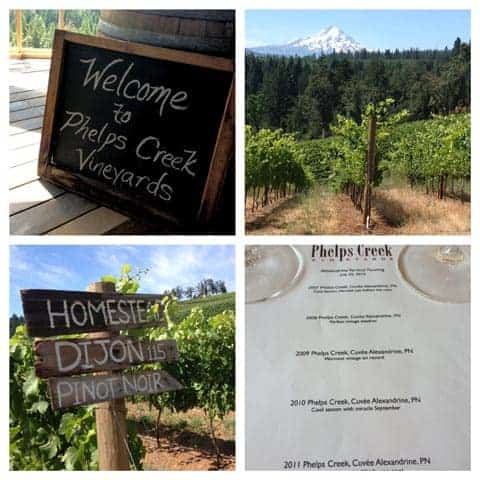 Phelps Creek Vineyards is a small boutique winery located in Hood River, Oregon, producing roughly 3,500 cases per year.
Owner Bob Morus founded Phelps Creek with the goal of growing exceptional Pinot Noir grapes, planting his first vineyard in 1990. For over a decade he sold his fruit to various notable Oregon wineries, including King Estate, Ponzi, and Sinnean.
In 2007, realizing he was growing stellar fruit, Bob began doing everything in-house, keeping all of his own fruit, hiring a winemaker, and producing wines under his own Phelps Creek label.
That same year he met French winemaker Alexandrene Roy, who lives in Burgundy, at IPNC (an annual event that is happening this weekend). They hit it off, and when he asked if she would be interested in making some wine for Phelps Creek she graciously accepted. She started off making just a small amount of wine for Phelps Creek, including their reserve Cuvée Alexandrine, but last year she became the Director of Winemaking, in charge of all wines for the company. Her Cuvée Alexandrine still remains her special project and applies the same methods since the first vintage of it in 2007. This past Tuesday, I was lucky to get to taste every vintage of the Cuvée Alexandrine made since the first year.
Made the same way each year, with free run juice from grapes picked from their oldest vineyards, this cuvée is a true expression of each vintage. The '07 reflects everything I love about that notoriously cold and wet vintage — it produced delicate and elegant wines for those who knew what they were doing, like Roy. Dusty and earthy, with mild berry, spice and cola undertones. Lovely and just beautiful.
The '08 and '09 were both warm vintages producing wines with more pronounced berry fruit, spice, and (unsurprisingly) became much more favored by the media. The '09 was a favorite among the group with its distinctly perfumed nose with noticeable tannins, however it wasn't my favorite. I preferred the '07 and '08. The '08 seemed more balanced having notably "Oregonian" funky/earthy aromas along with having fresh berry fruit and some spice. We then moved into two much colder vintages, 2010 and '11, reflecting wines that were more delicate with soft, mild, fruit aromas, smoke, and slightly under ripe cranberry fruit. The '11 showed some noticeable tannins, giving it some aging potential. Would love to see how it tastes a few years from now.
The 2010 is the current release and available through the winery for $49.
People constantly ask just how important the vintage is to a particular wine. For many wines, mass produced wines in particular, I respond, "not so much". There are ways to make a wine taste consistent year after year regardless of what Mother Nature provides. But for small production or boutique wines like this, it makes a huge difference. This was a great example of how the vintage effects the wine. In this case, each wine was very well executed demonstrating the care of a skilled winemaker, but the flavors of each wine were very different and reflective of the specific vintage.
Thanks to Bob and Becky Morus for inviting me to taste these lovely wines.
For more information on Phelps Creek check out their website. You can also read this article I wrote several years ago on the winery.
LIFESTYLE
Exploring Portland — Jamison Square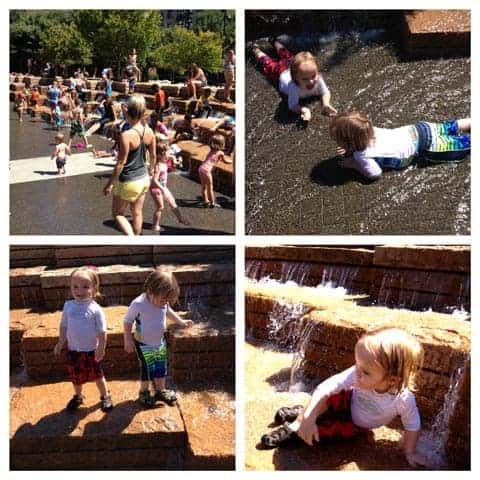 This week was pretty warm by Portland standards, so the kids spent much of the week in water — either the kiddy pool, sprinklers, or Jamison Square. Located in downtown Portland in the Pearl District, Jamison Square is an urban park. Originally designed to be an art gallery, the parks focal point is a large fountain that simulates a sort of shallow tidal pool with water rushing out of the many layers of cement blocks, then draining every few minutes, just to repeat the cycle over and over… making it a fun and popular spot for families with small children.
I had never actually been to Jamison Square when I lived here before, and visited for the first time last summer with my kids. They had an absolute blast. This is a place I will happily return to on a hot day.
Definitely a fun place to take young kids
Located on 810 NW 11th Ave Portland, OR
***
Why I write these Friday Favorite Posts
Previous Friday Favorite Posts
Want more? If you liked what you read you can subscribe to Vindulge and have new posts delivered directly to your inbox.