A weekly roundup of my favorite things in the categories of wine, food, travel, and (occasionally) lifestyle.
FALL DRINKS 
As fall drinks week comes to a close I wanted to give a shout out to The Heathman Restaurant & Bar's new fall cocktail menu. The Heathman, in collaboration with renowned Bar Chef Kathy Casey of Liquid Kitchen, has launched a fresh seasonal fall cocktail menu to get us through those long dark fall nights. The new menu highlights both the bounty of Oregon with lots of local and seasonal ingredients. I had a chance to sample several items from their seasonal fall cocktail menu, among them:
The Huckleberry Mule
(The bar's first cocktail on-tap.  Pretty cool!)
Absolut Vodka, Fresh Lime, Housemade Ginger Ale
Orchard Old Fashioned
Maker's Mark Bourbon, Clear Creek Pear Brandy Syrup, Organic Baked Apple Bitters, Ice Sphere
Harvest Pumpkin Toddy
Bourbon, Spiced Pumpkin, Frangelico
50 Shades
(Inspired by the book set at the Heathman Hotel)
Tanqueray Gin, Fresh Tangerine, Pomegranate Juice, Lemon, Fresh Thyme
The Harvest Pumpkin Toddy was certainly a standout for me, with rich (yet not over the top) pumpkin spice flavors and a creamy texture and topped with a house made pumpkin macaroon. Its aromas reminded me of Thanksgiving Day with all of the pumpkin spice flavors! But my favorite item, and certainly not because of its name, was the 50 Shades – with a perfectly balanced mix of the earthy thyme and gin, and sweet fresh fruit and citrus, garnished with fresh thyme. Super refreshing, balanced, and delicious.
I wish I had decent photos of the drinks, but they all came out dark. And really, who wants to see terrible photos of really good drinks? That's what I thought. If you're local you should just wander on down to The Heathman and find out for yourself.
WINE
Even though this week was all about non-wine fall beverages I just couldn't keep myself away from the wine. Daylight savings time has ended and it's suddenly dark now at 4pm (boo!!!). And cold. And wet. And our heater went out this week. Thus I finally turned to red!
Rodney Strong "Knotty Vines" Zinfandel 2012
Northern Sonoma, Sonoma County, California
15% abv | $25 (media sample)
It was a spaghetti and spicy sausage kind of night, so I pulled this wine to pair with the rich marinara sauce and sweet and spicy pork sausages, and it did not disappoint! The wine had some lovely peppery spice notes with lots of fresh black and red berry aromas that paired well with the sweet sauce and spicy pork.
Though the alcohol is fairly high (at 15%) it is a very balanced Zinfandel (not intense or over the top) that would pair with a wide variety of fare including barbecue ribs, pizza, burgers, or even winter stews. Find it here.
Speaking of Zinfandel, when most people think of the Dry Creek Valley (in Northern California) Zinfandel is what comes to mind. But last night I had a chance to sample three wines that showcase a different side of the region – Rhone style wines and red blends.
Dry Creek Valley Red Blends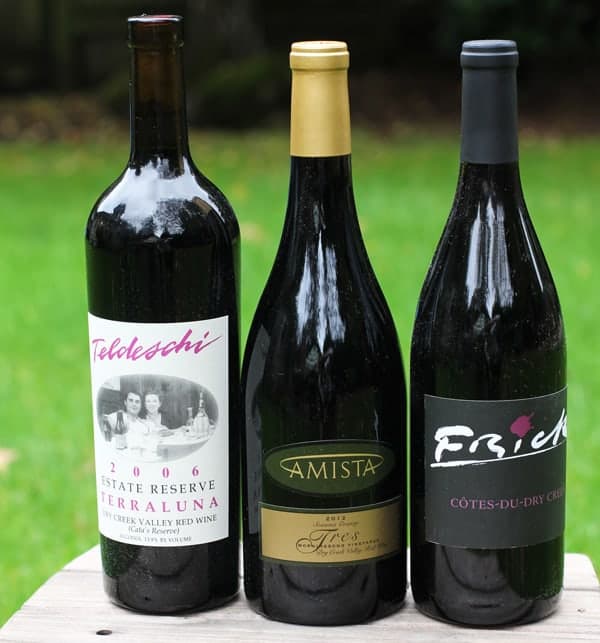 Dry Creek Valley, located in north-central Sonoma County, just outside the city of Healdsburg, is very narrow, just 2 miles wide, and 16-miles long. The region has over 9,000 vineyard acres and 60 wineries.
During a live Twitter broadcast I learned from the winemakers from Amista Vineyards, Frick Winery, and Teldeschi Winery about what makes the region special outside of Zinfandel. Though Zinfandel is what put the region on the map, the area is home to several other grapes that grow well out there all worthy of attention
They encouraged wine lovers to seek out Rhone style wines – those that include (though not limited to) grapes such as Grenache, Syrah, Mourvedre, and Cinsault – and other red grape blends.
One of the standouts for me was the 2012 Amista Vineyards 'Tres' ($35), a blend of Grenache, Syrah and Mourvedre with bright cherry and rich dark berry fruit, plums, and baking spice aromas and flavors. It was rich and smooth on the palate with some velvety tannins. This one has me thinking of the impending cold nights sitting next to a crackling fire dining on hearty comfort food.
FOOD
Pairing Pumpkin Dishes with Wine
Since we're still on the subject of fall, I recently wrote a piece for Bottlenotes on things you can do with pumpkins instead of carving scary faces into them, or drinking them in the form of a Starbucks drink.
The article, titled Move Over Lattes; Pumpkin is Good for So Much More, can be found here.
TRAVEL
Sicily here I come!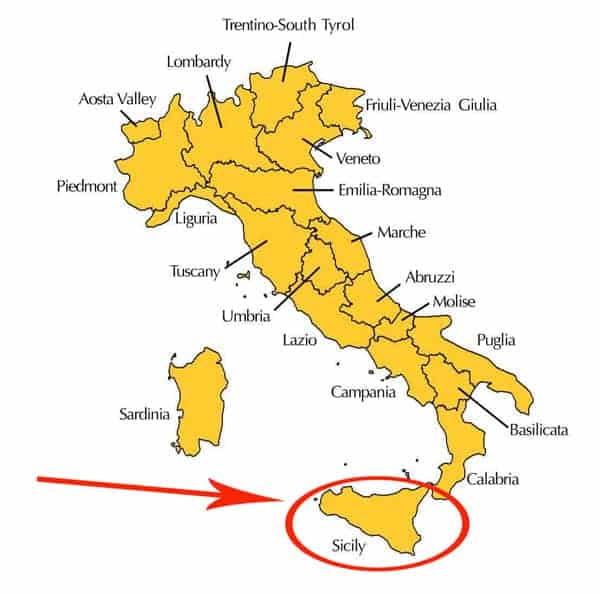 As I type this I'm en route to Sicily, sponsored by Gran Via Società e Comunicazione, to explore the wines of the region. I'm giddy with excitement to learn about the native grape varieties, like Nero d'Avola, Grillo, Catarratto, and so many more. I'll be visiting regions throughout Sicily, meeting with several producers, touring the UNESCO World Heritage Site Valley of the Temples, and even taking a cooking class focusing on traditional Sicilian recipes (so excited!).
Hubs will be taking over the blog all of next week, which hopefully means some fun BBQ posts (a-hem hubs, don't let the folks down!), and I'll be focusing on Sicily.   Though I'll be rather quiet here on the blog, you can still follow my journey on Instagram, Facebook, and Twitter.
Have a great week all!
---
Why I write these Friday Favorite Posts
Previous Friday Favorite Posts
Want more? If you liked what you read you can subscribe to Vindulge and have new posts delivered directly to your inbox.