A weekly roundup of my favorite things from the week in the categories of wine, food, travel, and occasionally lifestyle.
BBQ Competition Prep
This is it. We're down to the last week before our first major barbecue competition — The 8th Annual McKinley Springs BBQ Showdown & Benefit — next weekend and we couldn't be more stoked!
Now since we're used to making more non-traditional BBQ, like smoked salmon dip, brisket bruschetta rather than competitive brisket, and whole chicken rather than competition style, we needed to get some practice runs in. So this past weekend we gathered our Ember and Vine competition team for a trial run and this is what we came up with.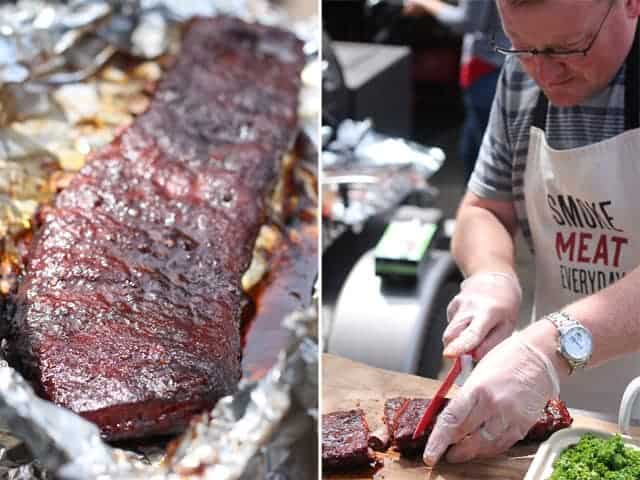 In competition we'll be required to present each submission in food boxes garnished with greens. They have to look uniform and perfect.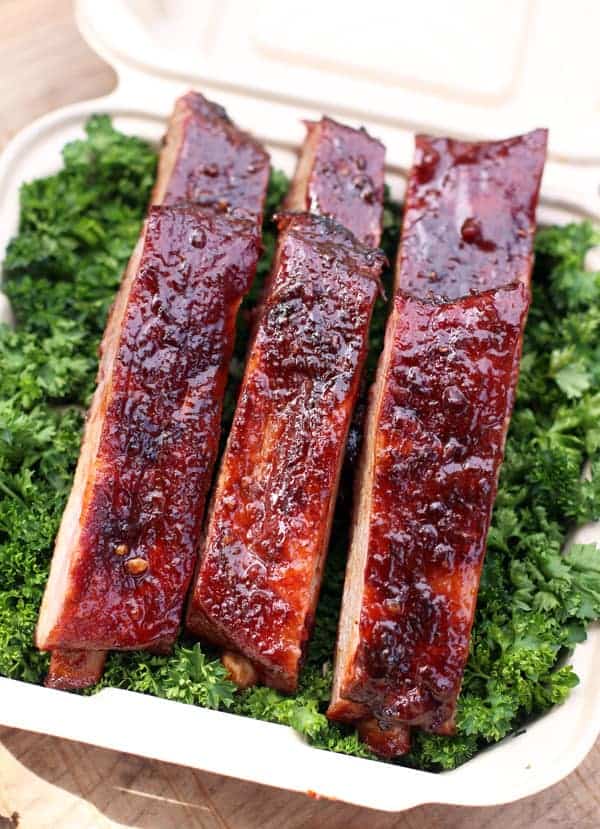 But the food will also be tasted based on strict judging criteria and has to live up to the judges' expectations.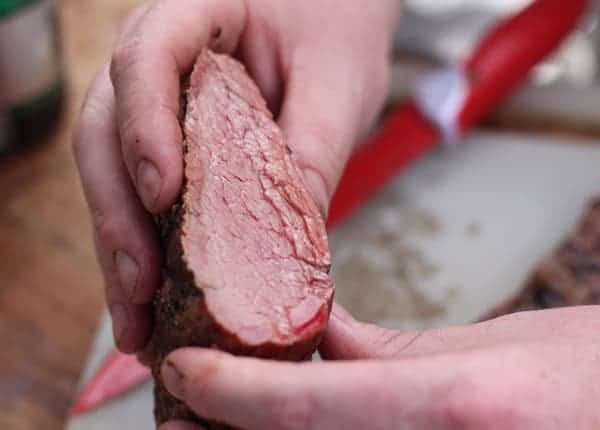 Smoked Tri-Tip, tender juicy and medium rare
We will be judged on five categories; brisket, pulled pork, ribs, chicken, and tri-tip. Based on our guest judges (aka awesome friends who came over to provide feedback) our ribs kicked it out of the park. The rest? Well what do you think?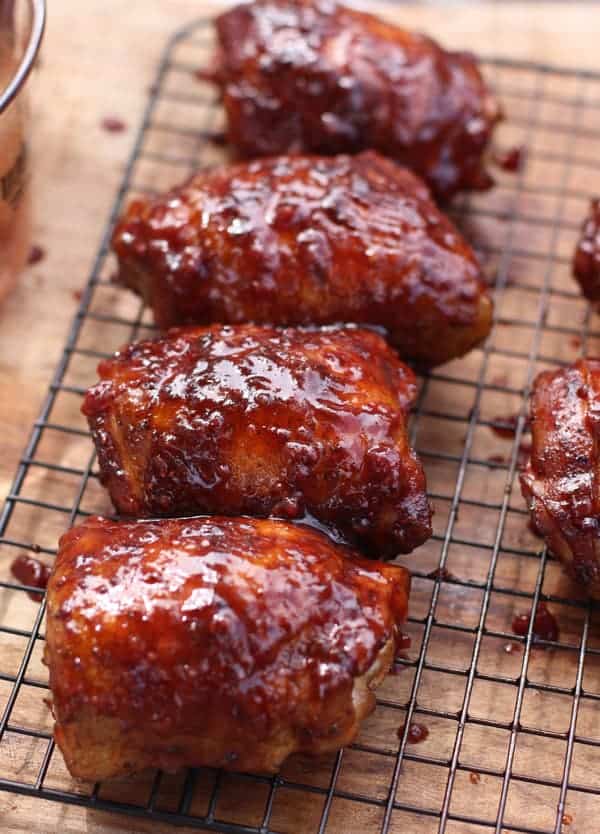 Competition style chicken
Let's just hope we can duplicate our results from last weekend come competition time! Wish us luck.
A duo of Albariños for summer sipping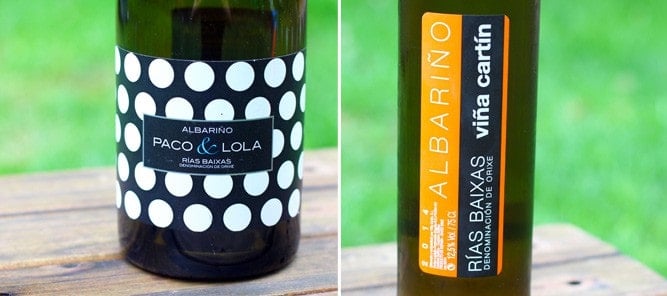 What can I say? I love a good Albariño. This wine that originates in northwest Spain is zesty, fresh, and crisp. They can have juicy fruit or crisp dry fruit flavors and can also be minerally on the palate. They're pretty versatile with food and almost always super refreshing. It's one of my go-to wines for summer sipping and seafood pairing.
2013 Paco & Lola Albariño
Region: Rias Baixas, Spain
$16 (media review)
Upfront this wine has a very vibrant nose with crisp apples, peaches and juicy pears, and fresh lemon aromas. It's got it all on the mouth, a mix of juicy fruit, crisp acidity, a little minerality, and vibrancy. I should also mention the adorable label with the polka dots. Definitely modern and fun.
2014 Viña Cartín Albariño
Region: Rias Baixas, Spain
$12 (media review)
For $12 (and can be found under $10!) this has a lot going on. It has juicy sweet tangerine and tropical aromas, with a lively body full of more ripe fruit, lemon, pineapple, mandarin oranges, and more. This wine is lively, savory, juicy, yet remains crisp throughout.

Mission: Summer of Rosé continues
I love rosé. I've been preaching the gospel of rosé since I started this blog in 2009 (has it really been that long?!). I love that every year it's getting more and more popular. With popularity come more options. It can be overwhelming to know what you're getting into with a rosé. I'm on a mission to taste as many as I can and share my favorites with you. Over the last couple weeks I've tasted at least a couple dozen. Here are a few standouts, each quite different in style.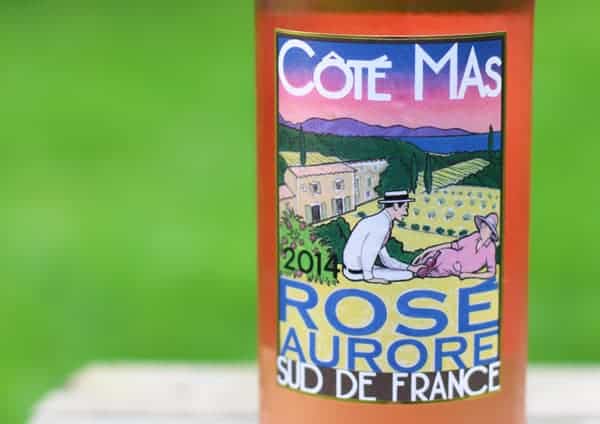 Paul Mas Coté Mas Aurore Rosé
Region: IGP Pays d'Oc, Southern France
$13 (media sample)
I love me a fresh Provence style rosé and this is made in the Languedoc region, not too far from Provence. This blend of Grenache, Syrah and Cinsault is light in color with subtle strawberry aromas and fresh lemon. It's bright, but not sweet on the palate even though it gives you that impression initially. Not a bubblegum style rosé by any means, it's tasty and a good value (can be found for under $10!).
Plus I'm kind of a sucker for its label, with a cute (younger) Kevin Kline look-a-like trying to woo a woman who's chillin' in the grass sporting a pink collared tennis dress. All she wants is more rosé, but she's totally humoring him by listening to his silly jokes. But really, Kevin, refill her glass already. Oh the things you learn from a label.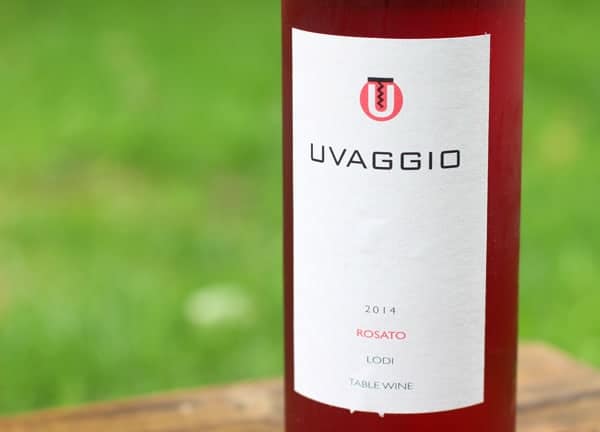 2014 L'Uvaggio di Giacomo Rosato
Region: Lodi, California
$15 (media sample)
I had the chance to taste this little gem during a live tasting with Lodi winemakers this week. This region often known for big Zinfandels also produces quite refreshing and balanced wines like this rosé, made from Cinsault with a touch of Vermentino, all from Lodi, CA.
The wine is dark in color, which threw me off initially. I thought it may be an indicator of flavor, but it wasn't. It was fruity on the nose with dark berry and bright citrus notes, but bright and fresh on the mouth. A fuller bodied rosé for sure, but super refreshing with nice acid and a really intriguing lingering savory finish. This is a rosé for more substantial fare, like grilled meats (though think salmon, or lean meats like poultry, or lamb).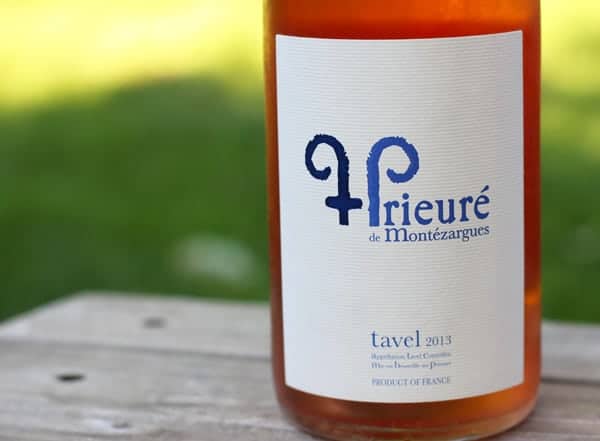 2013 Prieuré de Montézargues, Tavel Rosé
Region: Tavel, Rhône, France
$18 (media sample)
I first noticed the pretty salmon color of this rosé. Incidentally the wine would taste quite nice with salmon. Lots of berry aromas up front (fresh strawberry, raspberry, and some tart cranberry). It's fruity, yet fresh (not heavy at all), with great acidity. A nice option for salads with citrus-based dressings, shellfish, or even the versatile fare found at a typical summer barbecue.
Speaking of barbecues, this now brings us to the Defesa Rosé, or what I like to call, a rosé for ribs.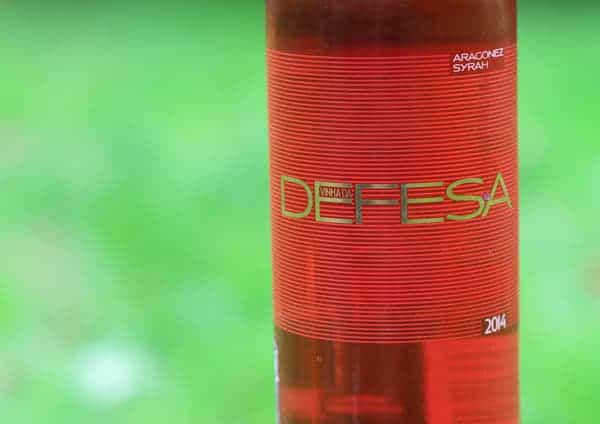 2014 Esporão Vinha da Defesa Rosé
Region: Alentejo, Portugal
$10-ish (media sample)
You may remember I tried this wine a couple months ago, but the 2012 vintage. I was recently sent this, the most recent vintage to test out. Similar to the 2012, it's dark (yet not quite as intense) with ripe sweet strawberry fruit aromas. The taste, however, is not sweet at all. Fruity, yet dry, with more red berry flavors and bright acidity.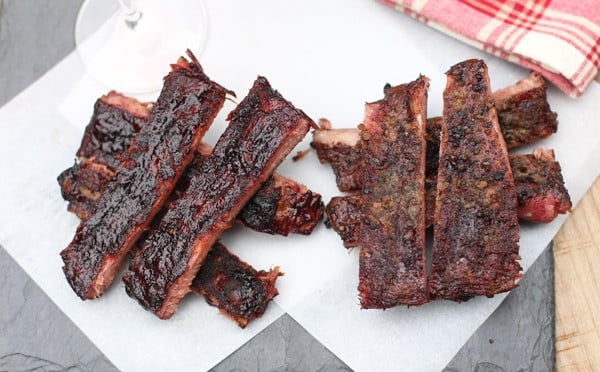 We paired it with two sets of ribs, one dry and one with a sweet glaze. It went quite well with the sweet glazed one, but I'd go as far as saying this would be better suited for a Carolina-style rib with a more acidic flavor profile and mustard tones. It has the acid and fruit to stand up to acidic meaty foods.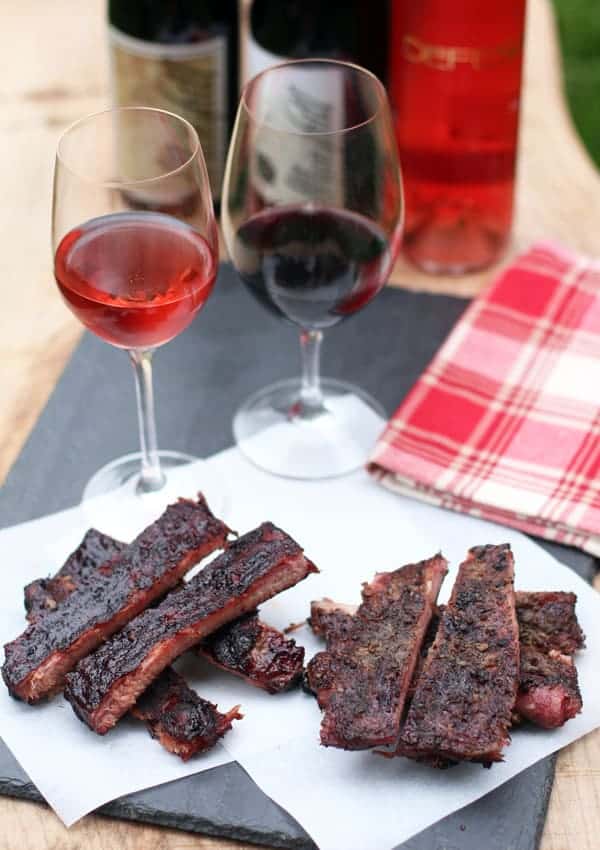 Speaking of ribs. We also paired these same ribs with two Syrahs from Maryhill Winery
I'm a huge proponent for testing different summer-style recipes with both white and red (or rosé) wines. Even hearty meats can pair with bright white wines. Case in point. Yet for those craving a red, we've got you covered… with some rich and fruity Syrah.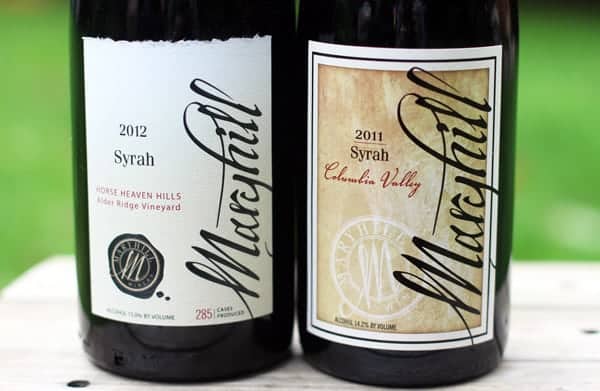 Maryhill Winery, located not far from me (about 1 ½ hours east of Portland along the Columbia River, on the Washington side), produces a ton of wine. In fact they are one of the largest producers in Washington State. During the recent Northwest Wine Summit wine judging one of their Syrahs stood out to me (in a good way!). That specific Syrah won't be released for a while, but Maryhill produces several other Syrahs, including these two.
2012 Maryhill Syrah Alder Ridge Vineyards
Region: Horse Heaven Hills, Washington
$21 (wine club exclusive, media sample)
I should first mention that this wine is only available to Maryhill's wine club members, but I still had to try it (though I should also note that I am not in their club). I've been a huge fan of Alder Ridge Vineyard and the Horse Heaven Hills Region since visiting it a year ago. This one didn't disappoint. It had a rich and meaty nose with dark chocolate, deep berry fruity, and spice. Lush and smooth on the mouth this is definitely a wine for rich cuts of meat, like the tender ribs we paired it with. But if you're not in their wine club, don't fret; the following wine is available to all.
2011 Maryhill Syrah
Region: Columbia Valley, Washington
$16 (media sample)
Sourced from three different vineyards within the Columbia Valley, this Syrah has a rich and jammy nose with black cherry, black berries, chocolate and coffee. It had a luscious texture in the mouth with some fresh ground peppercorn flavors and spice on the finish. This one was a great match with the salt and pepper seasoned ribs. It mingled quite well with the tender meat and wasn't too rich or intense. Yum.
That's it for this week. And since we're still on the subject of Syrah, I'd be remiss if I didn't mention what we're up to this weekend.
Phelps Creek Nacho & Syrah Party
We're spending the rest of the weekend prepping for the Syrah and Nachos party at Phelps Creek Winery. I can't believe it's finally here!
Syrah and Nachos, what could be better?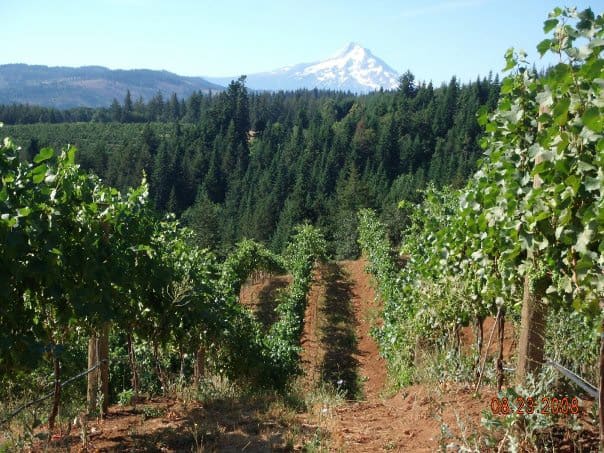 Oh … this view… that's what.
I can't wait to see all of you in person who voted for us for the Traeger Grills Meat Madness Competition!
And for those of you who can't make it, I promise to eat nachos in your spirit! And drink Syrah. And do the Nacho Happy Dance (it's a real thing, google it).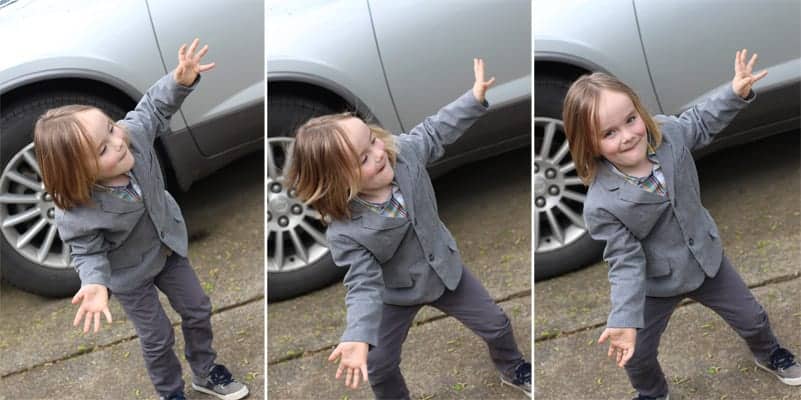 Thank you again and again and again, from the bottom of my heart!
Have a great weekend everyone.
---