A weekly roundup of my favorite things in the categories of wine, food, travel, and (occasionally) lifestyle.
FOOD AND WINE
Have you heard? It's Malbec World Day.
That means you need to stop what you're doing and go buy a bottle of your favorite Malbec and celebrate with the rest of the world. True story.
Incidentally we opened up a pretty lovely Malbec earlier this week while testing out a new brisket recipe from an awesome blogger we recently discovered – Drunk Brisket with Bacon BBQ Sauce from Hey Grill, Hey.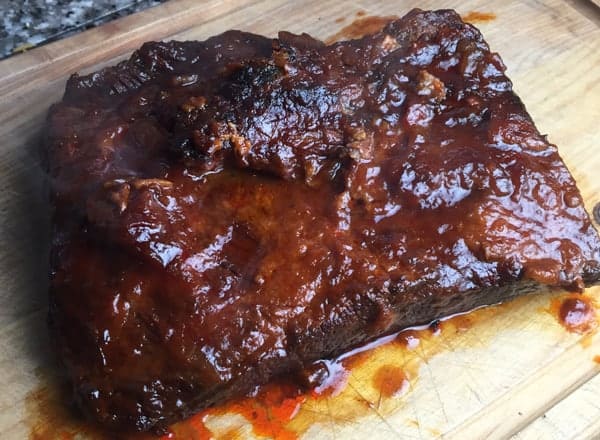 We met Susie, the author of Hey Grill, Hey, during the Traeger Grills Meat Madness Competition. She was kicking ass in the west coast division and made it to the Elite 8, but was eliminated. I was really hoping we'd go head to head in the Final 4 with her recipe for Drunk Brisket (but also a bit nervous… it looked delicious).
Susie is also a badass woman barbecue cook and enthusiast. This is rare in the mostly male dominated word of bbq. We've been perusing her website for the last few weeks, and couldn't get our minds off that brisket. So we tried it. Basically, she smokes the brisket for a few hours low and slow, then grills it on high heat, and then makes a bbq sauce and braises the brisket in the sauce for a few more hours. Are you kidding me right now?!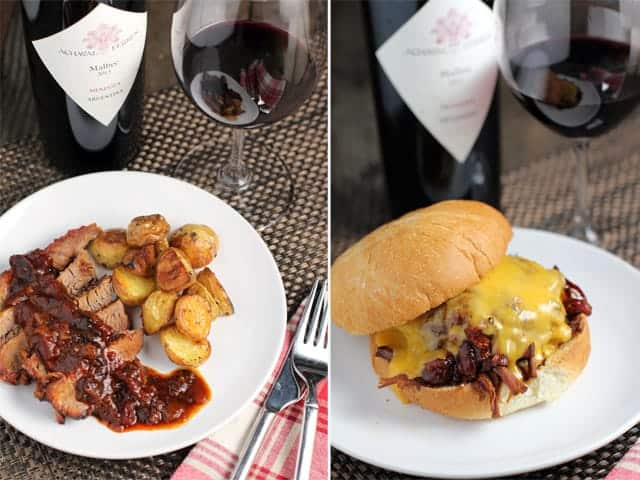 It came out fantastic. The sauce was rich and sweet, and the meat was super tender. I opted to eat mine alone, with just a drizzle of that sweet bbq sauce, and Sean made a pulled brisket burger out of his.
Both were killer, and both went fantastic with the Achaval Ferrer Malbec from Mendoza, Argentina ($25 media sample).
This isn't your simple fruity cheap Malbec. Nope. This one is much more sophisticated than that with rich black berry fruit, some blueberry notes, violets, minerality, along with mild, but structured tannins. The wine is super balanced and quite tasty. If you were to pair it with this brisket (and I highly recommend you do), go easy on the sauce so that the richness of the sauce doesn't overpower the wine. I went fairly light on the sauce and it was perfect match for the flavorful and tender brisket. So if you're looking for a last minute wine and dinner idea for World Malbec Day give this a whirl. Assuming by last minute you give yourself 24 hours for the preparation for that brisket;)
Rosé Time 
I mentioned a few weeks ago that rosé season is on the way. Well, it's here my friends. Big time. And the weather this week couldn't be more inviting for some pink liquid love. So, this week's wines are all about the gorgeous rosés I've enjoyed over the last few days.
The first few are from Oregon's 2014 vintage, which was one of the warmest in years. I've had a few disappointments so far that came out intensely fruity, sweet, and almost Kool-Aid-ish style wines. Not my thing. I still like a crisp, dry, and not-so-over-the-top style rosé. While they're not going to be as easy to seek out as last year, there are still plenty of balanced, crisp and delicious rosés from around here. And I've only just begun to scratch the surface of tasting the new releases! I say bring 'em on!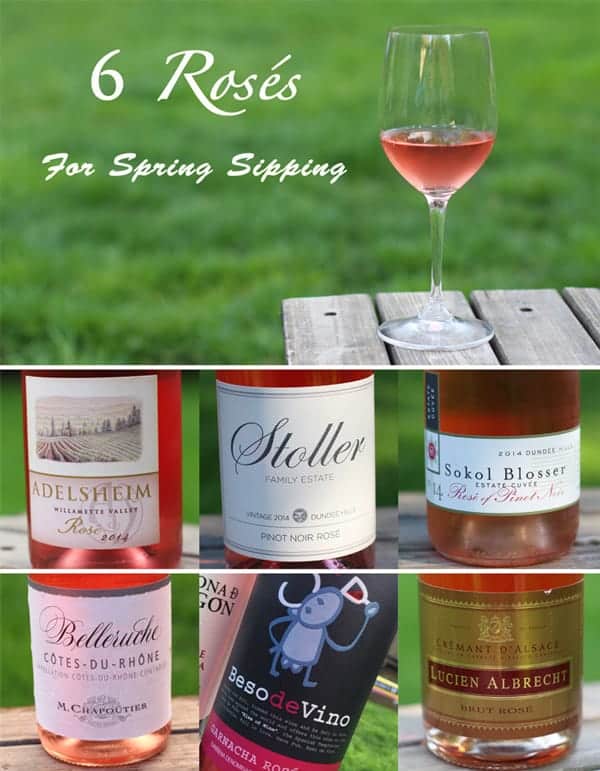 Adelsheim Rosé 2014 (Willamette Valley, Oregon)
This one had me at savory, because that's how it feels on the palate. We bought this for $15 on sale at Fred Meyer and have since returned twice for more. Made from 100% Pinot Noir this rosé is fresh and fruity with lots of juicy strawberry notes and great acidity. That noted savoriness is something that has me craving something delicious to pair it with. I have a feeling we'll be buying this one a lot this summer. I'm thinking homemade margherita pizza once my tomatoes ripen (yum!). 13.5% abv  |  $25 retail (but I found it on sale locally for $15)
Stoller Family Estate Pinot Noir Rosé 2014 (Dundee Hills, Oregon)
The 2013 version of this wine was probably my favorite rosé from last summer. I just couldn't stop drinking it. That's some tough shoes to fill this year. That being said, I was admittedly a wee bit nervous that the 2014 wouldn't live up to its delicious predecessor. Phew! I'm happy to report, it still rocks. I did love the lighter feel and balance of the 2013. But this one, while a bit fruitier, still has that savory nature I loved about last year. It has some fresh melon notes, followed by cherry, strawberry, and even some floral aromas. Crisp and a bit citrusy on the palate. You're still a winner in my book, Stoller rosé. Love, Mary. 12.9% abv | $25 (media sample, and I've purchased this on my own as well)
Sokol Blosser Rosé of Pinot Noir 2014 (Dundee Hills, Oregon)
This was the palest in color of rosés I've had from Oregon so far this year. The nose was initially quite citrusy, showing some fresh white grapefruit, and then giving way to pretty strawberry and cherry fruit. Dry and crisp on the mouth with more citrus hanging around. Not your jammy fruit bomb of a rosé, which I really appreciated. More of a citrus focused, light, crisp, and refreshing style. 13.5% abv | $20 (media sample)
M. Chapoutier Côtes-du-Rhône Belleruche Rosé 2014 (Rhone, France)
Smelled like fresh picked flowers (but not the fake-potpourri floral stuff). I'm talking spring blossom fresh, with raspberry and a little dusty strawberry on the nose (but not bubblegum, are you with me?). This blend of Grenache, Syrah and Cinsault is light and savory in the mouth with bright acidity. Quite nice for this price! A good one to have on hand this spring and summer for porch sipping. 13% abv  |  $12 (media sample)
Grandes Vinos y Vinedos 'Beso de Vino' Garnacha Rosé 2014 (Carinena, Spain)
This dark colored rosé, made from 100% Garnacha grapes, is rich, and very fruity with lots of strawberry and raspberry aromas. Some nice citrus on the mid-palate, taming down the intense red berry fruit. We had this with grilled tacos and that killer guacamole earlier this week, but it's also bold enough to stand up to burgers too. 13% alcohol | $9 (media sample)
Lucien Albrecht Crémant d'Alsace Brut Rosé (Alsace, France)
And we're going to end on some bubbles. Because I just can't help myself. I've been mentioning this wine since I started this blog several years ago. It's one of the most consistent and delicious sparkling rosés out there for the price, and you can find it almost anywhere. Made from 100% Pinot Noir, it's always fresh, light, with mild strawberry and raspberry aromas, a bit creamy on the palate, and always finishes crisp and clean with lively acidity. This wine is always a pleasure to drink. 12% abv  |  $20 (media sample)
Other great rosés I've had recently but don't have official tasting notes for (yet), but they're coming!
Analemma Atavus Vineyard Rosé, from the Columbia Gorge.
Penner-Ash "Roséo" Rosé of Pinot Noir, from the Willamette Valley.
Fossil and Fawn Pinot Gris (they don't call this a rosé but it's sure pretty and pink!), from Eola-Amity Hills in Oregon.
THIS DRINK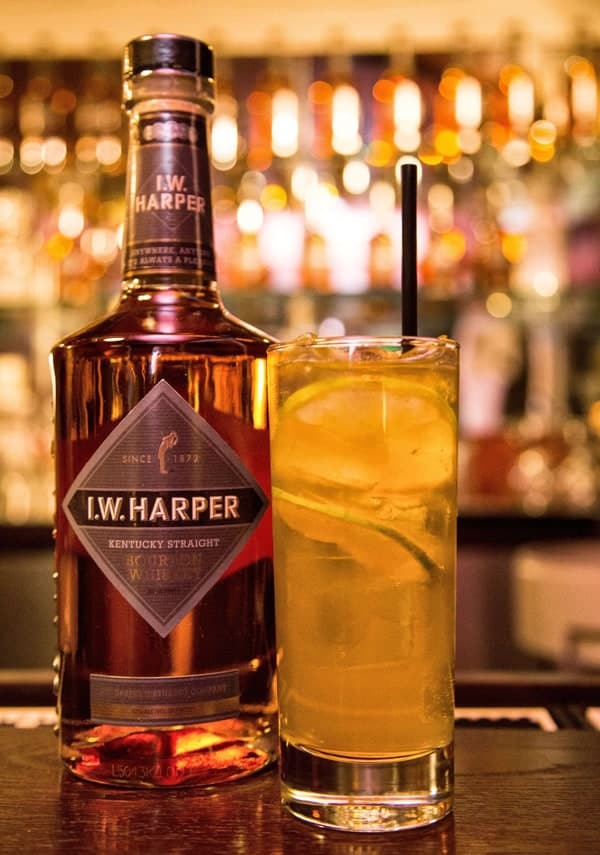 Bourbon Buck
1 oz. I.W. Harper Kentucky Straight Bourbon Whiskey
.5 oz. Cock and Bull Ginger Beer
.5 oz. Fresh Squeezed Lime Juice
Dash of Fresh Ginger
The weather this weekend is supposed to be absolutely perfect, and this drink is on my radar! I missed the chance to taste it at an I.W. Harper Whiskey tasting earlier this week in Portland, but that won't stop me from seeking out a bottle to make this drink this coming weekend. It sounds like the perfect accompaniment to a warm afternoon.
LIFESTYLE
This moment.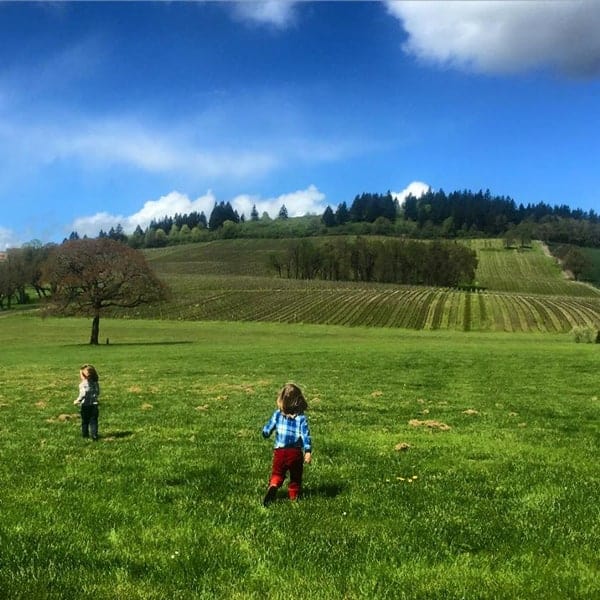 We took the kids out to wine country with some friends last weekend (where I picked up some of that tasty Stoller rosé). It was a bit too busy in the tasting room to let the tots roam free, so I took them to one of my favorite spots — the lawn in front of the tasting room facing their vineyards. I just love that solo tree with the tire swing that they are running towards.
Have a great weekend everyone! I hope the weather where you are is going to be as nice as Portland's forecast (sunshine, 70's, YES!).
---
Why I write these Friday Favorite Posts
Previous Friday Favorite Posts
Want more? If you liked what you read you can subscribe to Vindulge and have new posts delivered directly to your inbox.