A weekly roundup of my favorite things in the categories of wine, food, travel, and (occasionally) lifestyle.
TRAVEL
Timberline Lodge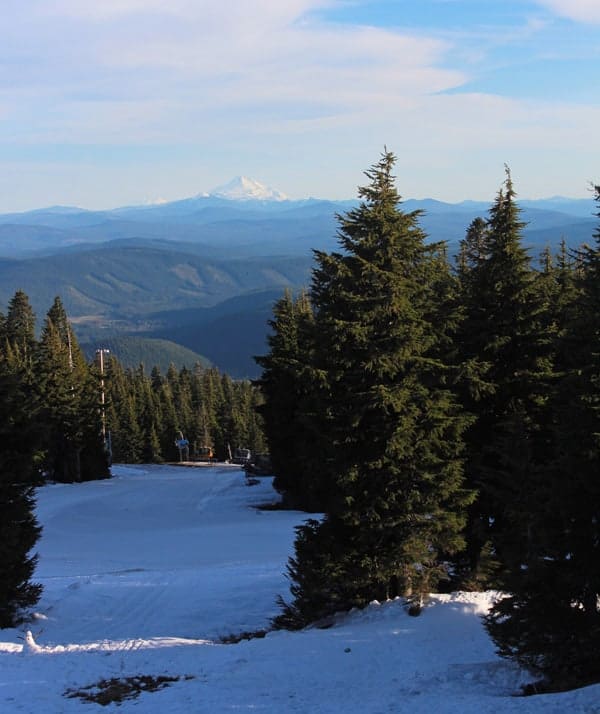 Earlier this week I traveled to the south side of Mt. Hood arriving at Timberline Lodge, about 60 miles east of my home in Portland. The lodge, which sits at about 6,000 feet elevation was constructed in the late 30s and was declared a National Historic Landmark in 1977, is a year-round destination for visitors to the always snowcapped Mt. Hood for skiing, hiking, and everything in between. And although it is one of Oregon's most popular tourist attractions, this was my very first time visiting. Say whaaaa? Yup, I've lived in Oregon more than seven years and this was my first visit to Timberline Lodge. And I loved it.
This place is rustic, authentic, and super charming. And it's in a most awe inspiring setting.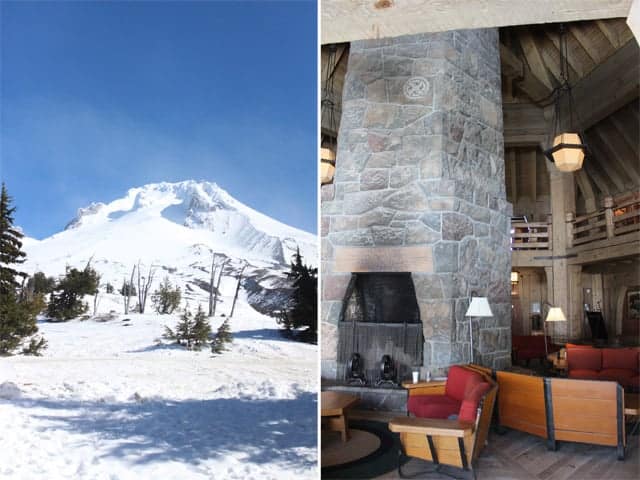 I wasn't there to ski, or hike, or dine in one of their many restaurants (one of which boasts an award-winning wine list), or even relax in their outdoor heated pool or sauna. I was there to judge a wine competition – the 2015 Northwest Wine Summit, now in it's 20th year. More on that below.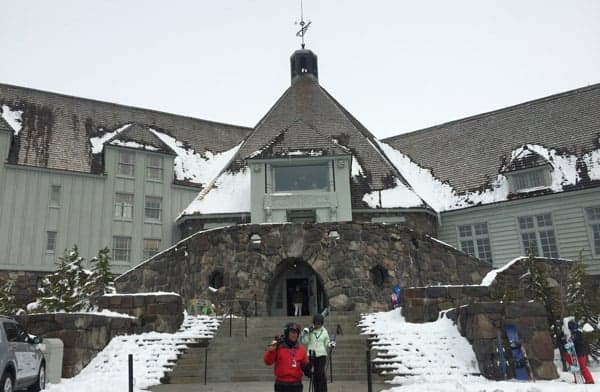 Timberline Lodge offers several styles of rooms, all with a rustic feel, and all with original handcrafted furniture. You can see several photos on their website, but the room I stayed at looked like this.
While I was warned that it could get loud in the rooms, due to the historic nature of the building and thin walls, I didn't hear a thing. Maybe I was too tired each night after judging hundreds of wines? Or maybe after living with twin children I've learned how to shut out unwanted sounds? Either way I slept like a baby with those super comfy down comforters and fluffy pillows.
I'm looking forward to coming back with the family this summer and taking the kids to get their first ski lessons here next winter. I'm also dying to dine at the Cascade Dining Room. I had a chance to tour one of their three wine cellars with wine manager David Villali and quickly understood why they continue to win awards for their incredible Northwest focused wine list. You'll find some incredible gems on that list.
If anything, I can't wait to return simply for this view from their back patio facing the peak of Mt. Hood. Simply stunning.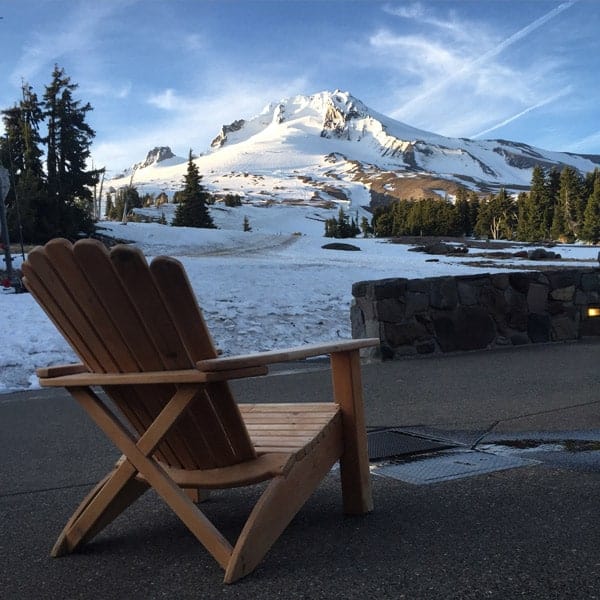 Get me a glass of wine and this view and I'd be a happy gal any day of the week!
WINE
Judging the Northwest Wine Summit Wine Competition 

As mentioned above, I was visiting Timberline as one of twenty judges for the 20th annual Northwest Wine Summit Wine Competition. This was my second year judging the event (the first time I judged it was held at the Columbia Gorge Hotel in 2010).
Judging a wine competition is an interesting experience. And by no means is it a perfect system for evaluating wines, but most do their best to be fair. And fair is the goal of this particular event, which has been under the same management since its inception. The twenty judges were broken up into groups of five, and we rotated groups every session (two sessions per day) in order to change up the group dynamics each round.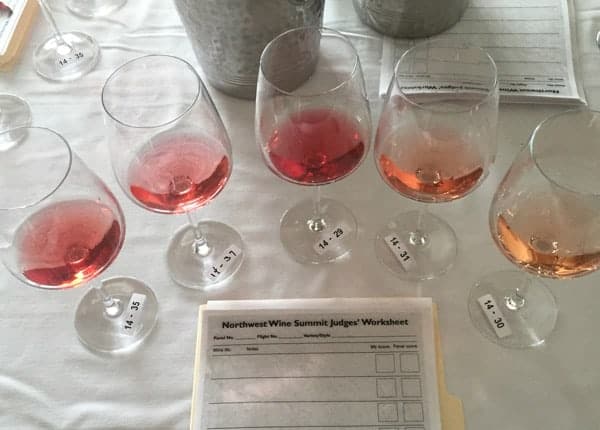 I tasted roughly 130 wines out of the several hundred that were entered. That means there were still hundreds of wines that never came my way. And while I wasn't told the exact number of entries this year (in the past there has been around 1,000 entered), or who won metals (that will be revealed soon I imagine), I was able to make some new discoveries.
One of my favorite things about judging a wine competition is discovering new wines I might otherwise not come across. I wrote down all the tasting notes for the wines I really liked, and found out after the competition was over what those wines were. Some highlights: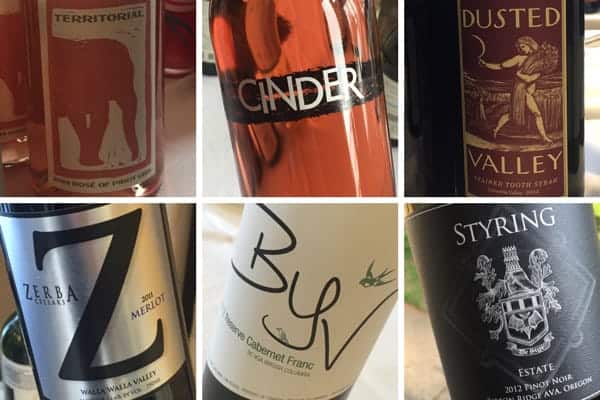 Y'all now I'm a lover of pink wine (dry rosé to be specific), and I've been intrigued by the latest trend of pink Pinot Gris out there. Whether they call them rosé or just by their varietal name, they are super interesting. One that came my way during the competition was Territorial 2014 Rosé of Pinot Gris from the Willamette Valley that was bright and crisp with fresh acidity.
Anther rosé and a new winery discovery all around was the 2014 Dry Rosé by Cinder out of Idaho's Snake River Valley. Not only did they make a lovely light and refreshing rosé but they also had a really enjoyable Viognier that had some meyer lemon and melon aromas with nice mineral backbone and nice acidity for a Viognier (which can tend to fall flat easily).
For reds, a few that stood out were the Dusted Valley 2012 Stained Tooth Syrah from the Columbia Valley with its rich fruit, velvety texture, and nice spice flavors. The Zerba 2012 Merlot from Walla Walla Valley was also pretty delicious with some dusty chocolate and dark berry aromas, rich and lush in the mouth with structured tannins. Nothing not to like about this one. It was also a favorite among my group that round.
My favorite red, however, was from British Columbia! It was the Backyard Vineyards 2012 Cabernet Franc Reserve. I tasted this wine during the first day of the three-day judging and liked it immediately because of its structure. It had great rich berry fruit and huge tannins. But those tannins are backed up with nice acid, balancing everything out. That wine ended up not only getting top scores from our panel, but it made it to the end, winning not only best red of the competition, but also the top honor – Best of Competition.
One wine I did NOT taste in a judging panel (but got to sample after the judging was over and was super impressed by) was the Styring Estate 2012 Pinot Noir from Oregon's Ribbon Ridge AVA. I didn't take official notes since this wasn't a wine I judged, but this wine was delicious and if I had tasted it during one of my panels I'd have been very enthusiastic about. The nice thing about Styring, this new-to-me winery, is that they are located in the Willamette Valley and close enough from me to pay them a visit (and I intend to).
Did you have any favorite discoveries this week?
---
Why I write these Friday Favorite Posts
Previous Friday Favorite Posts
Want more? If you liked what you read you can subscribe to Vindulge and have new posts delivered directly to your inbox.