A roundup of some of my favorite things this week in the categories of wine, food, travel, and lifestyle.
It has been a very slow week here on the blog, but an incredibly busy one for me and Vindulge. I'm sorry I missed last week's Friday post. To make it up I've extended this weeks post to cover both last week and this.
WINE – A week of bubbles

One for me, one for mom, and one for us both…
Anna de Codorníu, Codorníu Brut Cava, NV
Cava, Penedes, Spain
Grapes: 70% Chardonnay, 30% Parellada
11.5% abv | $10-$15 (media sample)
This bottle opens up with aromas of fresh lemon, delicate apple, and faint hints of sweet caramel on the nose. Pleasantly frothy on the mouth (not explosive or harsh, but with a vibrant personality) these bubbles have a lively mouthfeel with more apple, toasty notes, and a decent amount of complexity for a $10 bottle of bubbles. I'll definitely try this one again, especially if I can find it closer to the $10 scale.
Mom, on the other hand, couldn't stomach it. No offence to the wine, she just hates dry wines (I'm still not sure how we're related!). So I had to find something for her… which led to …
Terra Andina Sparkling Moscato, NV
Brazil
Grapes: Moscato
7.5% abv (very low!) | $12-$14 (media sample)
My first introduction to wines from Brazil was at an event sponsored by Snooth this past spring. It was a rollercoaster of flavors. One thing I did notice that sparked my interest was some interesting sparkling wines. In particular those made from Moscato. Though I didn't try this particular wine at that event I was intrigued when it arrived at my doorstep, but I waited for the right moment to open it. That moment was with my mom, who dislikes 99% of the wines of the world. The 1% she does like are made from Moscato. Needless to say she loved this one!
What did I think? I typically stay away from sweet bubbles (which is why I saved this bottle for mom), but I was honestly impressed and happily enjoyed a glass with mom. Yes, it was on the sweet side, but balanced with pleasant acidity. Pretty floral notes and apricot fruit on the nose with a sweet yet acidic mouth. I've reviewed other Terra Andina wines here before, and I have to say I'm a fan. They are straightforward wines, and good on their promise. Simple, fun, everyday wines.
And to my shock, I found a wine we both liked. A wine for us all…
Mumm Napa Brut Rosé, NV
Napa Valley, California
Grapes: Pinot Noir, Chardonnay
12.5% abv | $14 (purchased, though the SRP is around $20)
We bought this wine to get us through another day of unpacking a couple weeks ago (hence the almost noticeable boxes in the background of the picture). Unpacking a house requires good bubbles, it's a fact. This is a blend of Pinot Noir and Chardonnay; grapes used to make traditional Champagne. It has become a solid standby bubbly for me because of its red berry fruit characteristics, bright fresh mouthfeel, and lively bubbles. It's great on a warm summer afternoon and also versatile for a wide variety of food pairings (from light salads, grilled vegetables, margherita pizza, to grilled chicken and pork). I've seen it priced anywhere from $12-$20. If you can find it on the lower side of the spectrum grab it, chill it, and pop it open this summer. We drank it while unpacking and Mom even savored her share (and she does NOT drink any dry wines without trying to add Sprite to it. I'm happy to report that no Sprite was needed in her share!).
This was a wine enjoyed by all of us. A winner for sure.
TRAVEL – Day tripping to Hood River, Oregon
Since my mom's time in Oregon is quickly coming to an end (at least for this trip), I wanted to start showing her places she'd never been, like Hood River. How did I work in Hood River for nearly three years and never take her to one of my favorite towns in the entire state? I have no clue!
We took a morning drive on a sunny day on the 50-mile stretch along I-84, which parallels the stunning Columbia River Gorge, and decided to check out something I had never even done before – the Hood River County Fruit Loop.
The Fruit Loop is a scenic drive through the valleys orchards, farmlands, farm stands, vineyards, and more. Following the map (which you can pick up a copy, like I did, at the Hood River Visitors Center) you can read about the stops that sound fun to you and map out your day. U-pick fruits or flowers, wineries, fruit stands, alpaca farms, you name it.
Our first stop was The Gorge White House for U-pick blueberries and flowers. They also offer wine tasting (!) but we had the tots with us so we passed.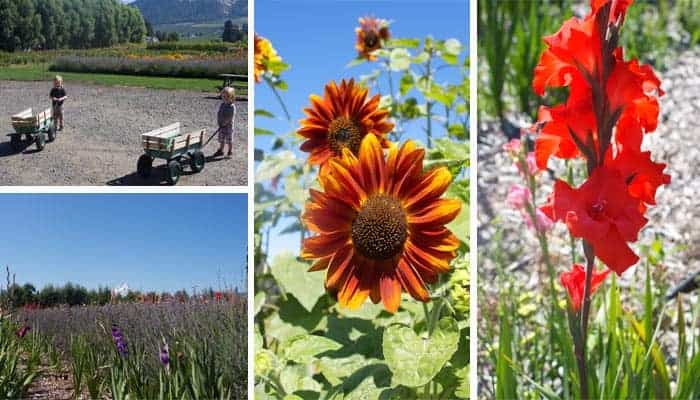 Next up we hit the one place I was most eager to see, Hood River Lavender Farms, which has over 70 varieties of organic lavender planted for you to pick. The fields of lavender are gorgeous with stunning views of both Mt. Hood and Mt. Adams in the distance. The kids kicked it on their lavender painted Adirondack chairs while mom and I picked our lavender. When the tots got bored the farm even had an assortment of toys for them to play with. I could have stayed there for hours (the kids too!). I must warn you that the bees are just as interested in the lavender as I was, but when a lady who worked there assured me they wouldn't bother me I lost my fear of getting stung.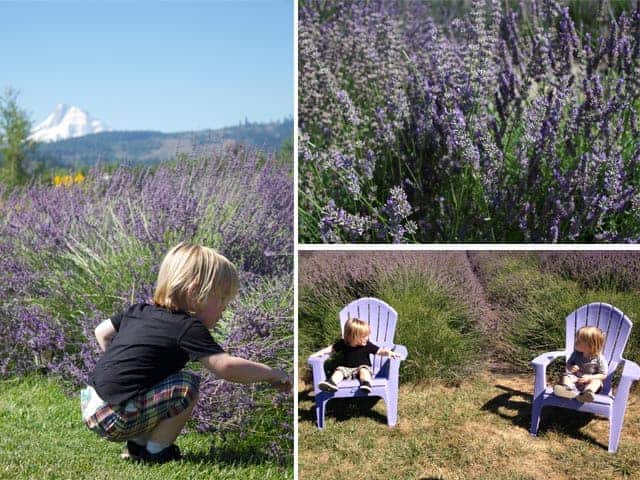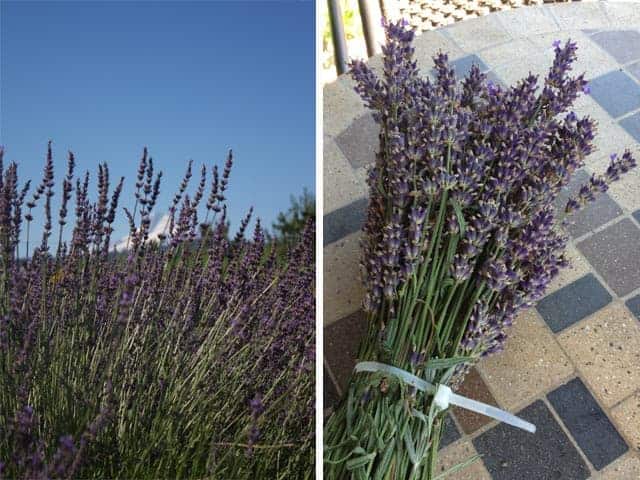 We then hit up Rasmussen Farms for one final stop before lunch. We couldn't resist picking even more U-pick flowers and wandering through their farm store to stock up on more fresh fruit and produce.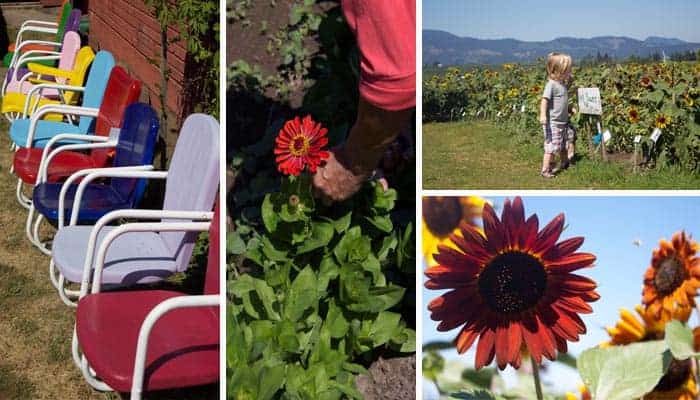 We picked up a quick lunch at Boda's Kitchen then headed to the waterfront for a picnic. I've written about Boda's before and have been there twice since we got back to Oregon. I've loved every single thing they offer. Bonus factor is they also have gluten free bread available and can make several of their sandwiches GF (which is important for my little ones).
Lunch at the waterfront watching windsurfers was the perfect way to end our outing.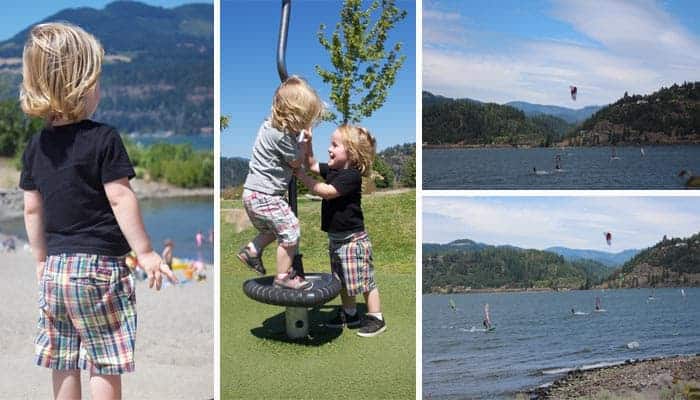 You can find all of the places mentioned above on the Hood River County Fruit Loop Website.
LIFESTYLE
As if moving 3,000 miles back and re-building a business wasn't enough I decided to start training for another half marathon – the Oregon Wine Country Half Marathon. How could I turn down running an event with such a perfect theme?!
My training requires me to run/workout 5 days a week.
One of the things I've appreciated the most about returning to Oregon, and one that has made my training so very tolerable 😉 is this view of my daily runs along the Columbia River.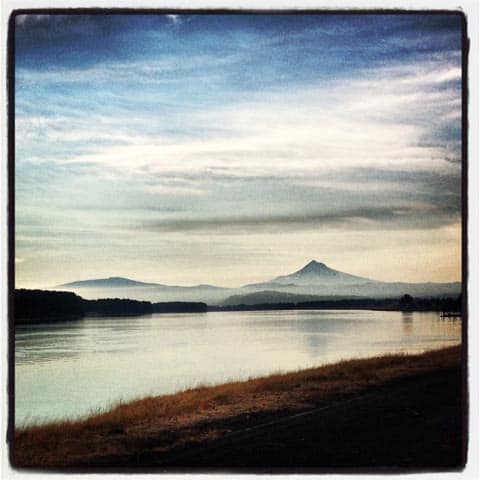 Though I must be honest, some days the mountain is shy and hiding behind low clouds, like this morning, and I have to suffer with this view instead.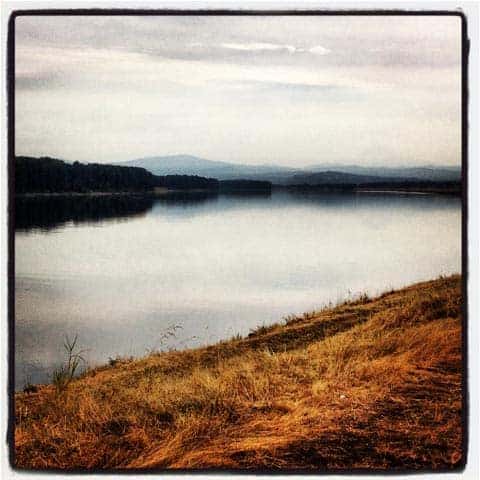 Rain or shine, cloudy or clear, the view is just as beautiful!
*****
Why I write these Friday Favorite Posts
Previous Friday Favorite Posts
Want more? If you liked what you read you can subscribe to Vindulge and have new posts delivered directly to your inbox.