A weekly roundup of our favorite finds from the week in the categories of wine, food, and travel.
FAVORITE WINES
This week's wines are from all over the map. Literally. From France to Argentina, and a couple from the U.S., we've got some fun recommendations to share.
Crus Bourgeois  

It's been awhile since I rekindled my love for Bordeaux wines. And I'm not talking about the fancy (and crazy expensive) Grand cru classé. I'm talking the everyday value Bordeaux wines that account for over 80% of the wines produced in the region. Today I'm talking about Crus Bourgeois classified Bordeaux wines.
What are Crus Bourgeois?
These wines are traditional Bordeaux blended wines that come from the Left Bank of the region, all grown on a single chateau, and priced between $20-$40. They offer some of the best value in Bordeaux, and are approachable and ready to drink sooner than their more expensive Grand cru counterparts. If the words Left Bank, Grand cru, or even Bordeaux confuse you, then start here for a primer on the region.
More importantly, these wines undergo a strict quality assurance process so that you, the consumer, know when you buy a wine with the Crus Bourgeois sticker; it has a guarantee of authenticity and origin. And since the 2010 vintage, these wines can actually be traced for quality and security (how cool is that?). You'll find QR codes on these wines that trace them all the way to their origin. Think high quality value Bordeaux when you see Crus Bourgeois on the label.
A couple of my favorite wines from this week fall into the Crus Bourgeois category. I tasted four of them together, and these two stood out.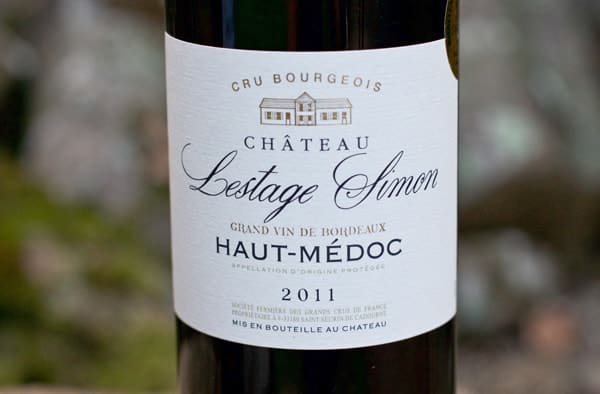 Château Lestage Simon 2011 (Haut-Médoc, Bordeaux, France)
This had a super expressive nose right from the beginning filled with toast, dusty chocolate, raspberry jam, and rich blackberries. I thought it would be more fruit dominated in the mouth based on the aromas, but it was quite mild. It had some deep berry and cassis flavors, but more on the earthy side with some gritty tannins and rich texture. I definitely enjoyed this one and would love it with a rustic stew.
$30 (media sample)
And the runner up goes to:
Château Haut-Logat Cru Bourgeois 2009 (Haut-Médoc, Bordeaux, France)
Though intense and rich with some tobacco, this had some pretty cassis aromas I really liked. Let it aerate for awhile, or better yet decant it! It opens up quite nicely and mellows out.
$27 (media sample)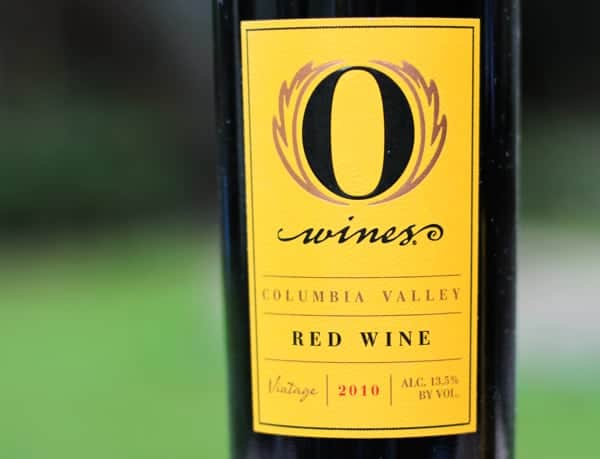 Pizza wine that gives back — O Wines Red Wine 2010 (Columbia Valley, Washington)
This blend of Merlot, Cabernet Sauvignon and Syrah has some rich juicy black cherries, jammy blackberry, and some fun cocoa flavors. It's mild in tannins and pretty smooth overall. We had it with pizza last weekend and it hit the spot.
$12 (media sample)
A pretty cool thing about this wine is that the brand was created in 2006 with a mission to provide scholarships to low-income women. With O meaning "Opportunity" the brand raised $300,000 and supported 53 college scholarships through 2013. So, you can have your pizza wine and know that you are helping someone achieve their goal of going to college. Boom!
To learn more about their scholarship program and wines (they also make a Chardonnay), click here.
Scandal Wines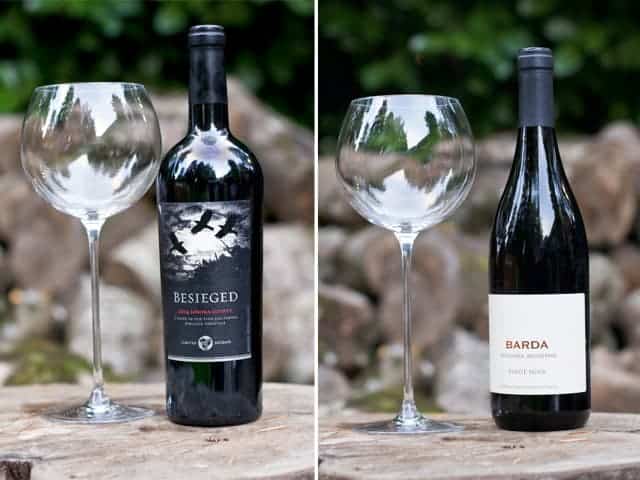 Is that the Scandal inspired glass from Crate & Barrel? Why yes it is! 
A good friend and I have started a weekly Scandal night. I bring the wine, Katy provides the TV and some tasty snacks. (And yes, we totally drink from the Camille "Scandal inspired" glasses from Crate & Barrel seen in this pic!). My goal is to find wines that she loves and ones that are appropriate for our ridiculous obsession with this silly show. Plus, I'll take any excuse to drink wine with a good friend (sans kids!). This week I had to decide between an elegant Pinot from Argentina, or a bold red blend from Sonoma. Turns out they both fit the storyline of this week's episode.
Ravenswood "Besieged" Red Blend 2014 (Sonoma County, California)
This blend of Petite Sirah, Carignane, Zinfandel, Syrah, Alicante Bouschet, and Barbera is dark and intense (though not inky). There's a nice mix of blueberry, rich black cherry, and toasty aromas, then in the mouth it has nice structure and power without being overbearing. Overall full-bodied, smooth, and velvety. This stood up nicely to the opening of the show (spoler alert), which started with paparazzi hounding Olivia for having an affair with the President. She could have used a bold wine like this to handle that kind of pressure.
Bonus: This would also be a fun wine for Halloween. The label shows eery ravens hovering over vineyard on a dark fall night. It has a rather gothic feel to it. And unlike some wines that market themselves to holidays, this one actually tastes good!
The name of the wine is actually a nod to Ravenswood's first harvest., when a circling flock of ravens taunted winemaker, Joel Peterson, as he rushed to pick all his fruit before a storm. Cute.
$16 (media sample)
Bodega Chacra 'Barda' Pinot Noir 2014 (Patagonia, Argentina)
Almost the opposite of the first wine (though equally tasty), this Pinot is light and elegant. This was fitting as by the end of Scandal (spoiler alert) Liv had a romantic moment with Fitz, which ended with them running out to go on a date (oh Hollywood!). Pinot is a total date night wine, and this one fits that description quite nicely.
From Argentina of all places this wine, at first, comes across quite intense and fruity. It has lots of plum and sweet berry notes with a touch of spice hiding in the background. Though, once you taste it, it reveals itself as dry, mild, and well balanced. It was light-bodied and almost delicate but with solid structure. It's also 100% biodynamic and 100% certified organic.
$25 (media sample)
FOOD 
This Butternut Mac and Cheese from The Pioneer Woman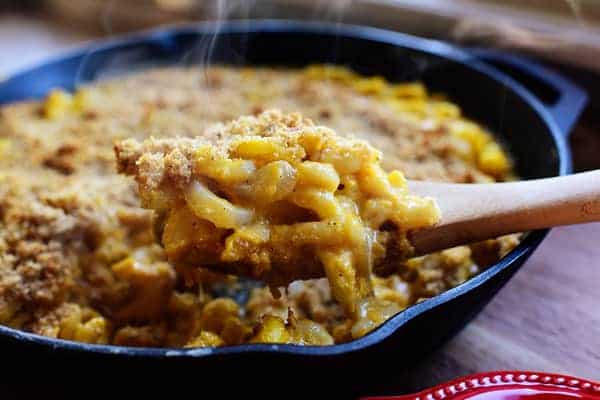 (Photo source: The Pioneer Woman)
If you have spent even 10 seconds on Pinterest this fall (hi! let's connect) then I'm sure you've seen your share of butternut squash mac and cheese recipes. They're everywhere. I can't get them out of my head, and I can't hide from my urge to jump on the bandwagon! So Monday morning I woke up with a plan to finally find a good recipe and test it out, when whadduknow, just sitting there in my email inbox was a new recipe from The Pioneer Woman on this very topic (thanks, Ree!). So I made it. I didn't follow her recipe to a T (I didn't do the caramelized onions although they sounded delicious, and no breaded topping), but my gosh it was good. Believe the hype, people! It was rich, hearty, and creamy, like a good mac and cheese should be, but so much healthier! I made a few other substitutions to lighten her recipe up and also used brown rice pasta. The kids devoured it (and surprisingly, so did the hubby). I dig me a good healthy dish that everyone will eat.
Snack on my radar – These Healthy Cheesy Crackers from Food Network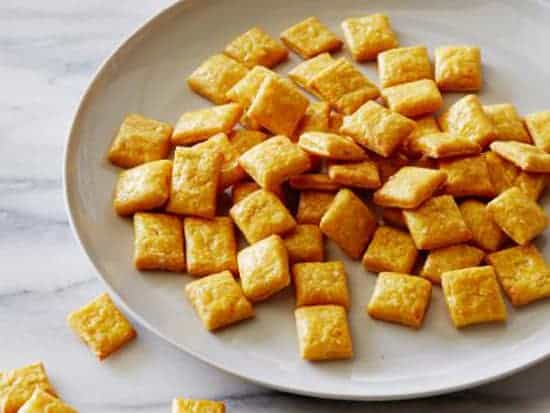 (Photo source: The Food Network)
Speaking of healthy, I saw these crackers floating around Pinterest and decided I need them in my life. Though I might try them with whole wheat flower (will they come out too dense?). My kids are cracker monsters (please tell me I'm not alone. Anyone?). These look like ones I can feel a wee bit better about feeding their addiction with.
Favorite Local Pizza Joint Turns 1
Happy Birthday Pizzeria Otto!
Pizzeria Otto on opening day back in 2014
One year ago tomorrow my neighborhood in NE Portland finally got an awesome little pizza joint (and I do mean "little" — there's only 10 tables inside). We were there on opening day and have been more than a dozen times since. They specialize in Neapolitan style pizza cooked in a wood fired oven.
This has become our regular pizza hangout. It's great for the kids, great pizzas, and they have a small but fun selection of wine and local beer. I discovered my new favorite Pilsner (mmm Heater Allen) there thanks to them having it on draft.
Up until recently the only pizza I ever ordered was their Margherita. It's just the way I like it; great crust, sweet sauce, great flavor (I sometimes top it with arugula to pretend like I'm eating salad). But recently I ordered their special – Marguez Sausage (lamb), padron peppers, red onion, and tomato sauce (pictured below). Holy delicious, Batman. I think I'm going to be swaying away from my usual more often.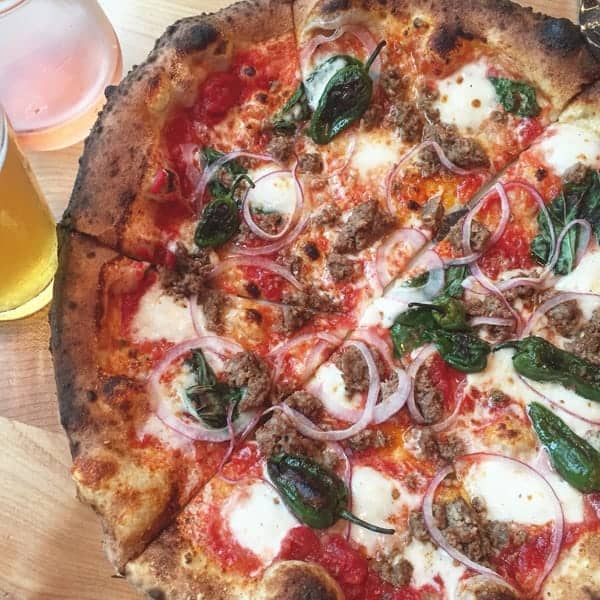 Pizzeria Otto celebrates their 1-year anniversary this weekend! If you're local check them out. If you're planning a trip to Portland, put them on your radar. I couldn't be happier for their success.
You can also see a fun review of Pizzeria Otto from my friend Jameson Fink here. We sent him there on one of his recent visits to town and he was smitten by a Corsican Rosé they had on the menu. He also provides some helpful tips should you venture in on a busy evening.
Favorite Moment — Cooking Demo on AM Northwest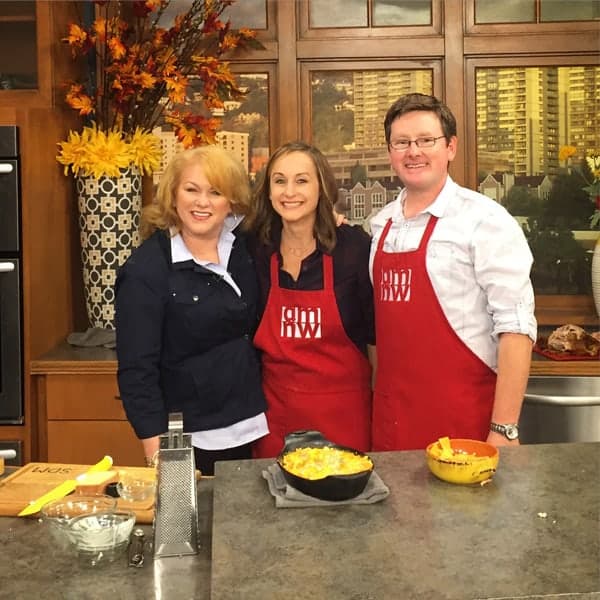 That's right! We got to go back on AM Northwest to do another cooking demo. I can't wait for you to see this one. This was a pre-tapped segment, so I promise to share the link when the show goes live. Until then you can check out our previous appearances to AM Northwest when we cooked our smoked brisket nachos HERE, and our smoked tomato bisque HERE.
That's it for this week! Did you have any favorite foods, wines, travel tidbits to share? We'd love to hear!
---
Why I write these Friday Favorite Posts
Previous Friday Favorite Posts
Want more? If you liked what you read you can subscribe to Vindulge and have new posts delivered directly to your inbox.