I had hoped to be able to post this on Friday, but due to several snafus I was unable to post anything — no internet, and more importantly no way to download my pictures onto my computer. I have since temporarily resolved those issues and wanted to share a quick blurb about life on the road (with toddlers) over the last week. Hence why Friday Favorites falls on Sunday this week.
After spending the long holiday weekend visiting family in upstate New York, we embarked on a five day journey from NY to OR.
It takes a lot of patience, and most importantly – flexibility—to drive across the country with kids, especially two toddlers. I'm gonna go ahead and toot my own horn and congratulate both me and my husband for surviving this incredible journey. It hasn't been easy. But it most certainly has been memorable.
I have a lot of stories to share, and lots of advice for traveling cross-country… and not just kid related (though I've certainly learned a lot about that), but I'll have to wait until I have a better internet connection and a free moment for that. We do not yet have internet installed at our home, so I'm therefore having to post this from our awesome neighbors house. I'm also very distracted now trying to entertain two toddlers in an empty house with no toys or technology (ideas are welcome!!). Therefore my next few days will be spent entertaining the tots, and prepping our house for the movers, who arrive midweek.
Until I have time to gather my thoughts and download my pics I did want to share one of the highlights of the week.
FOOD
As I may have alluded to, the journey wasn't exactly the romantic cross-country adventure people dream of. We're by no means "new" to traveling with kids. We've done several trips with them (both air and road), including a different cross-country journey less than a year ago. The most valuable lesson we discovered on that trip was the importance of stopping every few hours at a playground to let the lads outside, in fresh air, to play.
Well, the first two days of this trip were plagued with storms. Not just drizzly sprinkles but thunderstorms. Not the kind of thing you want your 2-yr olds frolicking around in. This made time spent in the car a wee bit more challenging, and the evenings exhausted, scarfing down food from the first place that would deliver to us at 11:00pm, then passing out, just to start anew the next day. So it was to my utter excitement when we decided to make day 3 of our trip a short one, arriving to our destination (Bozeman, MT) at 5pm. That left us time to let the boys go swimming, and dine at our first sit down restaurant of the trip. How did I decide where to eat? Yelp of course. I simply searched "restaurant" and "kid friendly" and my eyes immediately fell on these three words "Montana Ale Works". Could you blame me?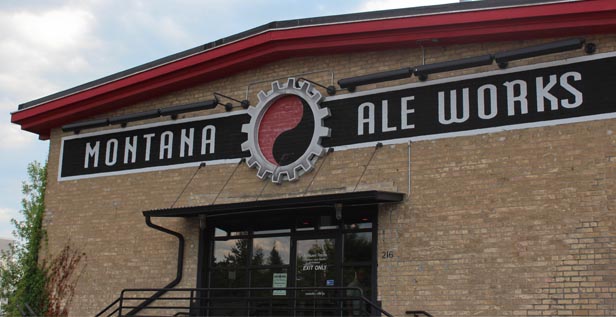 This place is awesome, and it was perfect for our family. With an industrial feel the space is large, the ceilings are high, which makes it a bit loud (something I look for when I take my kids to a restaurant; for reasons that should be obvious), the restaurant offers a wide variety of upscale pub fare. The mission of the restaurant is to promote local, seasonal, ingredients into casual dining. The menu changes frequently. Bison is on the list a few times, and all burgers are made with all natural Montana raised beef.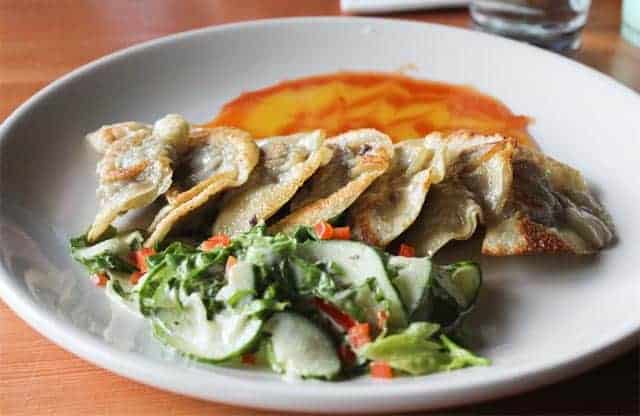 We started with a round of bison pot stickers – served with sweet mango and hot & sour sauces, and a side of Asian cucumber slaw. The meat was tender and flavorful, the pot sticker was perfectly thin and crunchy, and the sweet and spicy sauce provided a nice contrast of flavors.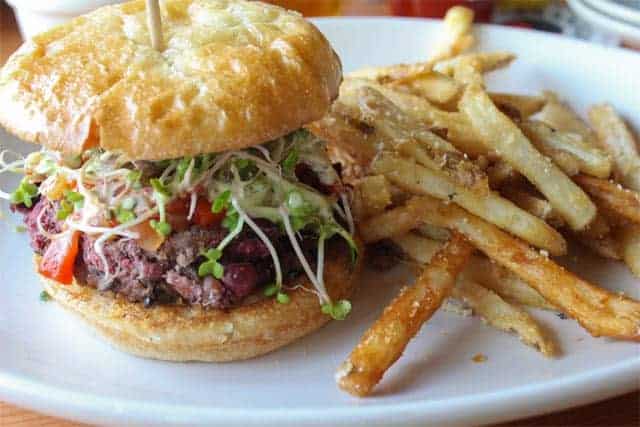 As much as I was curious to try one of their several Montana raised beef burgers, our server convinced me to go with the veggie burger. She had me at "the veggie burger has like 18 different local vegetables in it including beets. It's my favorite thing on the menu". Yes please.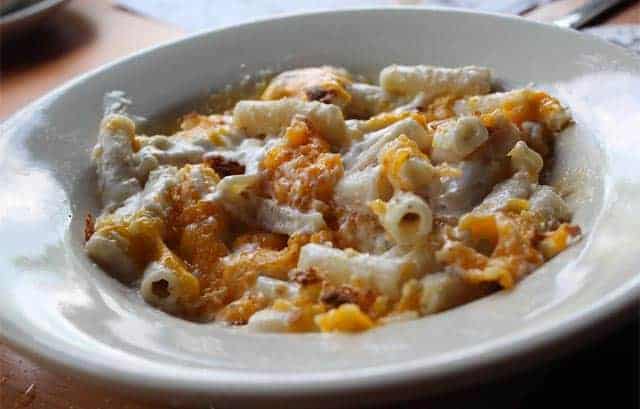 My favorite part of all was that many dishes (including their four cheese Mac & Cheese) could be made gluten free – necessary for my kids (!) and really challenging to deal with when traveling. Plus the server was well versed on the dealings with such a diet and steered us in the right direction on ordering for the kids.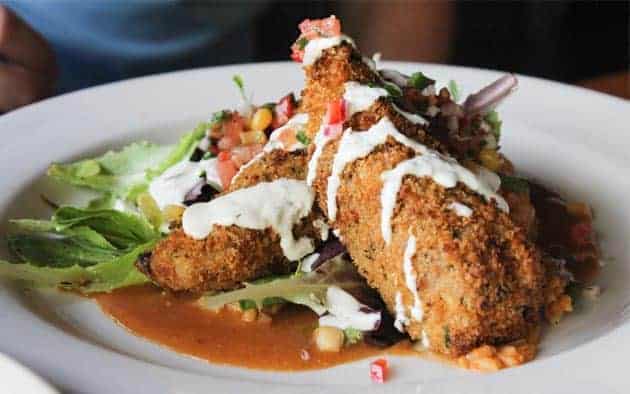 Hubby chose the special of the evening — bison chile relleno that was rich (yet not heavy), flavorful, and well textured. Simply put it was creative and delicious.
The place has a brewery feel, but with the kind of trust and care of where the food came from as a quality farmers market. Plus they had a great assortment of local drafts. I opted for the Hopzone I.P.A. from Bozeman Brewery (Bozeman, MT), as local as you can get. "Now these are hops!" was the first thing to come out of my mouth. Fresh and perfectly hoppy (not over the top). It hit the spot.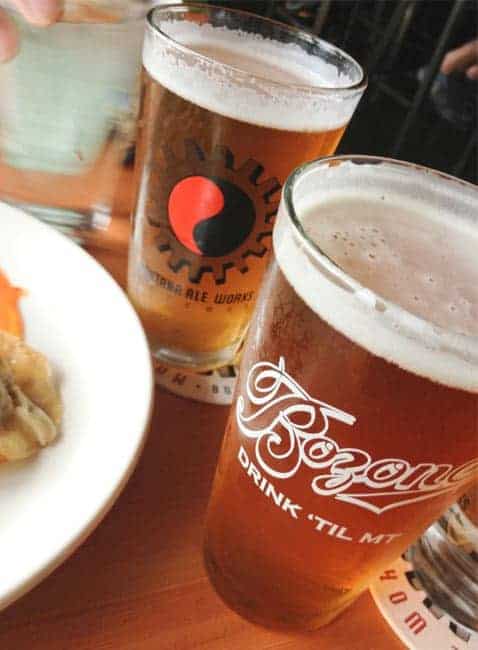 Definitely a recommended stop if you should ever find yourself in Bozeman. You can find their website here.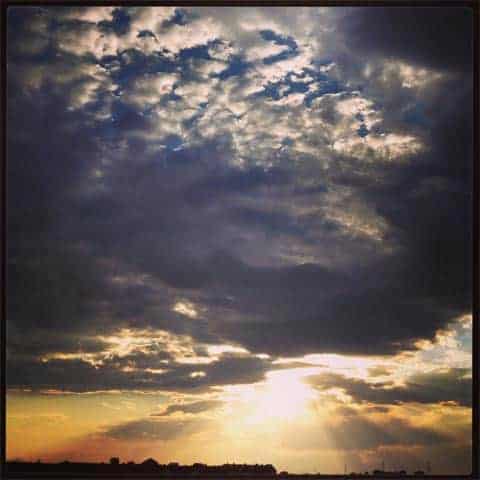 Sunset over Bozeman
That's It?
For the rest of my "favorites" on my journey from Connecticut to Oregon – including several excellent wines, unexpected encounters, a new favorite hotel, a wine bar (yes!), and how to stay sane and happily married while traveling 3,000+ miles with two toddlers in five days. Stay tuned…
***
Why I write these Friday Favorite Posts
Previous Friday Favorite Posts
Want more? If you liked what you read you can subscribe to Vindulge and have new posts delivered directly to your inbox.