First of all I need to point out the elephant in the room – my pictures this week. My least favorite moment of this week was when my toddlers decided to make my Canon EOS Rebel XTi their new toy (i.e. they broke it). I think my kids are mind readers and knew I was secretly hoping to upgrade my camera (it's time!). So perhaps they were just doing me a favor???
At any rate, most of the pictures from this week were taken with my iPhone. I'm hoping to get my new camera this weekend. I just need to decide – Do I upgrade to the Canon 7D, or stick with the latest Rebel XTi? Thoughts?
WINE
First, My Mom's Favorite Wine of the Week
2011 Castello del Poggio Moscato d'Asti DOCG, Piedmont, Italy
5% abv | $11-$14 (media sample)
100% Moscato bianco.
I'd been saving my Moscato samples for my mom. If she drinks wine at all, it has to be sweet. We opened several while she was here and this wine stood out to both of us (and I don't have a sweet tooth when it comes to wine – at all). This wine provided a great balance between sweetness, bright acidity and a light body.
When I asked my mom to describe her impressions to me she was hesitant, but eventually described it as "smooth and nice, with mangos and peach, actually lots of juicy peach" (not a bad description for a beginner!). She then announced, "I really like this, I want to buy it when I get home so don't let me forget to write it down."
Hey Mom, it's here on the blog forever, so you'll always have a place to find it 😉
In addition to the strong aromatics of juicy sweet fruit on this wine it is also effervescent/spritzy and very low in alcohol (5%), with nice balanced acidity, which makes it incredibly refreshing. With that level of alcohol you can start drinking the wine for breakfast, finish the bottle by lunch, and you'll never feel tipsy. This is my pick for a summer poolside wine. It would also be great with fruit salads and fruit based desserts.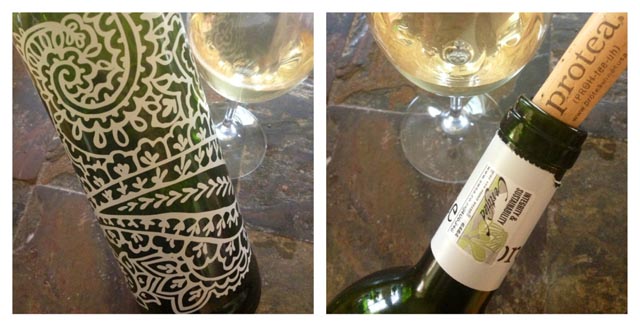 2012 Protea Chenin Blanc, Coastal Region, South Africa
13% abv | $14-$18 (media sample)
100% Chenin Blanc
A wine for citrus lovers. This wine hits you immediately with lemon, lemon peel, crisp green apples, honeysuckle and pears. This wine is not reminiscent of Chenin from Loire Valley to me at all, but more resembling characteristics of Sauvignon Blanc with its dominating citrus and vibrant acidity. Citrusy, crisp, and dry I found it to be quite light and refreshing and look forward to buying it again this summer to have on hand for grilled lemon chicken or a cold summer pasta salad.
I must also admit I kinda loved the art on the bottle. It almost looks like a henna tattoo (the only kind of tattoo I'll ever consider getting). I even saved it to use as a vase or candle holder.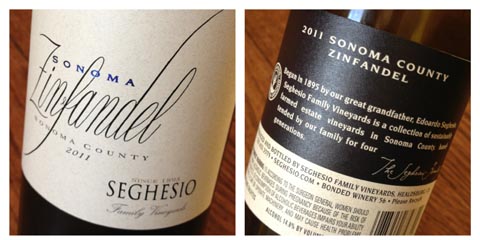 2011 Seghesio Family Vineyards Zinfandel, Sonoma County, California
14.8% abv | $22 (purchased)
I've been a fan of Seghesio wines for years, and have been following this particular bottling since I was first introduced to it. Partly because it's widely available throughout the country, and also because it's reasonably priced (you can find it between $20-$25).
We drank this with my mom's farewell dinner last weekend (pic below) and it brought back memories of my many visits to Sonoma. This, to me, is a memory lane wine. I didn't take notes that evening, I was too busy trying to soak up my last moments with mom before having to take her to the airport the next morning. I did, however, write up a previous vintage of the wine here, and incidentally I also drank it while my mom was visiting that time too. I'm beginning to see a connection between Seghesio wines and my mom 😉
FOOD
Mom's going away dinner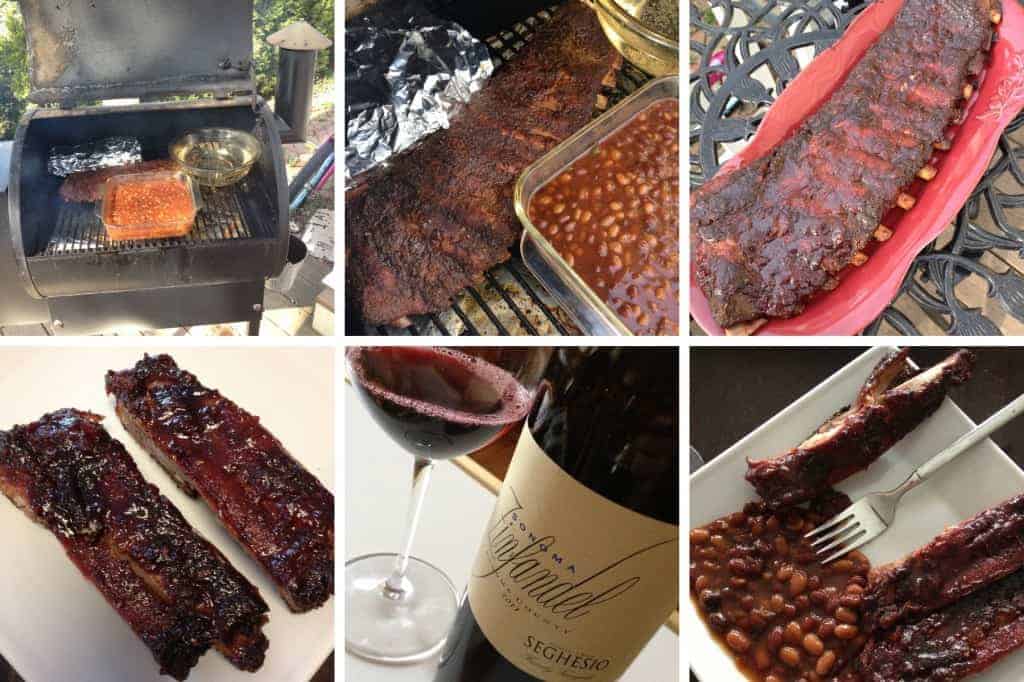 I am in the process of testing recipes from a cookbook I am reviewing, and this was the last of the recipes I tested out. Smoked Ribs. Recipes and full review coming next week.
TRAVEL
Mystic, Connecticut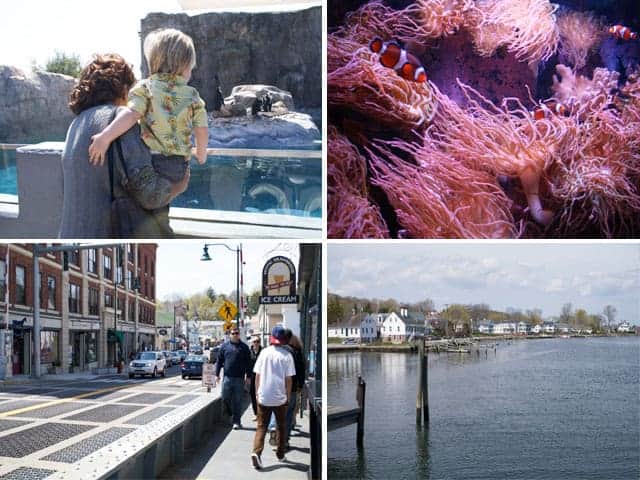 Mom wanted to see the ocean before heading back to landlocked Arizona so we drove along the coast ending up in Mystic, CT, for lunch after stopping at the Aquarium first.
Anybody in CT will tell you the Mystic Aquarium is a great place for the kids, and they're right. There is a lot to see outside, from penguins, seals, and dolphin tanks, to a marsh where we played "I spy a turtle" with the boys. Moving inside to the gallery you'll find tanks full of different species of fish, including sharks, a beautiful jellyfish exhibit, and hands-on displays where you can actually touch the fish. You'll even see tanks filled with clown fish (otherwise known as "Nemo"!). The kids loved shouting "Nemo" at the top of their lungs each time one swam by! It was also an incredibly gorgeous and sunny day so I preferred staying outside, and had a heck of a time getting the kids to leave the indoor exhibits.
For lunch mom wanted to eat at Mystic Pizza (for obvious reasons), but the reviews were rather poor, so we opted instead to go directly across the street to Pizzetta. Bonus was they had outdoor seating, and it should be a crime to ever dine indoors on such a beautiful day!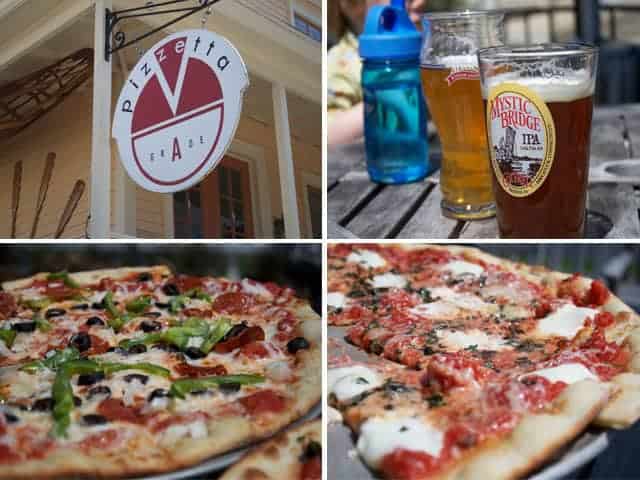 We ordered two different pizzas and a mesclun salad with baby greens, grapes, dried cranberries, and candied walnuts. The pizzas had a nice thin crust (just the way I like it), and the red sauce on their Margarita was excellent with lots of chunky sweet tomatoes. Let's take a closer look at that Margarita shall we? Yummmm …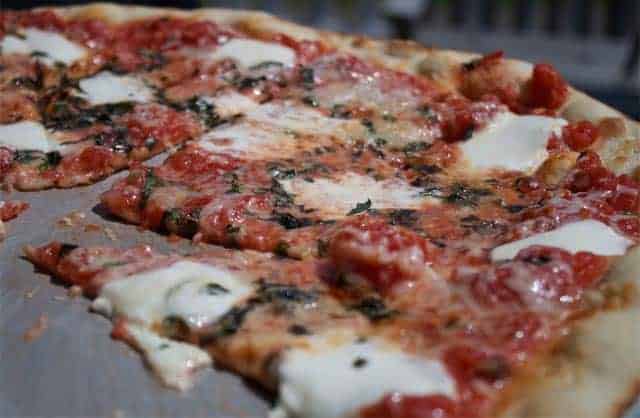 When I have the option to try a local beer I go for it. So I washed down my pizza with a local Mystic Bridge IPA, by Cottrell Brewing. I have to admit, this is the first east coast beer I've had since moving here where the hops actually had some umph! Not bad for an east coast IPA. Hubby opted for the Samuel Adams Summer Ale and coming from someone who has never been a huge Sam Adams fan (the beer not Portland's former Mayer), it was really good! We're stocking up this summer.
FAVORITE READS
I'm adding a new category this week to share some of the reads that caught my attention. These two in particular were among them, which both happen to be from the same publication.
Wine With Salad: Pairing Tricks from the Pros – From Meg Houston Maker in Palate Press. Now, I must disclose that Meg did interview me for this article and I am quoted in it, but I promise promise promise that is not why I am recommending it! Meg is an excellent writer and for anybody curious about food and wine pairing she has a beautiful way with words! She very eloquently translates some pretty scientific and complicated information in an easy to understand way in this piece. It's a great read, especially with summer (aka farmers' market season!) coming up.
On Greek Wines, Tastings, Family and Sharing – From Dorothy Gaiter in Palate Press. I don't know what I was more excited about, learning that Gaiter is now writing a regular column for Palate Press or that her first article was about Greek wines! After my trip to Santorini last summer I am constantly seeking out new Greek wines to try. I have a very soft spot in my heart and palate for all things Greek. Read this article and you'll find out why. It also made me daydream of being back here someday…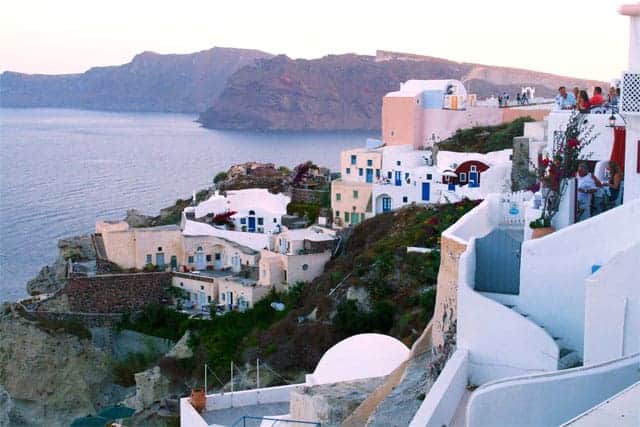 Well, my mom is back in AZ now. My camera is dead. I'm bummed. BUT it's looking to be a gorgeous weekend here in CT and I have lots of bubbles in my fridge that need to get consumed, so there is a light at the end of the tunnel.
What were your favorites from the week?
Want more? If you liked what you read you can subscribe to Vindulge and have new posts delivered directly to your inbox.
~~~~~~~~~~~~~~~~~~~~~
Related Posts
Friday Favorites — First Edition
Friday Favorites — Homecoming Edition
Friday Favorites — Guilty Pleasures
Friday Favorites — Bubbles, Brisket, and Ice Cream
Friday Favorites — Gratitude
Friday Favorites — Mom Time