A weekly roundup of my favorite things from the week in the categories of wine, food, travel, and occasionally lifestyle.
This week we have a mix of some cool wines, a recipe I've been obsessing over for the last few weeks, and some awesome upcoming events you don't want to miss.
WINE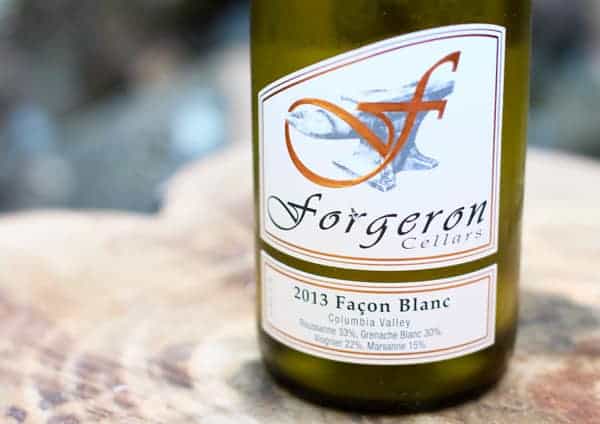 Forgeron Cellars Façon Blanc Rhône White 2013 (Columbia Valley, Washington) ~ $25
I first tried Forgeron Cellars wines on my very first visit to Walla Walla several years ago. Forgeron, the French word for "Blacksmith", is named for the turn of the century blacksmith shop where French winemaker, Marie-Eve Gilla, makes her wines. At the time I was curious to understand why a French winemaker would move to Walla Walla, Washington, of all places, to make wine. It seemed like a bizarre move. Fast forward to 2015, I got to meet Marie-Eve Gilla at a dinner in Walla Walla a few months ago and found out.
After receiving her Master's Degree from the University of Dijon, she gained some experience in France before heading across the pond to work in Oregon for a bit. This was back in the early 90's, before Oregon had the reputation it does now, and she thought the region had loads of potential (she was right!). Shortly after her quick stint in Oregon she headed to the even lesser known (at the time) Walla Walla region and worked for producers such as Covey Run, Hogue, and Gordon Brothers. She helped start Forgeron in 2001 and hasn't left, and Walla Walla is now a world-class wine region.
During dinner I not only learned that Gilla is super friendly and down-to-earth, but her wines rock. I especially enjoyed her white Rhone-style blend called Façon Blanc — a blend of Roussane, Grenache Blanc, Viognier, and Marsanne. I opened a bottle this week and liked it even more than the first time I tried it.
I sometimes get weary of Rhone-style white blends from warm regions. They can tend to get too rich and flabby, lacking acid. Not this one. It's full-bodied, but also full of fresh acidity and lively flavors. I also got a lot of fresh apples, melon, apricot, and just the slightest touch of oak. It's pretty layered and very balanced. It reminded me of a fuller bodied (but mildly oaked) Chardonnay, just as a comparison. Yum!
Pinot Blanc Invasion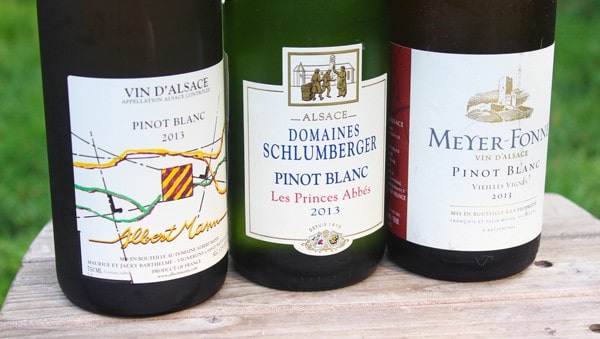 This week we explored some Pinot Blancs from Alsace. What is Pinot Blanc you may wonder? Pinot Blanc is a member if the Pinot family (think Pinot Noir and Pinot Gris), with French origins. It's often compared to Chardonnay because of its medium-full bodied style, creamy textures, and similar flavors. In France Pinot Blanc is grown mostly in Alsace. Outside of France you can find it in Italy (known as Pinot Bianco, where it's a bit lighter, crisper, and more zippy), also Germany, Austria, California, and Oregon, just to name a few.
Here in Oregon you'll find some with great acidity and minerality with citrus and green apple flavors and sometimes some white pepper (I love the Pinot Blancs from here even though they tend to get much less love than the Pinot Gris and Chardonnays from these parts).
They pair well with loads of food. Anything from light, fresh appetizers, to salads, white fish, oysters, and grilled chicken.
The three we opened were all from Alsace, France (all media samples).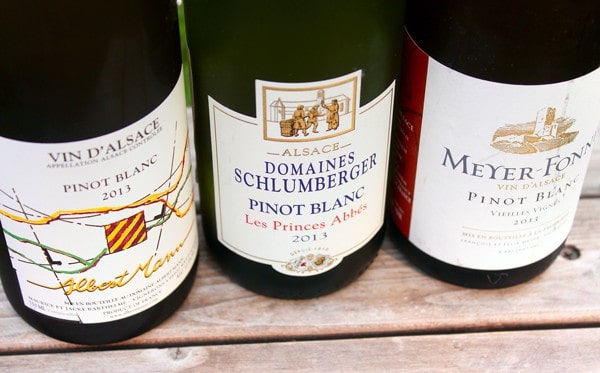 Albert Mann Pinot Blanc 2013 ~ $17
Domaines Schlumberger Pinot Blanc ~ $17
Meyer-Fonné Pinot Blanc ~ $19
The Albert Mann was the juiciest and freshest of the three, with some light lemon and crisp apple aromas, and lots of pears flavors in the mouth. I'm thinking this would be a good bet for vibrant flavored salads (throw on some fresh apple slices please).
The Domaines Schlumberger was very citrus focused with lots of lemon and lime. It kinda reminded me of sprite, but without the sticky sweetness. Maybe more like lemon lime sparkling water (but not bubbly). It's pretty refreshing and would be great for a hot summer afternoon.
The Meyer-Fonné was more mineral-driven with some steely undertones. Not as fruit driven as the Albert Mann or as citrusy as the Schlumberger, but the most complex. There's a bit of citrus and passion fruit in the mouth, but lingers with a salty salinity. This ended up being our favorite of the lineup.
Upcoming Events
We're cooking at Counter Culture!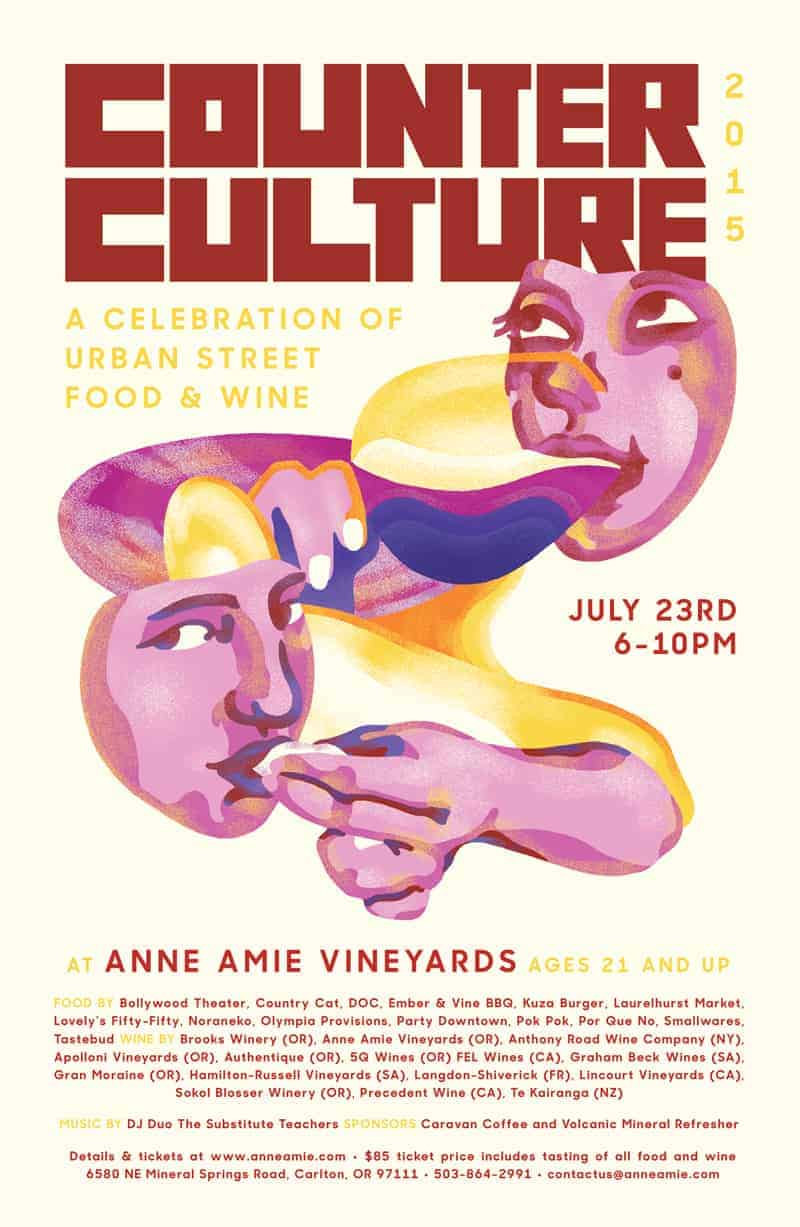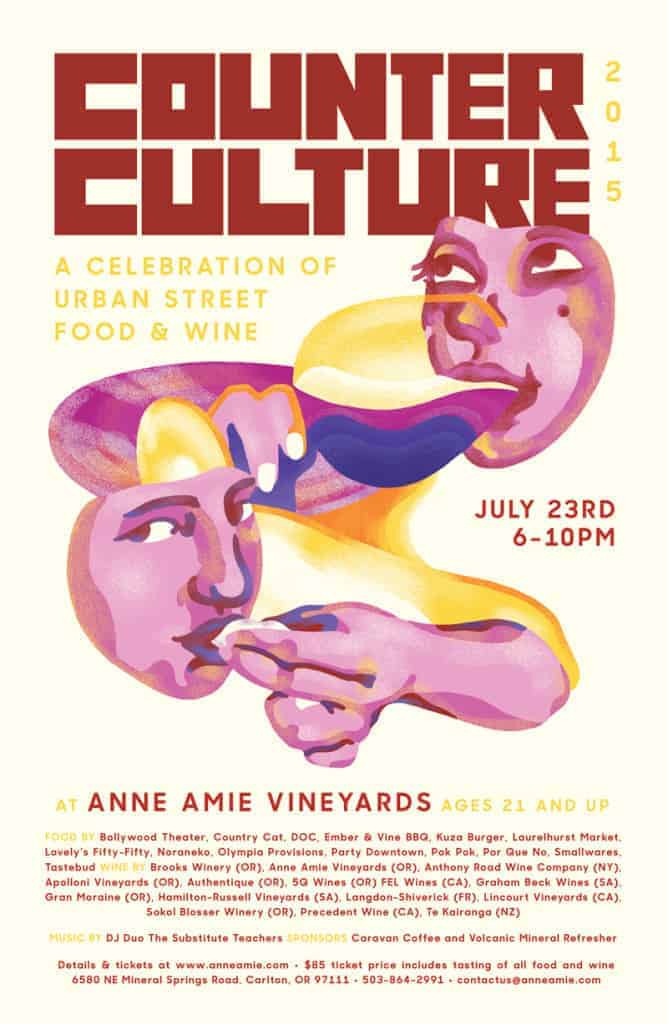 Next week we will one of 14 amazing vendors cooking at Anne Amie's annual pre-IPNC celebration of urban street food. I'm still pinching myself that we got invited among such esteemed restaurants. We would LOVE to see you there! Find out more here.
That's it for this week. We're off to cook a lamb this weekend. No really, we're cooking a lamb. More on that later.
Have a great weekend.
*Note: This post contains an affiliate link for the spiralizer. I added it because it's rocking my world right now and getting my itty bittys to eat cool shaped veggies. Basically it's awesome and I think everyone should own one.