A weekly roundup of my favorite things in the categories of wine, food, travel, and lifestyle.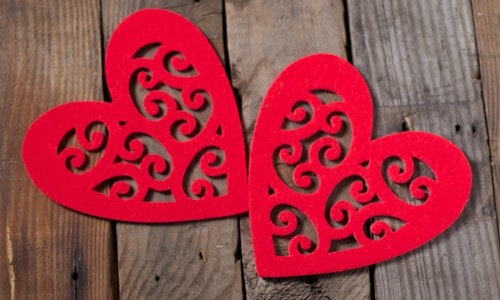 Once upon a time I was a cynic about Valentine's Day. I had my years where I boycotted the holiday, and also those where I preached that you should appreciate your loved ones every day, not just one day a year.
And while, sure, you should love and appreciate your "sweetheart" everyday, these days I don't see anything wrong with a holiday about love. In fact, now that I have kids, I've suddenly become obsessed with all holidays. I can't wait to shower my kids with pink and red shaped cards all day today, and bake chocolates for them.
Speaking of chocolates, I found this idea for homemade peanut butter cups on Pinterest and decided to try it out for my boys.
Favorite Sweet: Homemade Peanut Butter Cups
The kids and I made them this morning and oh.my.chocolate.PB.goodness. They came out great, and are hubby approved. What do you think?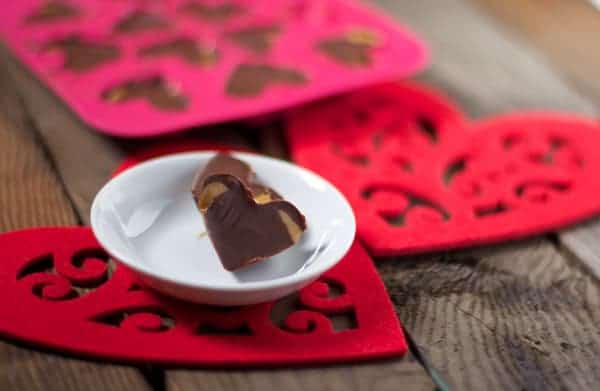 And while we're still on the subject of chocolate.
Favorite Rant: Wine & Chocolate? – The Never-Ending Debate
I had several friends and readers contact me this week about my thoughts on wine and chocolate. Seems they've been hearing mixed things.
Nothing gets wine writers and bloggers more in a hype than bringing up the topic of chocolate and wine. I'm fairly certain there's no more polarizing a topic out there for wine critics when preaching to consumers who want to pair wine with chocolate. The truth is, most wine "experts" will tell you that chocolate and wine is a horrible pairing and you should never do it.
I'm here to tell you to ignore them.
If you want to get geeky about it, yes, it's true, it is a challenging pairing, but it's not impossible! In fact, ruby port and chocolate truffles is one of my favorite pairings. I even wrote about it last year over on VineSleuth Uncorked. But when it comes to most dry wines, it's just not the greatest match, but it's not going to ruin your night. If you really want to understand the science behind why, you can read this article on Palate Press from a couple years back. It's pretty technical, but it does shed an interesting light on the subject
Will your mouth explode if you eat the two together (like the way we used to think pop rocks and soda would react when combined together)? No! I can assure you, your mouth will not explode. Will your sweetheart be so upset about the lousy paring that s/he throws the candy across the room and stomps out of the door? Doubtful.
So go ahead and do it.
If you want to give your Valentine chocolate, and you happen to be drinking red wine, and you want to eat them together, then by all means do so. I will not stand in your way.
Wine makes people happy.
Chocolate makes people happy.
In fact, it's absolutely natural to like chocolate. Just ask any three year old.

my boys indulging in their chocolate peanut butter cups
Guess what I'm eating today? Those chocolate peanut butter cups from above. And guess what wine I'm drinking? Sparkling (because I always drink sparkling wine on Fridays). Will I have a wine epiphany while pairing the two? Probably not. But I will be in the arms of my husband and two sweet kids. And to me, there's no food pairing in the world that can beat that feeling.
#endrant
I enjoyed this V-Day themed article by Meg Houston Maker. Instead of recommending wines to pair with Valentine's Day (or chocolate!), she recommends you drink wines made by winemaking couples.
I found it rather serendipitous that the two wines I was planning to recommend this week, as my favorite wines of the week, also happen to be wines made by winemaking couples – making them perfect Valentine's Day wines.
Which leads me to…
Wines of the Week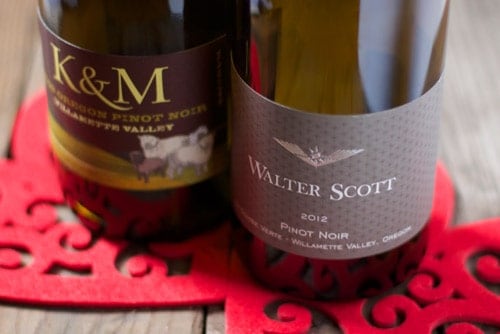 When I was living in Connecticut I found it difficult to find an interesting variety of Oregon Pinot Noir. There were some, but they were very limited.
Now that I'm back in Oregon I can find exciting local Pinots as close as the local supermarket one mile away. I've since made it a goal to seek out new local wines as often as I can. The first two on my quest to drink more Pinot just so happen to come from two amazing and adorable winemaking couples located here in Oregon.
2012 Walter Scott Pinot Noir, La Combe Verte
Willamette Valley, Oregon
13.6 % abv | $21 (purchased at Hollywood Fred Meyer)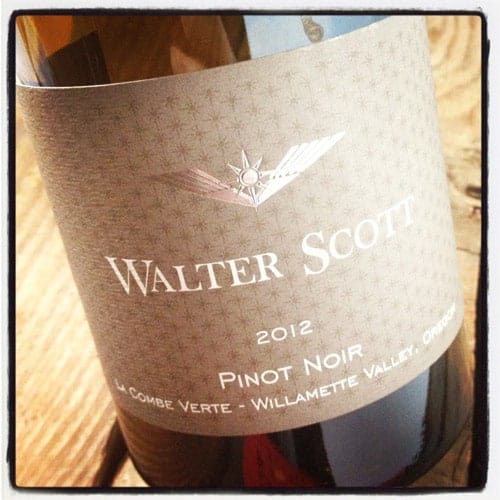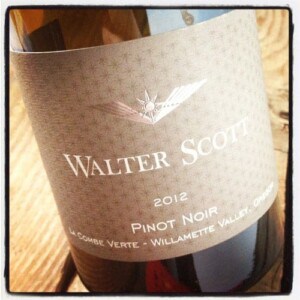 Walter Scott Wines was created by husband and wife team, Ken Pahlow and Erica Landon in 2008, after years of working in the Oregon wine industry. Ken has spent his career in various aspects of the industry from production, to sales and distribution. Erica is one of the (if not the) most respected sommeliers and wine educators in the state. The two of them invested everything they had into pursuing their dream of creating their own wine label and making their own wine.
I tasted my first Walter Scott wine, a 2012 Willamette Valley Chardonnay, a couple months ago at Little Bird and I absolutely loved it. I was thrilled to find their Pinot Noir, stacked up high, at Fred Meyer last week and couldn't wait to try it. We opened it up during last weekend's snowpocolopyse. I figured if all of Oregon was trapped under snow, then we should drink only Oregon wines that weekend. You know, out of solidarity.
This has to be one of the best under $20 Pinots I've ever had. And I can say "under $20" because when you buy 6 bottles of wine at Fred Meyer you get 10% off, making this wine about $19. Awesome.
When I first opened the bottle it smelled young and fresh with cranberry, dark cherry, and just a hint of earthy funk. Tasting it, you get this compelling savoriness and lots of depth with a nice lingering acidity. It's young, yet complex, and opens up beautifully. Take your time with this wine. Don't rush through it; it gets more and more interesting with each sip. This wine has a lot of depth and structure, more than I usually expect for a Pinot at this price point. It's damn good.
It looks like they are sold out at the winery, but you can still buy it at the Hollywood Fred Meyer (and I'm sure elsewhere locally). In fact, I just bought a couple more bottles today. Whatever you do, keep your eyes out for this producer. They're on to some good things.
2009 K & M Alchemy Vineyard Pinot Noir
Willamette Valley, Oregon
13.5% abv | $27 (purchased from the winery)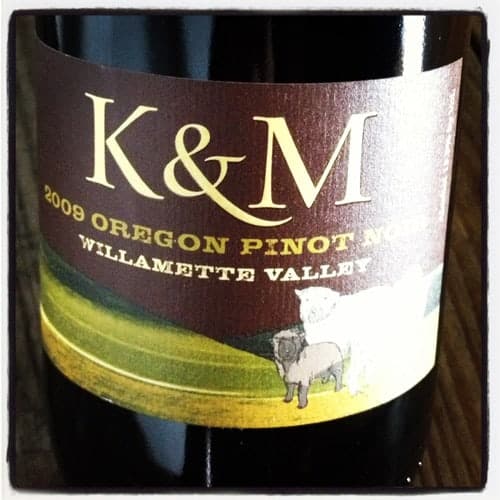 K&M, the name standing for its owners Ken Morrison and partner Mauro Hernandez, is a very small production winery focusing on Pinot Noir and Chardonnay located in Carlton, Oregon.
Ken, who was a hobby winemaker from 1993-1997 when he lived in San Francisco, had the goal to own his own vineyard growing Pinot Noir, so he and Mauro moved to Carlton to pursue their dream and planted a small (just three acre) vineyard. The two of them enjoyed the personal experience of visiting small wineries and wanted to create a similar feeling for guests who experience their own wines so they decided to keep production small and focused. You'll get that personal experience when you visit them in their hip, yet cozy and clean, Carlton tasting room. I purchased this Pinot when I visited the tasting room this past fall and this was another local wine we drank during the snowpocolypse.
This Pinot is very delicate in nature, but full of elegant red berry and earthy aromas and flavors. It has solid enough tannins and acidity to enjoy with food, but we drank it without food on that cold and snowy evening.
I didn't take too many notes that night. I was distracted. We made a fire, and just sat there drinking this delicious wine, discussing how crazy it was that the snow followed us from CT all the way to Portland. As one friend said "you can't run from old man winter". So true. We may have had crazy weather, but at least we had delicious wine to keep us company, produced by an adorable winemaking couple!
I hope you all have a great weekend.
I'm off for a girl's weekend/research trip in Napa. I can't wait!