A roundup of some of my favorite things this week in the categories of wine, food, travel, and lifestyle.
The Pumpkin Patch & Corn Maize on Sauvie Island
It was a perfect fall day yesterday and I'm trying to take in all the good weather I can before the you-know-what wet stuff starts and doesn't end for nine months.
Knowing nothing about local pumpkin patches or farms around here I simply Googled "pumpkin patches in Portland Oregon" and clicked on the very first one I saw, conveniently titled, "The Pumpkin Patch & Corn Maize on Sauvie Island".
I'm a huge fan of Sauvie Island but I've never been to a pumpkin patch there before. It was awesome!
Why I chose them: They had a great (and very easy to navigate) website. I knew their exact hours, if (and what) they charged for anything, what was available, and it was up to date. Plus it had tons of pictures, which I find helpful to determine if it will be a good place for my kids.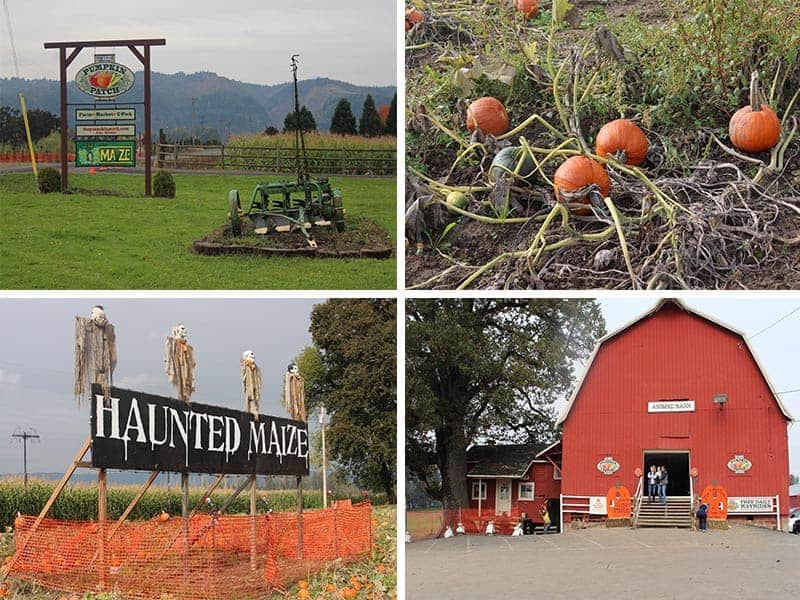 Why I loved it: It is ridiculously perfect for little kids. You can take a free hay ride out to the you pick 'em pumpkin patch, or just pick an already picked pumpkin within a short walk from the parking lot. There is a very fun interactive corn maze (to which we totally got lost in. Oops! But we were fine and found our way out in no time). Plus there's a small barn where kids can visit the limited animals housed there; a great produce market and gift shop (I spent less than $10 for three full bags of produce!); a small café (I have two busy toddlers who didn't allow me any time to get a coffee or hot cider, but I can see the allure, especially on a cold day); and beautiful scenery; among several other reasons. Oh and there's also a Haunted Corn Maze for older kids and adults that they do in the evenings (how cool is that?!).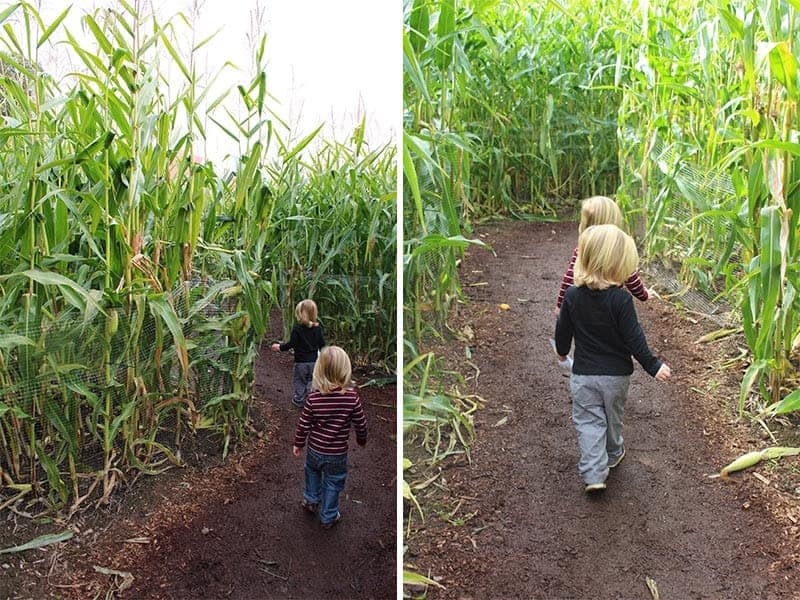 Two words of warning: I'm sure the place gets crazy busy on the weekends, so go early, be patient, and just enjoy the experience. Second, wear rain boots or old sneakers if you plan to go through the maze, it's a little muddy (but the kids love it!).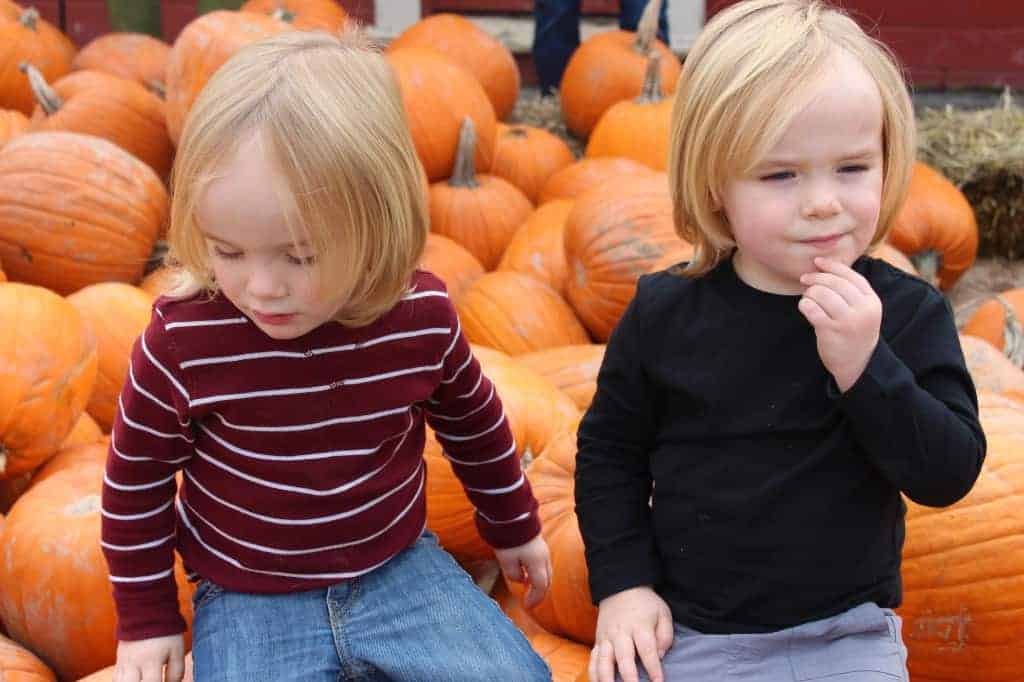 And speaking of pumpkins…
These Gluten Free Pumpkin Pancakes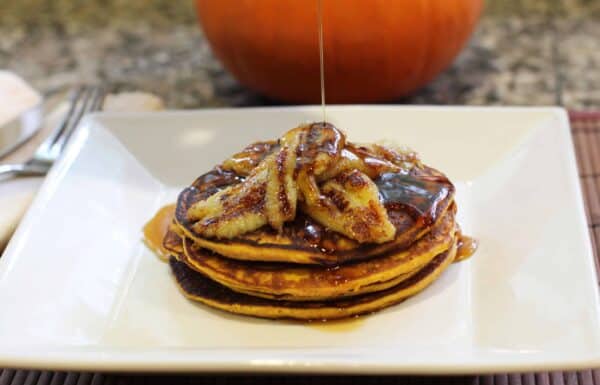 I really don't consider it fall until my husband makes my favorite breakfast – these Pumpkin Pancakes with Caramelized Bananas that he makes for me on my birthday every year, which happens to fall in the last week of September and first week of fall. Since our kids can't have wheat, we've altered the original recipe to make it gluten free.
When we first had to start eating GF we tried several different recipes for pumpkin pancakes, with poor results. This time, all we did was use the same recipe we always used, and just swap out the white all-purpose flour for Bob's Red Mill Gluten Free All Purpose Baking Flour. Probably the best results thus far.
The key to this recipe, no matter what kind of flour you use, is whipping your egg whites! When used to make these with white flour the results are hands down the fluffiest pancakes you can possibly make. Period. When using the GF flour, they are still very light, but less fluffy. Most other GF pancakes I've had (and made) come out rather dense and thin, but incorporating this method allows them to aerate and adds a light fluffiness.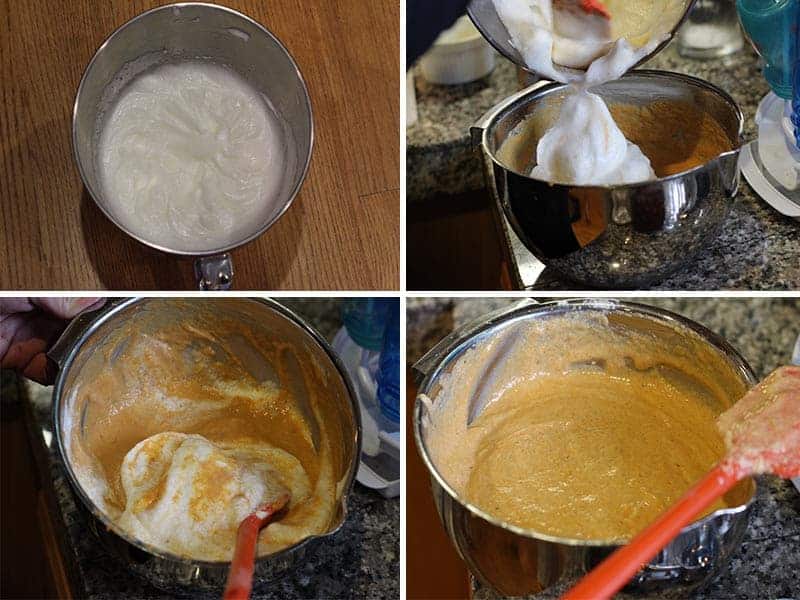 Even if you don't use this exact recipe (not sure why you wouldn't, its awesome), whipping your egg whites and gently folding them into your batter into will help them be as fluffy as a brand new feathered pillow.
And speaking of pillows…
I'm still dreaming about the dinner I went to last Saturday night at Red Ridge Farms.
Red Ridge Farms Annual Harvest Dinner
Last weekend I had the honor of attending the Durant family's annual harvest dinner at Red Ridge Farms — a stunning property that is home to not just vineyards, a winery and a tasting room, but also an olive mill, a lavender farm, a nursery (for plants and herbs), a cottage, and private event space, all with breathtaking views of Mt. Hood. The place is phenomenal.
Famed Portland chef, Vitaly Paley, and Patrick McKee, executive chef to the one and only Paley's Place prepared the stunning 5-course dinner.
The point of the event was to showcase the Durant family's olive oils, each dish was prepared to highlight their three unique olive oils, and each dish was paired with one of Durant Family's lovely wines.
I'll be sharing all about the experience on the blog next week, including getting the inside scoop on how Chef Patrick McKee makes his crazy good smoked tomato jam — a dish I am totally stealing! But for now I will leave you with a photo of one of the many stunning views from the deck of the olive mill and the stunning table setting…. until next week.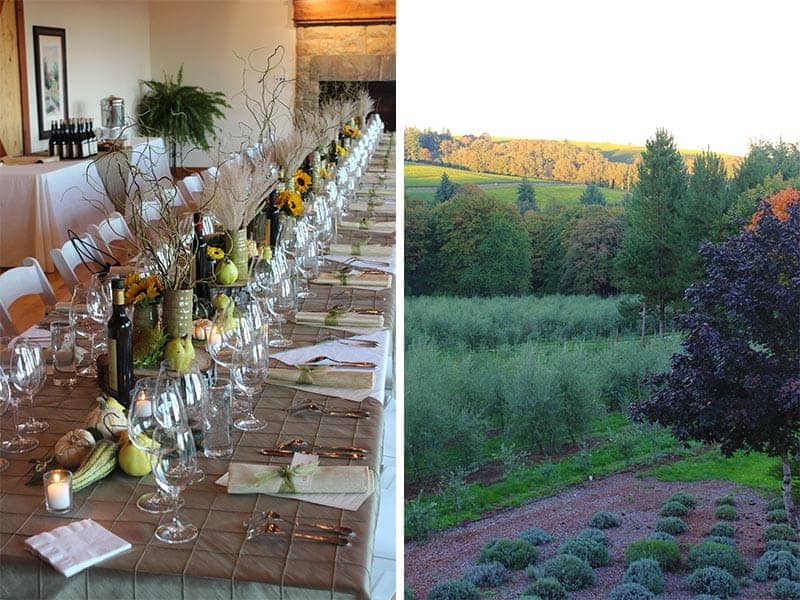 Finally, since we're on the subject of wine… the best wine I had this week was…
2010 David Family Pinot Noir, Anderson Valley
Anderson Valley, California
14% abv | $90 (media sample)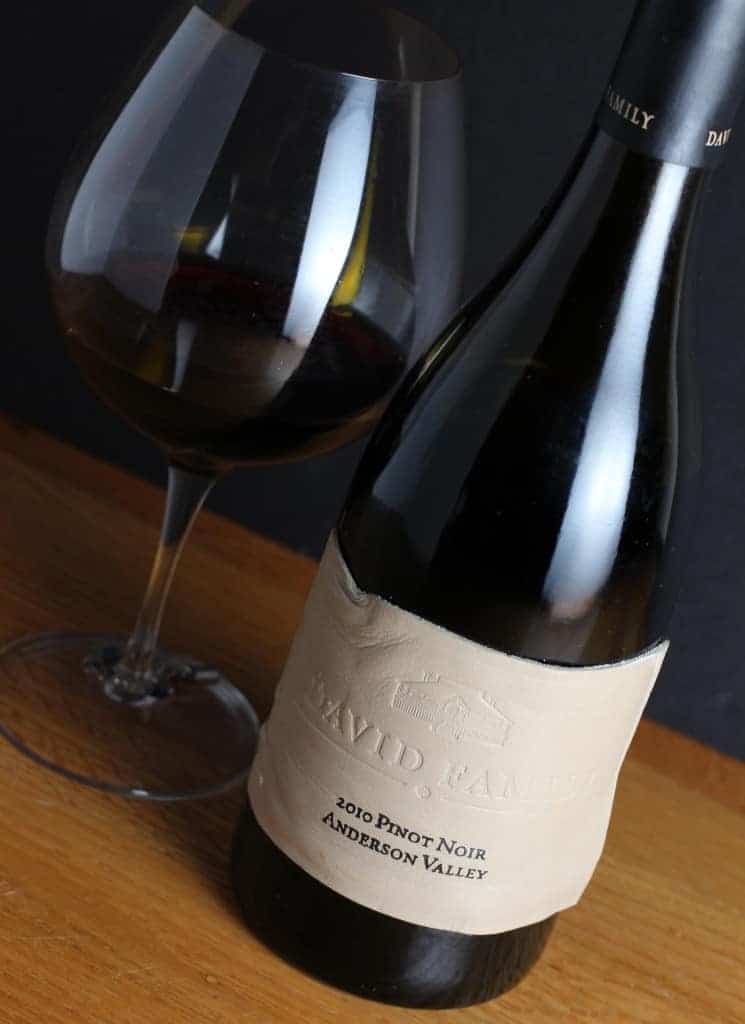 I've had this bottle for a few months, waiting for the right time to open it. I had been curious about it, but admittedly have had my issues with California Pinot Noir. That changed last year when I attended the Symposium for Professional Wine Writers and sat in on an incredible seminar and tasting of Pinot Noirs titled "Achieving Personality in Pinot Noir".
Since then, I've been giving California Pinots a deserved second chance. This wine is the perfect example why no region should be stereotyped for any varietal, especially Pinot Noir. It's elegant, silky, and complex, constantly evolving, and screams of Pinot Noir fruit.
When you first pop the bottle the wine is full of floral, dark cherry, raspberry, aromas. As it opens in the glass the aromas become more complex, evolving into more mellow red berry aromas, and some dusty mushroom-y earthy tones, and clove. It is silky and elegant in the mouth with nice acidity and delicate tannins.
The wine does come at a hefty price tag ($90), but it is indeed a lovely treat, produced in very small quantities (only 270 cases produced), with a unique story behind it.
These wines may be new to the California winemaking scene (beginning only six years ago), but the passion and talent of their team is already evident from the resulting wine.
They are founded on the principal that wine should be a complete sensory experience (I agree). You notice this when you first look at the label. It is made from handcrafted Spanish leather that is hand stamped and applied to each bottle.
Second, each bottle is individually numbered for authenticity (my wine was from case 114 of 270). Finally, a proceed from every bottle sold is donated to Habitat for Humanity. On their website you can even enter your exact bottle of wine to see the specific family you are helping. My bottle is associated with a family from Vietnam living in San Francisco. Very cool!
A wine like this isn't an everyday wine, especially at this price. But a wine with such elegance and thought behind each bottle is certainly one I can get behind.
*****
Why I write these Friday Favorite Posts
Previous Friday Favorite Posts
Want more? If you liked what you read you can subscribe to Vindulge and have new posts delivered directly to your inbox.