Sean's going to hate me for sharing this, but we've come to an agreement that there is such thing as too much meat. Beef to be exact. We've been on a meat overload the last few weeks and need a break. I love you beef, but we seriously need a break!
We've also been swaying from our New Year's goal to stick to at least two meatless days per week. Doah!
I'm also sharing this so that my dad — who thinks we live off smoked brisket, tri-tip, and pork, alone – knows that we're taking care of ourselves out here in Oregon by incorporating vegetables and leaner proteins in our diet. Hi Dad! Look, fish. And salad…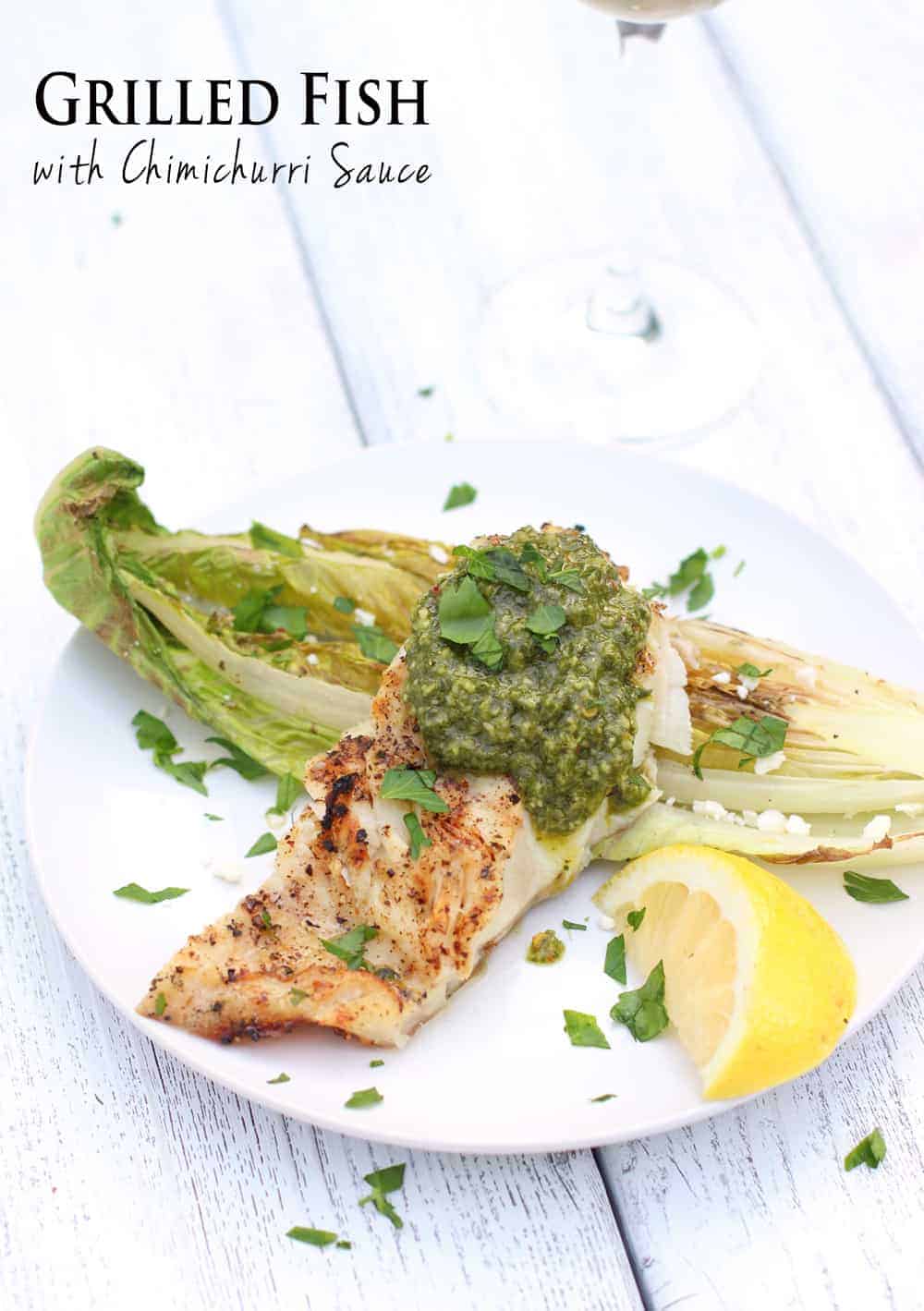 We came to this conclusion after having some friends over for dinner recently where we served one of our favorite dishes for both entertaining and catering – Smoked Tri-Tip with Chimichurri Sauce. I woke up the next morning with a beef belly and a desire to take a few days off.
I also went a little overboard on the chimichurri sauce, leaving us with a ton leftover. It happens.
That, however, was not a problem at all because I love this stuff. Love it love it love it. It's great on beef, but also chicken, vegetables, eggs (I kid you not!), and of course fish.
And for Sean — who has a hard time feeling satisfied without heavy meat, potatoes, or bread (he's half caveman, what can I say) — the incredible flavors that chimichurri made up for all of the heavier ingredients he would otherwise be missing.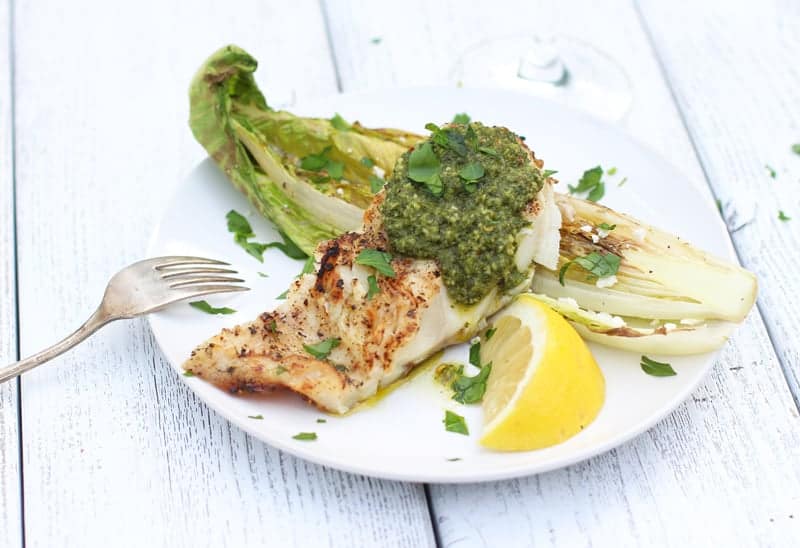 This was the kind of meal we needed to get back on track.
Sean is also crazy embarrassed of the look of the fish we grilled (see below). We ran out of olive oil spray, which would have helped the fish from sticking to the grill. So he told me I shouldn't post these pics. But it's my blog, I'll do what I want!
*Tip: when cooking with a lean protein, like fish, it's important to keep the fish (and the grill) well oiled, so it doesn't stick to the grill.
I told him it was just a reminder that we too are real people, and our food doesn't always have to look Instagram ready. It's what goes in belly that really matters. And the flavors here were just what I needed.
Light, fresh, healthy, nourishing, completely satisfying, and full of bright, herbal, and citrus flavors.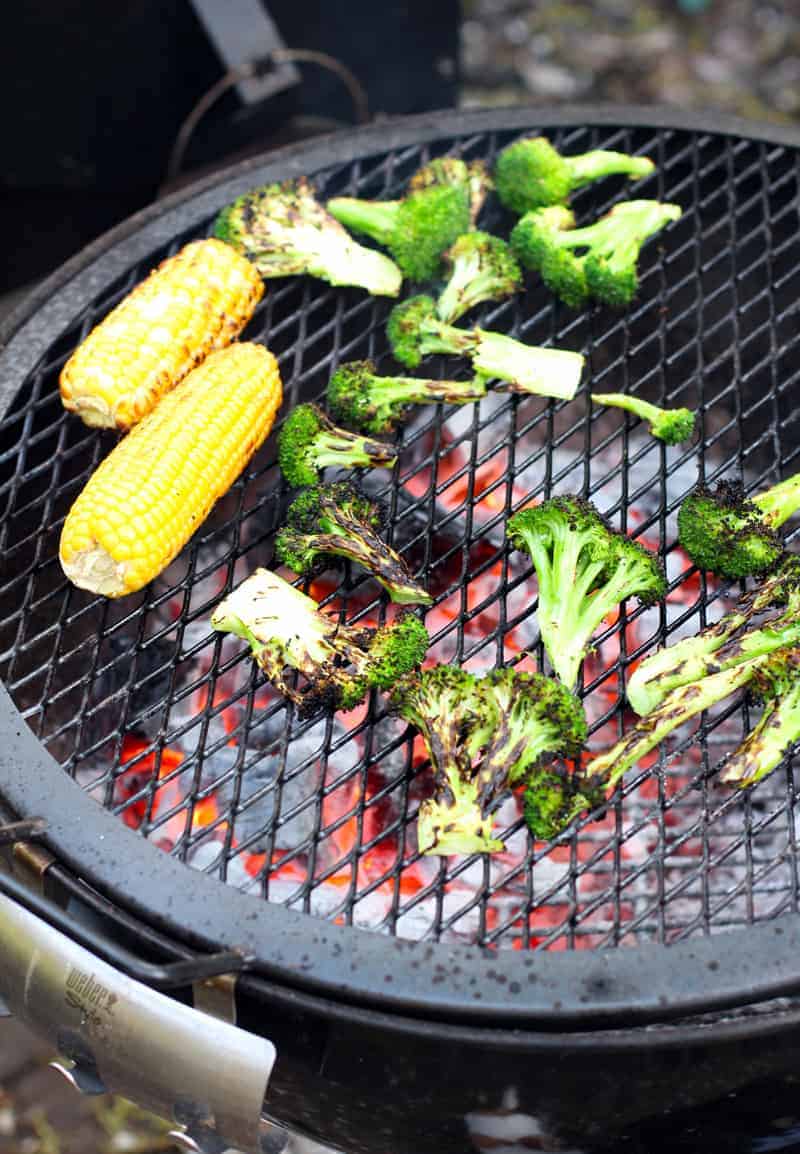 The kids aren't too keen on the wonders of grilled romaine (yet), so they opted for grilled broccoli. For that we just toss the broccoli in a bit of olive oil, salt and pepper, and grill it until slightly charred and cooked through. Then I toss it with fresh squeezed lemon juice while it's still hot.
And I had every intention of serving my fish and grilled romaine with some of that grilled corn you see above (which would have been amazing), BUT the Weasley Twins stole that corn and ate it all before I could plate it up for myself. Why I oughta!!!
*Note: next time buy more corn in case in case the corn hoarders get to it first.
Now when it comes to cooking your fish you can opt for halibut, mahi mahi, cod, tilapia, whole fish (like sea bass), or whatever your favorite white fish is. We have cod here.
You'll want to clean your grates well before placing your fish on. If you have an oil spray, use some directly on your grill grates to help keep your fish from sticking. You'll also want to brush some olive oil directly on the fish. There's not much extra fat on fish (like, say, beef), so it can easily stick to grill grates if it's not well oiled.
See evidence #1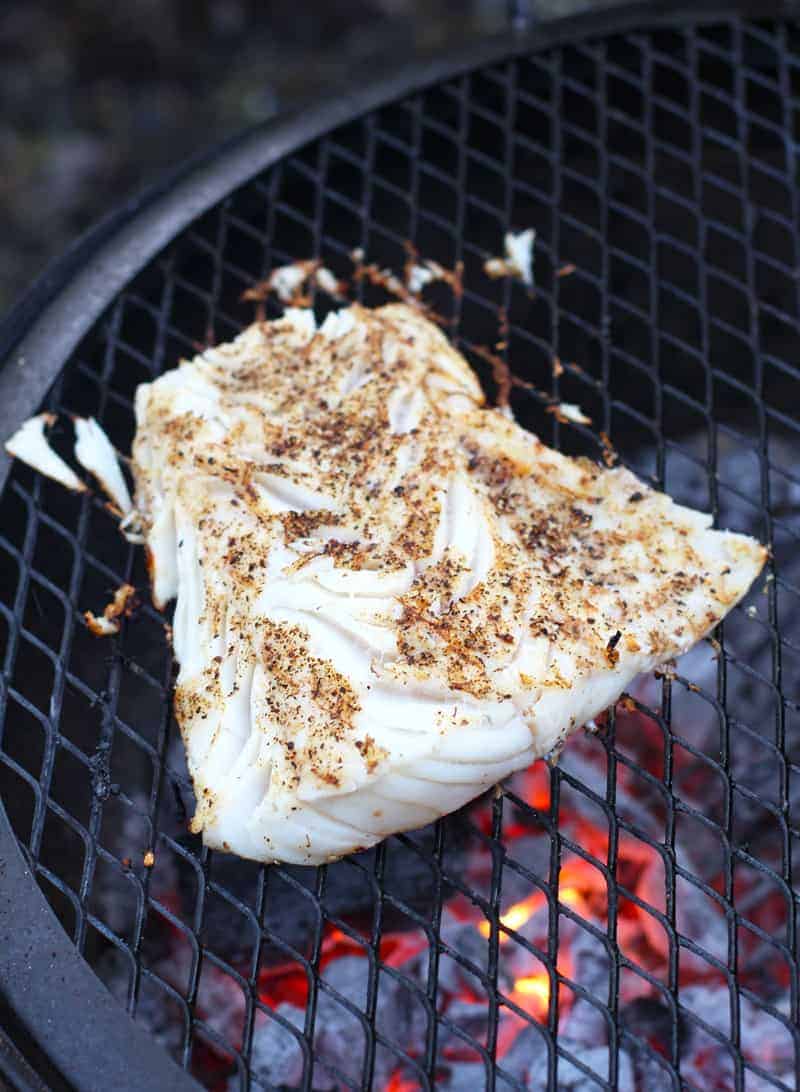 See, we did this on purpose so you can see what happens when your fish and grill grates aren't well oiled. How nice of us to sacrifice the look of our fish for a teaching moment 😉
The other trick is to not flip the fish too early, when the crust forms it should easily pull off the grate when you flip it.
Now, you know us by now and that we're pretty adamant about using a thermometer for proper cooking temps around here. But that hardly ever applies to fish. With fish, like cod, we cook by look and feel. We look for the color to be white through (not opaque), that's when you pull it off as it will keep cooking. And that makes for a nice moist fish. It's not rocket science. Even a kid can do it.
We put this guy to work to ensure our fish was cooked properly.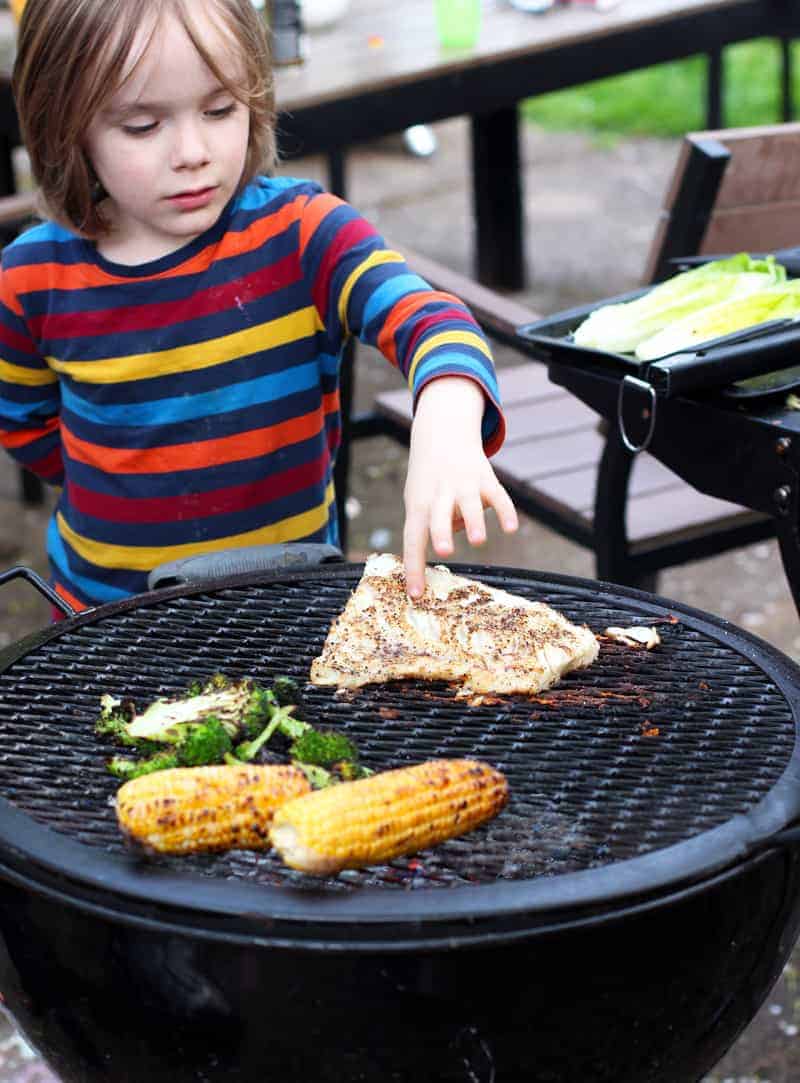 Nice job kid.
Once that was done I quickly grilled up our romaine while the fish was cooling.
For the grilled romaine, I took one head of romaine and cut it in half lengthwise, drizzled it with some olive oil, salt and pepper, and grilled it for about 3-5 minutes each side, until starting to wilt. Use 1 head of romaine per 2 people. Since this recipe is set for 4, use 2 heads for 4 people.
Serve your fish over the grilled romaine, and place 1-2 tablespoons of the chimichurri sauce over the top. The romaine didn't even need additional dressing; it took on the flavors of the chimichurri to act as a dressing.
Yum.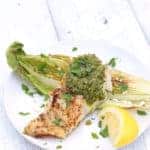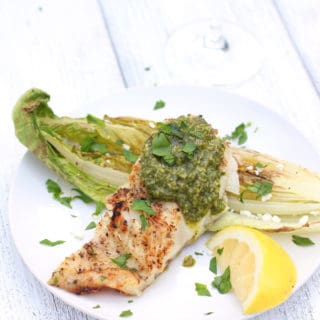 Grilled Cod Fillet with Chimichurri and Grilled Romaine
A quick and easy grilled cod filet served with chimichurri sauce and grilled romaine lettuce. Delicious and healthy meal for any night of the week.
Cuisine:
grilling, healthy, seafood, summer
Ingredients
For the Grilled Fish:
1 1/2 to 2

lb.

cod fish fillet

or other white fish, like Mahi Mahi, Halibut, Tilapia

2

tablespoons

extra virgin olive oil

1

tablespoon

salt

1/2

tablespoon

fresh ground pepper

1/2

cup

chimichurri sauce

recipe here: https://www.vindulge.com/smoked-tri-tip-sandwiches-chimichurri-sauce/

Wedge of lemon

for serving
For the Grilled Romaine:
2

heads of romaine

rinsed and patted dry

2

tablespoon

extra virgin olive oil

to coat

Salt and pepper

approx 1 teaspoon salt and 1/2 teaspoon pepper
Instructions
For the Grilled Fish:
Prepare charcoal grill for direct-heat cooking (or medium-high heat for gas).

Brush the fish on both sides with extra virgin olive oil and sprinkle with salt and fresh ground pepper.

Using remaining olive oil on a paper towel to brush your grill grate, and place fish on grate.

Let sear for about 6 minutes or until the fish can easily lift off the grate with a spatula.

Flip fish and cover with lid for another 4 to 5 minutes. Check the thickest part of fish by pulling back some of the flesh to see inside the meat and if you get the nice white interior. Then pull off and let sit for about 8 minutes or so before cutting and serving.
For the Grilled Romaine:
Cut the romaine in half lengthwise, drizzle it with some olive oil, salt and pepper.

Place it over the same grill (set to medium heat), and leave it there for about 3-5 minutes, turning a couple times, until starting to wilt. Use 1 head of romaine per 2 people.
Recipe Notes
Use this recipe for your chimchurri sauce: https://www.vindulge.com/2014/10/smoked-tri-tip-sandwiches-chimichurri-sauce/
For the chimichurri sauce recipe click here.
For something a little heartier try combine the fish and chimichurri sauce for tacos!
Wine Pairing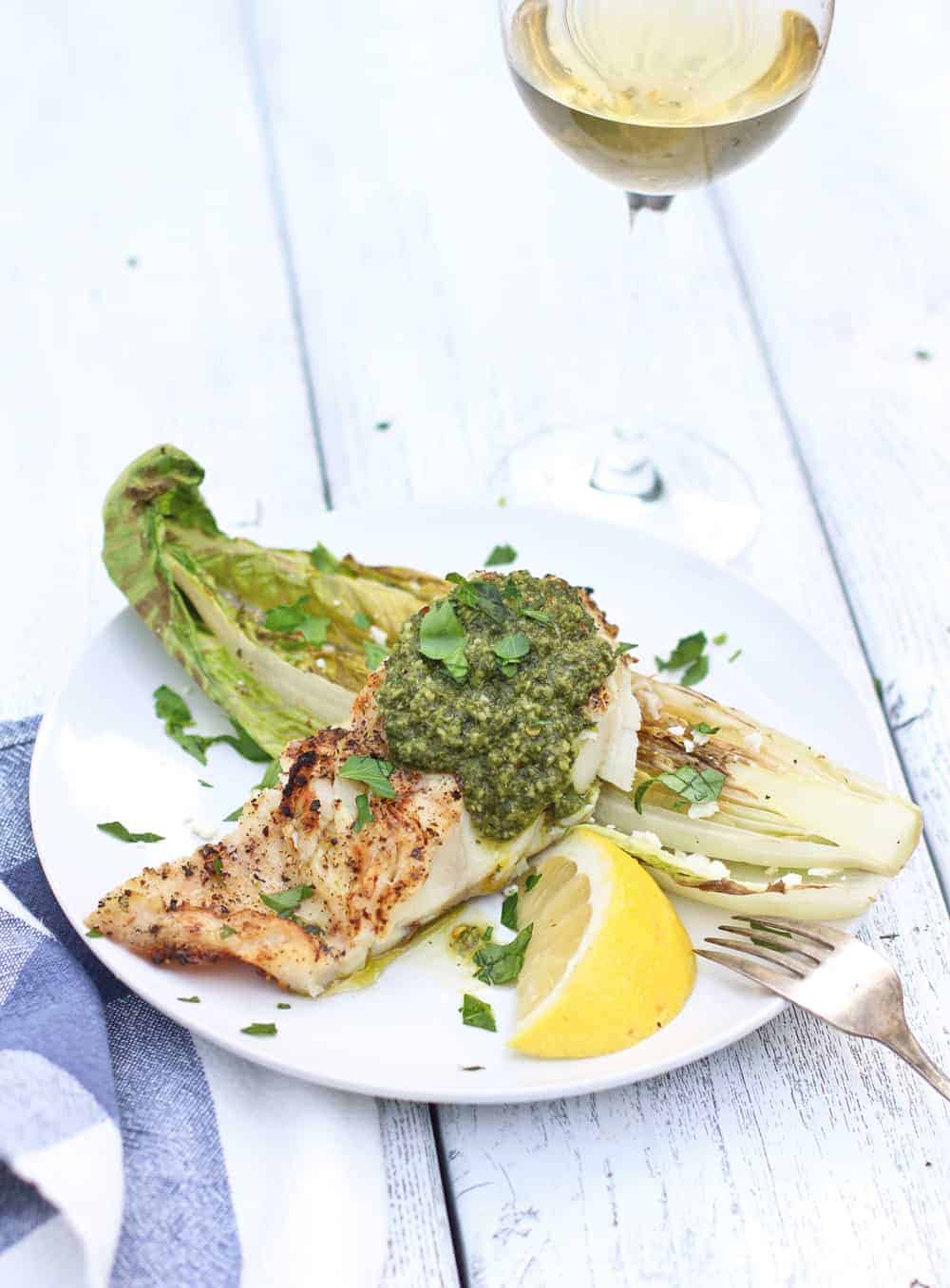 For chimichurri and grilled or smoked beef I'd go red wine (like this recipe), but with this light delicate fish, we're sticking to white. The fish is the blank canvass here, and the chimichurri is the paint. So we're going for something that won't overpower the fish, but will stand up to the strong garlic, herbs, and citrus from the sauce. You can opt for something bright and minerally like a Chablis, or other lightly-oaked-to-unoaked Chardonnay (minerally, bright, citrusy). But if you like to use a lot of the chimichurri (like me!), then it will also bode well with something ultra citrusy like a Sauvignon Blanc.
What things do you like to put chimichurri sauce on? And what's your favorite wine pairing for this herbal citrusy sauce? 
---
For more tasty recipes, BBQ tips, and tricks, check out the Recipe Index.
Want more? If you liked what you read you can subscribe to Vindulge and have new posts delivered directly to your inbox.