How about a surf and turf for your next date night? This garlic chardonnay shrimp is quick and easy and can be made side by side with your favorite cut of beef.
This post was sponsored by Sequoia Grove. All opinions stated are my own.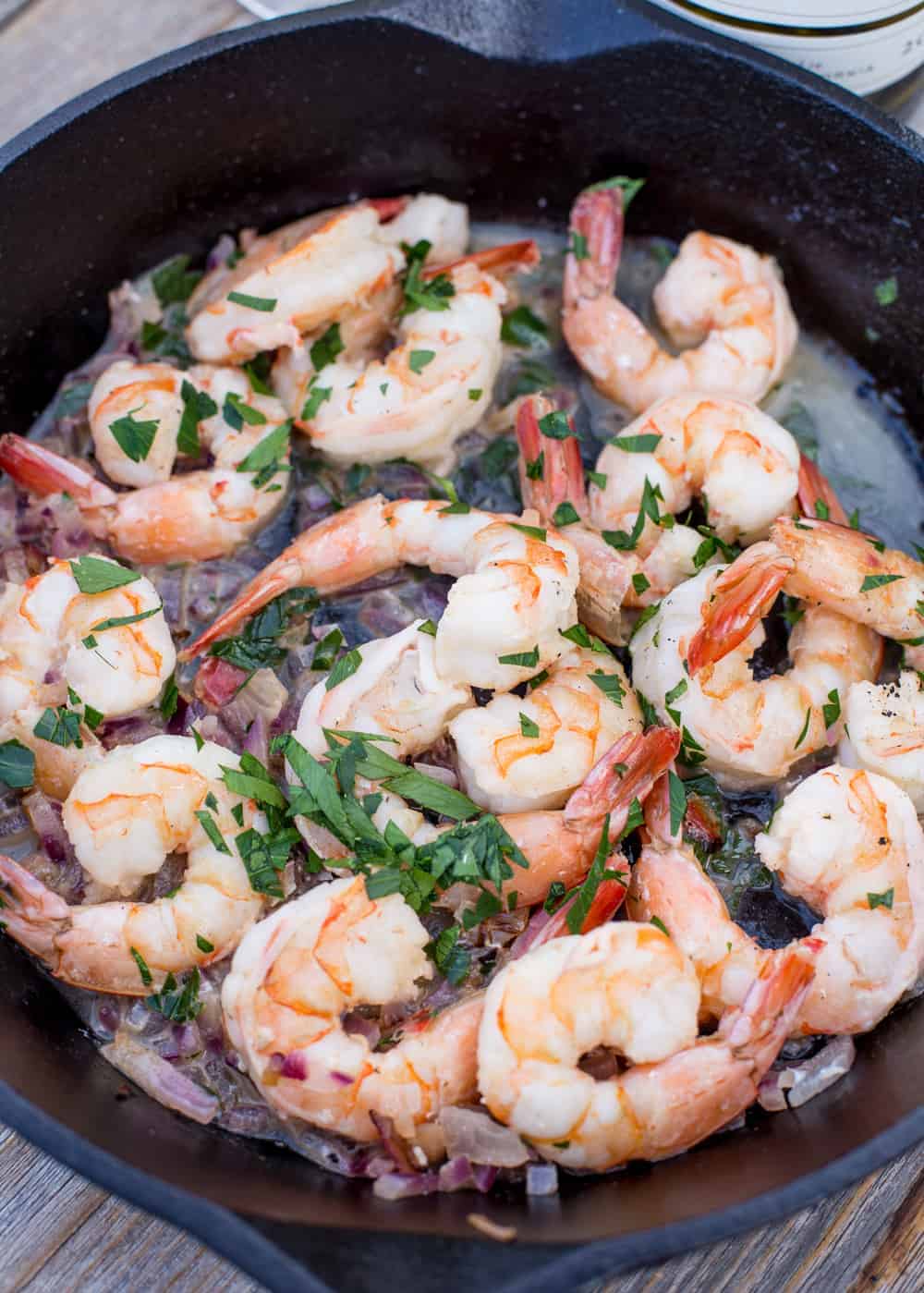 We've been a bit MIA around here and for good reason. WE MOVED!
That's right, we moved to the country — wine country that is. For those of you familiar with Oregon's AVA system we're in the heart of the Chehalem Mountain AVA. But instead of wine grapes our new home is surrounded by filbert trees. I'll fill you in on the details, along with some photos of the new property, once we're finally unpacked. In the meantime I'm trying my best to get back to life, work, and most of all cooking on our new deck.
I should also mention that our anniversary is coming up! 12 years of marriage to be exact. So we decided to take a break from unpacking this past weekend to cook up one of our favorite date night dinners, surf and turf, as a pre-anniversary celebration.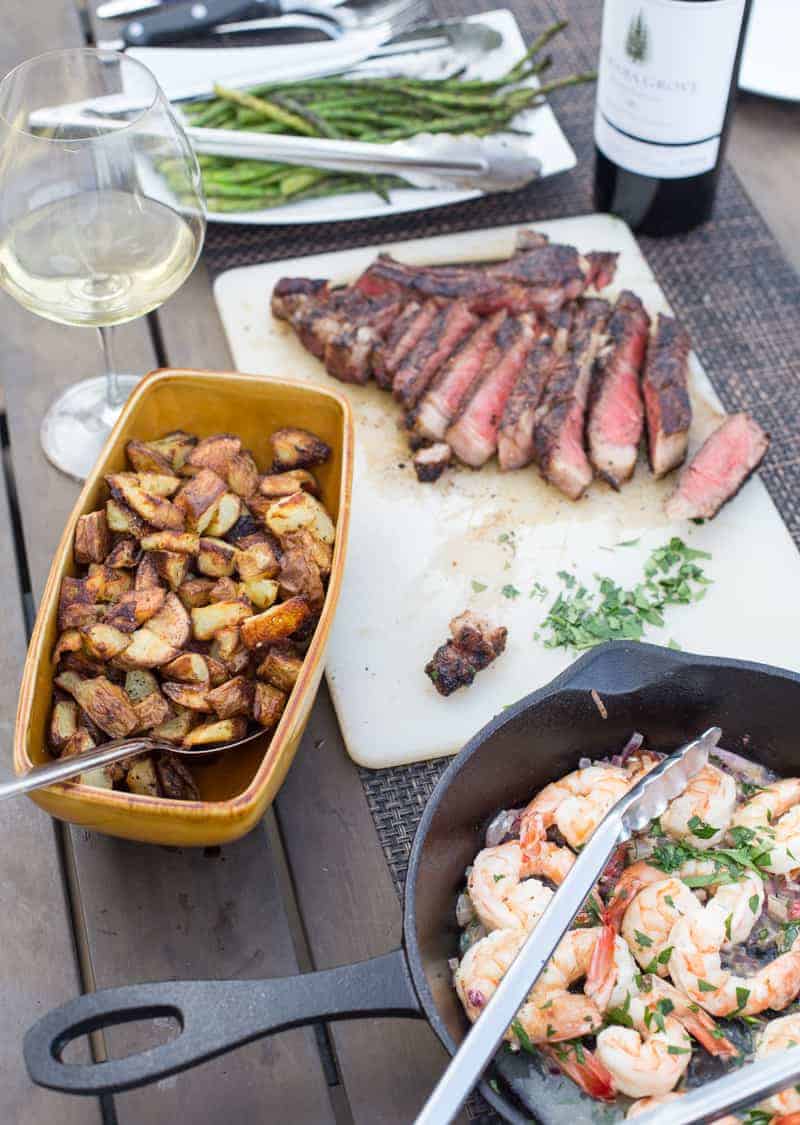 I'm not gonna lie, it felt great to get back to cooking after a week living amongst packed boxes and dining on take out everyday.
You know this steak; we've done it before. We did a reverse sear rib eye, smoked first then finished hot an fast on our kettle grill.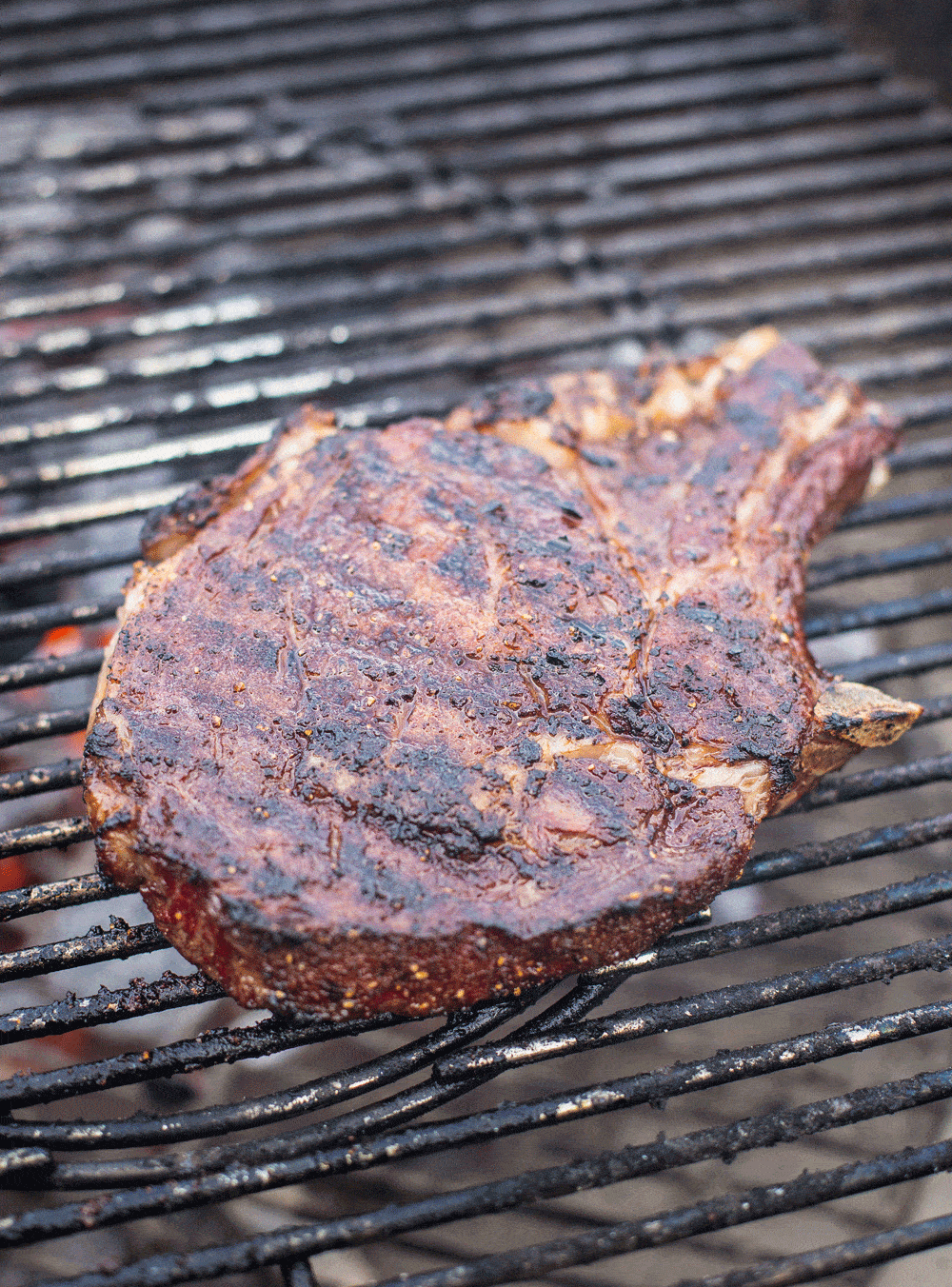 We decided to cook the shrimp in a cast iron pan inside the grill for two reasons. One, to keep it easy on ourselves since we were already using the kettle grill to cook the steak. And two, to make sure we didn't lose any of that delicious garlic/wine/lemon sauce. It's great for serving over the top of the shrimp when they're finished.
It takes just minutes to prepare everything. Make sure you have cleaned and de-veined the shrimp, then prep the rest of your ingredients because by the time the pan is hot your dish will come together quickly.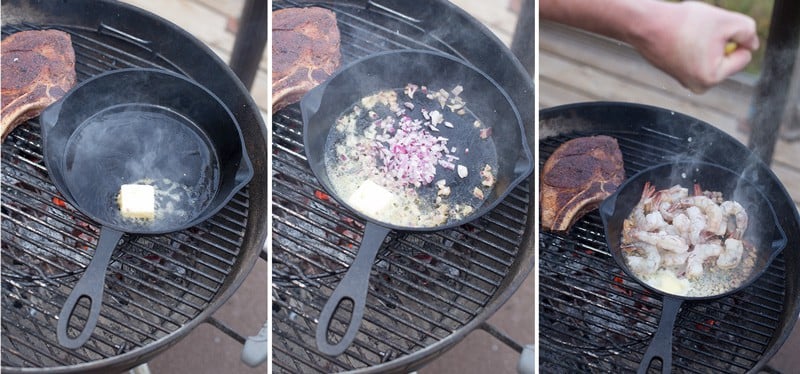 Set up your grill for indirect cooking and place the cast iron pan over the direct heat to preheat. After it's nice and hot (around 6-10 minutes after it's been on the heat) add the butter, olive oil, and shallots to the pan and let them cook for about 1 minute, just to start softening the shallots. Folks, your pan will be hot, so stir alot to make sure you don't burn the shallots. It'll sizzle as soon as it gets on there. Then add the garlic, lemon, wine, and shrimp.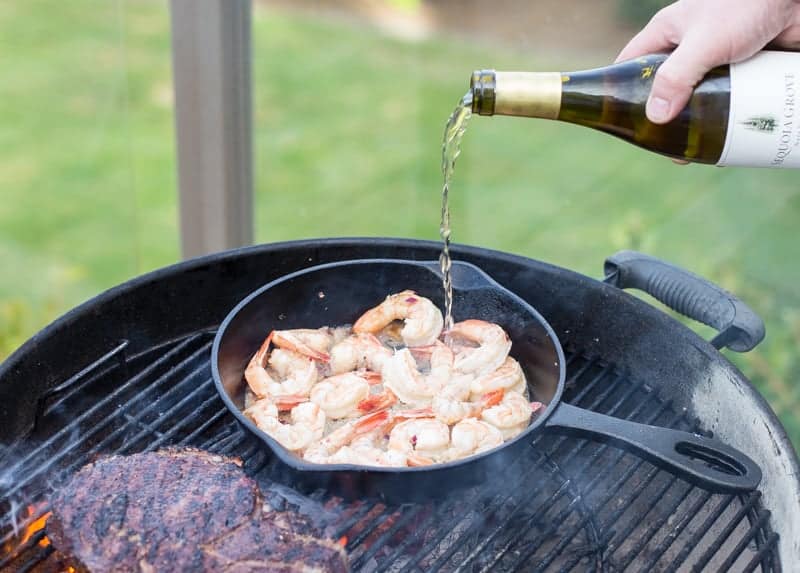 Stir frequently until they're done (about 6 minutes), making sure to flip the shrimp to allow for both sides to be evenly cooked. Remove from heat, toss with parsley, and serve!
Boom that's it.
Time for your date night dinner!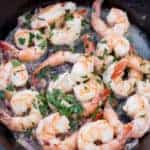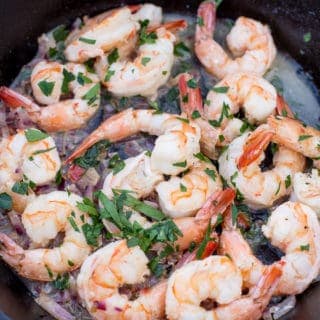 Grilled Garlic Chardonnay Shrimp
Cuisine:
bbq, grilled, seafood, surf n turf
Ingredients
1

lb

large shrimp

trimmed and de-veined

1

tablespoon

butter

1

tablespoon

extra virgin olive oil

1/3

cup

shallots

finely diced

1

garlic clove

finely diced

1/2

lemon

juiced

1/4

cup

white wine

we like chardonnay for this

1

tablespoon

parsley

1

teaspoon

kosher salt
Instructions
Set up charcoal grill for indirect cooking.

Clean and de-vein shrimp.

Place cast iron pan over direct heat to preheat, and cover the grill with a lid for up to 10 minutes.

When pre heated add to the cast iron pan butter, olive oil then the shallots. Cook 1 minute stirring. Next add the garlic, lemon, wine, salt and shrimp. Stir frequently for 6 minutes, making sure to flip the shrimp so they cook evenly on both sides.

Remove pan from heat and toss with parsley and serve.
Recipe Notes
This dish was intended to be served alongside an additional protein, such as steak, yielding 4 servings.
If no additional proteins are served with the dish then it should sufficiently serve 2 people.
WINE PAIRING
We picked chardonnay for this dish because we knew this particular bottle was nicely oaked and had bright lemon flavors that would work well with the complementary flavors of the dish. Plus it reminded us of our wedding. We were married outside of Napa and Sonoma wine country and always like to pay homage to the wine region where we first fell in love with wine while living in the bay area. In fact, the day after our wedding we took our guests on a tour of Napa and Sonoma to some of our favorite places. And while I've never visited the winery or tasting room at Sequoia Grove I've heard it's gorgeous, nestled into one of the last remaining groves of the majestic Sequoia sempervirens in Napa Valley, inside a 110-year-old barn with more than a century of history in Rutherford. Outside, 18 acres of Sequoia Grove Estate Vineyard vines surround the property.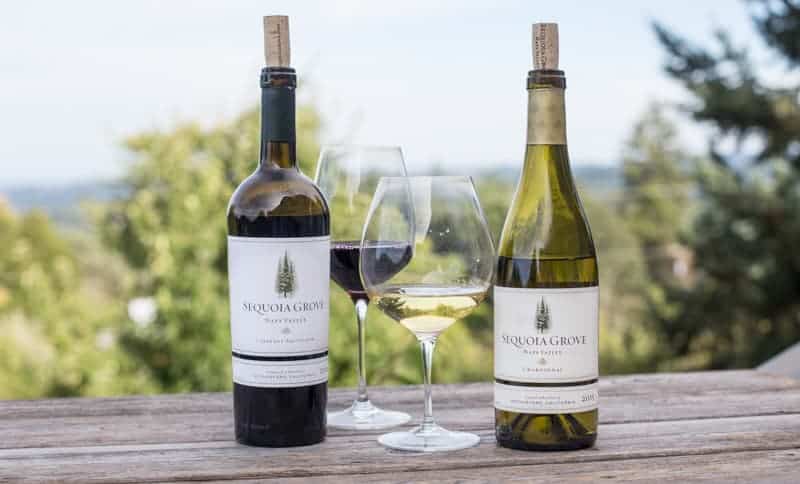 Speaking of barns, have I ever told you Sean has always dreamed of having a barn?! Well guess what, we have one now! (pics of the barn and the rest of the farm coming soon!)
Ok, back to the pairing.
The chardonnay worked seamlessly with the shrimp. It's a full bodied chardonnay with integrated oak flavors and textures brightened up by flavors of fresh lemon and pear. I think this exact dish would also be fantastic with scallops (maybe even better than the shrimp!) because the richness of a scallop would also merry well with this particular wine.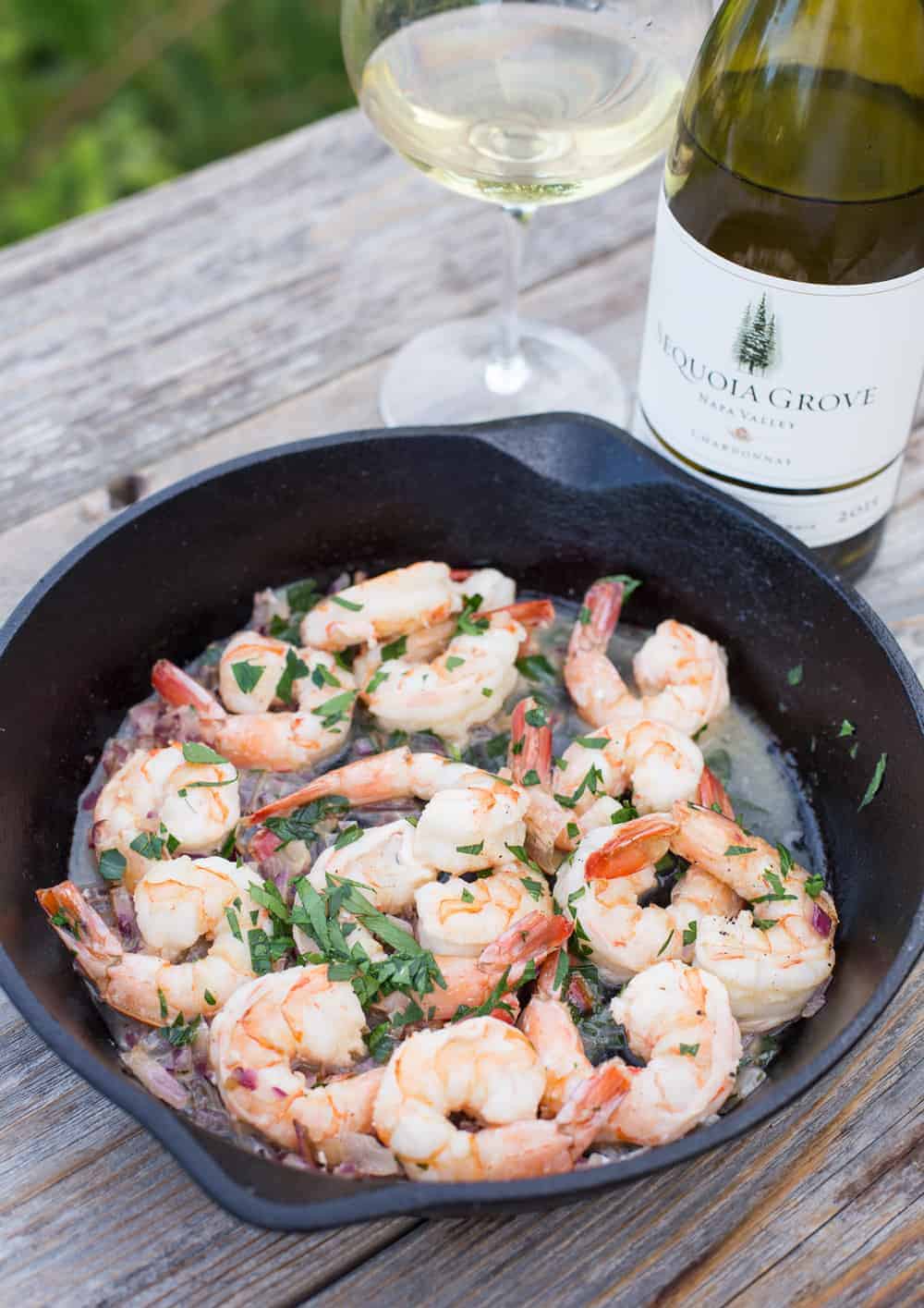 To go with the steak we went with the Sequoia Grove Cabernet Sauvignon. This is a classic pairing for a reason. The tannins from this bold wine are softened by the grilled fat on the steak. The meat was seasoned simply with salt and pepper, but has that sweet smoke infusion plus the incredible char from being finished hot on the grill. This made for a perfect marriage of flavors when paired with the richness of the wine and it's spice, bold fruit, and velvety textures.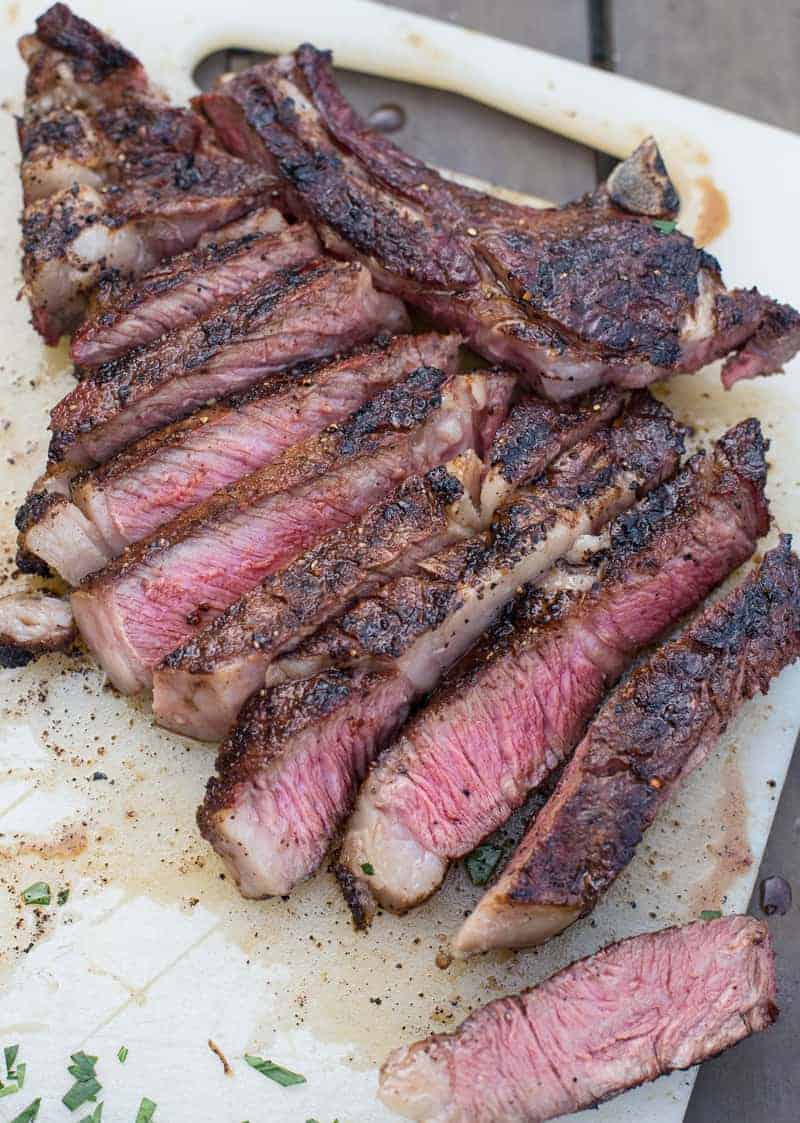 Cabernet Sauvignon is also a favorite of ours to enjoy with anniversary celebrations because we got engaged over a bottle of California cab (and enjoyed the same wine on our wedding day!).
Just make sure you don't cross the streams, because cab and shrimp are not a match made in heaven (unlike Sean and I 😉 ). Keep that shrimp with that delicious chardonnay and you'll be happy as a peach.
Cheers to 12 years of marriage and counting. Maybe our lucky 13 will be celebrated back in Napa where it all began?
---
Thank you to Sequoia Grove for sponsoring this post.
For more tasty recipes, BBQ tips and tricks, check out the Recipe Index.
Want more? If you liked what you read you can subscribe to Vindulge and have new posts delivered directly to your inbox.