A delicious grilled twist on pork chops and applesauce. Grilled Pork Tenderloin Medallions with Bacon, Apple, Onion Chutney.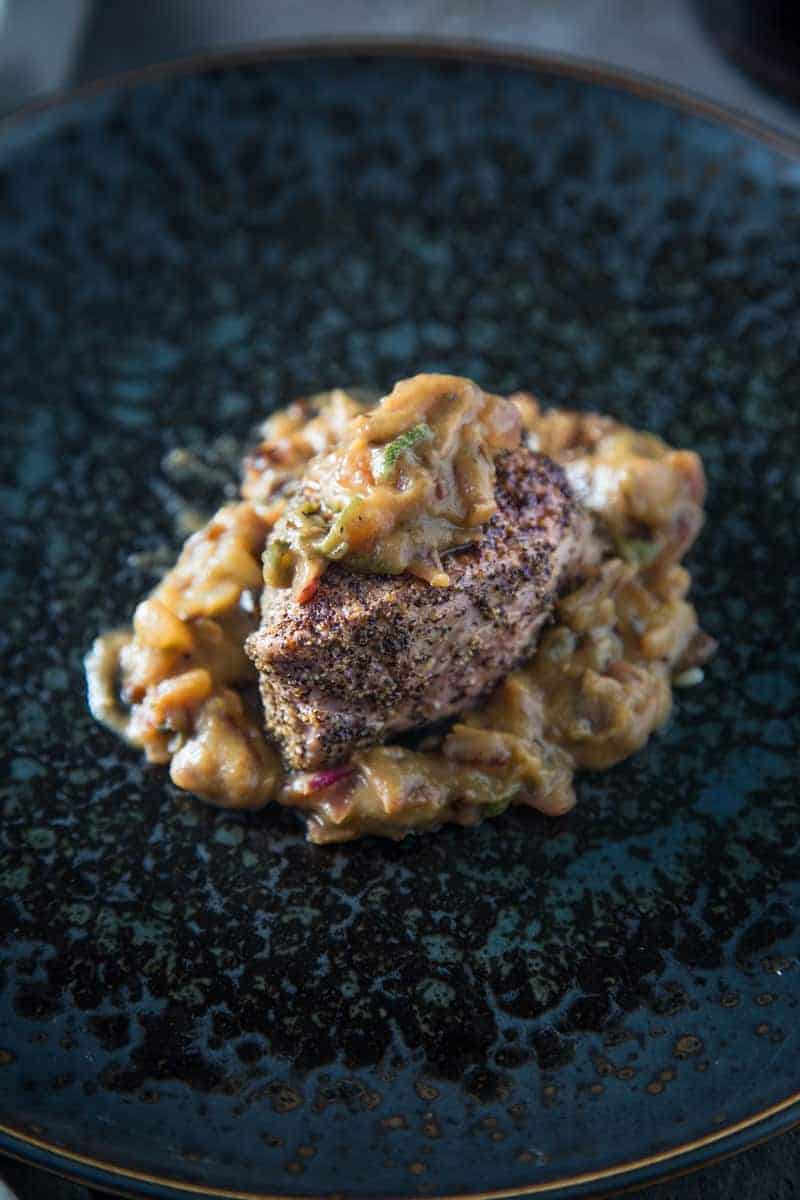 Remember when I told you we moved to a hazelnut farm in the country? Well not only are we surrounded by four acres of hazelnut trees, but we also have tons of berry and fruit trees as well. Among them are three apple trees. And while two of them had rough seasons and didn't produce much, the third was abundant! Like apples everywhere, apples for daaaaaays, apples forever.
So I decided to make a few batches of applesauce to freeze and cook with.
I still have no idea what variety of apples these are but they produced some damn good applesauce, and the only thing I added to the puree was cinnamon. So. Darn. Good.
In an effort to use the applesauce beyond just dipping large spoonfuls into the jar Sean joked about making pork chops and applesauce, using his finest Peter Brady voice.
Nerd.
But instead of pork chops I told him we should do something fun with pork tenderloin. So we decided to take a pork tenderloin, cut it into really thick 2" pieces, and treat it almost like we'd treat a beef tenderloin (besides, the're pretty much the same cut, different animal) .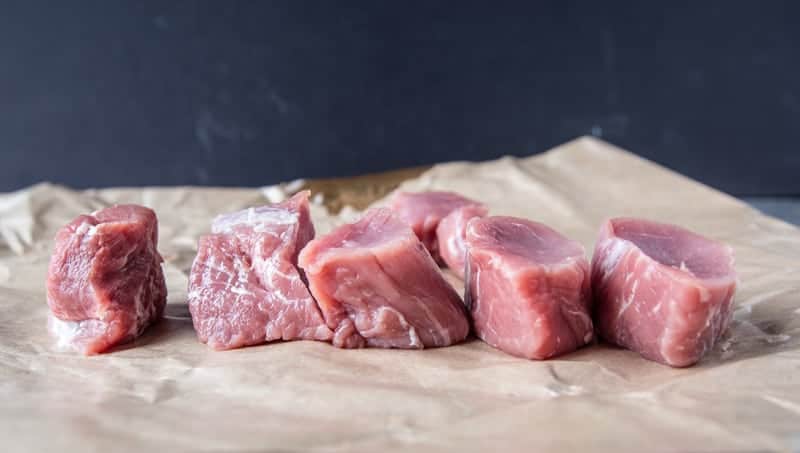 We simply seasoned the pork chops with olive oil, salt, pepper and garlic. And grilled it for about 20 minutes while the chutney was cooking.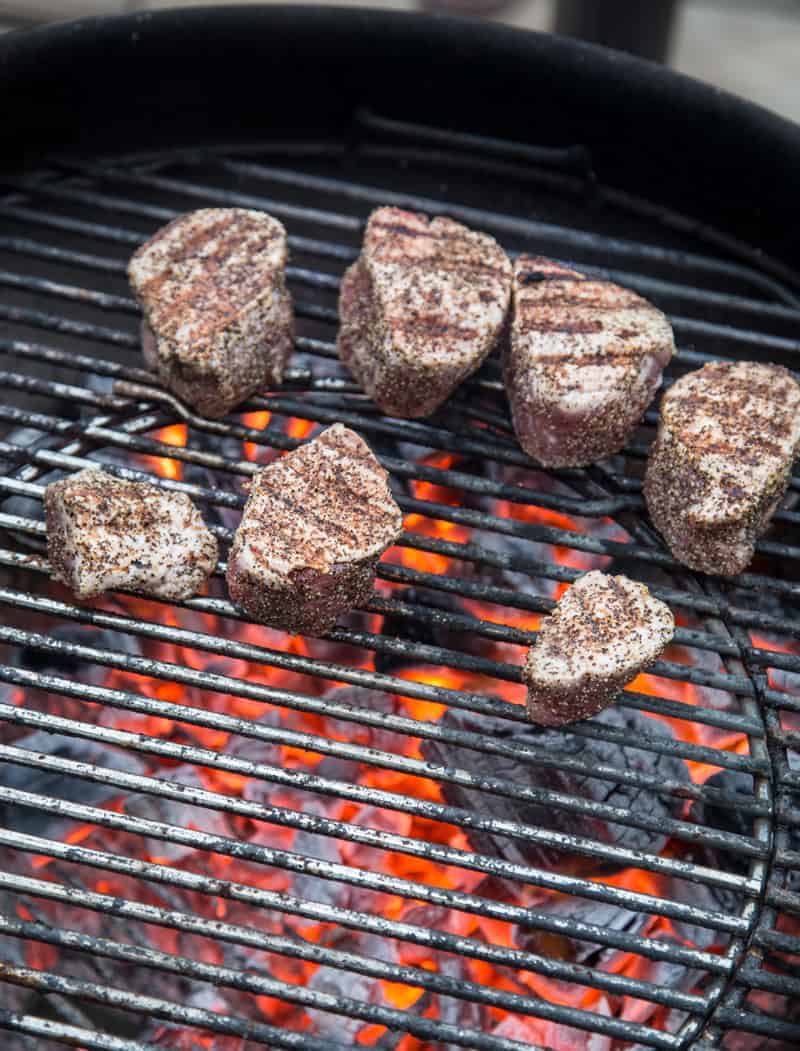 Check the temp so you don't over cook. We're looking at a finished temperature of around 145 for super tender pork.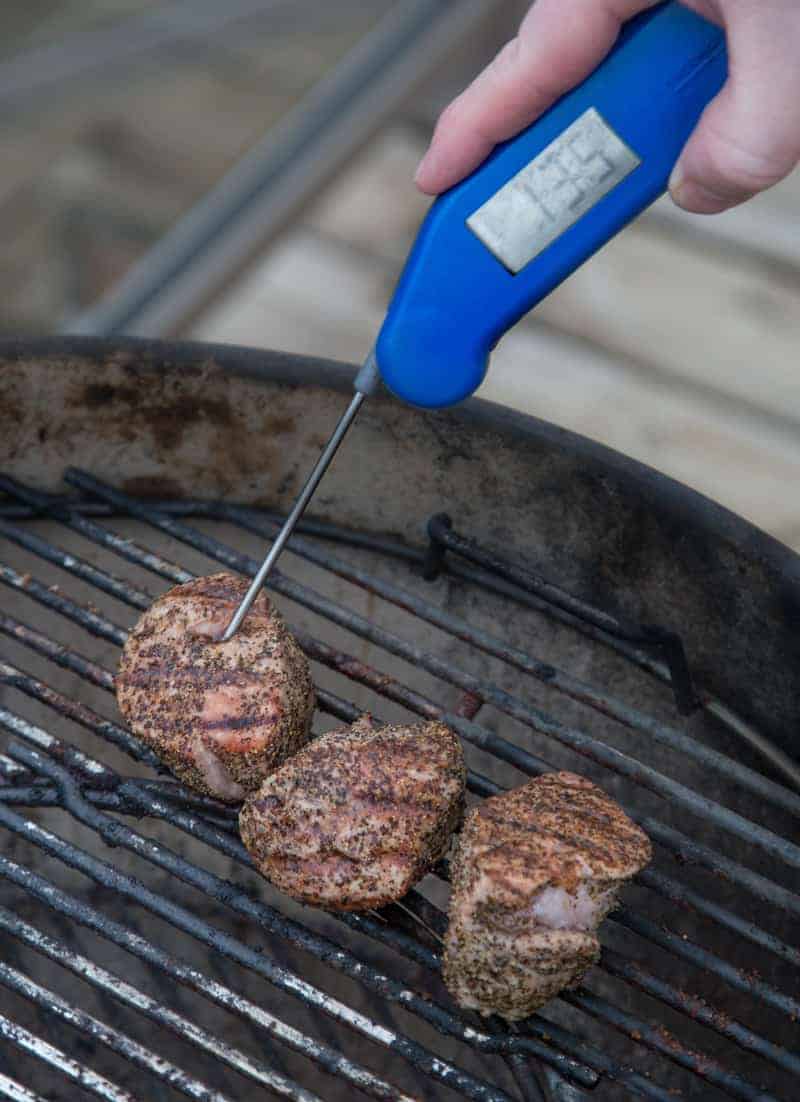 (We always recommend using a good digital thermometer to check your temp, like this one in the pic. This is one of our favorites.)

We could have easily smoked it too, but we were aiming for something quick and simple. While this was indeed a quick and simple meal, it looks like fancy shmancy and could easily impress a dinner guest.
The chutney cooks up in no time too. Just crisp up a couple pieces of bacon in a skillet, then add the onions to get soft and sweet, then add the applesauce and other flavors and stir to combine. Let it cook about 2 minutes and voila. Serve over the pork tenderloin medallions.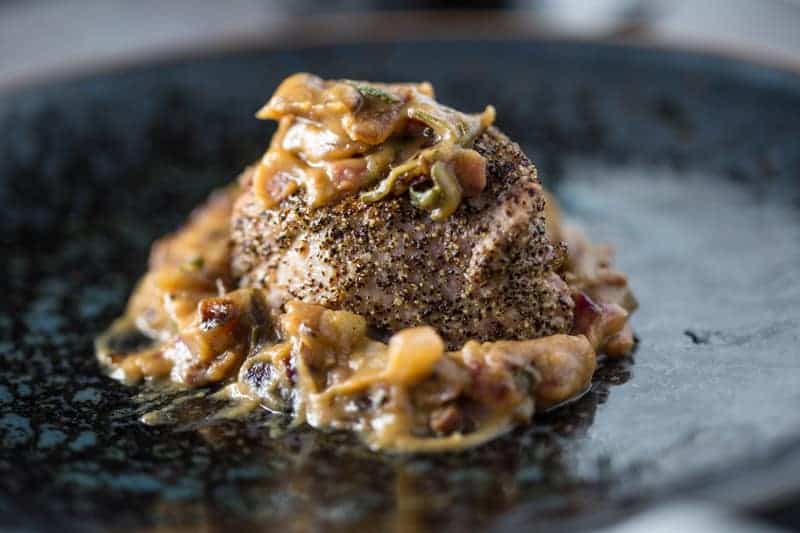 I showed my girlfriend this picture and she asked if I made brownies with caramel sauce for dinner 😉 I can see how she got that. But nope. That there is pork tenderloin with bacon, onion, apple chutney! Boom.
It's a fantastic mix of sweet and savory and absolutely delicious. And the fall flavors will warm your soul.

Grilled Pork Tenderloin Medallions with Bacon, Apple, Onion Chutney
Grilled Pork Tenderloin Medallions with Bacon, Apple, Onion Chutney. A delicious grilled twist on pork chops and applesauce.
Author:
Mary Cressler, Vindulge
Cuisine:
dinner, entree, pork
Ingredients
1- 1 ½ lb pork tenderoin, cut into 4-5 pieces (a heafty 2" thick)
2 tablespoons extra virgin olive oil
3 tablespoons dry rub, (equal parts salt, pepper, garlic)
2 pieces bacon, diced
½ small red onion, diced (about ½ cup)
1 tablespoon butter
4 sage leaves, finely diced
½ cup apple sauce
2 tablespoons apple cider vinegar
Instructions
For the Pork:
Prep grill for indirect cooking.
Slice pork into 2" filets, coat with olive oil, then season with the salt/pepper/garlic dry rub.
Place pork over direct heat for 1 – 2 minutes per side over direct heat. This will allow a nice crust, then move to indirect heat and cover.
After 10 minutes remove lid and start checking temperature for doneness. You are looking for 145 degrees F.
Remove from cooker and let wrest, then slice and serve with the chutney.
For the Chutney:
Place bacon in a medium sauce pan over medium heat, cook bacon until it starts to get crispy and then add onions, let sauté in bacon grease for about 5 minutes or until slightly caramelized.
Add butter, sage, apple sauce, apple cider vinegar, stir and bring to simmer.
WINE PAIRING
Not to sound like a broken record when it comes to pork and pairings, but this was pretty awesome with Chardonnay. We opened up both a Pinot Noir and a Chardonnay from the same producer to see which was better, and while the Pinot was darn tasty on its own, it didn't do much for the dish, and vice versa. The Chardonnay on the other hand, was a great match. I would have thought the chutney would have drowned out the wine but the wine stood up to the bold flavors of the chutney and had complimentary apple and smoky notes to match the wine.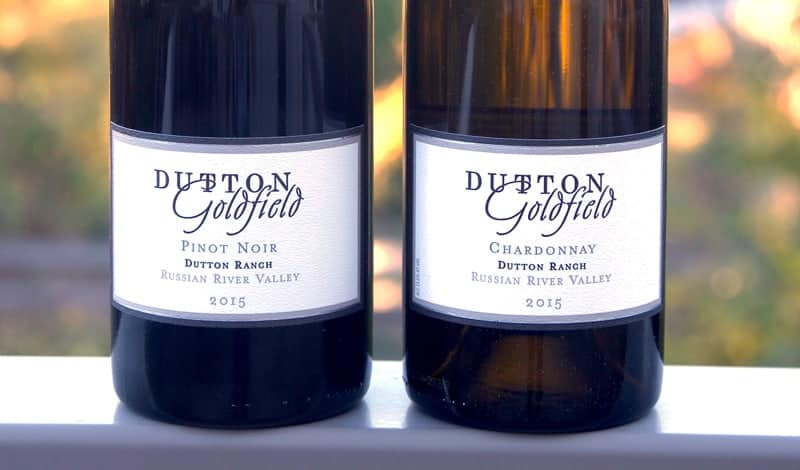 2015 Dutton Ranch Chardonnay (Russian River, California)
Aged 10 months in 40% new French oak barrels, this wine had the richness we were looking for, without too much weight. It showed fresh citrus balanced with baked apples, pears, some sweet caramel, and a touch of vanilla with an overall creaminess on the palate. I loved how the apple notes and spice blended seamlessly with the chutney without the sweetness of the chutney overpowering the wine. It was a great match and a lovely wine.  13.8% abv  | $38 
2015 Dutton Ranch Pinot Noir (Russian River, California)
This wine had some power for a Pinot Noir. Rich concentrated cranberry and deep cherry, it starts out a bit tight, but opens up quite nicely adding some baking spices and more rich red berry fruit. On it's own it's a lovely and plush wine, but not the best match for the pork, clashing with the chutney. I can see this one with something a little richer, maybe a winter stew with some mushrooms, braised beef, or even roasted duck.  13.5% abv | $44
What do you think would pair best with this dish?
---
*This post contains affiliate links for the ThermoWorks Mk4 Digital Thermometer. We only recommend products we use and love! And all of the products mentioned above are those we use regularly.
These wines were provided as samples for review. See my sample policy here. 
---
For more tasty recipes, BBQ tips and tricks, check out the Recipe Index.
Want more? If you liked what you read you can subscribe to Vindulge and have new posts delivered directly to your inbox.