There are certain experiences in a wine lover's journey that they never forget. For some it's their first "a-ha" wine.  For others it may be the first time they tasted a first growth Bordeaux or a really aged wine.  One of those unforgettable experiences for me was the very first winery I visited.
Shortly after moving to San Francisco in 2001 my husband and I were in need of a mini-vacation, so we booked a weekend in Sonoma over fourth of July weekend.
We had never been there before and had no idea what to expect.  All I knew was there would be wine and sun (San Francisco is notoriously grey and foggy in the summer months; not ideal for someone raised in Arizona).  Having no idea what we were doing, with no itinerary and no maps (this was before smart phones, twitter, yelp, and facebook to guide us), we stopped at the first place we saw upon entering the town of Sonoma (The Cellar Door tasting room) and sought out advice the old fashioned way – by asking a local.
I have no recollection of what we tasted while at The Cellar Door, or if we tasted any wine at all, but I do know the sales associate recommended we check out Gundlach Bundshu for our next stop and first official winery visit.
We were greeted into the rustic and dusty tasting room by a small gangly guy named Jim (not to be confused with Jim Bundschu), who took care of us that day.  He made us feel immediately comfortable, vanishing all my fears of pretension and snobbery I imagined all people in wine country would be like.  I don't know if it was the rustic setting, the tasty wines, or the ambiance but we instantly fell in love with this place and even joined their wine club.  We were suddenly hooked and now had a reason to return over and over to Sonoma (which we did).
Gundlach Bundshu became a regular spot on our return visits to Sonoma. I mean, we kinda had to go at least once a month to pick up our wine club wines!  We brought friends with us whenever possible (many of whom also ended up joining the wine club too).  We even rode our bikes up there on a few occasions.  And almost every time we went, Jim was there to pour for us and offer any newbies a tour of their cave.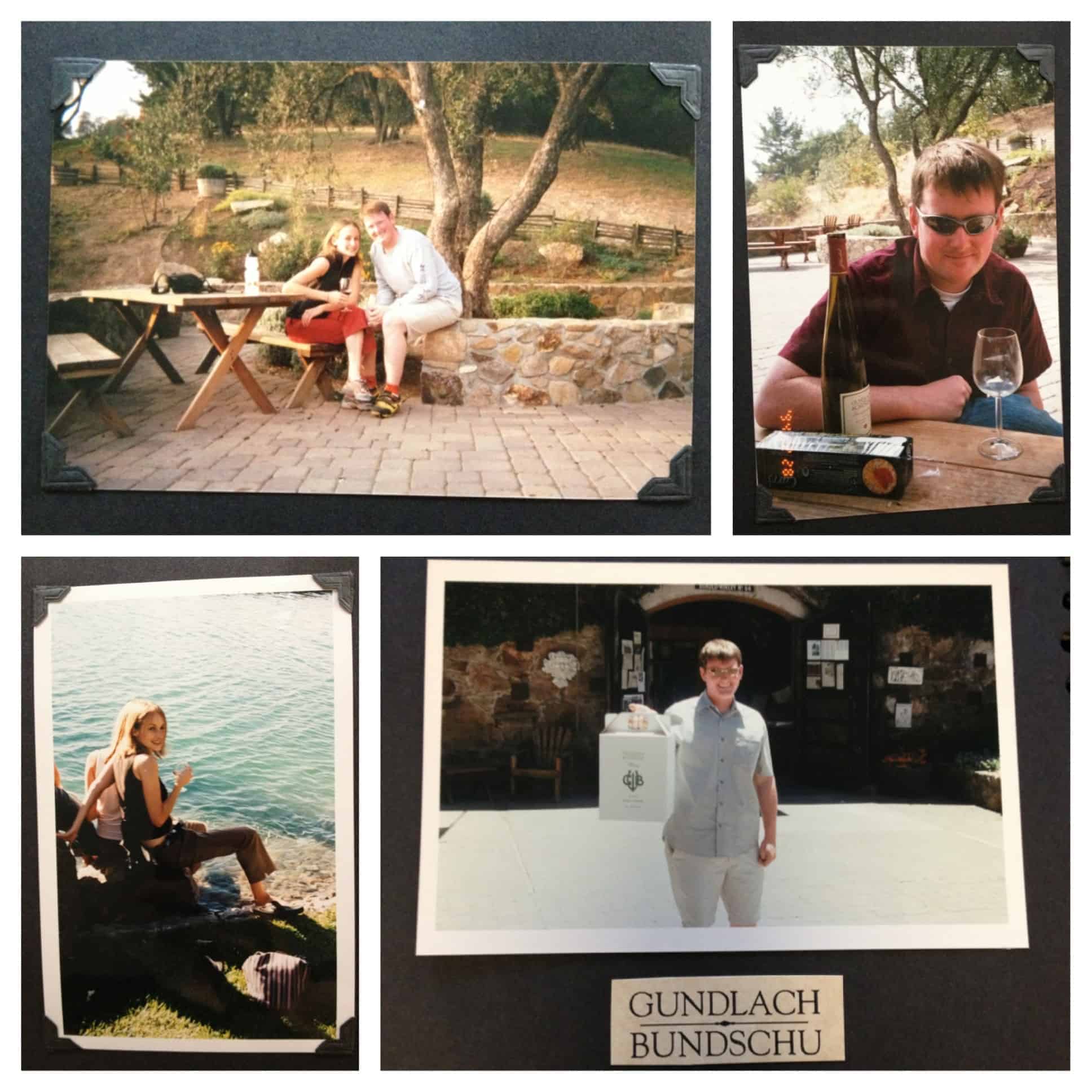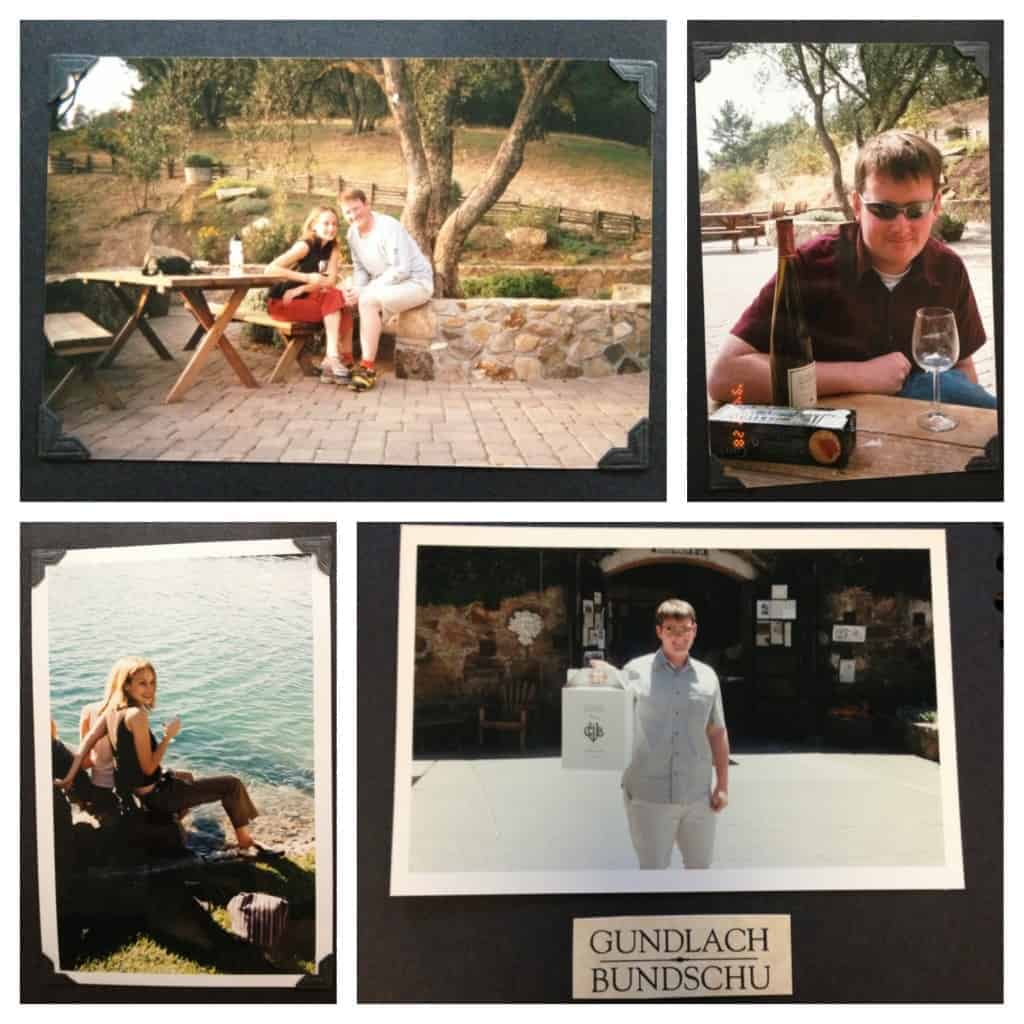 Photos from our many visits to Gundlach Bundschu (pre-digital camera days)
Jim was fun, funny, the opposite of pretentious, and I suspect he often enjoyed a glass or two while working due to his sometimes glossy eyes and outgoing nature.  He taught me a lot about wine when I was just an infant in my wine journey.  He introduced me to my first domestic Tempranillo and Gewürztraminer (two of my favorite GB wines).  But most importantly he never made me feel stupid for my lack of knowledge, nor did he ever seem annoyed at the many questions I always had.
We remained club members until we moved to Oregon in 2006, canceling our membership only because we had just spent our life savings on our first house and needed to cut the "wine budget".
The next time we returned wasn't until 2009.  That time things felt different.  They had revamped the entire tasting room.  It was no longer rustic and dusty.  I didn't recognize a single person in the tasting room and Jim had been long gone for years (I suspect it was for reasons I assumed above).  The woman who was helping us that day was unfortunately short, somewhat rude, and therefore not a very good brand ambassador.  It felt different and much more serious, though we still enjoyed the wines.
That was the very last time I tasted any Gundlach Bundshu wines until very recently when they sent me a few sample bottles.  Admittedly I was a bit nervous to try them.  Would I still like them as I did so many years ago?  Would they taste different to me now that my own wine journey has evolved?
Part of the original allure of GB was not just their good wines, but also the amount of fun we had every time we visited.  Would they still represent "fun" to me?
Well, after watching this video they made to promote their merlot I immediately realized Jim wasn't the only one who had a playful personality there (apparently it is a prerequisite for working there) and hopefully the lady from my last visit was just one unfortunate sour grape (pun intended).
I chuckled at the video and opened up the 2009 Sonoma Valley Merlot – bold and velvety with rich dark berry fruit, chocolate and toast.  I wrote in my notes "this wine is committed!" as in this wine doesn't do anything half-ass — it is committed to being full-flavored, rich, and big, yet balanced and well structured.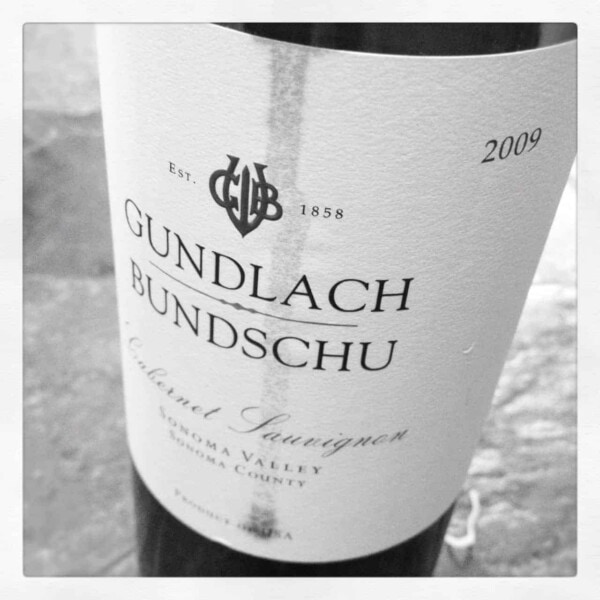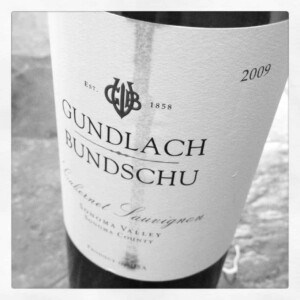 A few days later I opened up the 2009 Sonoma Valley Cabernet Sauvignon.  Similar mouthfeel to the Merlot this wine is big, lush, chocolaty, and inviting.  This wine, however, has some bold tannins that make it yearn for food to help soften them.  A slow cooked beef stew would do the trick.  And when the food is gone and there's still a few glasses left enjoy the rest while reading a book and enjoying a toasty fire.
While sipping on these two wines I kept mentioning to my husband how familiar the wines tasted, even after all these years.  It was a bit like taking a walk down memory lane.  It was also a great reminder that often (and especially so for newbies) the person behind the counter can easily make or break a wine tasting experience.  For me, and that first visit to GB, it may have even been that positive first experience that gave me the itch to never stop learning about wine, and I will never forget it.
If you should find yourself in Sonoma I encourage you to visit the winery.  The property is pretty, quiet, and overlooks a pond with views of the valley.  If a visit isn't in your future, I encourage you to seek out a bottle of their wines and taste them for yourself, especially if you are into bold wines with rich fruit.  It has been over 11 years since my first encounter with Gundlach Bundschu, but their wines remain solid after all these years.