There's a new restaurant in town, taking over the location once home to Jamison and Fenouil. The Hairy Lobster, located across from Jamison Square on 11th between NW Lovejoy and NW Johnson, is joint venture for husband and wife team, David and Mellisa Root, with David in charge of dinner and Pastry Chef Mellisa in charge of desserts.
Update 2020: Unfortunately The Hairy Lobster Closed in late 2020.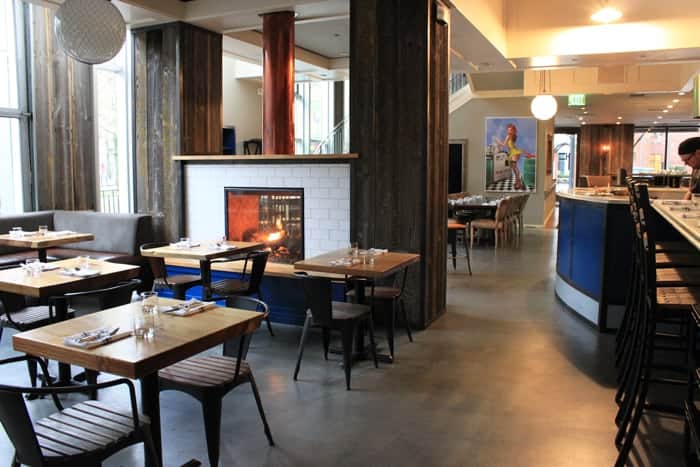 Prior to this collaboration the couple had quite the culinary background. Mellisa worked as the Executive Pastry Chef at Thomas Keller's famed Per Se (in Manhattan) and also at Madera (in Northern CA), while David has spent a career in upscale restaurants, earning him two prestigious James Beard Award nominations.
This two-story building is an ambitious undertaking for a Portland restaurant, with 110-seat capacity on the main floor, downstairs, and event space for banquets and corporate meetings upstairs. But when I asked David Root about the decision for such a large-scale building he explained that this is it for them. That they spent their lives training and building up smaller restaurants so they could finally have their dream. And The Hairy Lobster is the culmination of a 10-year vision for the couple.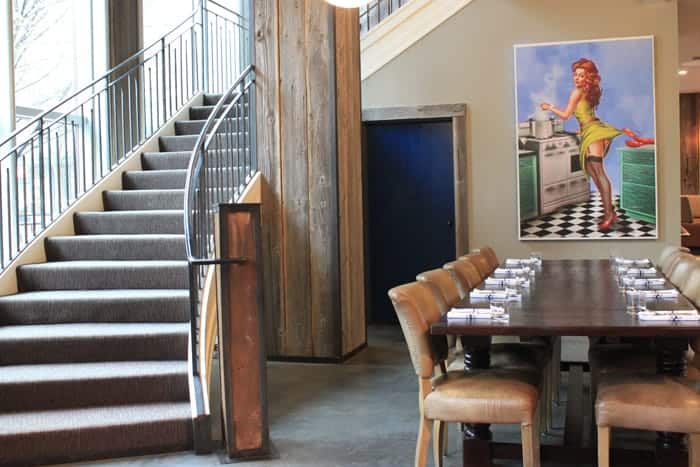 The focus here is on shared plates. But this is not your typical "tapas" restaurant. They explained it as a menu rich in American regional cookery coupled with modern techniques.
Dishes include: Maine Lobster Cubano with BBQ pork, sunchoke pickle and chili spiked aioli; Blistered Shishito with lemon, pimenton, sea salt, and parmesan squash; Caramelized Lamb with hash browns, tomatillo, and spicy whipped sweet potatoes; and Beef Shortribs, with lentils, spinach, mustard greens, and togarashi carrot.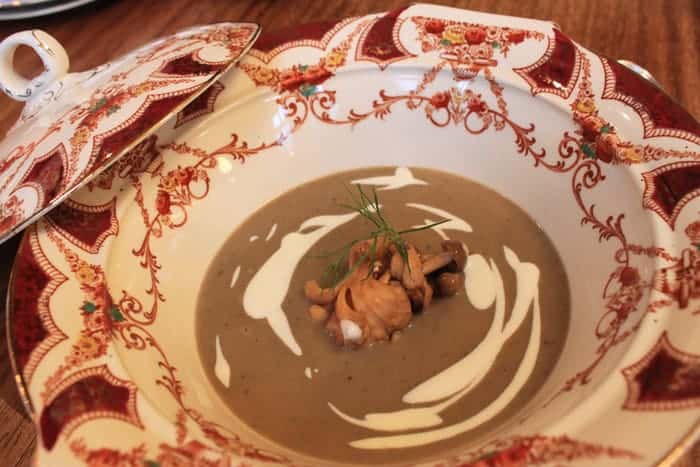 Though my favorite thing on the menu that I tried was their Oregon Foraged Mushroom Bisque topped with pickled mushrooms (it was out of this world). It had an excellent balance of some sweetness, umami, and acid (from those pickled mushrooms). I can't wait to try it again.
The menu isn't your typical menu separated into appetizers, salads, and mains.
Instead, it has three parts:
Water: dishes derived from the sea (aka seafood)
Garden: vegetable inspired
Barn: well… meat
The best way to navigate the menu, if it seems confusing, is to talk to your server. If you're interested in a more tradition meal starting with an appetizer, main, and then dessert, they can steer you in the right direction with their recommendations (but seriously, you have to try the mushroom bisque!).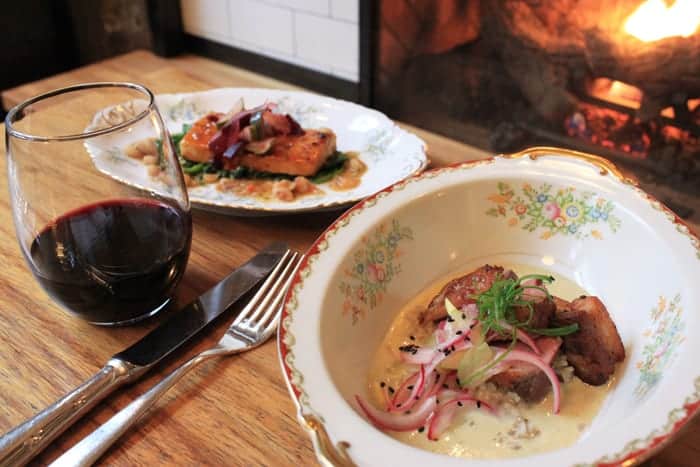 One of the unique features of the restaurant is its serving dishes. Everything you eat is plated on mismatched antique china that the couple had been collecting from antique shops throughout the last ten years.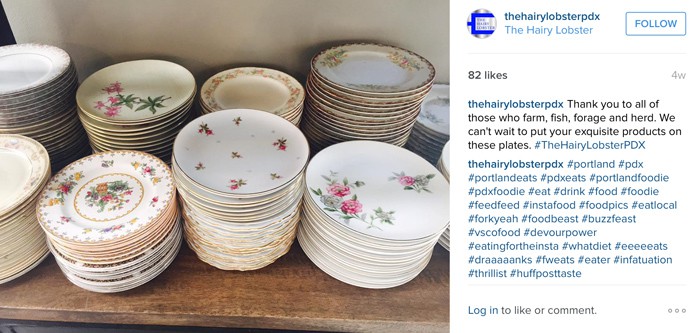 (image from instagram)
Chef Root said the inspiration for the shared plate theme and dishes was from "Sunday dinners at grandma's." He explained, "When you went to grandma's house as a kid there would always be a variety of dishes, all plated on mismatched china and platters."
He went on to explain that, "Food is meant to be fun, and it's meant to be shared. I want people to put down their phones and think abut the food. And I want them to share the food with each other."
I'm all about that philosophy, but I may or may not have snapped several photos with my phone while I was there 😉
The prices on the menu are very reasonable (ranging from around $12-$18, and $10 for Garden items), though portions aren't huge. Like I said, the intent is for plates to be shared. When my husband and I went we started with the Parker House Rolls with sea salt and whipped honey (and you should too! That whipped honey is insane!), and four dishes (one item from the Water and Garden sections, and two from the Barn section), and one dessert. That was more than enough for the two of us!
The Maine Lobster Cubano with pork is a fun one to check out, but don't expect anything like your typical Cubano.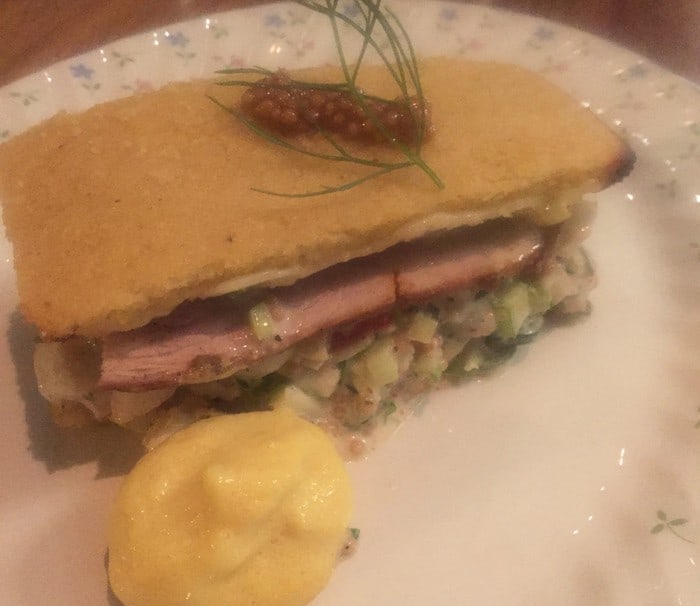 Please don't judge this place from this incredibly blurry and dark photo!! I just wanted to give you an idea of that Cubano, so you're not surprised when it arrives. The flavors are pretty awesome, it was just different from what you might expect with that wording. And that goes for a lot of the menu. Expect to be surprised. Pleasantly surprised!
I'd have to say my only complaint was the vessel my sparkling wine was served in. They presented it in an old school coupe. I can see why they chose that stem, based on the theme of antiques and vintage, but I'm not a fan of that glass (the bubbles dissipate almost immediately in a glass like that).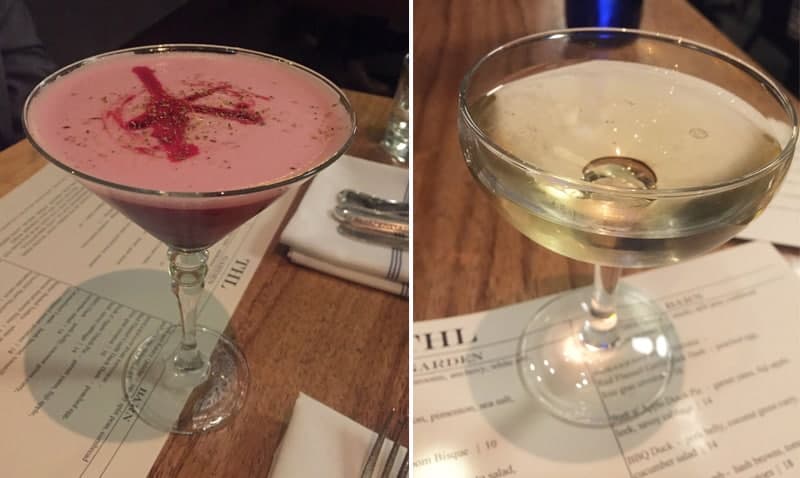 Next time (and there will most definitely be a next time for me!) I'll just ask them to serve my bubbly in a tulip shaped stem, a flute, or white wine glass. Or I'll just stick to the signature cocktails like the hubby who ordered the Mortdecai, with Krogstad Aquavit, egg white, beet juice, lemon, and fennel bitters. Or perhaps the one I had my eye on, The Man of Leisure, with bourbon, blanco tequila, lime, angostura bitters, and house ginger beer.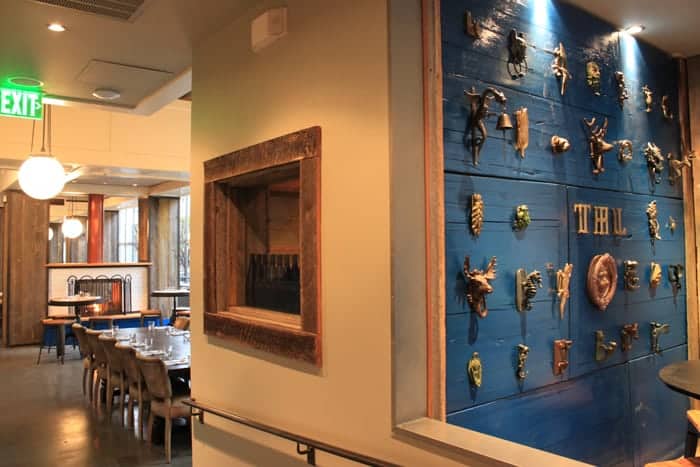 This place is definitely worth a visit. If you go, I suggest you bring a few friends. The space is large enough for groups both large and small, and that way you get to try several items on the menu. And make sure you start with the rolls and get some of that soup! Oh and save room for dessert! There are several specialities on the menu. I wanted to try everything, but went with the Peanut Butter Honey "Samich" with whole wheat cake, "bee local" gelato, candied peanuts. I had a hard time sharing that one with the hubby!
The inspiration for that dish came from their 5-year old nephew. Chef Mellisa told me that when they were in the developing stages of the restaurant, he would help out. And one afternoon while painting he got hungry, so she whipped up that dish for him, and decided to put it on the menu. I'm glad she did, because it instantly transported me to my own love of a good PB sandwich (only mine never taste this good!).
I appreciate the sense of family and community that you feel from this place and I'm already looking forward to my return.
For more photos check out The Hairy Lobster's Instagram account.
---
The Hairy Lobster
900 NW 11th Ave (between NW Lovejoy St and NW Johnson St) in the Pearl District
Open every day but Monday from 4:30PM to 10PM and Friday & Saturday until 11:00PM. Website
---
Disclosure: I was a media guest of The Hairy Lobster for dinner. All opinions are my own. I fully intend on returning with friends!
Photo credit for all photos but the blurry cubano and cocktails (which were my own) goes to Bread & Butter PR.
---