How I learned how to make homemade Orecchiette at Masseria Il Frantoio in Puglia, Italy… and how YOU can too!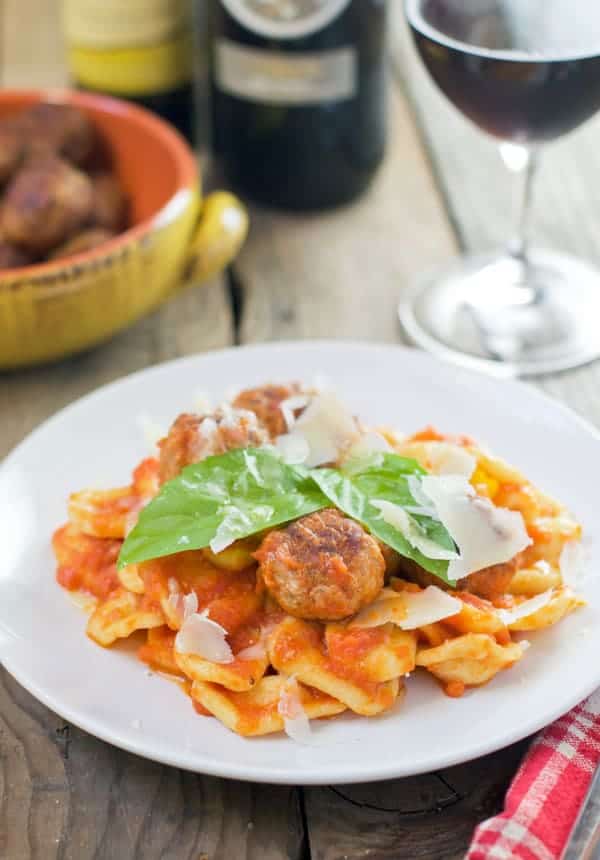 It was already getting dark by the time our group arrived at Masseria Il Frantoio for a cooking lesson and dinner, otherwise I could have easily gone overboard taking photos of the stunning 72 acre property filled with century old olive trees, citrus groves, farm land, and an agriturismo (working farm/restaurant/b&b).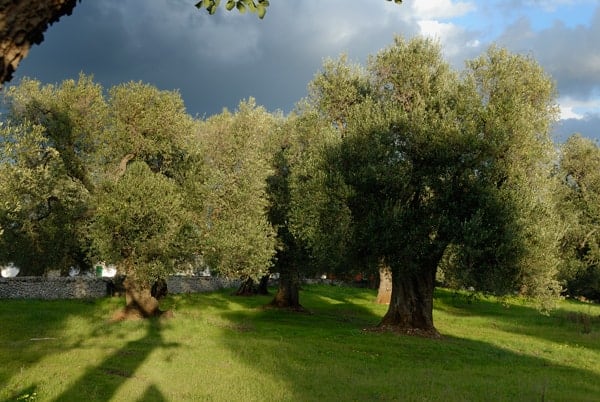 Owner Armando Balestrazzi and his wife Rosalba purchased the formerly abandoned property 30 years ago with a grand idea of turning it into a hospitality center and organic farm; one of the first of its kinds in Puglia.
"This is our living room," explained Balestrazzi when describing the romantic outdoor patio where we dined on that evening. "Eight months of the year are celebrated outdoors here. We eat outside everyday." I would too with the weather they enjoy here!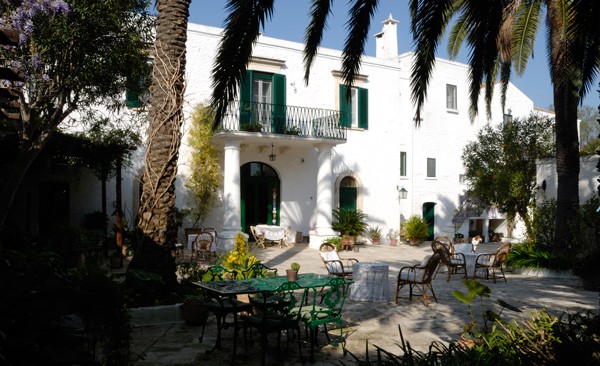 And the meals? "We don't have a 'chef,'" explains Balestrazzi. "Signora Filomena, a 60-yr old woman from Puglia prepares all of the food with a team of other women from the area. Everything is organic, and everything comes from the farm, with the exception of the meat which we buy from a local organic meat guy."
They don't have a set menu here. Their multi-course meals, paired with local wines, changes daily, based on what is available from the farm.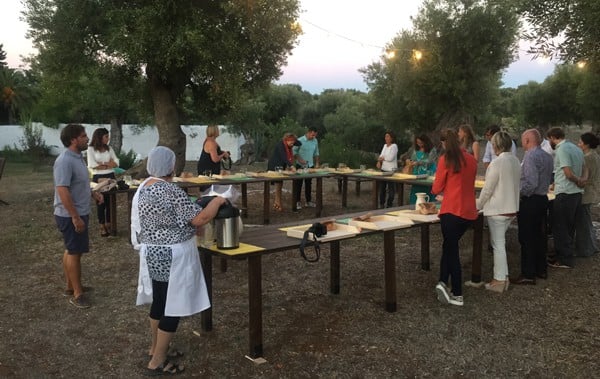 That day, our group was able to participate in the making of probably the most memorable meal of the trip. Our lesson? Making the homemade orecchiette that would accompany a fresh tomato sauce with small golf ball sized meatballs. Our teacher was Signora Filomena.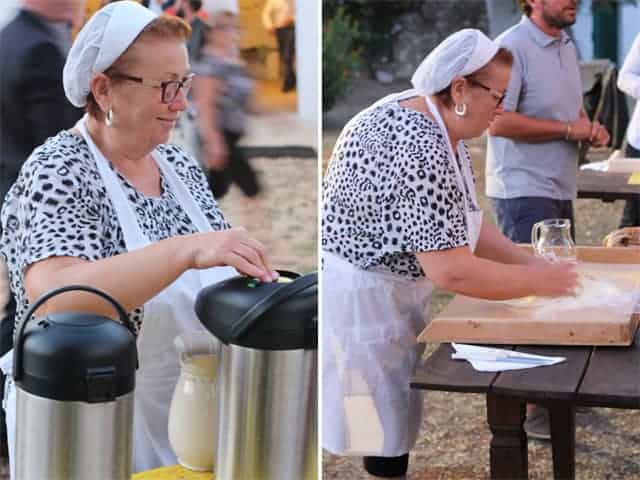 At first I thought it was some secret ploy to get us to work for our dinner. But what it did was made me realized how stinkin' easy it is to make your own pasta. Seriously! The only thing it takes is some upper arm strength. Lucky for me I have young twin boys; upper arm strength comes with the territory when you're chasing around and holding kids all day.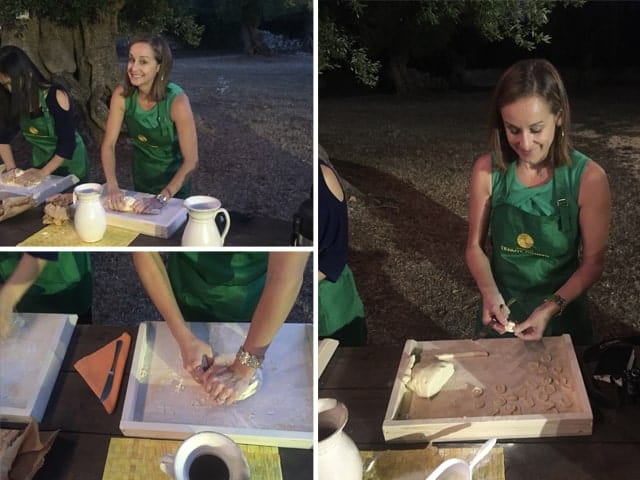 And it was so much better than any of the pre-packaged dried pastas I use back at home. Why don't I do this more often? So simple. So delicious!
I had to find out if it was being there, tasting it with Signora Filomena's sauce and tender meatballs, or if this was something I could actually do at home? Could I actually re-create this at home, using only ingredients I had at my disposal (nothing brought back from Italy)?
I had to try.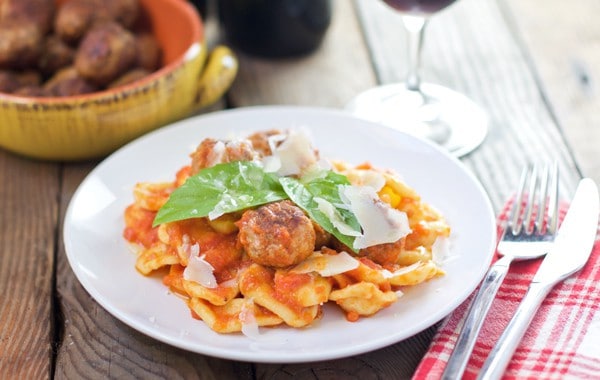 I was told the best flour to use was Semolina flour. Luckily my local grocer has a pretty decent selection of flours. I went for the Bob's Red Mill Durum Wheat Semolina Flour (it was only about $3 for the 24 oz package).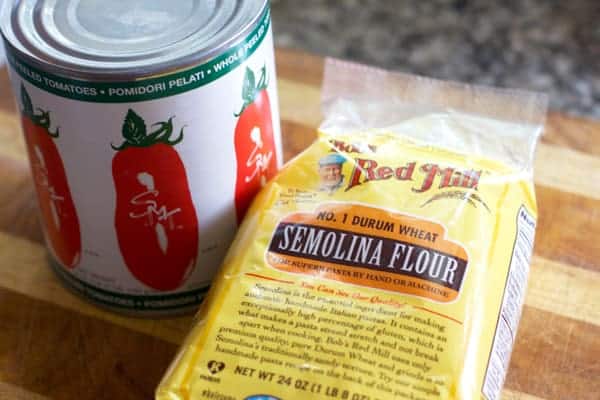 I'm fairly certain Filomena made her sweet sauce from tomatoes straight from the gardens. I don't have that luxury, as I was not rewarded with a great tomato crop this year. Canned it was, though I opted for a 28 oz can of San Marzanos (I usually use these for tomato sauces since the quality is generally pretty great, for canned tomatoes that is). For the meatballs I went with ½ ground pork, ½ beef (my favorite combination for meatballs for flavor and texture). Everything else I just followed the recipe best I could. I even recruited some picky taste testers to make sure received honest feedback.
Oh yes.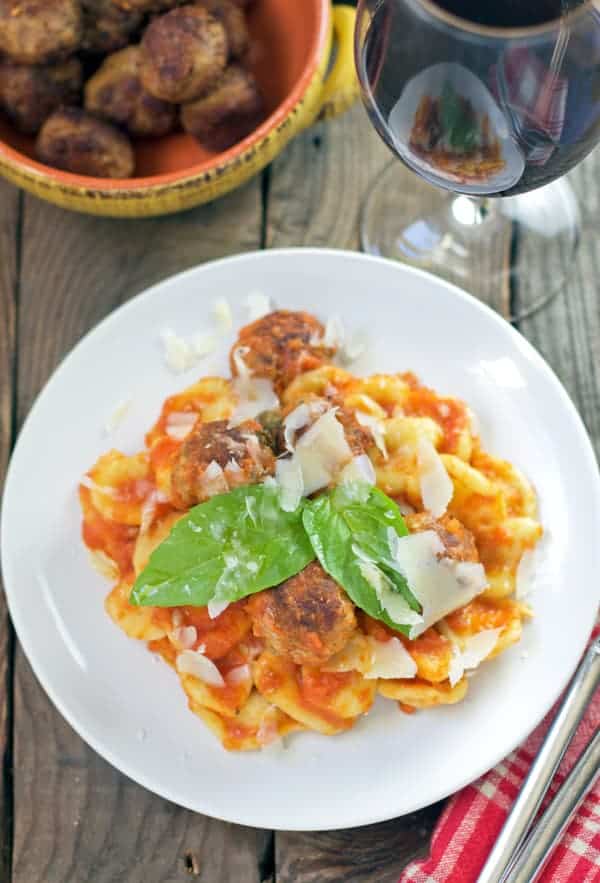 Making the pasta is actually quite easy. You start with about 1 ½ cups of Semolina Durum Wheat (I'm told this is the best for an elastic dough). Then add some warm water and a touch of extra virgin olive oil. Then kneed it until it is smooth (this will take a different amount of time depending on your brute strength!). It's also a great hand and arm workout, so you can feel free to skip your regular upper body strength workout the day you make this 😉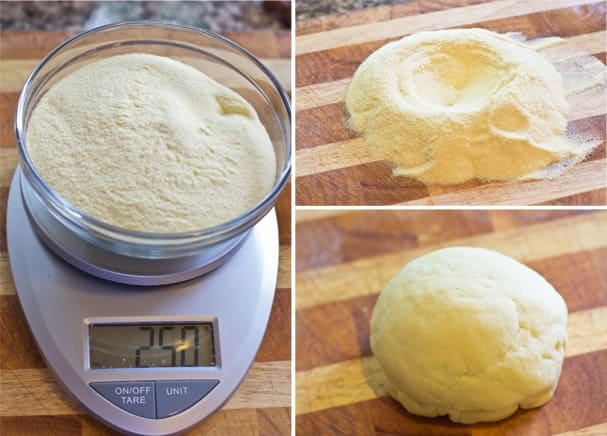 You then just roll it out to the shape of a thin rope, cut off small pieces, then roll them (with a knife) into the shape of a small ear.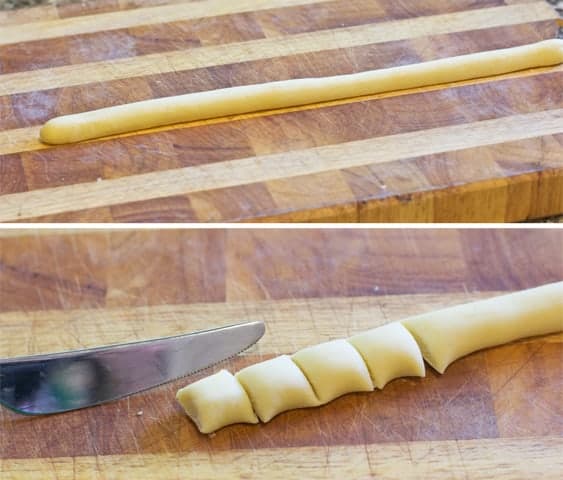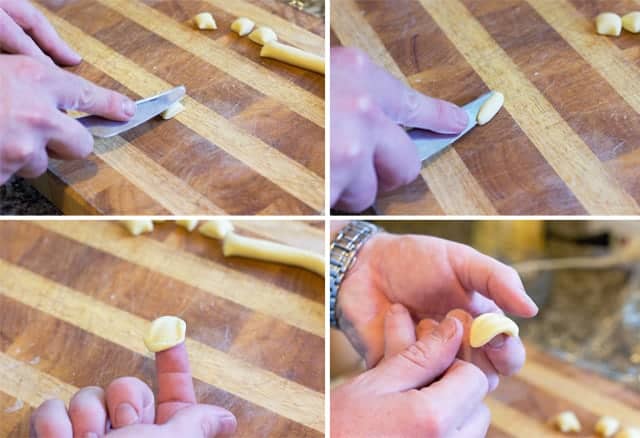 Making the sauce is just as easy. I kept it simple with just some chopped onion, a large can of San Marzano tomatoes, some EVOO and salt and pepper, and let it cook down for about 30 minutes.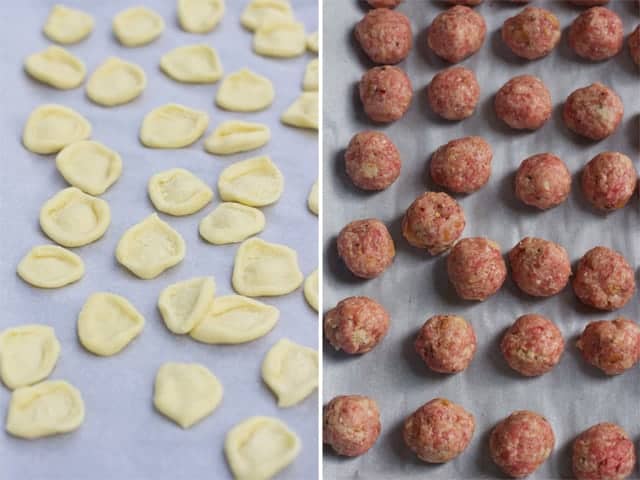 Fry up some meatballs and you've got yourself one tasty dinner!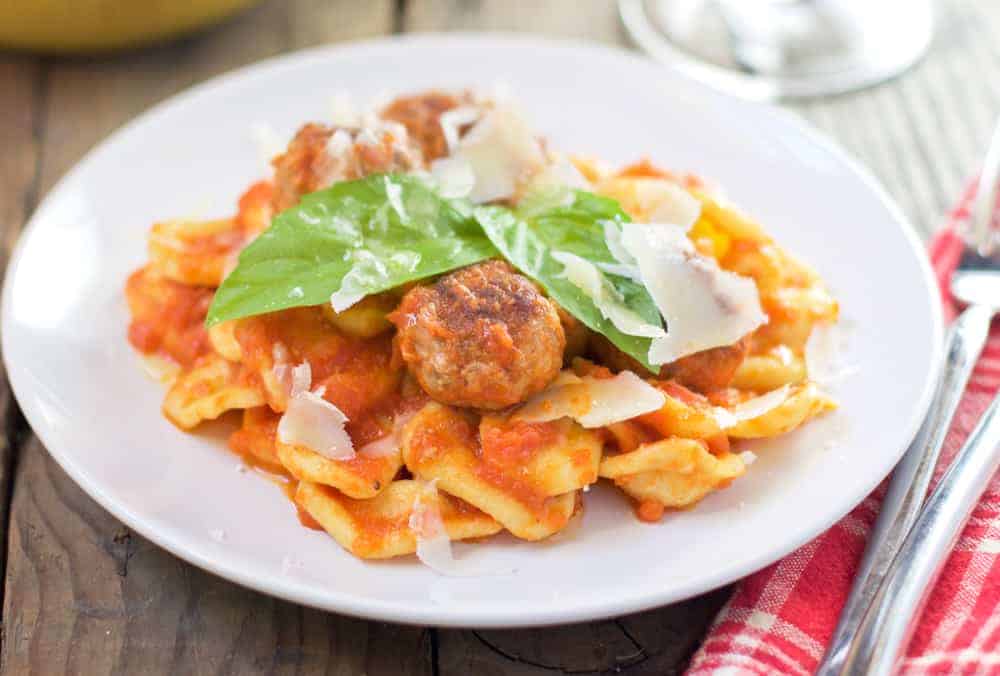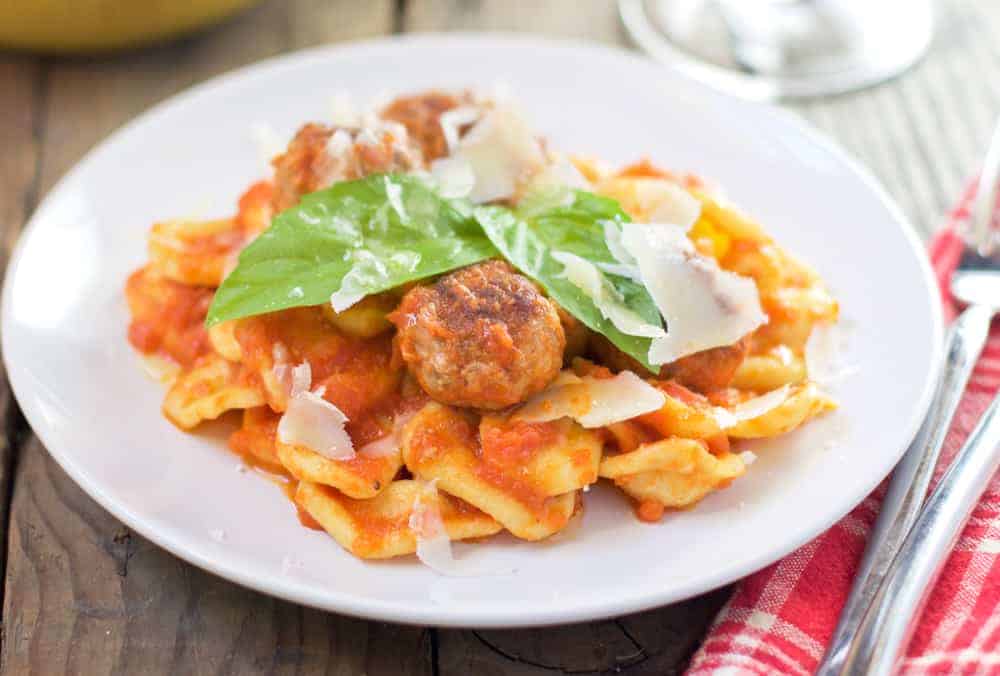 Homemade Orecchiette with Meatballs
How to make Homemade Orecchiette with Meatballs. Traditional pasta from Puglia, Italy. Adapted from Masseria Il Frantoio.
Print
Rate
Ingredients
For the Orecchiette:
1 ½

cups

"Semolina" Durum Wheat

½

cup

hot water

may need more depending on consistency of dough

1

tablespoon

Extra Virgin Olive Oil
For the Tomato Sauce:
1

medium onion

diced (about 2 cups)

1, 28

oz

can San Marzano Tomatoes

or other high quality tomato

4-5

leaves

fresh basil

Salt and pepper

to taste
For the Meatballs:
½

lb

ground pork

½

lb

ground beef

85/15

2

cups

grated Parmesan cheese

loosely packed

1

cup

grated Pecorino Romano cheese

loosely packed

2

cups

fresh bread crumbs

loosely packed

3

eggs

3

tablespoons

parsley

chopped

½

tablespoon

salt

½

teaspoon

ground pepper
Instructions
For the Orecchiette:
Place the dry flour on a large cutting board or clean counter top and form a hole in the center (like a volcano). Add water a little at a time and start to knead, adding the oil and more water a little at a time until the mixture is soft and very smooth, giving it a round shape. If it's too sticky add more flour. If it's too dry, add a little more water.

Wrap the dough in plastic wrap and leave for 10-15 minutes, until the dough becomes elastic enough to work with.

Take a small piece of the dough at a time and form it into a snake like shape, or tube (though not too thin). See photos for examples.

Divide the tube into chunks about 1 cm long, using the rounded part of the knife, dragging each piece of dough on a work surface so that the pasta is curved, assuming the shape of a shell. Then, using your thumbs, work the shape open to get the shape of an ear. Alternatively, you can use your finger, and point in the opposite direction of the shell shape and push from behind, again forming the piece into an ear-like shape.

When ready to cook. Bring a large pot to a boil. Add plenty of salt, and cook until the Orecchiette rise to the top (this happens quickly so don't walk away).

Serve with some of the sauce, meatballs, and top with Parmesan or Pecorino, and a drizzle of fresh Extra Virgin Olive Oil.
For the sauce:
Place olive oil in a med-large pot over medium heat, then add the onions. Cook for approximately 6-8 minutes, until onions have softened. Add the tomatoes by hand, squeezing them to crush. Cook for 15-20 minutes. Using a hand immersion blender (or counter top blender) blend until smooth (or your preferred consistency). Add the basil, salt, and pepper. Cook for 10 more minutes. Taste and adjust seasonings.
For the Meatballs: (makes 36 small golf ball shaped meatballs)
Mix all the ingredients and then roll into balls slightly smaller than the size of a golf ball.

Heat oil in a large skillet and fry the balls for 4-6 minutes (depending on size), until internal temperature reaches 165. Then transfer to the sauce to combine.
WINE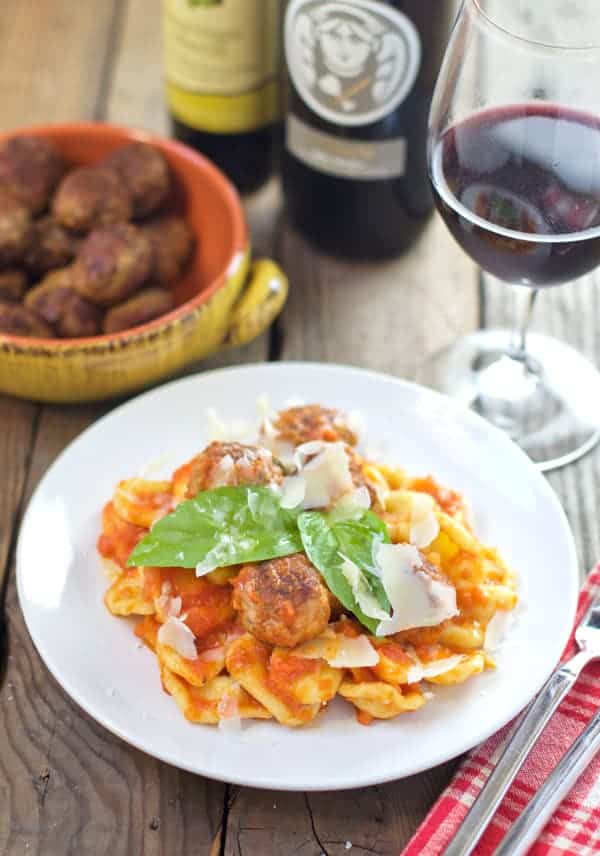 This is a traditional Puglian meal, so for the full experience go with wine from the region. We enjoyed this dish with the red wines from Tenute Rubino made from Negroamaro and Susumaniello grapes. But if you can't find these wines in your area look for reds from Puglia made from the same grapes. They are rich and smoky with dark berry fruit flavors and good acidity that pair fantastically with the local cuisine, like this here dish.
To visit Masseria Il Frantoio
Masseria Il Frantoio Agriturismo is located in Ostuni, just north of the town of Brindisi. If you're visiting Puglia, you simply cannot miss this destination! From lodging, dining, several homemade products they make in house (including jams, olive oils, and 35 homemade liqueurs), they have everything.   Website
---
For more recipes check out the Recipe Index.
Want more? If you liked what you read you can subscribe to Vindulge and have new posts delivered directly to your inbox.