I arrived in Zagreb alone, two days before the International Wine Tourism Conference (IWINETC) was set to begin and the day before I had anything on my schedule.  Traveling long distances and across five time zones can take a lot out of you.  All I wanted to do when I arrived was take a nap with my free afternoon. So I did.
When I woke up my plan was to find some kuna (Croatian currency) and head to the historic city center to walk around and find something to eat.  Mother Nature had other plans for me, however – a rainstorm.  Walking in the cold rain was not my idea of a fun first night in a new city.  I still needed cash for the week however.
The concierge at the Doubletree informed me that directly next door, in what I can only describe as an underground strip mall, was a place to exchange currency. There was actually tunnel access to it from my hotel, so I wouldn't even need to go outside.  So I took off, sans umbrella (thank goodness!), to discover much more than a currency exchange office.   In addition to a few cafes, bars, and a grocery store, there was an excellent wine shop and wine bar — my first and only stop that day.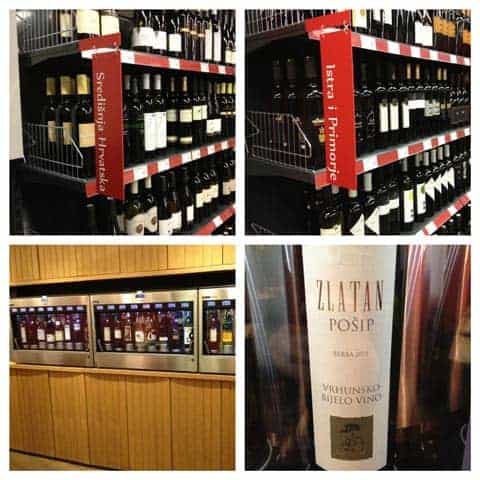 Dobra Vina, which translates to "good wine", is both a wine shop and wine bar offering an extensive selection of over 900 wines, most of them Croatian.   Perfect, I thought, I'd just pick up a bottle of wine and head back to the hotel and get room service.  Little did I know I would be receiving my first lesson in Croatian wines and a delicious dinner to boot.
The lone gentleman in the shop humored me by answering all of my many questions about Croatian wines, grape varieties, and regions — Istria and Kvarner (along the coast), Dalmatia (also along the coast in the southern peninsula), Croatian Uplands (central Croatia), and Salvonia and Danube (to the east).  I stayed there for almost 45 minutes, just perusing, trying to make sense of the labels, sampling wines from the 16 available to taste in Enomatic wine dispensers, and chatting about Croatian wines.  It was then that I realized the restaurant directly next-door was associated with the same shop.  There you can taste over 100 different wines (all available by sample or glass via the same Enomatic wine dispensers) and get a meal.  No room service for me!
The restaurant has a focus on tapas, but also has a nice entrée selection.  I wasn't in the mood for tapas and they had homemade ravioli filled with pumpkin, zucchini and sun-dried tomatoes topped with sauteed porcini mushrooms on special.  It sounded warm and comforting after a long day of travel, and when my server told me the pasta was handmade I was sold.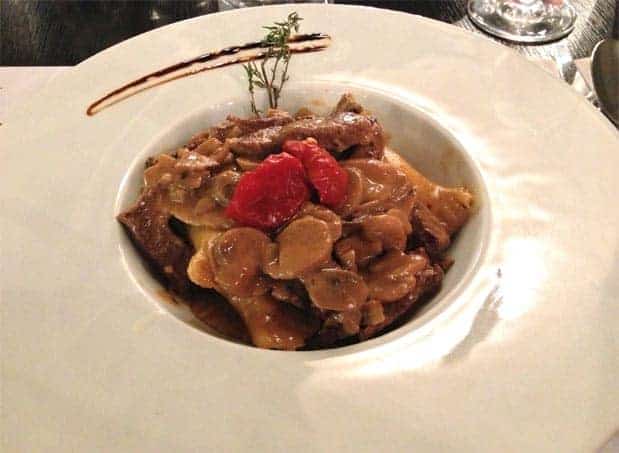 Still knowing very little about Croatian wines I asked my server to just bring me samples representative of each region.  My only specification was that I only wanted to try white wines.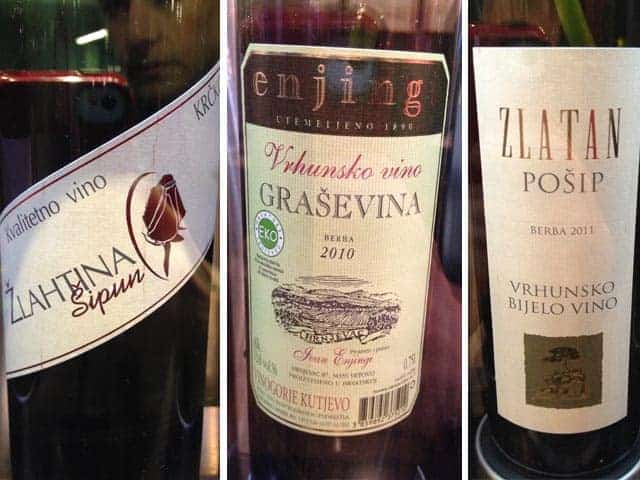 The first wine he brought me was a 2011 Sipun Žlahtina
Žlahtina is a white grape indigenous to Croatia's coastal region and grown exclusively on the island of Krk.  The wine had a lightly aromatic nose with lemon and jasmine and was minerally and slightly oily on the palate.  I liked the minerality on the wine but wish it had more acid for my taste.
Next he brought me a taste of the 2010 Enjingi Graševina
Graševina, also known outside of Croatia as Welschriesling (unrelated to the Rhine Riesling), is the most planted white grape variety in Croatia.  This wine, from Slavonija, had a bright perfumed nose with honey and spice.  The baking spice notes and crisp acidity on this wine made it a nice match for my rich pumpkin raviolis.
Next up, 2011 Zlatan Pošip
Made from 100% Pošip, a white grape variety grown almost exclusively on the Dalmatian coast in the southern peninsula of Croatia.  This was my favorite among the three in the lineup.  Aromatic, lemony, and herbaceous nose, oily and minerally in the mouth with nice balanced acidity.  Though I was not eating seafood that night I can see this being a great match for shellfish or freshly grilled white fish.
After spending nearly two hours getting acquainted with Croatian wine and savoring my delicious homemade pumpkin ravioli it was time to head back to the Doubletree, but not empty handed.  I went back to the wine shop and purchased a bottle of 2011 Krauthaker Graševina to drink later in the week.
I never did find that exchange office to get kuna, but I found something much better.  Thank goodness for credit cards 😉
It ended up being a great first day in Zagreb.  I got a nap, a great meal, and a lesson in Croatian wines.  The most jaw dropping part of the experience was when my server brought me my bill for only 104 kuna (approx $18 USD!!), for the wine AND food!  Talk about incredible deal.
If you should find yourself in Zagreb make sure to check out Dobra Vina. 
Radnička 52 (inside the Green Gold Center, aka underground strip mall)
Zagreb, 10000, 
Croatia
www.dobravina.hr