Actually nobody has ever told me that, nor have I read it anywhere.  I just made it up.  It's my way of coping with the fact that I just signed up to run a marathon and I'm going to need a lot of moral support… in the liquid form that is.  Wine does hydrate right?  At any rate I am determined to make the above statement true!  They will quote me in Runners World Magazine someday mark my word.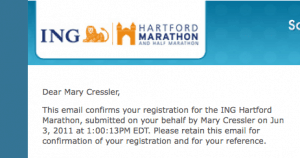 It is true my friends.  I just signed up to run a marathon.
A full one.
Like the 26.2 mile kind.
Just months after giving birth to twin boys.
Am I insane?
Maybe.
In my defense, my New Years resolution for 2010 was to either have a baby, or run a marathon, whatever came first.  Well, we all know which one happened first so for 2011 it's time to finish that original goal.  I have decided to run the ING Hartford Marathon on October 15th this year. That's only 20 weeks away!
You may be asking yourself, "So Mary, what does this have to do with wine? Or food?"
Well, the answer is – a lot.
It will affect the way I eat, and drink, and live my life for the next 20 weeks, therefore affecting what I write about here on this site during that time.  That being said, I do promise this blog will NOT become a running journal, or fitness blog.  It is still a lifestyle blog; therefore it will probably be mentioned from time to time, because it is a part of my life.  What it also means for the blog, on the subject of wine, is that I will likely be celebrating each training milestone I reach- with a bottle of well earned wine. Wines I will be sharing with you.
Speaking of, just for mustering the courage to sign up, I popped open this baby today. One of my long time favorite under $20 pink bubbles.

Lucien Albrecht Crémant d'Alsace Brut Rosé
$20
I chose this wine because it is solid, has never let me down, has always been there for me when I need it (meaning it is widely available wherever I may be in the country), and I always know what to expect from this pink bubbly beauty.
Fresh and fragrant aromas of sweet strawberries, cranberries, and cherries followed by a rich and creamy mouthfeel.  Finishing crisp and dry this wine has good overall balance, structure and a long lasting acidity.  This wine is simply delicious.
This wine maintains its consistency year after year, reminding me that I too will need to be consistent in my running program in order to successfully complete the 20-week training program I have just embarked on.
Beyond the Lucien, I will most certainly need lots of support to get me through this (and not just in the form of wine) so I would love to hear your words of encouragement even if you have never run yourself.  I have never run a full marathon before; just two half marathons.   I wrote about my first here, and the post run celebration that consisted of a lot of Leinenkugel's, a dance party, and some cheap bubbles, which incidentally resulted in a sugar-induced headache.  This time, I am doing it right.  You bet that when I complete 26.2 miles I will be drinking the finest bottle of Champagne I can get my Connecticut hands on.  And they will be good.  Very good.   There will be no headaches this time, but there still might be a dance party. Just sayin'.
Until then, I will be seeking out "post training run" wines.  Crisp, refreshing, delicious wines to slowly savor after long runs on hot New England summer days.  I am open to suggestions and would love to hear your thoughts!  The crème de la crème wine will be opened on October 15th (wine TBD).
Also, if you have good ideas for training music, I am all ears.  I am the type of runner that NEEDS music to run, even a single mile, so let me know your favorite running tunes, and I promise let you know my favorite running wines!
Oh, one more thing. I have already assembled the first two members of the Team Mary Running Fan Club – here they are: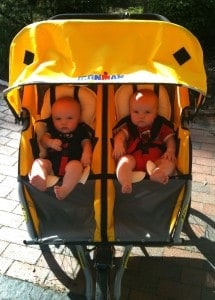 Cheers and wish me luck!