A roundup of my favorite things from the week in the categories of wine, food, travel, and lifestyle.
It's been awhile since I posted my weekly favorites.  This month was a blur, involving lots of travel, visitors, and toddlers who aren't in preschool for the summer (eek!).  So here are a few favs from the last couple weeks.  Since the kids are by my side 24/7, there will be several mentions of them.  Be warned.
LIFESTYLE
Camping with kids… kinda
We've been talking about taking the boys camping for sometime. But decided first we should introduce the idea to them by having a backyard campout.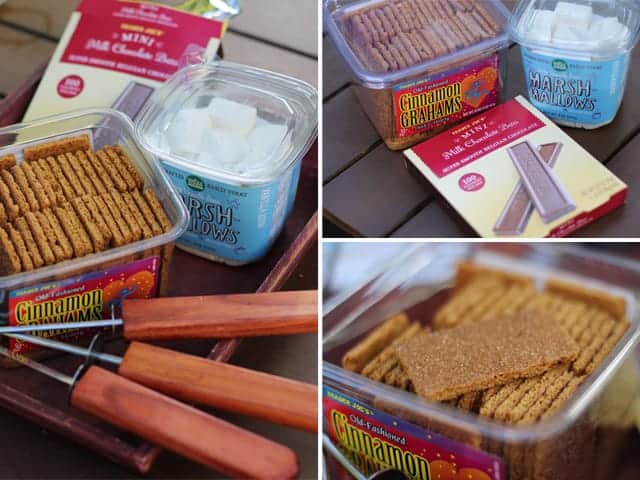 Of course no camping trip is complete without a fire and some s'mores. Only I recently found out that hubby is a complete s'mores snob and refuses to eat them.  So if he was going to participate, they'd need to be a step up from the generic graham cracker/Hershey chocolate/cheap marshmallow deal.  I'd have to make them a bit upscale.  But I wasn't about to attempt to make my own marshmallows (I'm not that ambitious).  Though I just saw this article in Food & Wine, with step by step instructions on making homemade marshmallows that has me thinking I may try them… someday.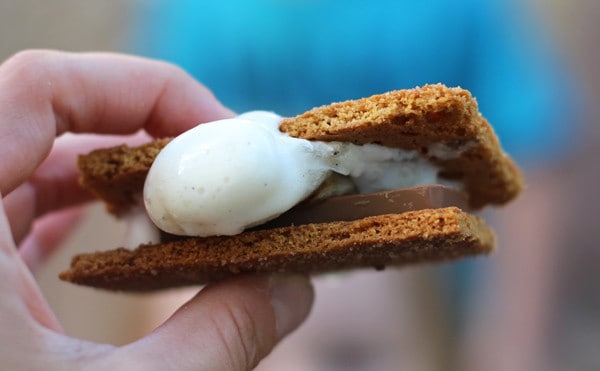 I've become a fan of Trader Joes Old-Fashioned Cinnamon Grahams.  They're crunchier and have more flavor than the generic Honey Maid style.  I searched high and low for fancy marshmallows and ended up finding these flavorful vanilla bean marshmallows at Whole Foods.  Yum.
We made them the traditional way, but the added flavor of the quality ingredients even hubby devoured them.  Score!

The boys all (yes, even hubby) liked them so much they requested them for breakfast the next morning. Shocker.
WINE
Everything's coming up rosé
No camping excursion is complete with out wine. And I'm really digging this type of backyard camping trip where I can just run inside to grab a bottle from the fridge and dunk it in the ice bucket and never have to worry about running out of ice (or refrigeration for that matter).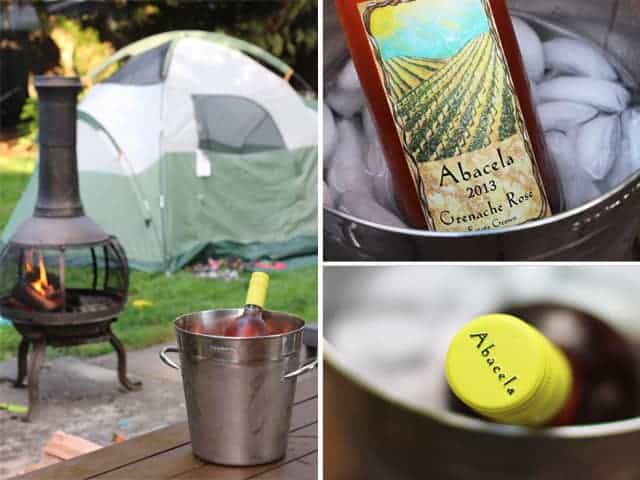 2013 Abacela Grenache Rosé 
Umpqua Valley, Southern Oregon
13.5% abv  |  $15 (purchased from Whole Foods, Hollywood District)
I've been waiting and waiting and waiting for this baby to come out.  You may have heard me rave about this rosé before. Heck I even hailed it as the rosé I most look forward to year after year in this article on Snooth.  In that piece I said I couldn't wait for the 2013 vintage, and it finally arrived.
We popped it open on camping night.  The perfect accompaniment to a warm summer night while sitting next to the "campfire," with aromas of fresh red berry fruit (strawberry, cherry, raspberry), brightened up by some fresh lemon and grapefruit citrus aromas and flavors. Fresh, crisp, dry, and a bit minerally on the palate.  This is summer in a glass.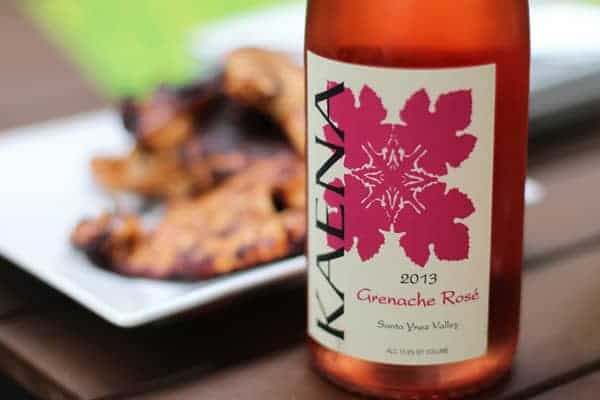 2013 Kaena Grenache Rosé
Santa Ynez Valley, California
13.9% abv |  $20 (purchased direct from the winery)
I purchased this wine on my way out of town after the Wine Bloggers Conference a few weeks ago at their tasting room in the crazy adorable town of Los Olivos (must find a way to return with hubby).  I was impressed by all the wines I tasted of their flight (especially the 2011 Tierra Alta Grenache, which I also purchased).  But I also had to buy some of this rosé, because, well, there's just not enough pink wine in my life right now.
We opened it up with some grilled chicken and some vegetables a few nights ago and it was definitely a matchup for the chicken.  Pretty strong on the dusty candied strawberry at first, but balanced out some fresh citrus, a nice freshness, and dry finish.  Looking forward to a return trip to the region to explore more Rhone varietals, which they excel at in the Santa Ynez Valley.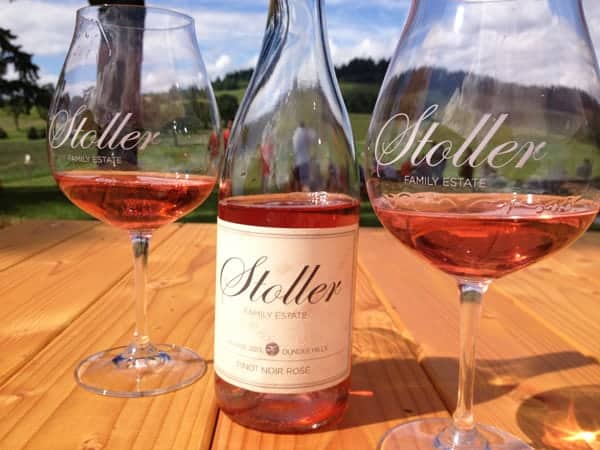 2013 Stoller Dundee Hills Pinot Noir Rosé
Dundee Hills, Oregon
12.5% abv | $20 (purchased direct from the winery)
Like Abacela, I'm a broken record when it comes to Stoller Family Estate.  What else is there to say? I heart their wines.  Hell I even joined their wine club because I can't get enough.  I bought a few bottles of this rosé about a month back, while visiting the winery with a girlfriend.  I couldn't have asked for a better afternoon that day. The weather was fantastic, and the kids were at home with their dad, so it was just me and my girlfriend enjoying a quiet afternoon, catching up on our lives, over a bottle of this gorgeous rose.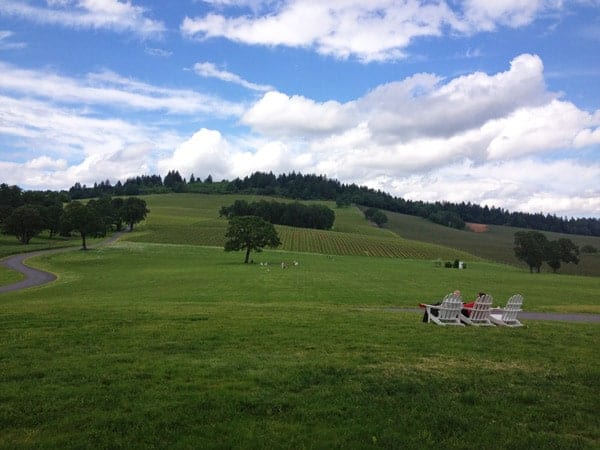 The picture perfect view from Stoller Vineyards Tasting Room
I bought a few extra bottles to take home, and they're already gone.  It's that addictive (kinda like my husbands pulled pork sandwiches).
It's a good thing they haven't run out entirely because I'm thinking I need more of this beauty to get me through the summer.  All the usual pretty red berry aromas (strawberry, cherry, raspberry) to entice your senses, but the body is light, fresh, savory, enticing, and delicate, while also being über refreshing.  Yes please.
THIS MEAL
After tag teaming travel for the last two month, hubs and I finally got to sit down for a nice quiet dinner at home. Just the two of us.  He wooed me with smoked lamb, I wooed him with this stellar Cabernet Franc from Cornerstone Cellars.  I'll leave you with the picture, because the post is coming up in the next couple days.  This Cab Franc deserves more than just a couple sentences to do it justice.  Stay tuned.
THIS OUTING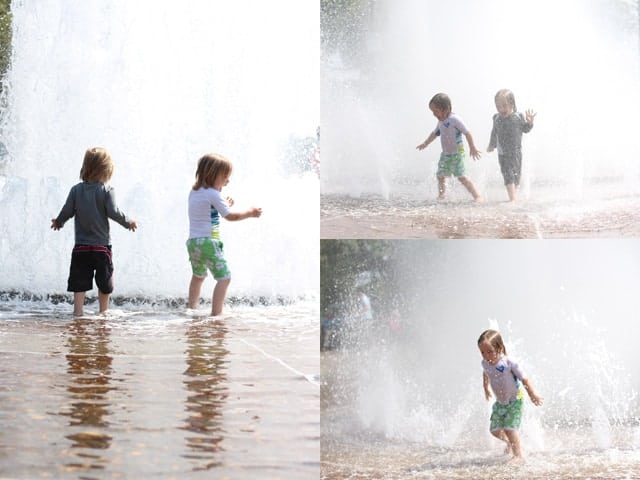 On a particular hot hot hot morning in Portland I was in search of a pool or fountain to let the kids play in. My usual favorite, Jameson Square, was closed (bummer!), so we found Salmon Street Springs at the waterfront.  They loved it.  The water shoots up hard but lands soft.  Kept them entertained for a very long time.
Salmon Street Springs: Naito Parkway at SW Salmon at Waterfront Park
That's all for now.  Any new favorites you've discovered this month?
*****