"Things could have been worse".  A phrase I heard about a million times during the eleven days I was without power following the October 29th freak Connecticut snowstorm – A snowstorm that managed to knock down thousands of trees and power lines throughout the state causing the single biggest power outage in the states history.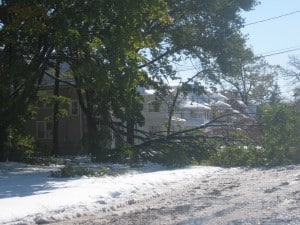 For many people who have experienced a long-term power outage (one lasting more than a couple days) you know some of the many experiences and emotions that come with it.  The first 24 hours is not all that bad.  Sometimes it is pretty fun, forcing you to do some  things you haven't done in awhile (turn off the TV, play a board game, spend time outside, have an actual conversation, or read a book– like the kind made from paper).  But after two days you start to get restless and, in our case, very COLD (with temperatures dropping into the twenties at night), frustrated that you are about to lose hundreds of dollars worth of groceries in your refrigerator, and begin to grow less patient.  It soon becomes difficult to maintain a positive outlook on the situation no matter how hard you try.
After six days you begin to lose hope and become downright cranky.
Then by the time your power does come back you're more frustrated and upset than happy and relieved.
I suppose there are always positives from these situations, and lessons to be learned.  And as difficult as it can be at times, I try my best to remain positive in times like this.  Since it is November, the month of giving thanks, I thought I would look back and think of some positives.   So instead of bitching and complaining (don't get me wrong, I did plenty of that last week), I've listed ten takeaways I learned from the experience – one for every day I was out of power.
1.  IT'S ALWAYS A GOOD IDEA TO HAVE SOME INSTANT COFFEE ON HAND
We woke up to a very cold house on the first morning of the power outage. Thirsty for a hot cup of coffee I quickly realized that both our grinder and machine require electricity to function.  Nooooo!  The roads were far too bad at this point to attempt a drive to any nearby coffee shop, and good luck even finding one that had power.  For a moment I actually contemplated hand-grinding coffee beans with a mortar and pestle, then I remembered I had samples of Dr. Drip recently sent to me to test out.  The only thing it requires to make a cup of coffee is hot water, which we thankfully had.
They don't consider themselves "instant coffee", but that's really what it is.  An instant cup of coffee that isn't reliant on a machine.
It was actually pretty decent for an instant coffee option.  The flavor reminded me of the kind of coffee you get in a diner, mellow and not very strong.  It certainly was no Peet's (my favorite), but it did the trick considering the circumstances and would be useful to have on hand for these situations, as well as camping, or even the office if yours doesn't have a machine.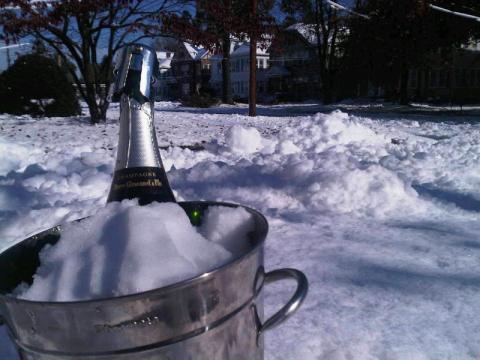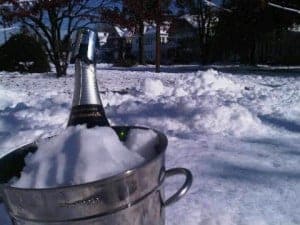 2.  SNOW PROVIDES AN EXCELLENT WAY TO CHILL CHAMPAGNE
We quickly realized that we needed to salvage what we could in the refrigerator knowing we would soon be losing it all (as we did during the hurricane Irene power outage).  We had a bottle of Champagne never opened from the previous Friday night's Champagne Day celebration.  It's a bad idea to chill a wine, allow it to rise back to room temp, and then chill it again. Wine doesn't like dramatic temperature fluctuations, so what are you gonna do?  I couldn't damage the quality of such a good bottle of wine.  So we decided that, in the best interest of the Champagne, we better drink it!  So we put it on ice, kept it cold, and drank for lunch – in our cold, silent, powerless house on the second day and prayed for power to return.  You would too if you were in our shoes!
3.  IT'S PROBABLY NOT A GOOD IDEA TO DO A COSTCO RUN AND FILL YOUR FRIDGE WITH BULK FROZEN ITEMS BEFORE A FREAK FALL SNOWSTORM
With a power outage comes the unfortunate and inevitable slow warming of the contents of your refrigerator.  Two days prior, ignoring the warnings of an impending storm, we went to Costco and stocked up on bulk freezer items, including a ten pound bag of frozen chicken breasts;  because doesn't everybody need a year supply of chicken breasts on hand?
They say a well-stocked freezer will remain fine for 48 hours after a power outage, but after that things start to thaw and should be consumed or discarded.  I tried to salvage the chicken, and the rest of our frozen goods, but by day five, I had a huge mess on my hands, which all eventually ended up in the garbage bin.
Next time a storm is on the forecast, I will avoid Costco, or the purchase of any other perishable food item shopping!
4.  HOTELS PROVIDE SOME MUCH NEEDED RELIEF, NOT TO MENTION CONTACT WITH THE OUTSIDE WORLD
By day five we were able to secure a hotel room for two nights.  As inconvenient it is to be cramped in a small hotel room with two adults, two 11 month-old babies, and two Chihuahuas, was nice to be warm and also to be reconnected with the world (i.e. to have wireless access).  It came just in time because Thursday night was a Kunde Estate Winery twitter tasting I was invited to.  Please scroll down to the bottom for information and tasting notes on the wines of the Kunde Estate Winery twitter tasting.
5.  I NEED TO BUY A GENERATOR!!!
By day eight of the power outage, we managed to procure a generator from a friend.  Holy happiness Batman, those things are lifesavers!  We were able to run our now empty refrigerator, a tiny but powerful space heater, and a few small appliances.  It made me sad we didn't have it when the power outage began.  The cost of a couple nights in a hotel room and the contents we had to toss from the refrigerator alone would have covered the cost of a basic generator!  And since this was the second major power outage we experienced in just two months here in New England, you bet your arss we will be buying our very own generator very soon!
6.  IT IS A GREAT EXCUSE TO DRINK THOSE "SPECIAL OCCASION" WINES
By the time we hooked up the generator, cleaned up the house, and started to feel a bit more normal again, hubby said to me with a sense of urgency, "I'm opening up something good tonight. I mean really good", and proceeded to stare me down waiting for me to protest or come up with some excuse not to. Instead, I looked him square in the eyes and said, "I'm in. Make it happen!"
If you're interested to find out exactly what we opened, please scroll down to the bottom of this post to read more about the two awesome wines we drank during our final two days of the power outage…..
7.  I WILL FOREVER BE GRATEFUL FOR NEW FRIENDS
Friends who supplied us with a weeks worth of firewood to burn.
Friends who brought us coffee and donuts in the morning, and then pizza for dinner.
Friends who provided me and my two cold babies a warm place to hang out at during the day.
Friends who offered places for us to stay.
And friends from all over who were just supportive in any way they could be.
8.  TECHNOLOGY CAN BE AN AMAZING THING
Because of my smarty pants phone I was able to keep in touch with family and friends, both in CT and out of town, and follow news updates on the storm.  I found creative ways to keep my phone charged so I could stay updated on the storm, news, and remain in touch with the world.   As a social person like myself this is important, people! The only downside was that even without TV or power I still heard the news about the Kim Kardashian divorce (really people, who cares!!).
9.  I HAVE THE GREATEST PARTNER (HUBBY) IN THE WORLD
Without his patience, support, and positive outlook on the whole experience, I may have lost my mind.
10.  I HAVE SO MUCH TO BE GRATEFUL FOR…
Most importantly, these guys….
Click here for video of my little Buddy The Elves
I took this video on the second day of the power outage; which happened to be the day before Halloween.  It turns out their Halloween costumes ended up to be the most appropriate costumes of all this year.
Anytime I got frustrated, sad, or upset by the power outage I replayed this video to myself, over and over and over and just smiled and appreciated the better things in life.
Yes, things definitely could have been worse.
—————————————————————-
Appendix, The wines of the power outage 
Kunde Estate Winery tasting: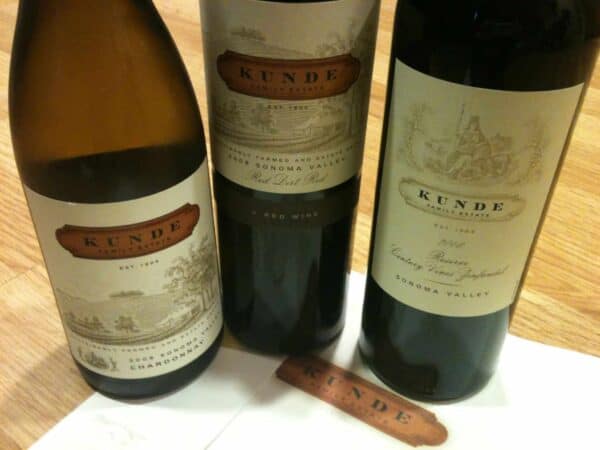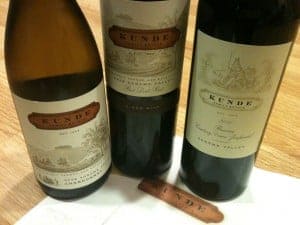 Many years ago, when I was living in San Francisco, I was a club member at Kunde Estate Winery located in Sonoma Valley.  We always enjoyed their wines and visiting their winery, but it had been at least six years since I've tasted a single Kunde wine.  A lot has changed since then with my palate and taste so I was curious to see how well I would like the wines now.   So when I was invited to participate in a live twitter tasting of three of their current releases I gladly accepted.
Founded in 1904, Kunde Estate Winery is one of the oldest family wineries in Sonoma, surviving even prohibition.  They are a family estate winery, meaning 100% of their wines are produced from grapes grown on their properties; therefore they cannot and do not buy fruit from other growers for their wines and still use the word "estate" on their labels.  What this means to them is that they are in control of the quality of the fruit from start to finish, and as a consumer you can and should expect consistency and quality when you taste their wines vintage after vintage.  Although they produce approximately 100,000 cases annually, they consider themselves a small boutique brand.
During the tasting we were introduced to:
2009 Sonoma Valley Chardonnay | $17
With butterscotch, lemon, and spice on the nose this wine benefits from airtime.  Allow this wine to open up, warm up from refrigerator temperature, and you will find that the fruit and body benefit.  You won't be sorry you let it sit for about 20-30 more minutes after opening.
2008 Red Dirt Red | $28
Blend of 37% Barbera, 29% Syrah, 25% Zinfandel, and 9% Sangiovese
The name of this wine stems from the red volcanic dirt soils where the grapes are grown.  The wine itself has an intriguing nose of spice and dark berry fruits.  Well balanced, well integrated, and lush.  I really liked it!
Though this wine is not distributed you can get it through their website, club membership, and tasting room.
2008 Reserve Century Vines Zinfandel | $30
In the U.S. there is no federal regulation for the term "old vine" on a wine label.  Heck, a vineyard could be five years old and a winery could slap that term on the label.  For Kunde, putting the term "century vines" means that the vines are indeed over 100 years old.
Though I personally like my Zinfandels a bit more full-bodied, this wine will definitely appeal to those looking for a medium bodied and lighter weight Zin.  It is not jammy like many Zins can be. Instead it was lighter, yet maintained bold concentrated fruit on the nose and palate.
I must admit, I truly enjoyed all three wines.  If I had to pick a favorite it would to be the Red Dirt Red.  It was balanced, fruity, and well-structured. The wine to which I kept returning to get more and a wine I will definitely seek out again.
If you see these wines, they are definitely worth a shot, and at good price points.
OUR SPECIAL OCCASION POWER OUTAGE WINES:
2003 Archery Summit Red Hills Estate Pinot Noir
Willamette Valley, Oregon
We bought this wine on our first visit to the Willamette Valley during our very first trip to Oregon.  It was also the first Oregon winery we visited that day and the weekend we made the decision to move from San Francisco to Oregon.  Needless to say that trip was a pretty special one for us both.  This was the last remaining wine from that trip, so not a surprise I had a hard time finding the "right" time to finally drink it.
2005 Domaine Pierre Matrot, Puligny-Montrachet, 1er Cru, Les Chalumeaux
Puligny-Montrachet, Burgundy, France
I have a very dear spot in my heart (and palate) for really good Chardonnay.  When many people think of the word Chardonnay the thought of buttery, oaky, California Chardonnay comes to mind. Cougar Juice as some call it.  But hell, if liking Chardonnay makes me a cougar, then so be it!  I am a huge fan of Chardonnay, especially those that come from the Burgundy region in France.   And this particular wine comes from one of the most respected areas within Burgundy.
Puligny-Montrachet is both the name of the appellation and the wine made from it, located within Burgundy, and producing some of the most magnificent Chardonnay on the planet. Les Chalumeaux is one of 17 vineyards classified as premier cru within this very small appellation.  2005 happens to be the year my husband and I got married and we have since tried to collect special bottles from that vintage. This being one of them.  Though it was not our anniversary, it was fitting we open it on this occasion.
Since we now had a working refrigerator again, I wanted to christen it with luck and decided this would be the first wine we chill in our now empty fridge.
It just so happened that the very next morning the power cam back on!
Coincidence? I think not 😉
Cheers!