Wine, like comfort food, has the power to evoke memories.  Just a simple glimpse at any Frito Lay product will bring me back to my childhood (my dad used to work for the company back in the '80's and let us raid his delivery truck from time to time… therefore my dad was cooler than Santa Claus by kid standards. Free chips on demand!).
A simple whiff of a wine can bring you back to that outing with your girlfriends to wine country, that special dinner where he proposed (a-hem, the 1997 St. Francis Kings Ridge Cabernet Sauvignon), or a vacation to your bucket list destination.
I was sent four wines recently that brought me immediately back to my trip to the Friuli–Venezia Giulia (Friuli for short) region of northeast Italy, bringing back memories of the incredible wines and the vast beauty of this region I experienced on that trip well over a year ago.
Friuli is home to world-class white wines.  Though they make white, red, sparkling, and dessert wines, they are most famous for their still white wines.  Like Pinot Grigio? Try them from here. They are fantastic. Want to experience some of the most stunning and elegant white wines from Italy? Friuli is where it's at.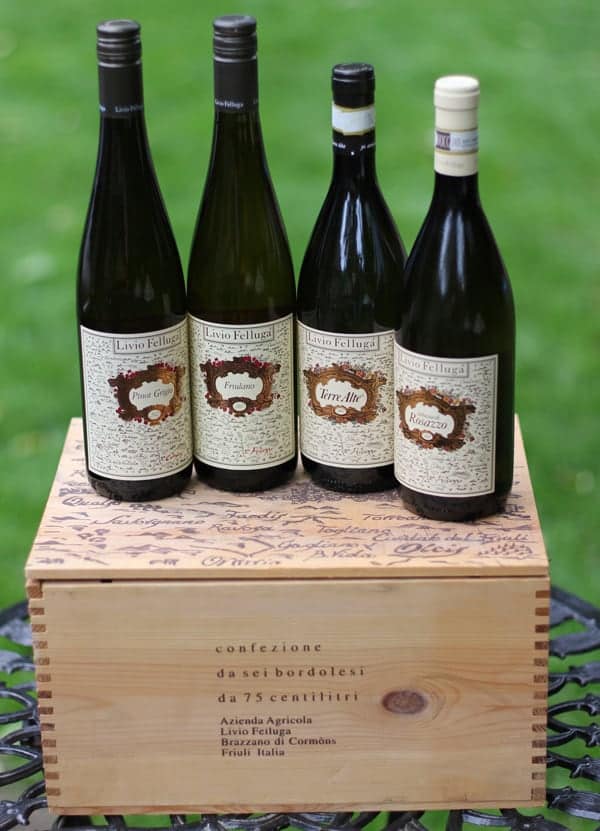 So when these four wines from Livio Felluga arrived at my doorstep I immediately thought of our visit to The Abbey of Rosazzo.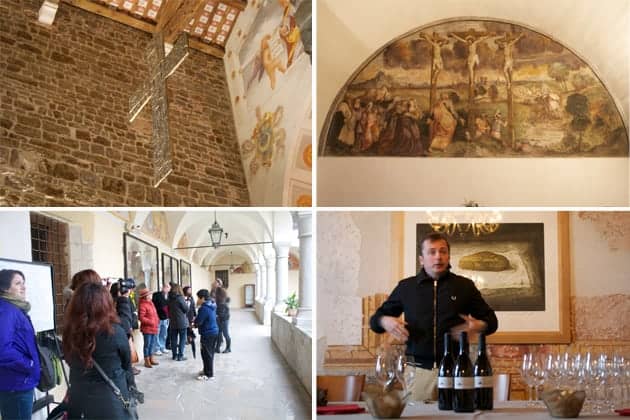 Located in the town of Udine, the Abbey (or Abbazia de Rosazzo), is full of rich history.  History you can feel and see as you walk through the hallways and view the architecture and witness the paintings and artwork.  The abbey is a religious center, but also produces wine.
The Abbey of Rosazzo (per the website)
Legend has it that as long ago as Charlemagne's time, the hermit Alemanno settled on the hill of Rosazzo, founding an oratory and a shelter that over the centuries became first an Augustinian monastery, then a community of Carinthian Benedictines and three centuries later, a Dominican monastery.

Rosazzo's importance was clear even in 1245, when Pope Innocent IV placed the abbey under the direct protection of the Holy See and subsequently, when the patriarch of Aquileia Nicolò I granted the abbot the privilege of wearing bishop's vestments. The partiarch was a prince in all but name, with a civil governor beneath him to look after civil and and criminal justice. The abbot of Rosazzo held the third-ranking position in the parliament of the patriarchate – the Patria del Friuli – after the bishop of Concordia and the chapter of Aquileia. 

In 1751, after the suppression of the patriarchate, its pastoral heritage, property and appurtenances were split between the archiepiscopal sees of Gorizia and Udine. The castle and monastery of Rosazzo shared the same fate. To this day, the archbishop of Udine bears the title of Marchese di Rosazzo.

From the elevation of its centuries-long history, the Abbey of Rosazzo enfolds the surrounding vineyards in a gentle embrace. The location is stunningly beautiful with a view that stretches to the sea.

"Here are very perfect wines…", wrote Martin Sanudo in 1483.

And it was in the hills of Rosazzo that Abbazia di Rosazzo 2009 was created by the Livio Felluga winery from an elegant blend of Friulano, Sauvignon, Pinot Bianco, Malvasia and Ribolla Gialla.

A wine that embodies Rosazzo's history and terroir.
The creation of "Abbazia di Rosazzo" (the wine) is a token of Livio Fellugia's founder of his enduring love for Rosazzo and its Abbey. Only the finest grapes were selected to create this ultra-refined white wine, a wine of significance for what it is and for what it represents.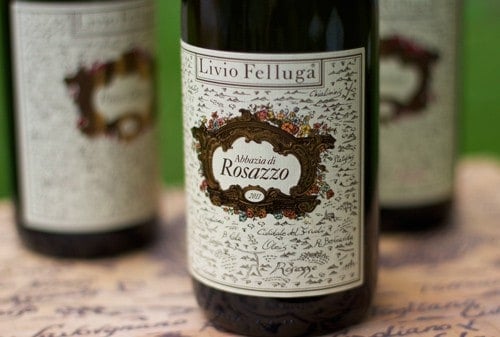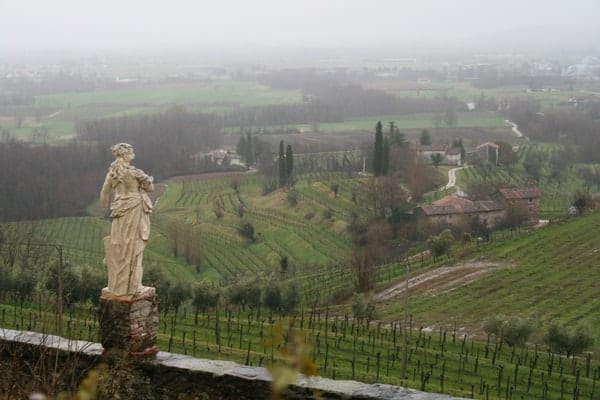 I can understand what Livio Felluga saw in this place. The views from the Abbey are jaw dropping, even on cold, rainy, and foggy days like the day I visited.   The wine we tasted there was the third vintage of the wine made for the Abbey by producer Livio Fellugia.  I got to taste the same wine again last week, but in my own home, along with three other examples from the same producer.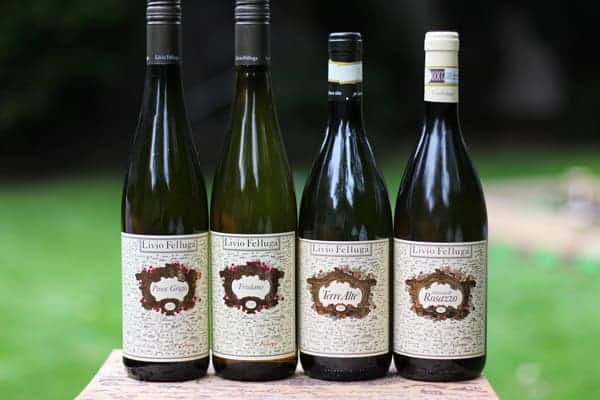 The 2011 Abbazia di Rosazzo is one of their most premium wines (and it is reflected in the $80 pricetag), but it is a true reflection of how elegant a white wine can be from this region.  Made from a blend of Friulano, Pinot Bianco, Sauvignon Blanc, Malvasia, and Ribolla Gialla, the wine is elegant and complex with a beautiful balance of spice, honey, lemon peel, and floral aromas.  It is silky in the mouth with a lovely lingering spice in the mid palate.
But this is just one of many in the Livio Felluga portfolio of stunning wines.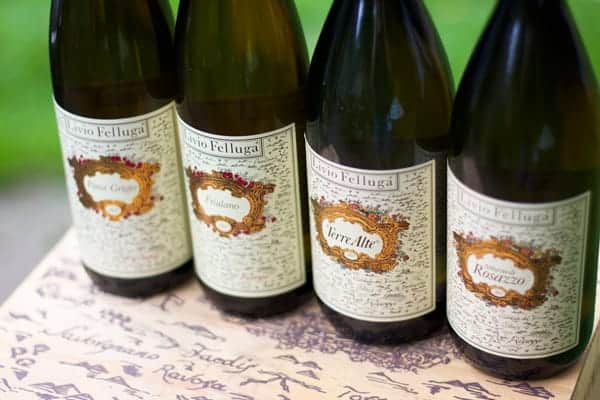 The 2011 Terre Alte is another premium (and super elegant) blend of Friulano, Pinot Bianco, and Sauvignon. This wine was savory and exotic with a honeyed and silky texture, voluptuous in the mouth, with more salty savoriness.  It's full-bodied, with almost a creamy feel and is absolutely delicious.  ($80)
The two above wines are their two most premium wines, and are very pricey as a result, but if you want to try the wines of Livio Felluga without shelling out close to a hundred dollars try the following.
2012 Pinot Grigio
I love this Pinot Grigio. It's bright and crisp with lemon and crisp green apple. Fresh in the mouth with crisp minerality and fresh lemon flavors.  It's also sealed in screwcap, making it an excellent wine to take with you on summer picnics (no cork screw needed).  Speaking of picnics, I recommend this very wine and food pairing in my latest article for Wine4.Me. ($25)
2011 Friulano
Citrus and orange blossom mingle with some floral and melon aromas.  Bright, dry, and balanced in the mouth with fresh acidity and a long lingering finish.  ($25)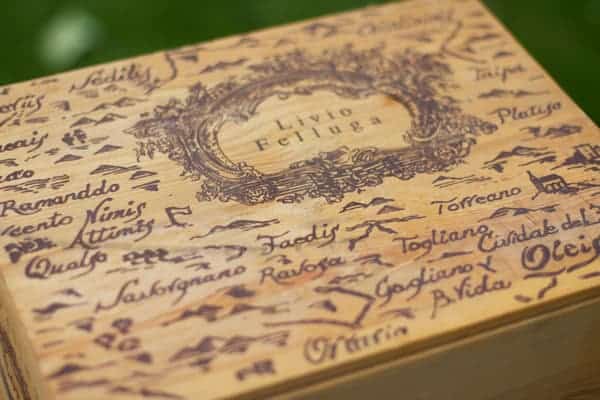 While these wines may bring back great memories of a fantastic trip to an incredible wine region for me, they are also wines I highly recommend you try for yourself and possibly create your own memories.
*****
If you happen to find yourself visiting the Friuli region (lucky you!) and want to check out the Abbey for yourself, click here to find out how to visit.
These wines were sent to me as press samples, but opinions are my own.