My husband and I flew to France in 2008 for our honeymoon (belated by three years!) traveling through Paris, Burgundy, and Bordeaux (with a day trip to Champagne) over the course of twelve days.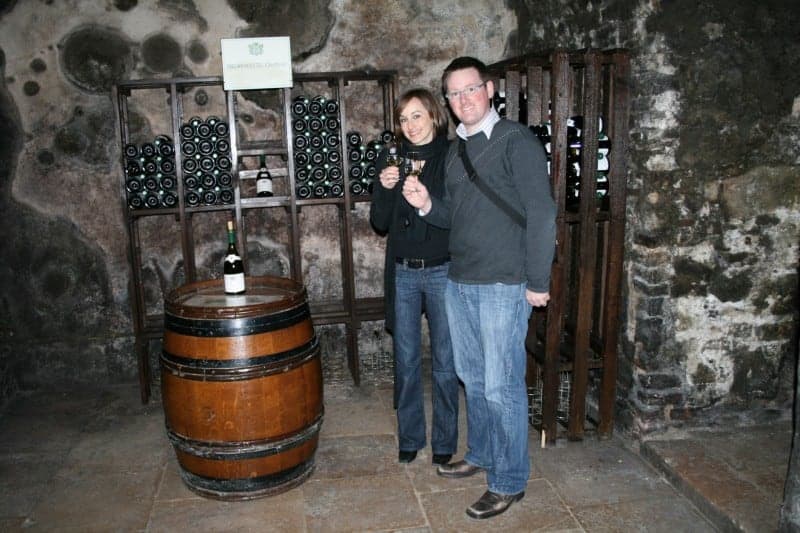 Throughout our trip we had accumulated about six bottles of wine to take home for a few years of cellaring.  Had I'd known about wine shipper boxes back then I'd have checked a case. Instead, I had to make room for all six bottles in my suitcase.
Upon arrival to the US (via Seattle), after traveling 24 hours (already stopping in London), customs had informed me, and about 10 other passengers, that our suitcases would not be arriving that evening (they had never made it onto the overcrowded plane).  Not something you want to hear when you've been traveling an entire day and the most important souvenirs you purchased were in said suitcase.
To make matters worse customs needed to go through my carryon because of something suspicious.  After searching they pulled out two jars of Dijon mustard I had purchased in the town of Dijon.
Customs Man (CM) says to me:  Ma'am, I have to take these.
Me:  Why?
CM:  It's a liquid.
Me:  No, it's mustard!
CM:  I apologize Ma'am, but it is considered a liquid for us and I need to keep it.
Me:  But, the French security didn't say a thing.
Silence…
Me:  (Tears began to slowly fall from my eyes. I tried to hold them back. But first my bag, and now this!)  But it's JUST mustard!  From Dijon. As in the real place where Dijon mustard comes from. Mustard. Like what you put on your sandwich.  You guys already lost my bag, now you want to take my mustard?!
By now I'm sounding a bit pathetic, trying to fight back the tears, and Customs Man finally leans over and whispers, "Well, okay. You can keep it…. Just this time!  Now please stop crying.  And remember that this is considered a liquid next time."
I held onto that saving grace until we arrived in Portland where I filled out the paperwork on my bag, which they said would arrive on the next flight.
It didn't.
Nor did it arrive on the next flight, or the next.
Days went by and my bag never showed.  It was MIA.
After a couple of weeks we lost hope.
My bag, with my six bottles of wine and all my things… gone.
We finally started the process of filling out the insurance paperwork when, over a full month later, I received a call from a hotel in downtown Portland.
"I'm calling to let you know we have your bag.  It has been here a month. It was shipped to us and we had assumed you would be checking in and had sent the bag in advance of your trip (apparently this is common).  After a month went by we thought we'd reach out to you."
A very bizarre mix up I thought.
I immediately rushed over to get my bag and when I opened it I found it exactly how I had left it. Nobody had even gone through it!
My clothes could have been replaced by insurance money, but the wines were irreplaceable.  They were our souvenirs from that trip, all from small producers, and many were from the 2005 vintage (the year we were married).  We were hoping to enjoy those wines for future anniversaries.  They were now safely in our possession.  I had never been so relieved to see luggage in my life.
The first wine we opened to celebrate the return of the bag was, sadly, corked.  We saw it as a sign.  We've since opened two more bottles; both in good condition.  Phew.
And we opened this one last week… just because.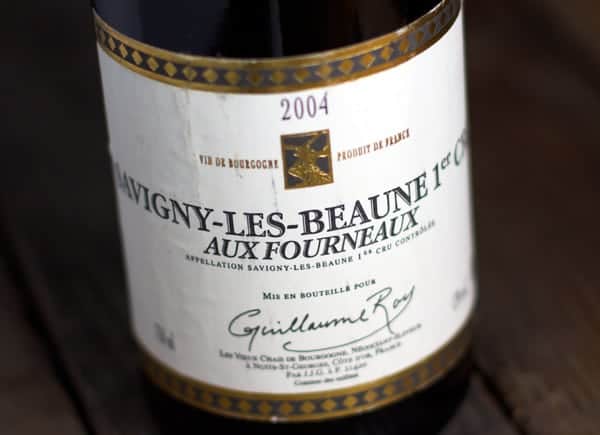 2004 Guillaume Roy, Aux Fourneaux, Savigny-lès-Beaune Premier Cru
Savigny-lès-Beaune, Burgundy, France
Grapes:  100% Pinot Noir
This wine came from a teeny, tiny, producer we met in the town of Nuits-Saint-Georges (located north of the town of Beaune, and south of Dijon).   We met with the winemaker, who was the sweetest guy in, what looked to be, his twenties.  He asked if we wanted a tour of his winery, which looked like this: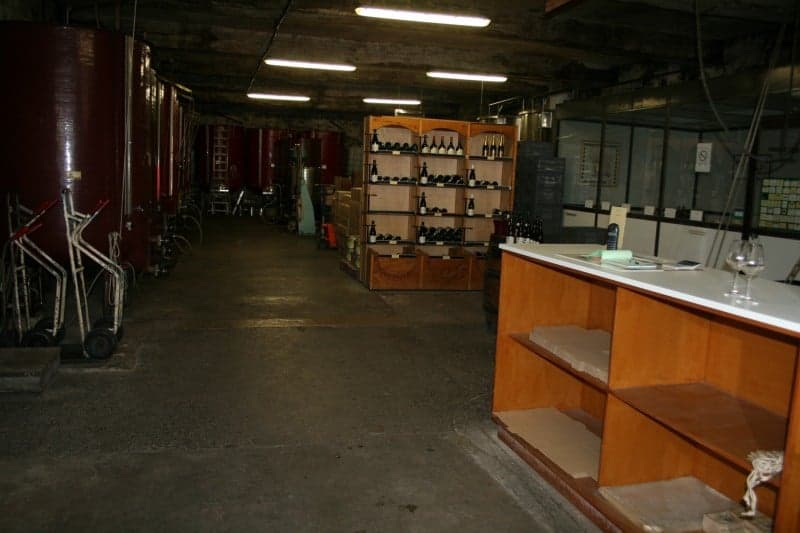 And sampled us through all of his wines: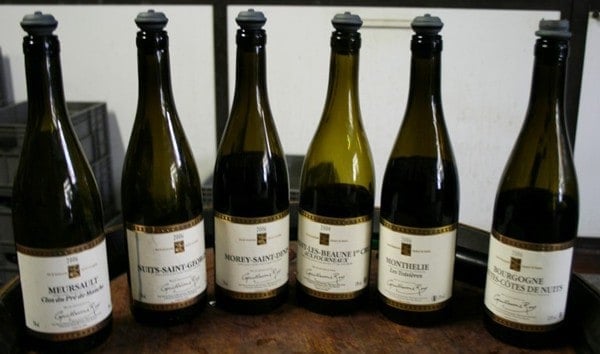 Apologies for the ridiculously blurry picture. I had no idea how to use my camera back then!
He was such a humble and gracious guy and I remember loving all his wines.  As much as I would have loved to have purchased more we ended up walking away with a bottle of his Nuits-Saint-Georges (which we drank while we were still there) and this bottle to take home.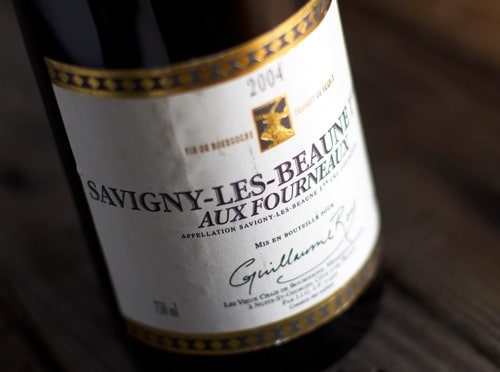 When we opened the wine last week we were reminded of the journey that bottle has made (from France, to Portland, to Connecticut, back to Portland), and also that amazing trip.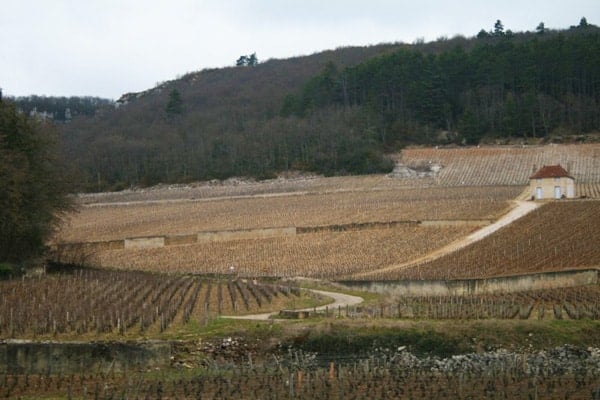 I don't pretend to be an expert on the wines of Burgundy.  It is an incredibly complicated region and this was my first and still only trip there.  The better wines of the region are also rather expensive (ranging from $30 and up… way… way up) so we don't tend to experience them as much as I'd like.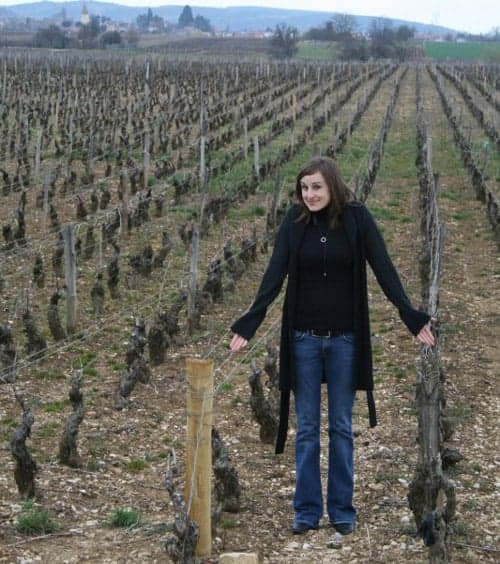 notice the height of the vines, and also teeny space between each row
I do know good Burgundies can be life changing.  The kinds of wines that, in the 60's and 70's, motivated crazy folks to pack up and plant vineyards in Oregon, because they saw the potential to make the kinds of life changing wines they had tasted in Burgundy.  Oregon is now one of the most important places in the world to grow Pinot Noir, because of those crazy folks who saw the potential here.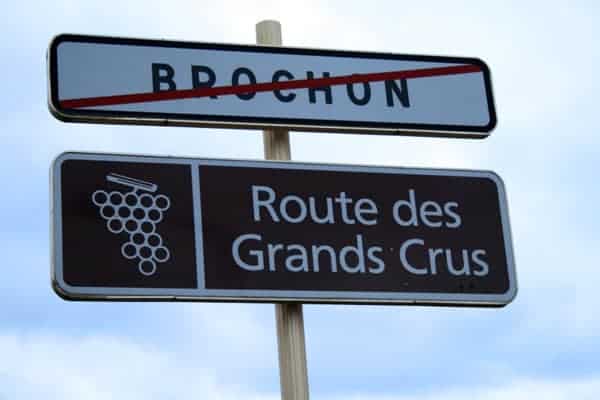 The wine we opened last week is testament to the beauty you experience in a good bottle of Burgundy, and one you don't easily forget.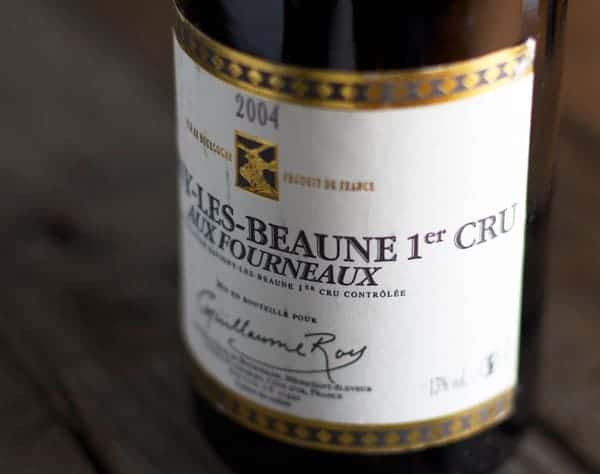 When we first opened it the cork fell apart before we could get it out of the bottle. My husband kind of freaked out thinking it may be another spoiled bottle we brought back.  "It's okay," I assured him!  It was just the moisture that had softened the cork (I hoped!).  We ran the wine through a fine wire filter, and into a decanter, to get the cork pieces out.
At first the wine had very little aroma.  It needed time to open. The first swirls revealed some funky earth, spice, and anise aromas.  But after it started opening up it got rich and minerally and became more beautiful with every sniff.  As it continued to open in the glass it had an amazing savoriness along with deep fruit aromas, dusty earth, and was remarkably fresh and balanced.  It was downright mouthwateringly delicious.  We just sat, in silence, savoring every sip.
It was an absolutely beautiful wine and brought back such great memories of that trip, and also the not-so-great memories of the journey my bag took to bring my wines back.  I'm so glad it ended up where it belonged, and not lost forever.  The empty bottle will now sit on our wall of fame with other memorable bottles we've collected over the years.