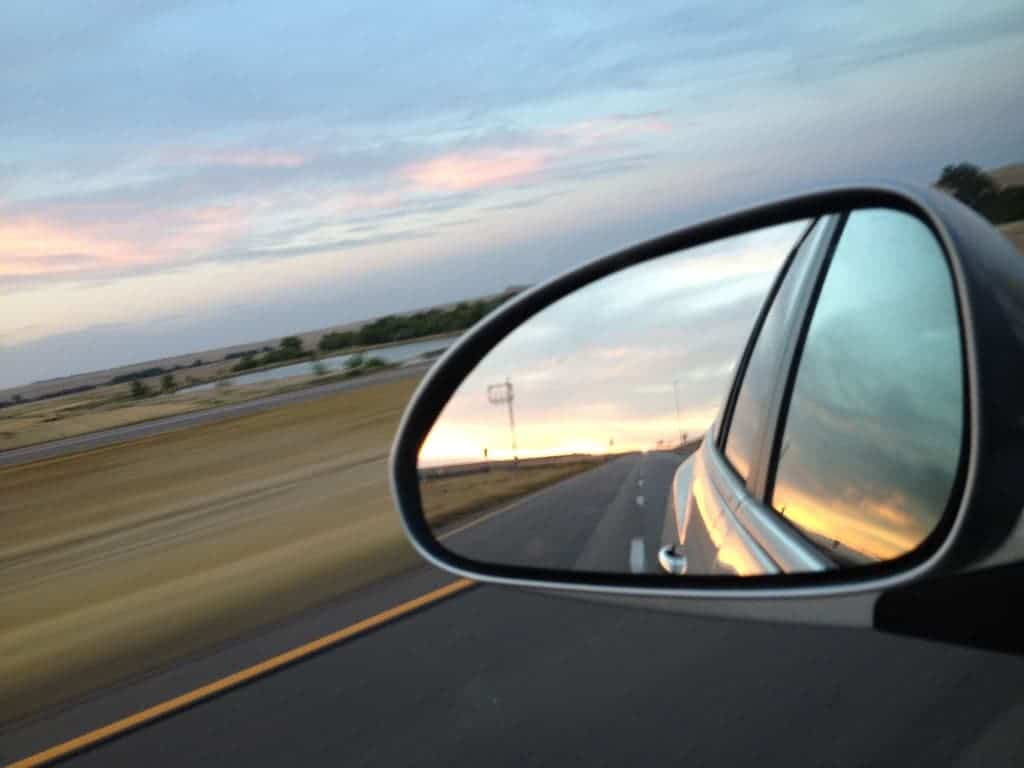 It was day 28 on the road, with my husband and our 21 month old twin boys, and only the second day of our 3,000+ mile drive home.  Things had been going well up until this point.  Sure there were hiccups here and there during the first four weeks, as well as a handful of stressful moments, but up until this day I had never second guessed our  decision to take the kids on the road with us for an entire month.
We started out that day in Park City, Utah.  After the first Starbucks since Reno we fueled up and headed out.  The original plan was to drive all day and all night, swapping driving responsibilities with my husband, in order to put in as many miles as we could that day, while the kids slept in the car.  Yes, it sounded like a good idea… in theory. That is until I remembered how I get after 10:00pm.  On any normal day I am like Cinderella — but instead of transforming from a princess to a maid after midnight, I turn from a sensible adult into a grumpy zombie after 10:00pm.  Therefore on any normal day I am asleep by 10:00 because I know that after that I pretty much stop functioning.  That is on a "normal day".  There has been nothing normal about my schedule over the last month — except for the fact that I still stop functioning like my normal self after 10:00pm.
So, when we were on the road that evening and the post-10:00pm time period came around I started getting incredibly tired (and increasingly cranky).  I had also just ingested a triple shot Americano from Starbucks that was doing crazy things to my head and body.  It was then that the kids started taking turns waking up in their car seats, time after time, screaming and crying.  Nothing adds to the stress of an already emotional and sleep deprived mother than listening to her kids cry in a car when there's nothing she can do about it.  I was starting to regret the decision to drive from California to Connecticut.  I was starting to feel like a bad mom for even expecting the kids to sleep in the car while we drove all night.  I was starting to regret the decision to do this entire month long trip all together.  I was starting to get very cranky and a bit melodramatic.  It was then that the idea of driving through the night was no longer a good one.  That plan was suddenly aborted.  I was officially done for the day!
After driving through the eternal nothingness that is Nebraska, we finally found an overpriced hotel in downtown Lincoln to crash for the night.  Only 850 miles driven that day — disappointing by Hubby's standards who was hoping for at least 1,000.  For context, this crazy husband once drove from Oregon to Connecticut by himself in three days at 1,000 miles/day.  Nuts.
Arriving at the hotel, at 1:30am, we also discovered that not only is there nothing in Nebraska (but way too much space), but they also (allegedly) have a stupid law prohibiting more than one crib in a hotel room.  Are you kidding me Nebraska?!  It really makes absolutely no sense, but it was 1:30am (already three hours past my bedtime), and I just wanted some sleep so I didn't challenge the one crib rule.
We tried to put one of the boys (we will call him Thing 1) in the only crib they gave us, while Thing 2 would have to sleep in bed with mom and dad.  Jealousy ensued and Thing 1 decided he didn't want to sleep in the crib while his brother got to cuddle with mommy and daddy, so he protested (read – freaked out) until we gave in and allowed him to join us.  Two adults and two toddlers in the same queen bed.  Oh joy.
My husband has a magical ability to pass out upon simply closing his eyes, and did such before I even turned the lights off.  It's so not fair!  I, on the other hand, was struggling with not only trying to get some rest, but doing so while Thing 1 and Thing 2 were giggling, kicking, bouncing, and doing everything in their power to *not* fall back asleep.  Did I mention I was already tired, cranky, and emotional?  This was just too much.
At one point I just shut my eyes and tried my best to concentrate on relaxing, hoping that the kids would just get the hint already and join me in my quest for sleep.
As I laid there with my eyes glued shut things suddenly got quiet.  I was hopeful.  Perhaps they are finally asleep?  PLEASE let them be asleep!  And then, suddenly, I felt a wet awkward mess covering my nose.  As I slowly opened my eyes in fear of what I might discover I realized Thing 1 had covered my entire nose with his mouth, slobbering over me, and he was all wide eyed and smiling at me like he had just discovered some fun new game. It was equally adorable and disgusting at the same time.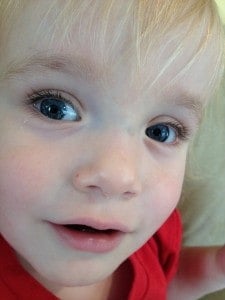 As I removed his slobbery mouth from my nose he proceeded to giggle and wiggle some more.  He thought this was so funny.  By that point I wasn't sure who was the one that injected the triple shot of espresso, him or me?!
As I closed my eyes and tried again to fall asleep the kid continued to make cute baby giggle sounds and repeatedly said "hi mama", over and over and over. "Hi, hi, hi, hi, hi" in his cute high pitched baby voice… until I finally, somehow, magically, drifted away to sleep, smiling, without the stress and negative energy that had been weighing on me the later half of that long day.
It was a stressful evening, towards the tail end of a busy and crazy month of traveling.  But somehow those last moments of that very day, crammed in a hotel bed with both my kids tucked in between my husband and I, in the middle of nowhere Nebraska, hours past my bedtime, everything was fine in the world. Everything was just how it needed to be.  And I remembered why we did this trip.  For moments like this.
And this…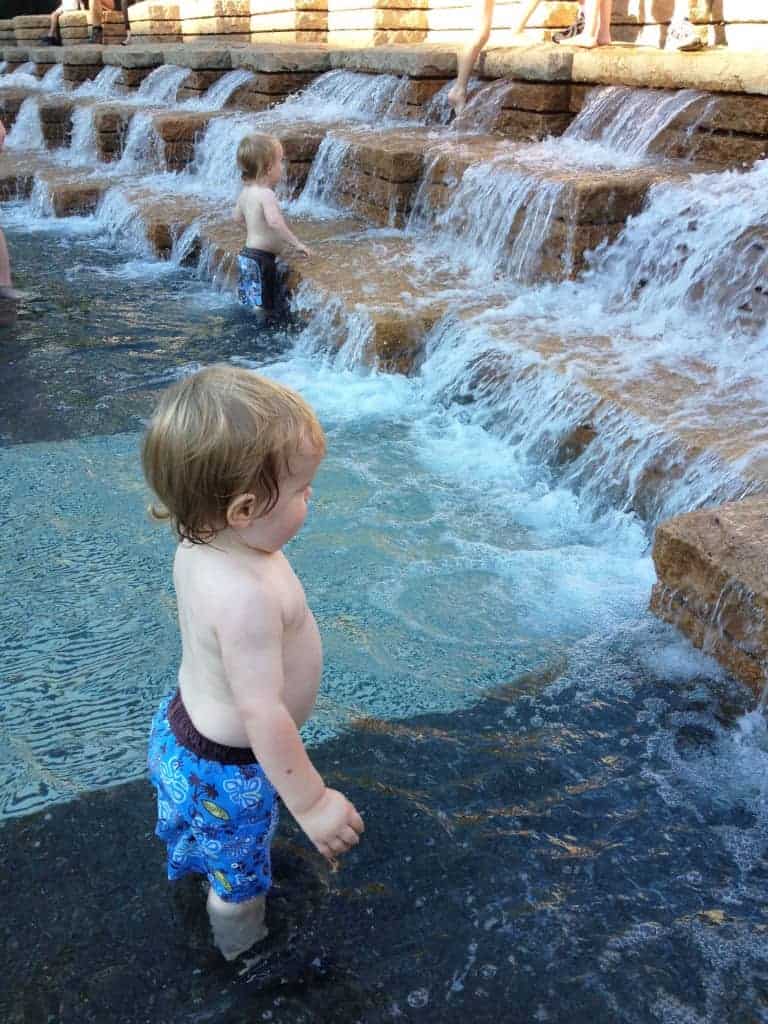 Seeing Jameson Square through the eyes of a toddler.  This is a place, located in the Pearl District of Portland, Oregon, I had never visited during the five years I lived in Portland.  I had driven by it dozens of times, but never actually stopped to see what it was all about.  So much fun.  And look at how very zen the boys look 🙂
And this…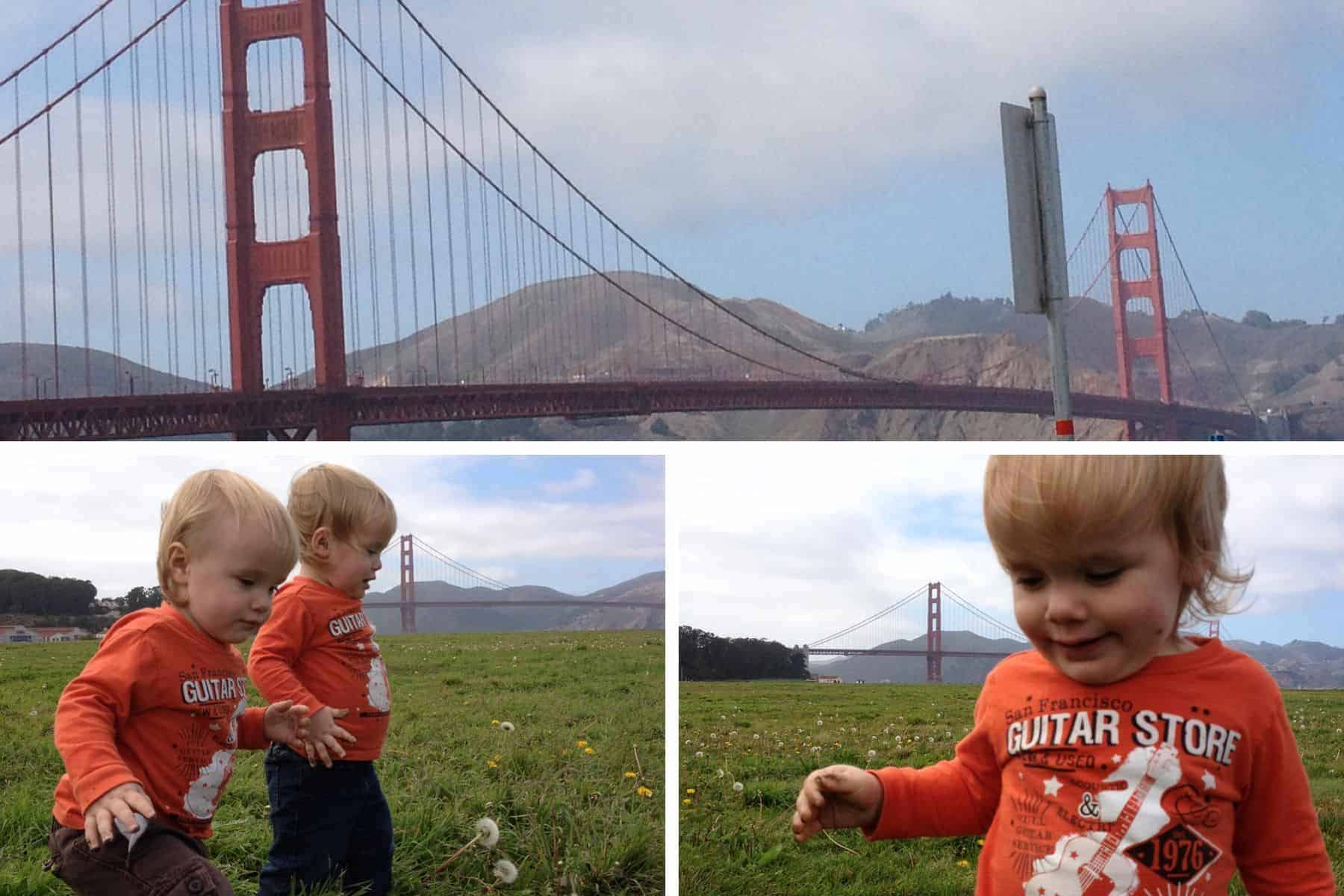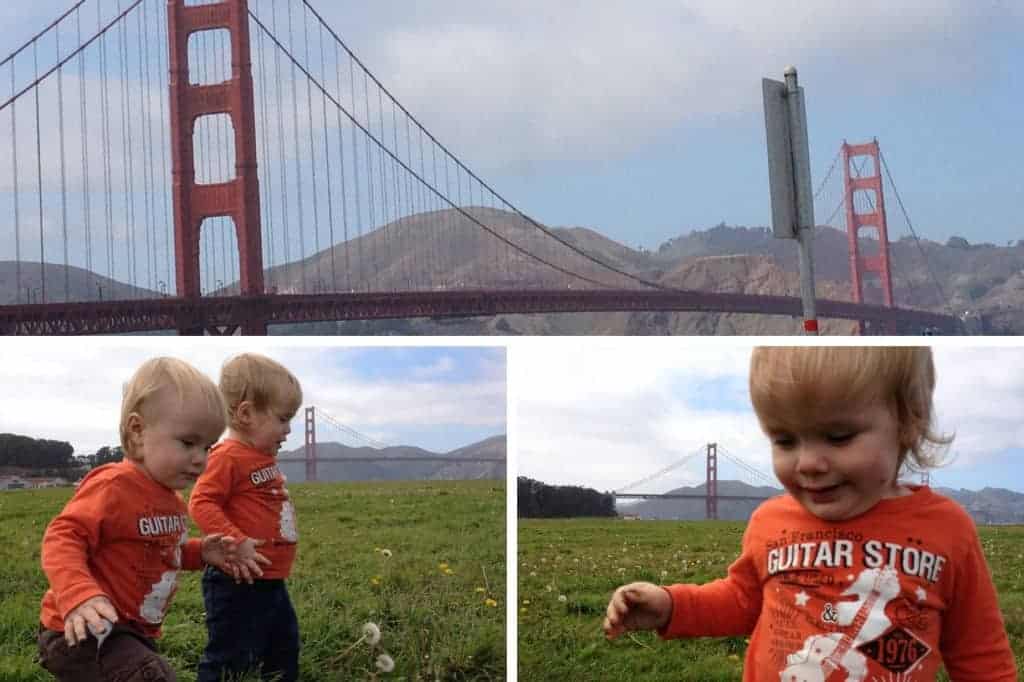 Introducing the boys to San Francisco, where we lived for five years and got married.
And this…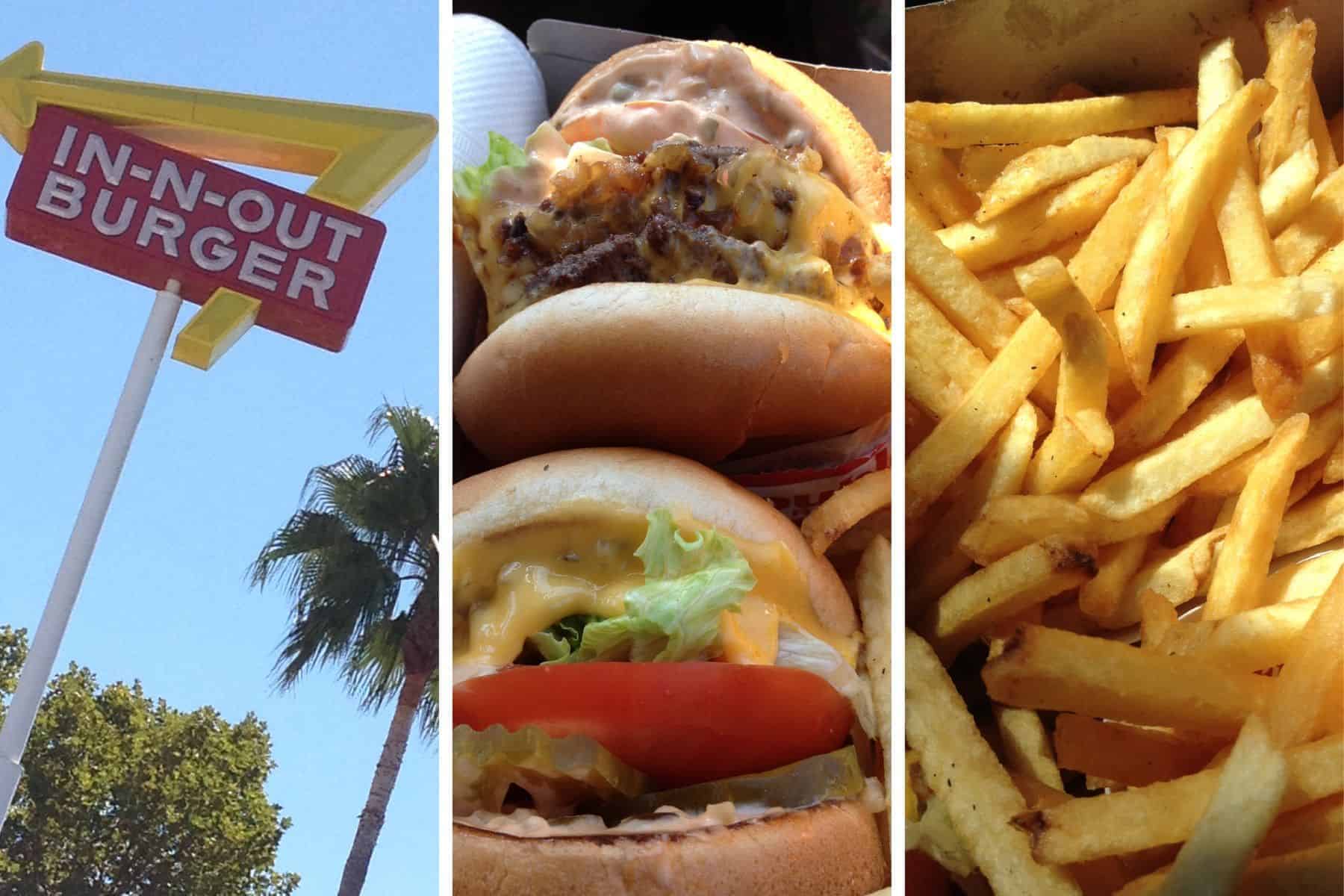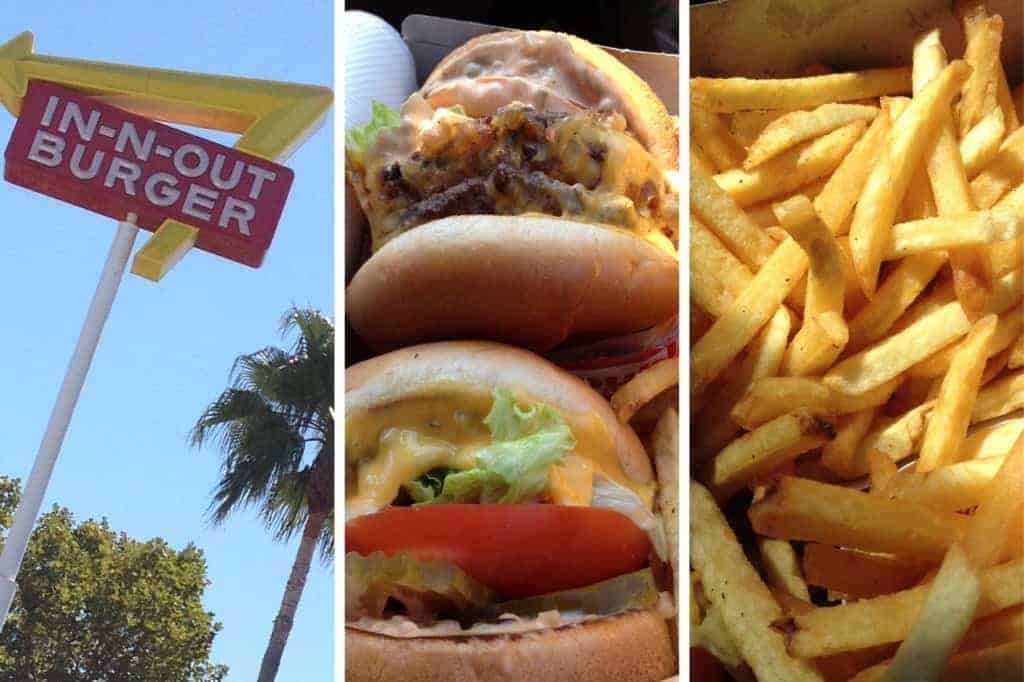 Introducing the boys to their first In & Out Burger…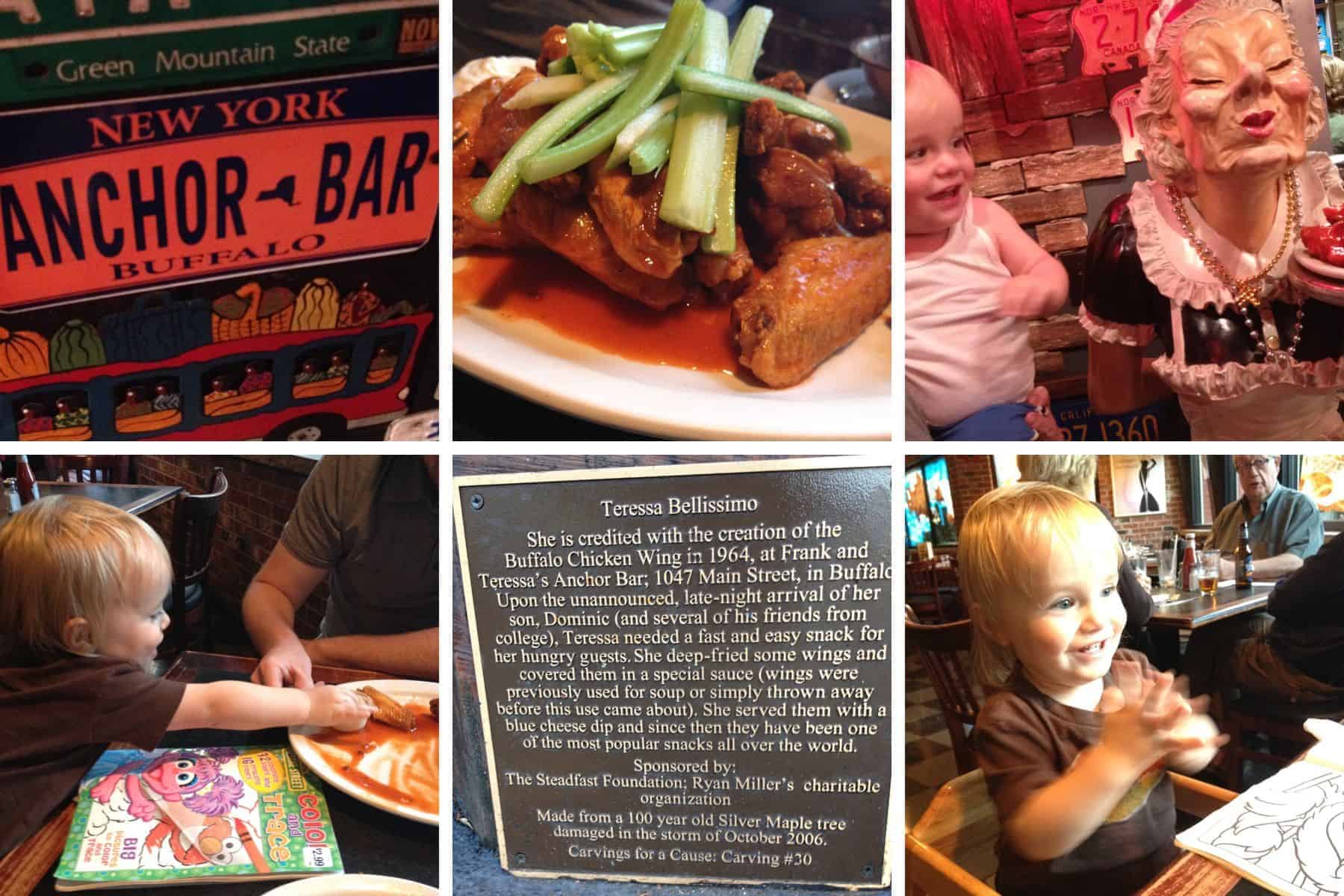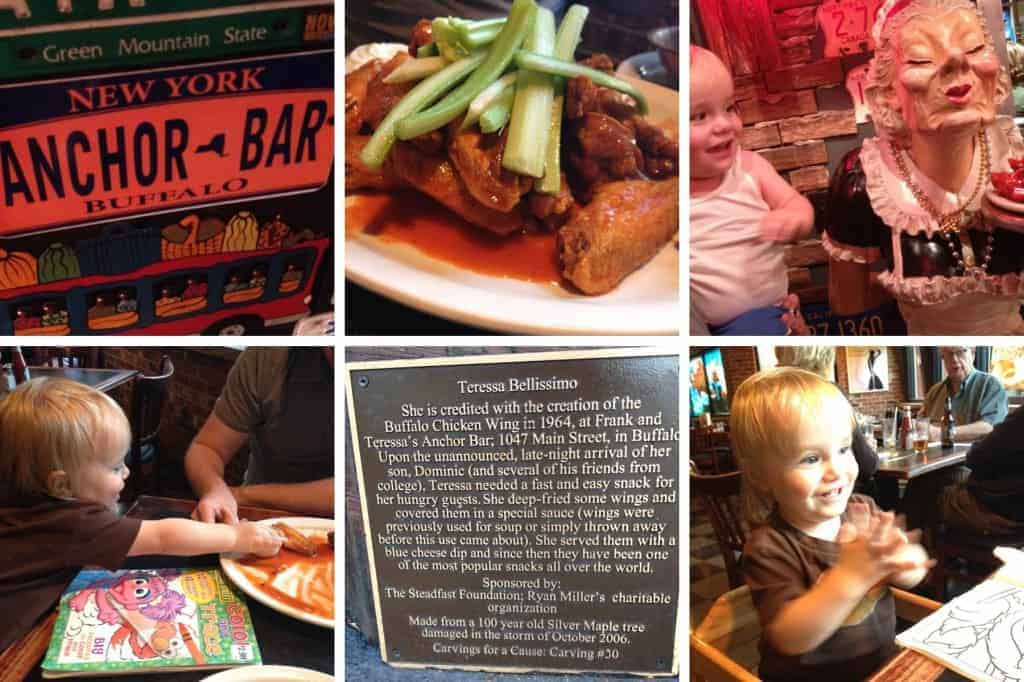 And their first Buffalo Wings. But of course if we were going to let them eat wings we had to go to the place that first invented the Buffalo Wing — Anchor Bar in Buffalo New York.
And this…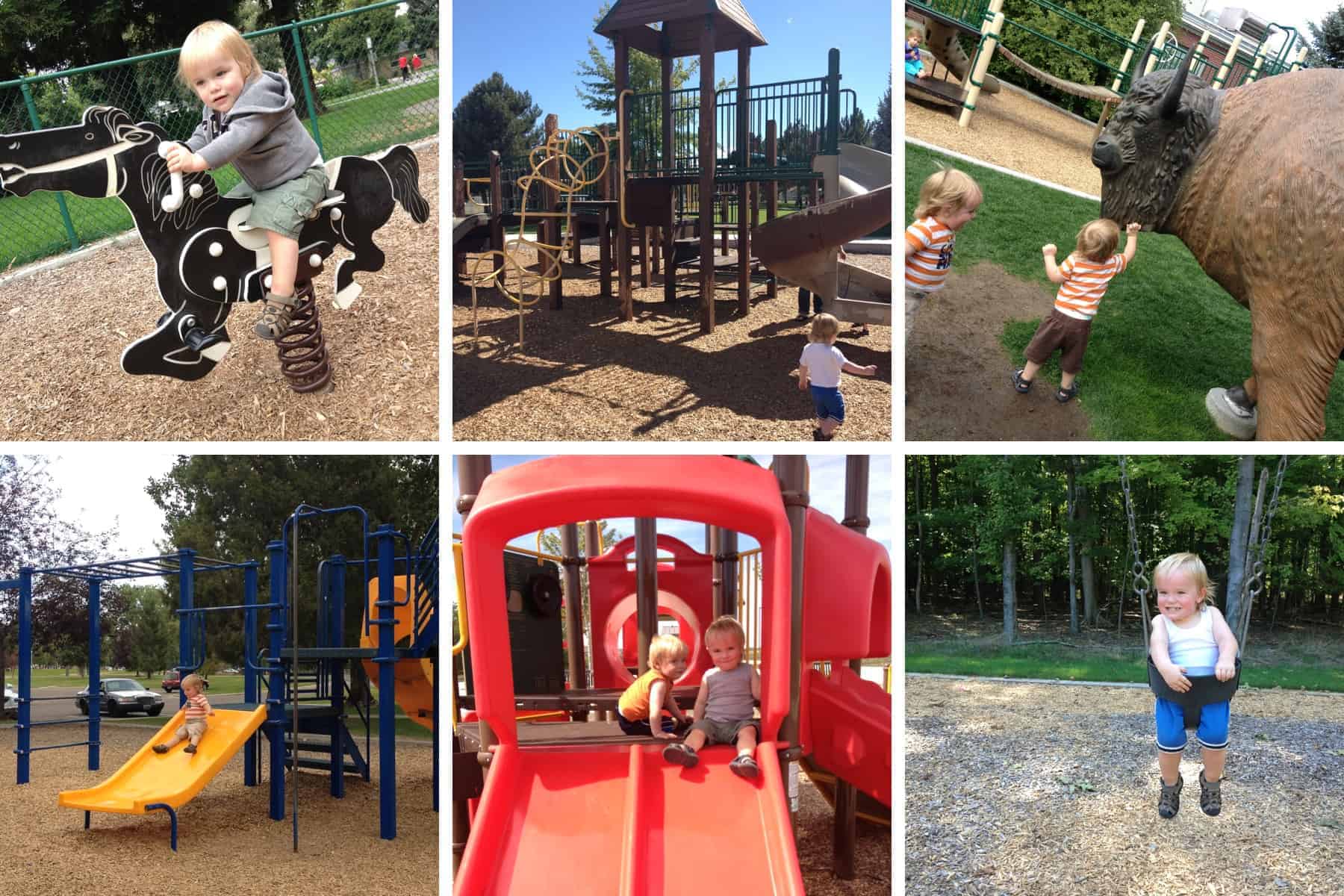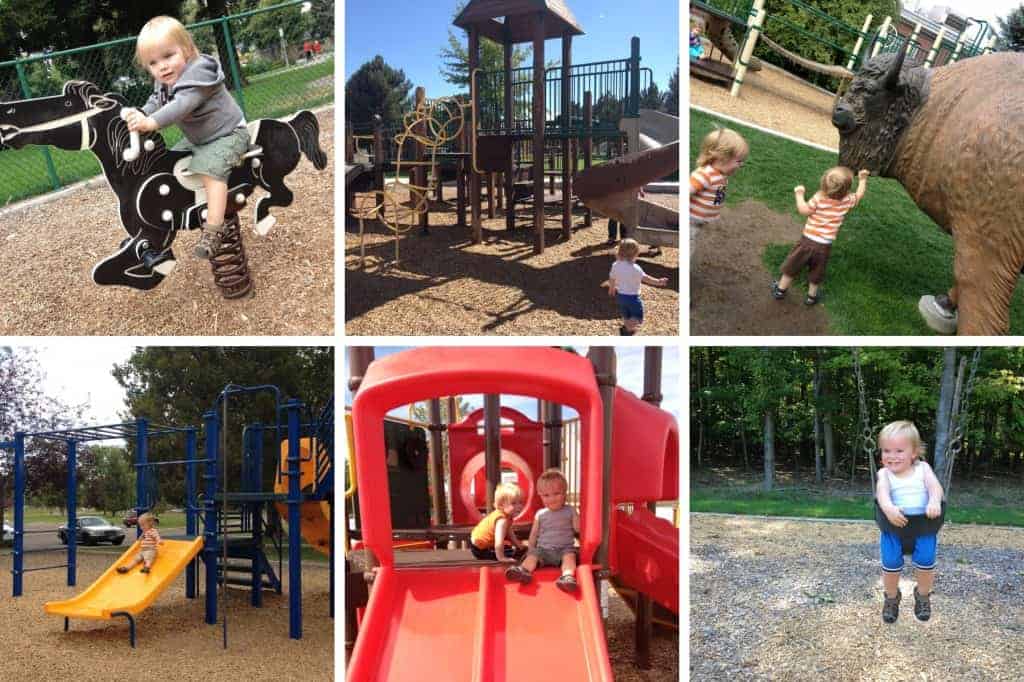 Giving the boys the bragging rights to say they have been to playgrounds in every state from California to Connecticut along Interstate 80!
And sweet moments like this…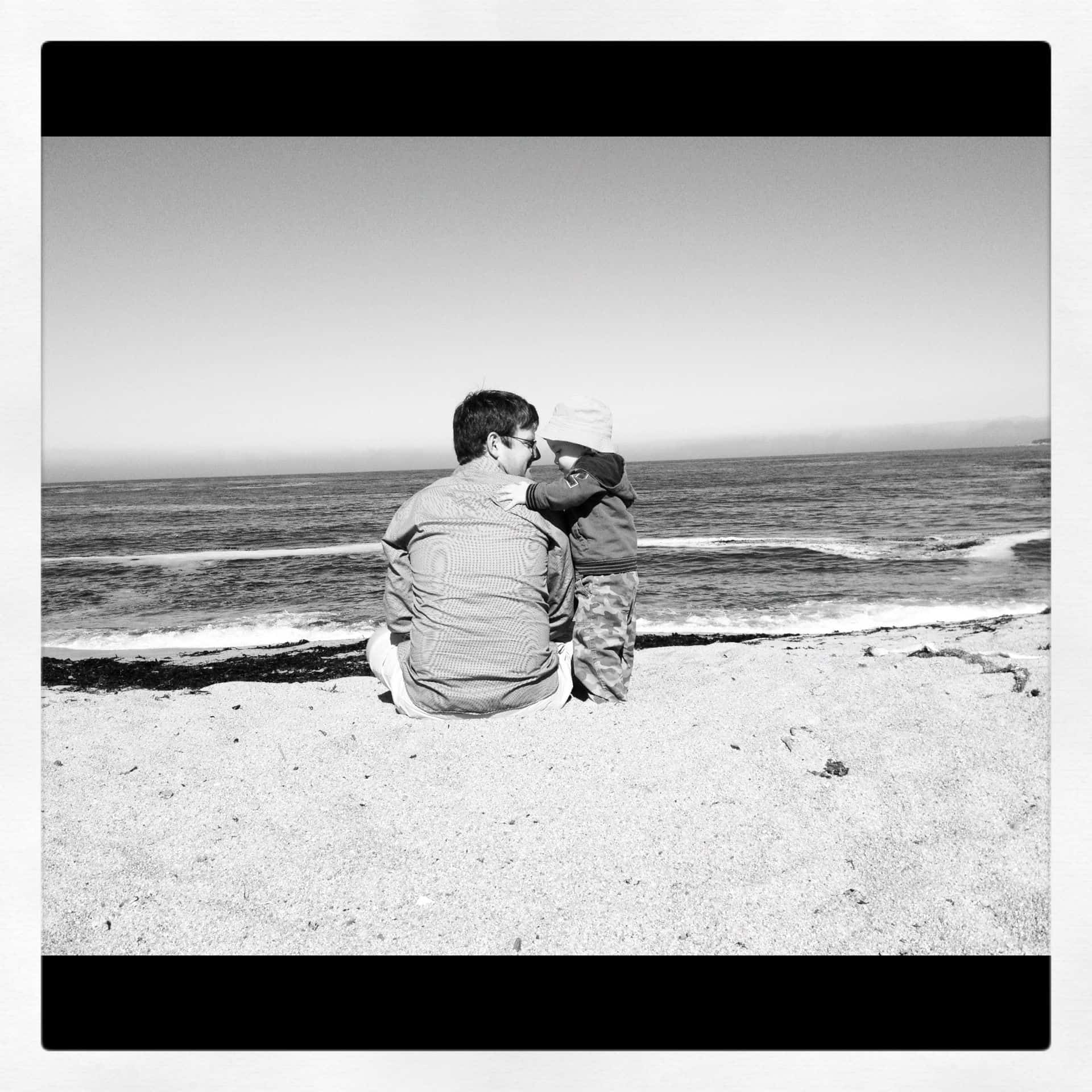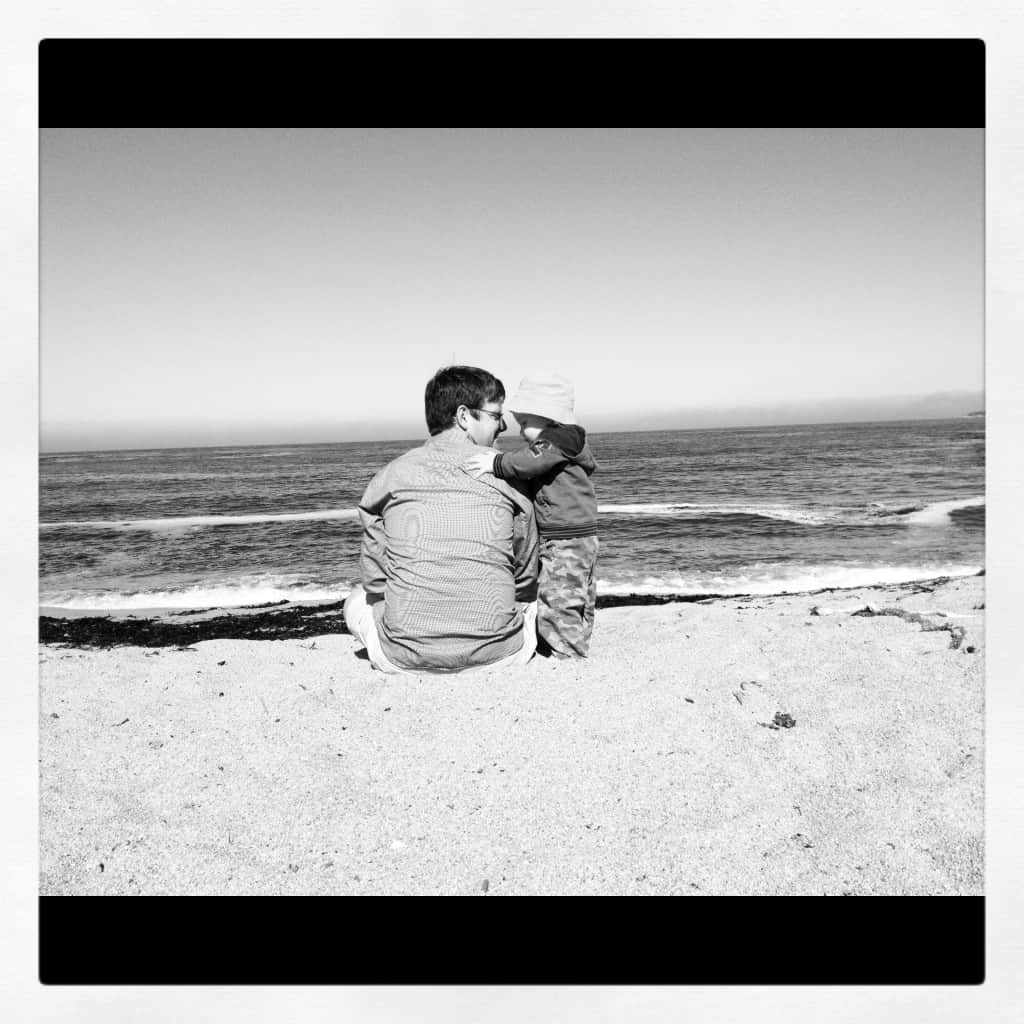 Visiting our good friends in Monterey and giving the boys their first glance at the Pacific Ocean.
And finally, if that wasn't enough reasons, the boys also got to meet many of our closest friends spread out along the west coast and got to spend close to a week with their grandma, grandpa, aunts and cousins on my side of the family.  That experience alone was priceless and worth every single minute of the trip!
Related Posts:
Thirty Days on the Road, a Spark Ignited 
The Road Trip – First Stop, Oregon and WBC