In my household I have the reputation for being more of a "health nut", always looking for creative recipes for leaner proteins, loads of veggies, salads and appetizers.  Hubby, on the other hand, is all about the meat; constantly trying to get me to eat more.   So I was far from surprised when he woke up the other day saying he was craving a big thick steak for dinner <sigh>!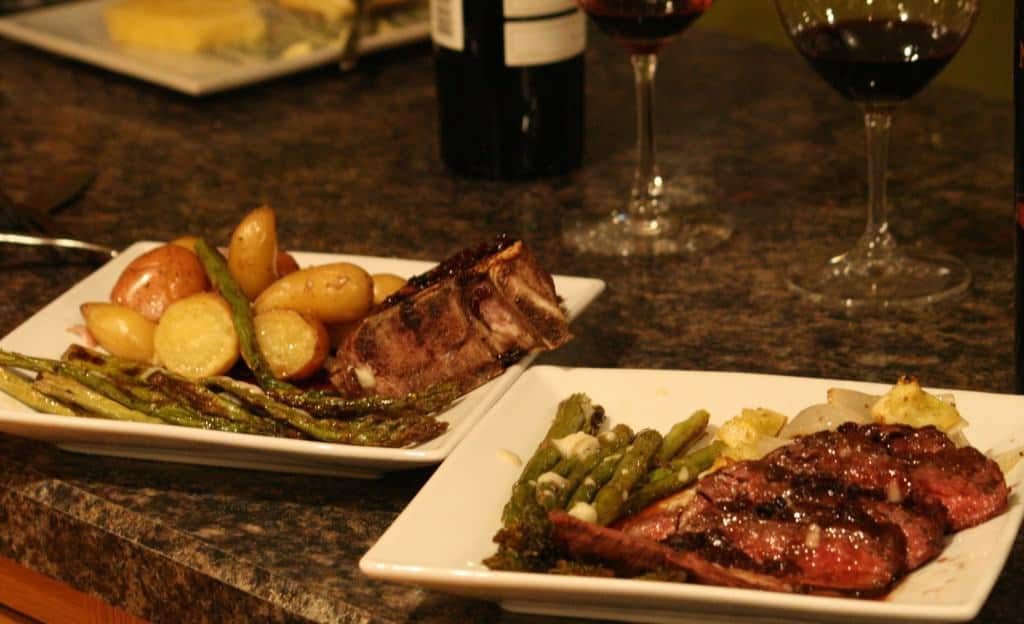 You see, I often have a hard time enjoying eating just a plain thick peace of steak, alone.  When I do eat red meat I prefer it to be exciting, like a flank steak, or something thinly sliced accompanied by a wine reduction or other pan sauce for added flavor.  Forgive me, for I still don't love the taste of red meat (unaccompanied by sauce sides) but I am trying.
Hubby is convinced it's not necessarily the meat I don't like, but the preparation and cut; and is on a mission to change my mind.  So one evening he was determined to prepare something for dinner that would change my mind.
As a backup, I still wanted something familiar with a wine reduction sauce just in case, and we had already planned to grill up a bunch of vegetables we had lying around.  We added a hanger steak to "maximize the real estate on the grill" (as hubby refers to it).  So we settled on a "meat two ways" theme to see which I would enjoy better.  A pan roasted bone in filet mignon, and a trusty grilled hanger steak with a wine reduction sauce (something we've had many times in the past and I know I like).  Both lean, both tender and both (allegedly) tasty.
And since we were having somewhat of a meat fest I thought it would be a good opportunity to open a couple of cabernet sauvignons recently sent to me that I had been meaning to taste.
Two different cabs paired with two styles of steak; steak and cab two ways.  That doesn't suck at all… but how will I like the filet?
THE MEAT
Pan Roasted Bone in Filet Mignon
(Hubby believes the key to this dish is the method of cooking.  Instead of grilling the meat he sears it on an oven proof skillet, then transfers into the oven to finish cooking; making sure good crust on the outside, but juicy loveliness on the inside.) 
Ingredients: 
He insisted keeping it simple.  A room temp bone in filet mignon (10 oz), olive oil, and salt and pepper.
Directions: 
Pre heat oven to 400 degrees.
Remove filet from fridge and rub with extra virgin olive oil.  Season it liberally with salt and pepper on both sides and allow it to come to room temp (this is to prevent a cold piece of meat cooking too tough if put to the pan).
Turn pan on a medium-high heat.  Once the pan is hot place filet on oven safe pan/skillet – you should hear a sear start right away (that's how you know it is hot enough).  If you are still wondering if the pan is hot enough, splash some water drops and see if it dances on the pan.  Then you know it's hot.  Sear for three minutes, check for a nice crust before flipping, you should just start seeing the edge of the filet cooking through, that's the perfect time to flip.
Sear on second side for three minutes, again to get the crust.
Transfer the filet in the oven for up to 10 minutes for medium rare, 7 for rare.
Remove and let stand a few minutes to let the juices settle.  Important, let it stand a few minutes!
Grilled Hanger Steak with Blueberry Wine Reduction Sauce 
Ingredients:
12-14 oz Hanger Steak
Extra virgin olive oil
Salt and pepper
Directions: 
Prep grill to medium heat.
Season the steak with olive oil on all sides, salt and pepper.  Also let it come to room temperature.  Hanger steak is nice and tender, so place on grill and cook each side for about 3 – 4 minutes per side for rare, 5 – 7 for medium rare.  When you turn the meat you should see nice grill marks, it shouldn't stick, if it sticks, don't turn it yet.
Remove from grill and let sit for a few minutes to let the juices settle.
Slice it up however you enjoy your steak, I like thin slices against the grain of the meat.
Then pour a couple tablespoons of the wine reduction sauce over (recipe below).
Blueberry Wine Reduction Sauce (for Hanger Steak) 
Ingredients:
3 tbsp butter (1 for the beginning, 2 for the end)
1 medium shallot, finely diced
1/4 cup red wine (or go bigger if you dare). I used the Sequoia Grove Cabernet Sauvignon, reviewed below.
1 rosemary sprig
1/4 cup balsamic vinegar
2 tbsp jam or preserves (I used blueberry jam for this recipe)
Directions:
Add first tbsp butter and shallots to a small skillet on medium-high heat.  Sautee until shallots are tender (about 3-5 minutes), but not caramelized.
Add wine and rosemary sprig; get a nice simmer going. Cook until the wine is reduced by half.  Then add blueberry jam and balsamic vinegar, bring to a simmer again.  Let reduce to thicken slightly then turn heat too low, then add remaining two tablespoons butter, in small chunks stirring.  Remove rosemary sprig before serving.
The sauce should be rich and creamy. Not too watery and thin, but not too thick.
THE WINES
 Markham Vineyards 2006 The Altruist, Cabernet Sauvignon, Napa Valley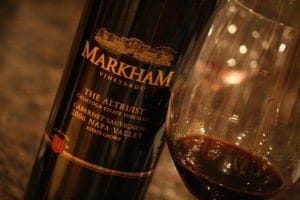 Napa Valley's Markham Vineyards has launched its fourth annual Mark of Distinction initiative by offering two $25,000 grants to charitable organizations committed to bettering their community.  Though this years nomination period has ended (proposals were accepted through July 31st), the finalists for this years grants have yet to be announced.
To support and honor this grant, Markham Vineyards has produced two single vineyards Cabernet Sauvignons named The Philanthropist and The Altruist.  The winery will donate $1 of sales from each bottle to their respective initiatives.  I can always get behind buying a wine when the producers give some of the profits to a worthy cause… well, as long as the wine is still good that is!
So how was it then? 
After allowing it to breathe for a bit this wine showed rich dark and intense berry fruit, sage, and spicy oak.   The wine has a rich body, firm but not overwhelming tannins, and is well textured and complex.  Paired with the Filet Mignon was great match as the tannins needed some fatty meat to help relax.  The fruit, spice, and oak balanced well with the crust on the filet as well.
A fantastic pairing and a really good wine. Definitely recommended!
Grapes:  100% Cabernet Sauvignon (single vineyard, estate grown)  
Alcohol:  14.8%  
Retail:  $55  
Number of cases produced:  300 
Sequoia Grove 2007, Cabernet Sauvignon, Napa Valley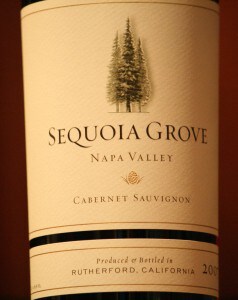 The nose on this wine was strong and powerful full of black currant, black berries, spice and toasty oak.  Still full of fruit on the mouth with light tannins the wine fell slightly short on the finish.
It ended up being straightforward and fruity, less elegant and a bit underwhelming when compared to the Markham.  The bold strength I assumed it would have wasn't there making it less of a strong pairing for the filet, but a good match for the hanger steak since it was less fatty, and accompanied by the fruity wine reduction sauce.  I recommend if you're looking for a nice value for a Napa Cab at $35, but if I had to chose the stronger of the two, I'd go with the Markham.
Grapes:  82% Cabernet Sauvignon, 12% Merlot, 6% Cabernet Franc and Petit Verdot  
Alcohol:  14.2 %  
Retail:  $35
So how did it all fare?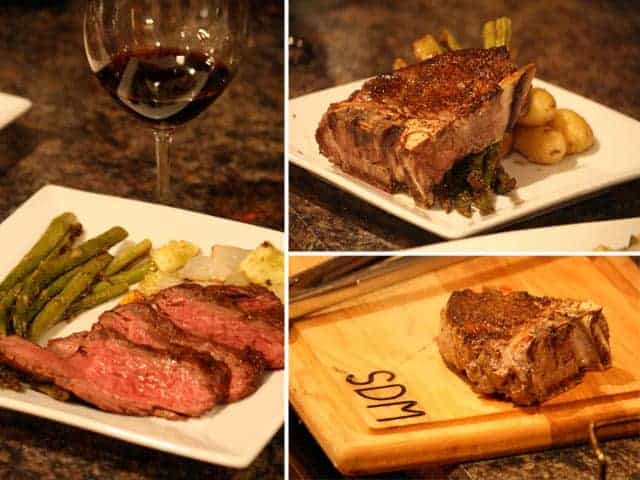 I'm not gonna lie to you, the filet came out pretty darn good even without being drenched in a sauce.  It had a nice seasoned caramelization on the outside and was incredibly tender on the inside.  I was admittedly a fan and of course hubby was very proud of himself.  So was this recipe a winner?  I'd have to admit so.
The hanger steak is a tried and true recipe. Very juicy with a delicious sauce drizzled over it paired with a juicy fruity wine paired side by side with a nice Napa Cab… um, you can't really go wrong with that.
Will I be more opened minded next time hubby wants a big thick manly steak?  If he can make it taste as juicy and flavorful as this filet (or better), absolutely!
*The wines were provided by the wineries as samples for review.  The food? That was all us baby (recipes and all)!