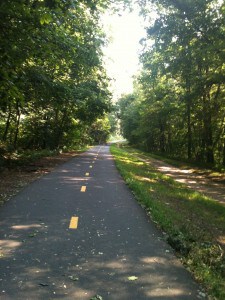 This past weekend I ran my longest single run ever – 15 miles.
Prior to this my longest run was the two half marathons (13.1 miles) I ran back in 2009 and never imagined I would ever exceed that distance.  But I did, and plan to do it four more times until October 15th, when I run my first full marathon.  (That's 26.2 miles by the way)
Although I still have some pretty challenging runs ahead of me (a 16 mile, 18 mile, 20 mile, all in prep for the big event) I feel that 15 is the most important before the actual marathon.  In a way it is a symbolic representation of my potential.  I know now that I can actually finish this thing!
Before this run I was convinced that 13 miles would be my max, ever, but I just proved to myself that I really can accomplish what I set out to do, with focus and training.  I know the next few long runs will be hard, even harder than the 15 miler, but I'm confident now that I can complete them.
Needless to say I was pretty thrilled and pretty proud of myself.  Also, I couldn't have done it without the help of Pandora and the new Britney Spears album motivating me every step of the way (yes I absolutely cannot run without music!).
Exhausted, sweaty, and beat? Of course!
Ready to celebrate with some nice bubbles?  Always!
When I signed up for the marathon I wrote that I would have some super awesome Champagne ready for me at the finish line. But I also feel that each major milestone is worthy of celebrating too – always with bubbles.
So this weekend, I prepped two delicious bubblies to celebrate my biggest running milestone to date.  I mean, one bottle certainly wasn't enough for such an accomplishment don't you agree?

Gloria Ferrer, 2002 Royal Cuvée

I've been holding onto this wine for well over a year.  I received it as part of a club shipment before we moved to Connecticut.  I was holding off because we are down to our very last bottle of Gloria Ferrer bubbles.  But I figured if anytime would be the "right time" to drink it, now would be it.  I supposed this now creates an excuse to order more.
The first thing I noticed was what you would smell walking into a really good bakery;  brioche, marzipan, yeasty toast, baked bread and, really, just sweet yumminess.  Scents similar to Champagne without the price tag.  The mouth reveals fresh lemon, apple and apple pie spice, and strawberries. Creamy and complex, the long finish maintains a crisp acidity throughout.  For the price tag this wine is well worth the buy and an excellent reward for a long run (or any celebration for that matter)!
Winery: Gloria Ferrer, Sonoma CA
Grapes:  67% Pinot Noir 33% Chardonnay
Price:  $32 
Horton Vineyards, NV Sparkling Viognier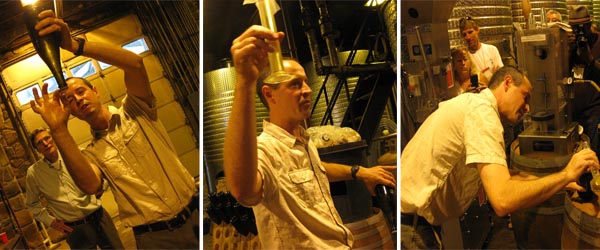 I purchased this wine while visiting Horton Vineyards as part of the Wine Bloggers Conference this past July where we were able to meet with owner and one of Virginias wine innovators, Dennis Horton.  Dennis started his winemaking ventures with a home and vineyard in 1983 in Madison County, Virginia.  He is credited for being the first to plant Viognier in the state – the grape that is being hailed as Virginia's flagship grape.
During the visit we were given a quick run thorough of the process of making sparkling wine (demonstrated by their winemaker in the pictures above).  For a small producer, sparkling wine is an expensive investment, and usually not a money maker.  Dennis described to us that he continues to produce his sparkling Viognier for the sheer love of it.  You've got to appreciate that!
During the visit, we tried nine wines but one that stood out to me was this sparkling Viognier, so I had to buy a bottle to share with the hubby when I returned home.
When tasting it this go round I found the wine to be a bit sweeter than remembered, but still refreshing with tropical fruit, pears, and tart apple.  It had a fresh and vibrant mouth. Not toasty or yeasty like the previous wine (and those similar to Champagne), but instead more fruity, similar to what you would expect from a Cava.
Although the wine was a bit disappointing on the finish, lacking in crisp acidity and length, it is still very interesting and worthy of a try.  Besides, how often do you see a sparkling Viognier?
Winery: Horton Vineyards, Virginia 
Price:  $25.00
Please stay tuned for more exciting milestones as I prepare for the big day (just 7 weeks away) … And most definitely more bubbles along the way!