I'm usually not a sucker for catchy titles and fun wine labels, but I'm not going to lie, I was secretly drawn to this wine by the name alone – for obvious reasons.
Having twins myself I admittedly have a soft spot for all things twins.   This wine isn't referring to people, instead the two grape varieties that go into the blending of this wine. The idea behind it is written on the back label:
Meet the Twins: A masterstroke of varietal blending from Chile's winemaking legend, Aurelio Montes.  On their own, Malbec and Cabernet Sauvignon shine, but when paired up, these two classic varieties complement each other perfectly.  It's a sensational double-bill: smooth, velvety texture from the Malbec with wonderful richness, structure and fruit from the Cabernet.  Part Malbec, part Cabernet — adding up to a wine that's greater than the sum of its parts.
Though my twins are barely three years old I can completely relate to lines I put in bold, especially the part about twins complimenting each other perfectly.
Meet my twins: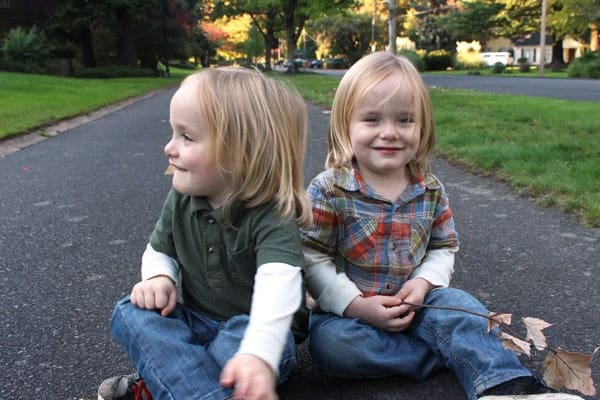 A master team.  Each has his own very distinct personality.  On their own, they couldn't be more opposite – one likes music, the other hates to sing; one likes to ride bikes, the other likes to take them apart; one is silly and comedic, the other is sensitive and emotional. ( Okay they're both emotional — they're toddlers, who isn't at that age?!)  Together they are twice as loud, twice as messy, twice as destructive, but also twice as funny, twice as sweet, a hundred times more adorable, and 100% perfect.  They are a powerhouse team.  And as a team, they compliment each other in ways I could never have imagined.
So, yes, I can relate to the idea behind Montes Twins, but would the wine inside live up to it's expectations or is it just fun marketing?

Montes Twins Red Wine 2012
Colchagua Valley, Chile
Grapes:  50% Malbec, 50% Cabernet Sauvignon,
14% abv  |  $15 (media sample), but can be found as low as $10
Intense aromas of dark plum, blackberry, and lavender aromas with some clove, vanilla, and baking spices fill the glass.  The wine is perfumed that's for sure and a bit tight at first!  Give it time to open and you'll be welcomed with a smooth and velvety texture on the palate with more dark berry fruit, chocolate, and spice.  This is a big wine, and is pretty intense in color and flavors, but it's fairly mild on the tannins, so the food pairing options are pretty flexible.  I can see this with powerfully flavored dishes like beef chili, to slow stewed meat dishes, or pasta with Bolognese sauce.  It really is a nice balance between the power of the Cab and the smoothness and texture from the Malbec.
Good flavors, good price, fun story = a wine I can get behind.
My own twins are coming up on their third birthday.  I'm already thinking this will be a fun wine for the adults to sip on while the boys munch on cake and ice cream.
Cheers to twins everywhere
*****
Want more?  If you liked what you read you can subscribe to Vindulge and have new posts delivered directly to your inbox.