Recent articles and stand out bubbles…
I've had bubbles on the mind all month.  Big shock I know.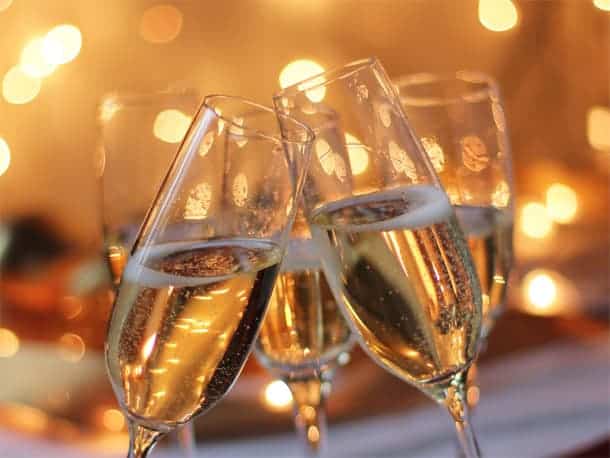 I spent several weeks researching new sparkling wines for an article recently published in Serious Eats all about the best sparkling wines under $20 for holiday parties and New Years.  Needless to say I was thrilled at the assignment.  You can read the article here.
It's a nice resource if you're looking for something new and delicious to drink without breaking the bank.  You can also listen to the rest of Hudson Valley Wine Goddess' podcast where I discuss bubbles for New Years.
Trying to list my favorite bubbles under $20 was not an easy task (though it was a fun one).  I tasted many great candidates this year and to limit to 2-3 per region seems unfair…. but I did it.
For the ones that didn't make the Serious Eats list, due to price constraints and other factors, I decided to highlight some of them here.
Pacific Northwest
Producers in the Pacific Northwest are finally coming around to making more sparkling wines, and I couldn't be happier.  It is still an expensive investment, however, making it difficult to find good bubbles under $20.   Many who are producing sparkling in that price category are doing so via carbonation (not méthode champenoise used to make traditional Champagne).  'Joe's Secco' produced by Dobbes Family, and Evolution Sparkling by Sokol Blosser are both fruity and slightly sweet sparklers that are nice if you like your bubbles on the sweet side, though the bubbles don't last very long.   Still on my radar to try is  Washington's Treveri Brut and I'm dying to try the newly released 2010 Brut Rosé from The Pines.
Most Interesting Bubbly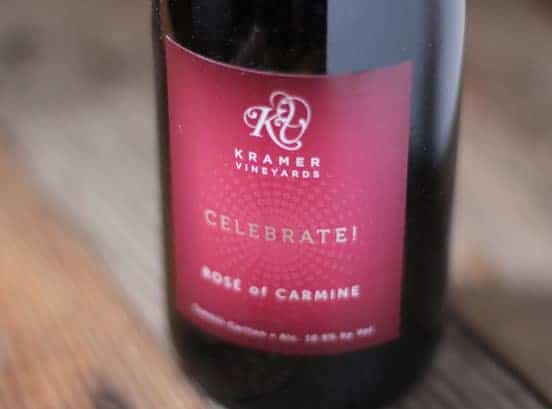 Celebrate Rosé of Carmine 
Kramer Vineyards
Yamhill-Carlton, Oregon
10.9% abv | $30
I was first introduced to the sparkling wines of Kramer Vineyards about a year ago when I first tried their 2010 Brut.
Since then I've had the chance to learn a lot more about winemaker Kim Kramers sparkling wine program, including a chance to work harvest for a day.
One thing that stood out above all during that experience was Kim's genuine passion and enthusiasm for producing sparkling wines.  A few weeks ago I had the opportunity to taste her latest creation, Celebrate Rosé of Carmine.
Carmine is a grape variety developed by Dr Harold Olmo of UC Davis to be a three-way crossing of Cabernet Sauvignon, Merlot and Carignan, intended to be a red grape that could withstand cool climates.  The Kramers use the grape for a red wine, and also this sparkling Rosé, made by carbonation (not traditional champagne method), which happens to be one of the most interesting bubblies I had the pleasure of trying this year.
The color was a remarkable bright cherry red, looking almost like pomegranate juice.  It has powerful aromatics with lots of cranberries and candied strawberries.  The aromas came across a bit sweet, yet tasted very dry in the mouth with lots of fresh red berries. It seems like it's going to be big and bold in the mouth, but its more subtle than I'd have expected.  I like that!  It still has big flavors, but it's not in your face.
A cool wine for people who like to try sparkling wines less traditional in flavor.  This would be a fantastic summer grilling wine!  Is it July yet?
Something Different:  Riesling lovers take note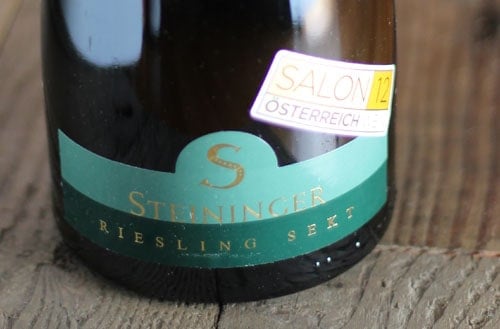 2010 Steininger Riesling Sekt
Kamptal, Niederösterreich, Austria
13.5% abv  |  approx $25
Another among the most interesting sparkling wines I tasted this year was this one made from Riesling in the traditional method.   This wine smells like what you'd expect from a quality Riesling with its noted petrol aromas, along with some grapefruit and citrus.  It is lively and mineral laden in the mouth with fine bubbles and bright refreshing acidity.  Clean, slightly tart, steely, light, and very unique.  If you like a good Riesling you'll love this.
Favorite Sparkling Region of the Year: Franciacorta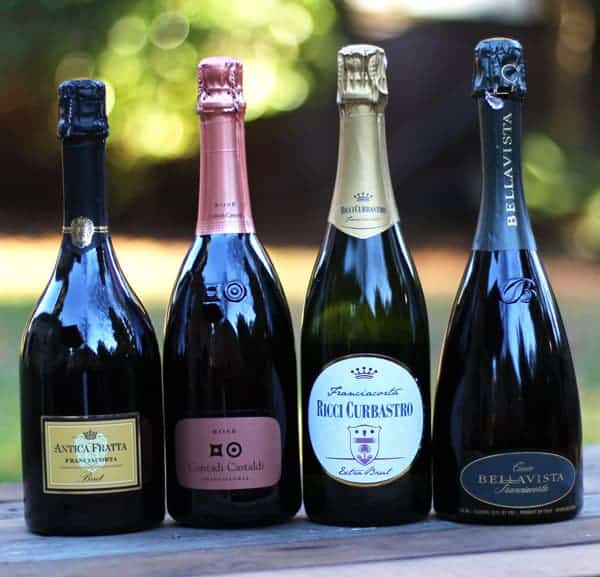 I love the wines of Franciacorta and I have been swooned by them this year.  These sparkling wines come from Lombardy, Italy, produced from grapes grown within the boundaries of the territory of Franciacorta.
When it comes to bubbles and Italy most people associate the country with fruity and friendly Prosecco, made in the regions just east of Lombardy, but this neighboring region is making complex, intriguing, and serious wines in the traditional method with mostly traditional grapes (Pinot Noir, Chardonnay, along with Pinot Bianco).
I've been able to taste several wines this year from this region and while none fall in the under $20 category, they have all been worth the price tag they assume.  They've all been impressive (some have blown me away with their quality).  If you're willing to spend $25- $40 on a great bottle of bubbles give these a whirl.
For more on this region you can read about my first encounter with these bubbles here. 
A couple of my recent favorites include:
NV Bellavista Franciacorta Cuvée Brut ($35) for its complex nose with pear, apple, and a lovely savory feeling in the mouth.  Beautiful elegance.
And the Ricci Curbastro Extra Brut  ($40) for its power.  It hits you in the beginning with powerful aromas and a bold mouth feel, but has remarkable mineral finish.  It's tart, minerally, and savory all in one sip.
If you're up for something different and delicious from Italy this New Years eve seek out the wines from this quality sparkling wine region.
For Your Mimosas
Something about the holidays makes me crave Champagne cocktails.  I intend to begin my New Years Eve by making these pomegranate mimosas (yum).  I'll be opening up a fantastic (and pricey) bottle of Champagne later on in the evening, so I plan to keep my mixing bubbles under $10.
When it comes to using sparkling as a base for cocktails my advice is to find a dry, fresh, sparkler with little sweetness or overpowering fruit aromas.  You're likely to be mixing it with something sweet (like juice), so you don't need the extra sweetness from the wine interfering.  And you don't need to spend much on a decent bottle.  My go-to bubbles for mixing are the following Cava's from Spain:
Cristalino Brut Cava, Segura Viudas Brut Reserva Cava, Freixenet Cordon Negro Brut, which are all widely available and can all be found for under $10.
For more information on sparkling wine and Champagne, including how Champagne is made and different styles of sparkling wines, read the following articles: 
And make sure to check out my article Perfect Party Wine: Sparkling Wine Under $20 on Serious Eats.
What do you plan to open to ring in the New Year?  And did you discover any new sparkling wines that you loved this year?