Let's talk about wine fridges for a minute, since it's the holiday season and this is the time of year the questions roll in.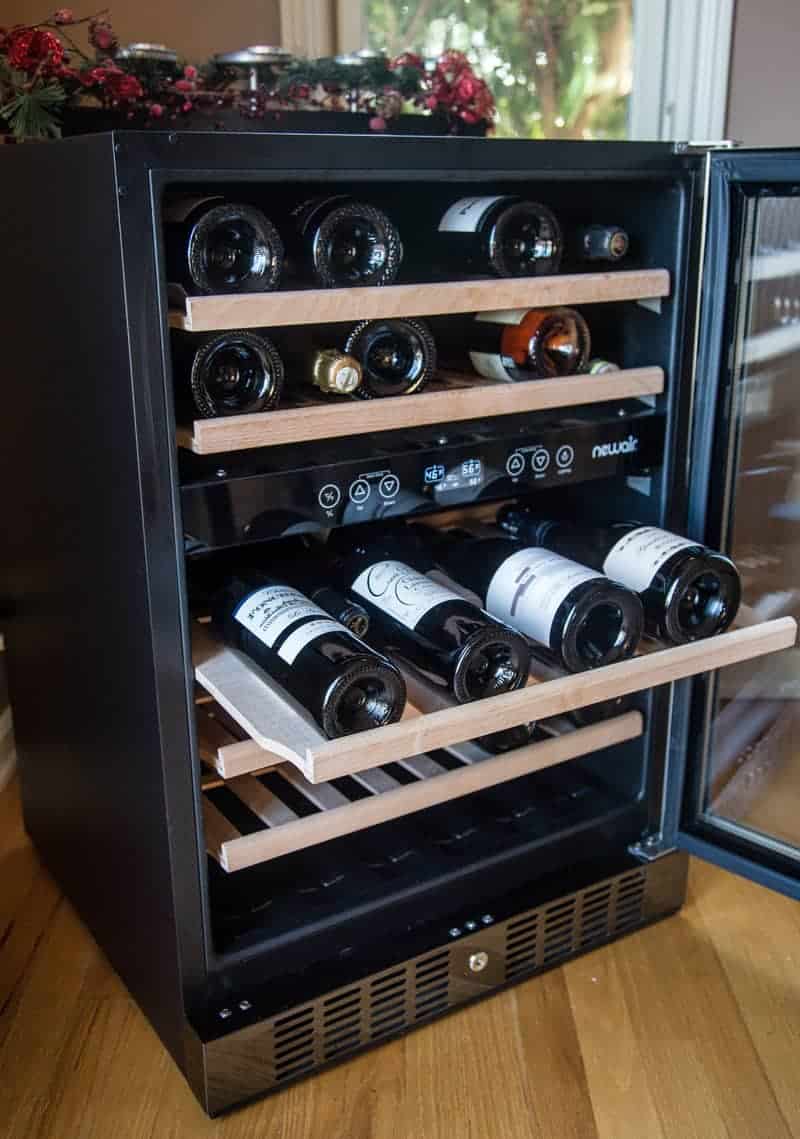 I get asked about wine fridges (also called wine coolers) and wine storage a lot but haven't written about it much here on the blog.
That's because over the last three years we lived in a house with a fantastic basement with a built-in wine storage area that we customized. It was naturally cool enough that we didn't really need to worry about keeping our special bottles at a cool and consistent temperature. Our basement did all the work for us.
Why is this important?
Heat is the #1 enemy of wine, well that and temperature fluctuation (hot then cool then hot then cool, and so on). Warmer temperatures will immaturely age a wine, and if a wine gets too hot it could spoil it (think turning it into vinegar). These temperature fluctuations will create chemical reactions that will ultimately spoil wine. Ideally, your wine will benefit most from cooler and consistent temps (around 50 – 65 degrees F). Light is also a factor to consider. Too much direct sunlight can also spoil a wine (so keep your wine away from any direct sunlight or bright indoor lights!).
Basements are great places to store a wine if you don't have a designated wine fridge. Our previous basement had a small dark room where the lights were hardly on; it had a good amount of humidity, and was consistently cool year-round. Pretty much perfect for wine storage (sans a proper wine fridge that is).
But prior to that house we went through several different styles of wine fridges out of necessity, and we are now back testing out a few new ones.
You see, in our new house we don't have a basement, so we're back to the dilemma of trying to keep our wine at a safe, cool, and consistent temperature.
Which is why I'm excited to tell you about this new fridge we've been using — the NewAir Black Stainless Steel Wine Cooler – the company who I also partnered with to sponsor this post.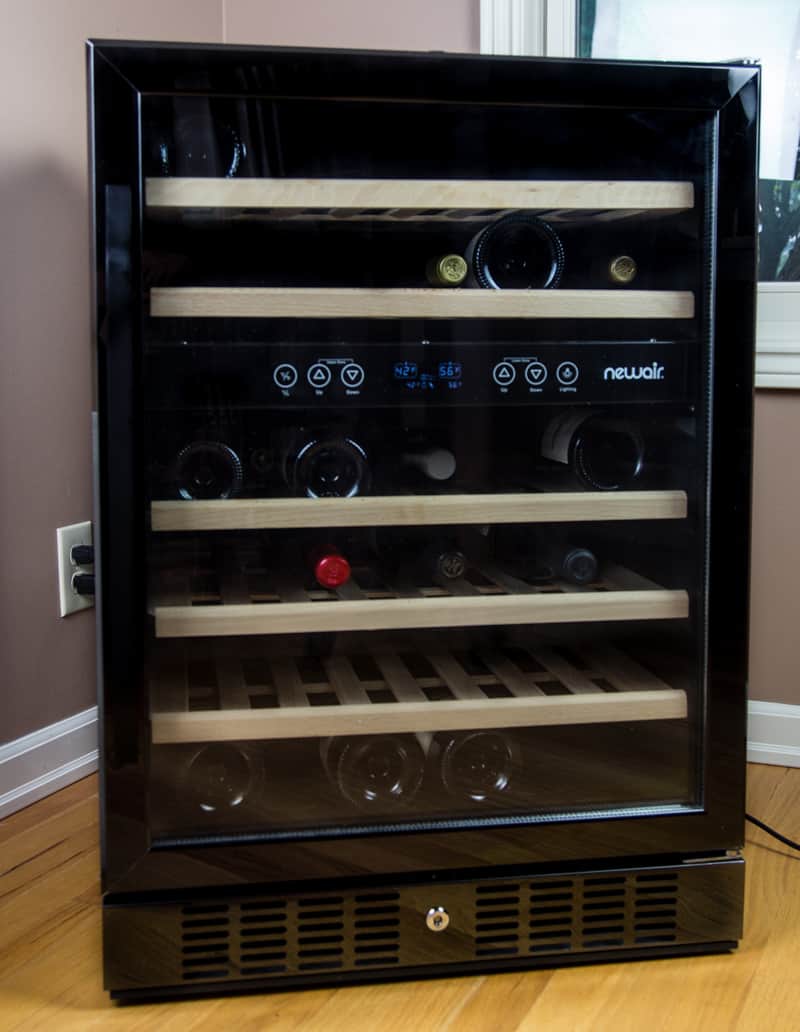 Let's backtrack a minute.
The first wine fridge we ever owned was one we purchased while living in a teeny tiny apartment in San Francisco. Despite our apartment being about the size of a dorm room I came home one day to find the hubby had purchased a 100-bottle wine fridge. Needless to say I was a little annoyed, but I grew to love the monster (I also grew to love the wine fridge too ;).
It was a great wine cooler and I came to think all wine fridges were equally great with the same level of quality. This particular one was well built with sturdy wood racks with adjustable shelves, but only one temperature setting (which was fine for us at the time). That fridge lasted about 10 years and 5 moves, until one day it just died.
In the meantime, our wine collection grew and so did our need for storage, so we tried out a few styles of fridges. One of which works fine and has a dual-zone temperature control (so you can customize it to have cooler temps for white wines and warmer for reds), but was built solely for Bordeaux style bottles (the narrow ones). So your "capacity" is cut in half when you use other styles of bottles like Champagne or Burgundy. That fridge which shall remain nameless, frustrates me because it's difficult to remove the bottles and you only get the one style that fits in there, plus the racks were poor/cheap quality. Basically it was a crap fridge.
Enter the NewAir Black Stainless Steel Wine Cooler
This one reminds me of that first fridge we loved and used for over a decade, but about half the size. It does, however sport the dual temperature feature, which is super convenient. It has a capacity of 46 bottles, and more importantly, fits most sized bottles, including sparkling bottles (which many wine fridges do not fit due to their wide base!).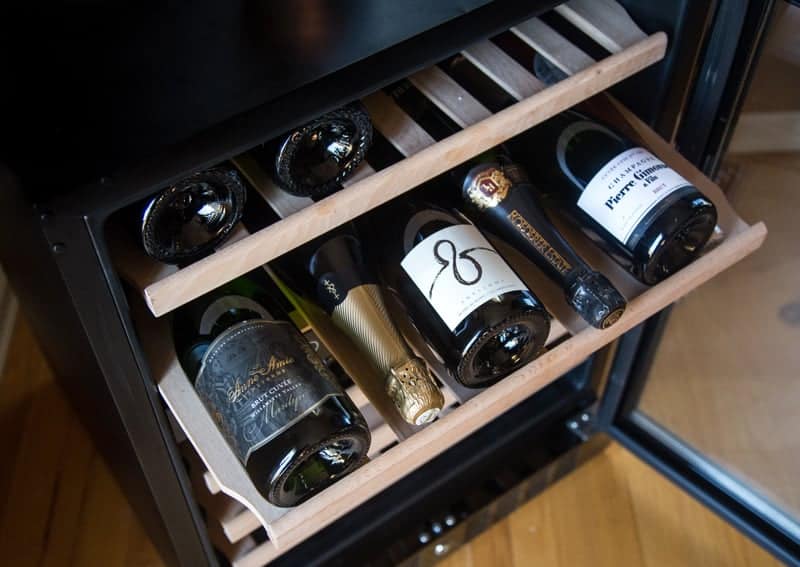 That is a HUGE deal for this sparkling wine lover! The beech wood shelves slide out smoothly so there's no fiddling (or swearing when they get stuck) when trying to get to some of the bottles tucked away in the back. It's very well made and keeps the temperature consistent, and it's very quiet. It's also pretty sweet looking!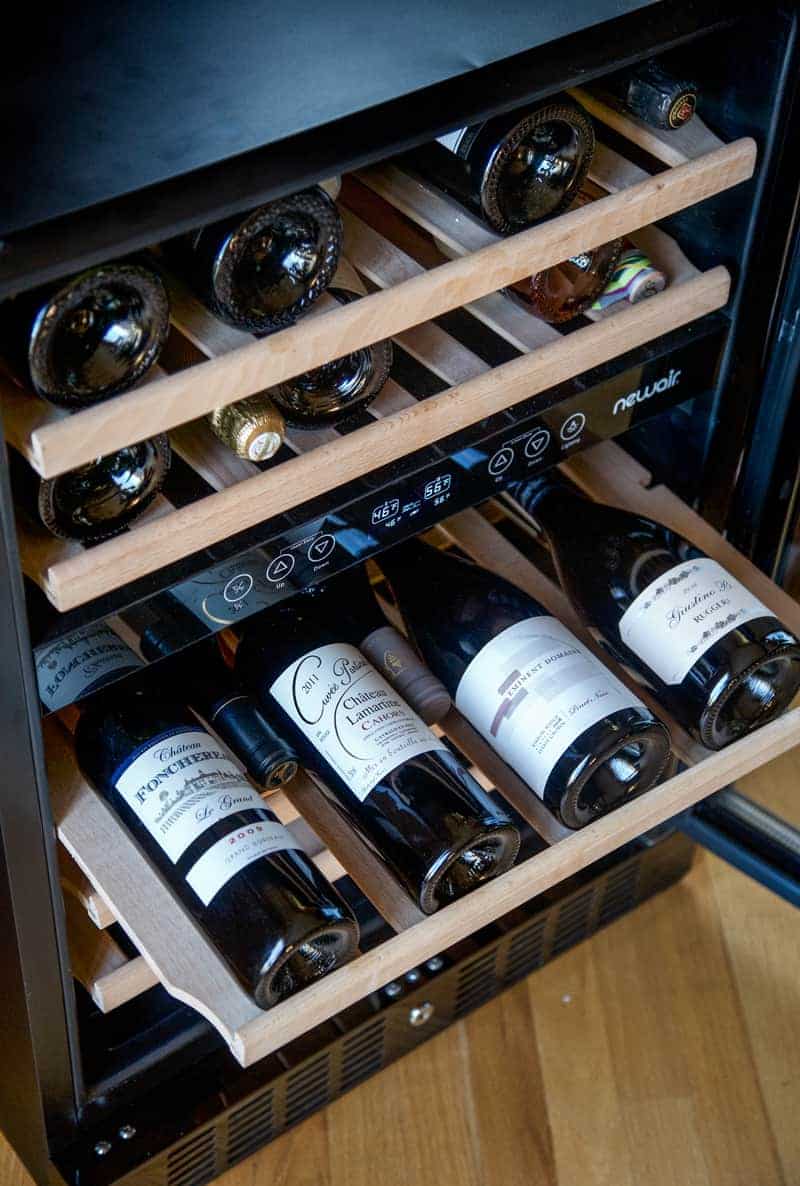 Look at these Bordeaux style bottles, Burgundy bottles, and Sparkling bottles living harmoniously together! 
Why do I need a wine fridge in the first place???
If you're starting to collect, beyond just a few bottles here or there that you plan to consume within a few weeks of purchase, and you live in an apartment or home with no basement (where you might find dark, cool, consistent temperatures with some humidity), it may be time.
If you plan to keep wines for a longer period of time (beyond a few weeks or months) keeping the storage temperature of the wine stable is very important. If temperatures fluctuate a lot between the winter months and summer, this will affect the quality of your wine. Your kitchen refrigerator is too cold for long-term storage, and your cupboards can be too warm. Remember, wines are also sensitive to light and humidity, so keeping them, say, near a window with direct light could damage the wine.
Basically, if you're spending your hard earned money on nice bottles of wine you plan to save for a length of time and enjoy with someone special, you should put equal investment in where you plan to store said wine.
If you're ready for a solid and reliable wine fridge this is a great one to check out. From someone who has had well-built ones as well as cheap flimsy ones, I can tell you it's worth it to invest in quality!
The particular fridge I have and tested — the NewAir Black Stainless Steel Wine Cooler, 46-Bottle Dual Zone, AWR-460DB-B — retails for $999. The 29-bottle version is $829. But for the holidays you can get 20% off either one with my promo code VINDULGE.  This is a pretty sweet deal, friends!!
Check it out here, and if you have any questions on wine storage or different features of wine fridges please feel free to reach out!!
---
This post was sponsored by NewAir.  As always all opinions and statements are my own. 
---
Want more? If you liked what you read you can subscribe to Vindulge and have new posts delivered directly to your inbox.