Portland Dining Month begins today, with more than 120 restaurants offering three-course dinners for $29 throughout the entire month of March. And I'm giving away 2 gift certificates so you can get in on the action!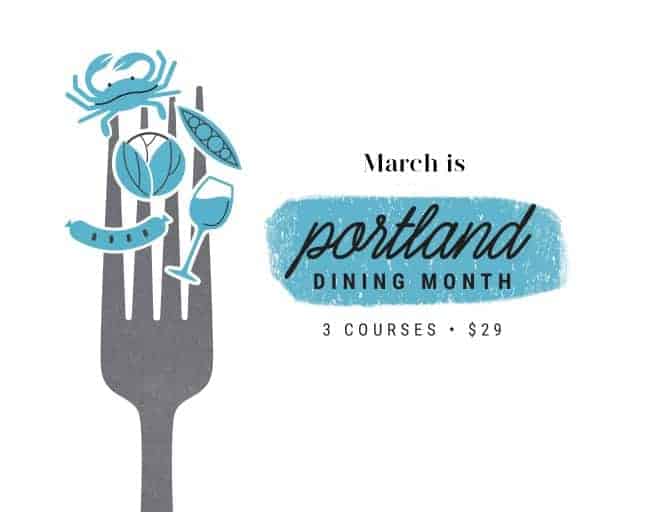 This is an incredible deal and an excellent opportunity to explore some of the restaurants on your Portland dining bucket list.
And for 2 lucky readers, I'm giving away a gift certificate to two different restaurants that have been on my own bucket list for a couple years now – Grain and Gristle and Bar Avignon. After countless recommendations by friends I still haven't made it to either. But thanks to the folks at Travel Oregon, I'll be checking out one of them this week, and you can too! Just enter the rafflecopter widget below to leave your official entry, and leave a comment with your favorite Portland restaurant on the list. Boom! That's it!
Now there are 122 restaurants participating this year. Here is just a teeny tiny preview of a few that caught my eye (including Grain and Gristle and Bar Avignon).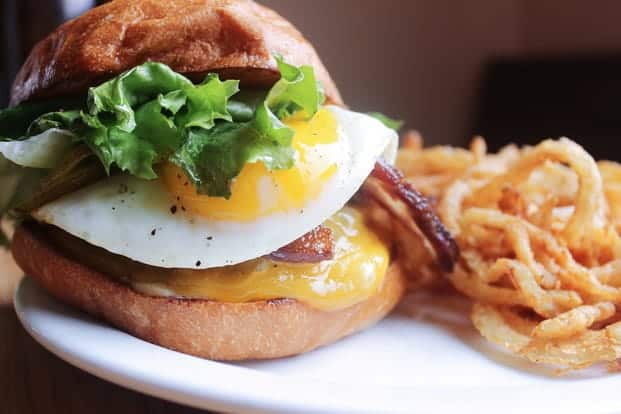 Ever since first seeing this pic of the burger at Grain and Gristle I'm haunted daily. The egg. The cheese. The crispy bacon. Gaaaah! (photo courtesy Grain and Gristle website)
Grain and Gristle
First course: Selection of house-made charcuterie with accompaniments
Second course: Roasted and raw local farm root vegetables with crisp escarole, fresh herbs and preserved lemon vinaigrette dressing
Third course: Northwest choucroute garnie with house-made smoked sausages, bacon, sauerkraut, local potatoes and apples, braised in Reisling and served in a warm terrine
Bar Avignon
First course (choose one): Roasted chicken consommé with braised leek, green apple and thyme oil -OR- Groundwork Organics lettuce with chive and herbed Dijon vinaigrette
Second course (choose one): Caramelized carrot risotto with Hopworks Urban Brewery Hard Cider, goat cheese and tarragon -OR- Rosemary glazed pork chop with potato-roasted garlic gratin, grana and rapini -OR- Roast chicken panzella with oyster mushrooms, beet, hazelnut, Manchego and sherry vinaigrette
Third course (choose one): Buttermilk panna cotta with preserved satsuma honey -OR- Warm chocolate and butterscotch blondie with cinnamon and whipped sour cream
The Country Cat
(I've never been here for dinner, just their killer breakfast, so I'm intrigued)
First course: Wild mushroom Texas toast
Second course: Peel-and-eat shrimp with Meyer lemon and avocado
Third course: Chocolate cupcake in a jar with fudgy icing
Suggested pairing: Deschutes Golden Ale, HUB Lager, Deschutes Mirror Pond
Coppia Restaurant & Wine Bar
(Always have loved this place!)
First course (choose one): Insalata with shaved fennel, blood orange, Arbequina olives, farro, shaved parmesan and a champagne and blood orange vinaigrette -OR Golden beet soufflé with tarragon crema and Belgian endive
Second course (choose one): Sweet potato gnocchi with chicory and pistachio pesto and shaved parmesan -OR- Risotto with fennel-cured pork belly, arugula, leeks and Casatica di Bufala
Third course: Dark chocolate cake with rosemary and blood orange anglaise and Chinato whipped cream -OR- Panna cotta with Arbequina olive oil, fresh berries and Pedro Ximénez sherry
Cyril's at Clay Pigeon Winery
(Get thee to Cyril's! The people are awesome, and so is the food and wine!)
First course: Chicory and citrus salad with black cerignola olives, toasted pistachios and honey citrus dressing
Second course (choose one): Sunchoke gnocchi with spring onions, purple sprouting broccoli and cheese brodo -OR- Vegan and gluten free options available
Third course: Chocolate cremeux with sea salt shortbread -OR- Vegan and gluten-free options available
Imperial
(There aren't enough nice things in the world to celebrate this place. Hearts all around!)
First course: Grilled squash salad with hazelnuts and dill vinaigrette
Second course (choose one): Braised pork shoulder with creamy polenta, chili and basil -OR- Pan-roasted cauliflower with crispy Brussels sprouts, hummus, Cara Cara oranges and harissa
Third course: Chocolate bouchon with cinnamon-roasted rhubarb and Chantilly
Kachka
(If you haven't been to Kachka yet, go. Just go!!!)
First course: Watermelon radish salad with buckwheat honey butter and buckwheat blini
Second course: Beef tongue stroganoff with egg noodles, mushrooms and cognac-Smetana sauce
Third course: Apple ponchiki donuts with lingonberry jam and thyme
St. Jack
(Another on my Portland bucket List. Can't believe I'm so late to the game!)
First course: Fried Brussels sprouts with buttermilk, anchovy and dill
Second course (choose one): Blanquette de porc with baby carrot, new potato, cognac, cream and fresh herbs -OR- Vegetarian entrée available upon request
Third course: Chocolate pot de crème with walnut liqueur Chantilly and a sugar cookie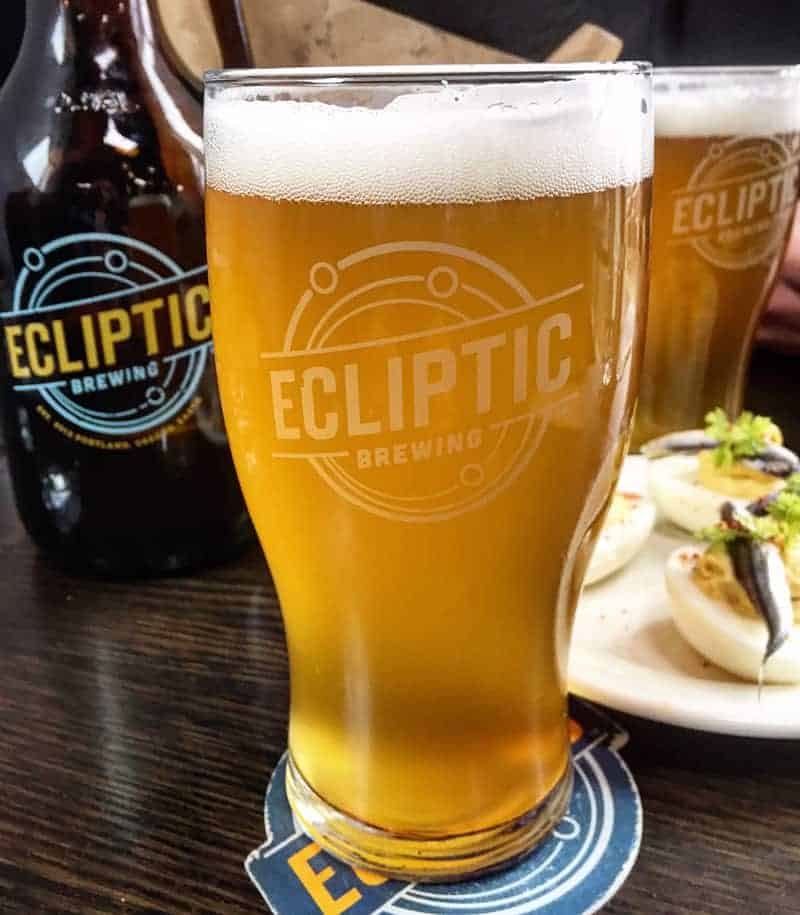 Other Favorites Include
The Heathman Restaurant and Bar
Paley's Place Bistro & Bar
Ned Ludd
Ecliptic Brewing
Little Bird
Olympia Provisions
Oso Market + Bar
Clyde Common

Now for the giveaway!
I am giving away two (2) $60 gift certificates — 1 $60 gift certificate to Grain and Gristle and 1 $60 gift certificate to Bar Avignon.   (gratuity not included)
All you need to do to enter is leave a comment with the Portland restaurant that most excites you (it doesn't need to be the restaurants in the giveaway).
There are four additional ways you can enter! That means by filling out each entry on the rafflecopter you can increase your chances of winning. Heck yeah!!
TWO winners will be chosen at random. The first winner will have his/her first pick of restaurant gift certificates. The second winner will receive the other one. 
Winners will be chosen Friday night (March 4th) at midnight and notified via email. This is a short window. I wanted to give the winners a chance to use the gift certificates to celebrate Portland Dining Month before its over. So enter now!
***UPDATE*** If you are having difficulties with the Rafflecopter widget I apologize!! Please just feel free to enter a comment in the comment section below and I will manually enter you through the widget!  Thanks again for your support. You rock 🙂
ENTER HERE
---
Disclosure: I received a gift certificate for myself and two $60 gift certificates to giveaway from Travel Portland to help promote Portland Dining Month. I'm a true believer in the awesomeness of our restaurants here, so my enthusiasm is 1,000% genuine. 
---
Be awesome and sign up to receive Vindulge posts via email.