You won't find me complaining about how much I miss Oregon this month.  At least based on reading Facebook posts from friends complaining how much rain the state has received over the last month.  Excessive rain = unhappy me.  But ask me again this summer when it is 90 degrees and 90% humidity here in New England and it's a crisp sunny 75 degrees (zero humidity) in Portland <sigh>.
However, I recently drank a wine that instantly transported me to a perfectly sunny summer day in Portland, sitting in my backyard in the sun, wearing flip flops and sunglasses, reading a book, and sipping on chilled wine.  And then I remembered that I do really miss many things about Oregon, among them a really good crisp and refreshing white wine, and gorgeous summer days (when they happen that is).
Now, Oregon wineries are of course known for Pinot Noir, but there are so many other varieties that grow very well there, many of them are white, and one in particular is Pinot Gris.  I am pretty picky when it comes to most Pinot Gris. In fact, I typically turn my head at many of them for being too sweet or boring.  But this one in particular had me saying out loud "that's what I'm talkin' 'bout" and I've been thinking about it ever since.
This particular Pinot Gris was from R. Stuart & Co., from their Big Fire label.  I recently tasted through a few of the wines from R. Stuart & Co., and the two that stood out the most were among their Big Fire line of wines.
The focus of the winemaking program at R. Stuart & Co. is Pinot Noir, Pinot Gris and a brut sparkling wine, Rosé d'Or. "Big Fire" represents their line of wines for everyday drinking; meaning you won't dent the bank account by buying a bottle and you don't need to cellar them long-term.  Buy them now, drink them now, and enjoy them any day of the week.
2010 Big Fire Pinot Gris, R. Stuart & Co.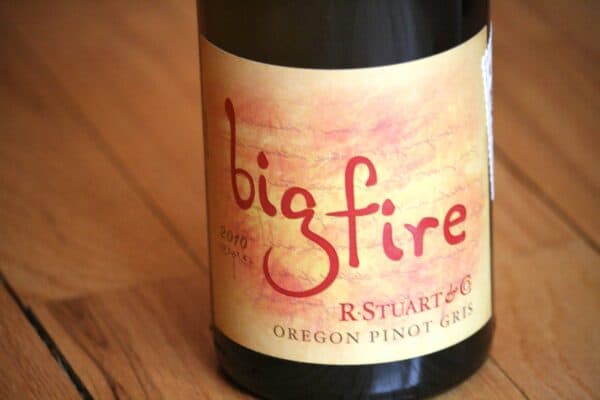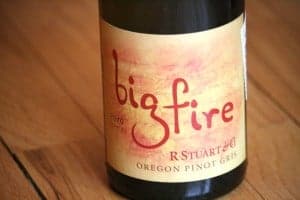 Super fragrant nose with fresh peaches, pears, crisp fuji apples, and a very light candied banana scent.  Crisp and very refreshing on the palate with loads of mouth watering acidity and fresh flavorful apples and pears.  There was a wee bit of residual sugar (1% to be precise), but just enough to make it refreshing instead of sweet, and a good match for foods on the slightly spicy side.  To me, this is what a nice everyday Oregon Pinot Gris should reflect, good fruit, good acidity, and overall refreshing in nature.  I definitely recommend this wine for your summer sipping if you can find it.  And yes, summer is coming I promise!  I can feel it!
Alcohol:  12.5%
Residual Sugar:  1%
Cases Produced:  5,600
Suggested Retail Price:  $16
2008 Big Fire Oregon Pinot Noir, R. Stuart & Co.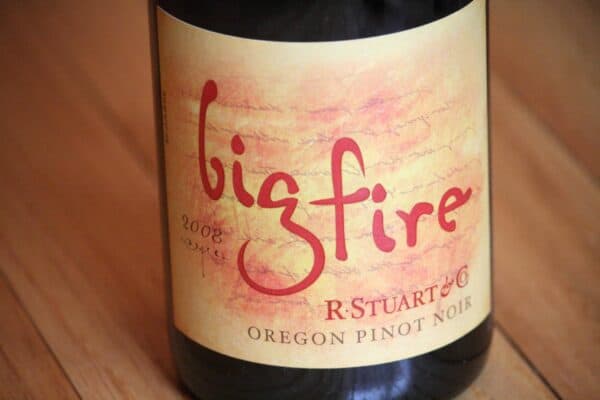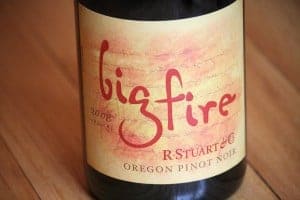 It used to be difficult to find a decent Pinot Noir for under $20, but these days winemakers are getting better and better about making a product that not only tastes good but won't send the consumer into sticker shock.  This Pinot Noir retails for $20, not too shabby for that price.
Young, bright, fresh and sweet aromas of fresh raspberries and cherries.  The body is lightweight and simple with fresh red berry fruit and vanilla.  It certainly smells like and tastes like Oregon Pinot Noir, without being very complex.  If you want a simple yet tasty Oregon flavor without a costly price tag it is worth checking out.  Very low in tannins this is definitely a drink now wine as it won't age very long.  The wine has a stelvin closure (aka screwcap), which makes it handy for picnics and parties!  Light, simple, easy drinking.
Alcohol:  13.1%
Cases Produced:  8,309
Suggested Retail:  $20
Now for my friends back in Oregon, sunnier days will soon be on their way!  And if you need a reminder how great they are, just pick up some of this Pinot Gris, put on your flip flops, and you can at least pretend it's nice out 😉
Cheers