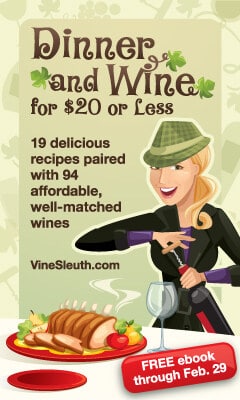 I am always on the search for quality value wines and you all know I love to cook too. So when my friend Amy, aka the VineSleuth, contacted me for help on her new ebook I jumped at the opportunity.  Amy has created a fun and savvy cookbook with recipes by cookbook author and mom blogger Erin Chase of  $5 Dinners, and wine recommendations by three contributors – including myself.
I was asked to provide wine suggestions for each recipe, with one catch – all wines must be widely available throughout the country, and all priced under $15.  As much as I love finding small production, niche wines, I had to think bigger for this project, and I think I was able to find some fun wines, at value prices, and all easily found wherever you may live.
From now until the end of February Amy is offering the ebook free to all subscribers of her blog. From her release:
 Dinner and Wine for $20 or Less is a FREE ebook for all subscribers of VineSleuth Uncorked and features 19 delicious recipes for four (or more) that can be made for $5 or less, paired with 94 affordable, well-matched wines (and even a beer or two) that all cost $15 or less.
Check out VineSleuth Uncorked and learn more about receiving your free copy of this ebook, with wine recommendations by yours truly.  Who knows, if you subscribe today you may even receive your copy just in time for Valentine's Day!
Cheers