A few years ago a good friend gave my hubby and I a gift pack that included several locally made olive oils and vinegars for Christmas. When we opened it she mentioned she gave several other friends and family members the same pack and joked that we would probably be the only ones to actually use them. I emailed her recently to see if anyone, in fact, ever used them. "I'm pretty sure you guys are the only ones," she responded.
Why is it, I wondered, that someone wouldn't get good use out of such a cool gift, a perishable gift? Is it because they didn't know how to use it (for cooking? salads? other?)? They didn't know it actually has an expiration date? They wanted to hold off for a "special" occasion to use it?
My hunch was it's a bit of everything. Meanwhile, unbeknownst to the recipient of this cool gift, that perishable item has now gone bad and they never knew just how delicious it could be and how easily it could enhance a simple meal.
I love food gifts, but even I was unaware that olive oils actually have a short shelf life. That was until I learned first hand by olive oil producers I visited in Italy. I was reminded of this lesson recently at an olive oil themed dinner I was lucky enough to attend at Red Ridge Farms.
Red Ridge
Located in Dayton, Oregon, Red Ridge is described as a "Destination For the Senses". That is a great description for this stunning property, home to not just vineyards, a winery and a tasting room, but also an olive mill, a lavender farm, a nursery (for plants and herbs), a cottage, and private event space, all with breathtaking views of Mt. Hood. The place, owned by the Durant Family, is phenomenal and quite a place to experience for all it has to offer.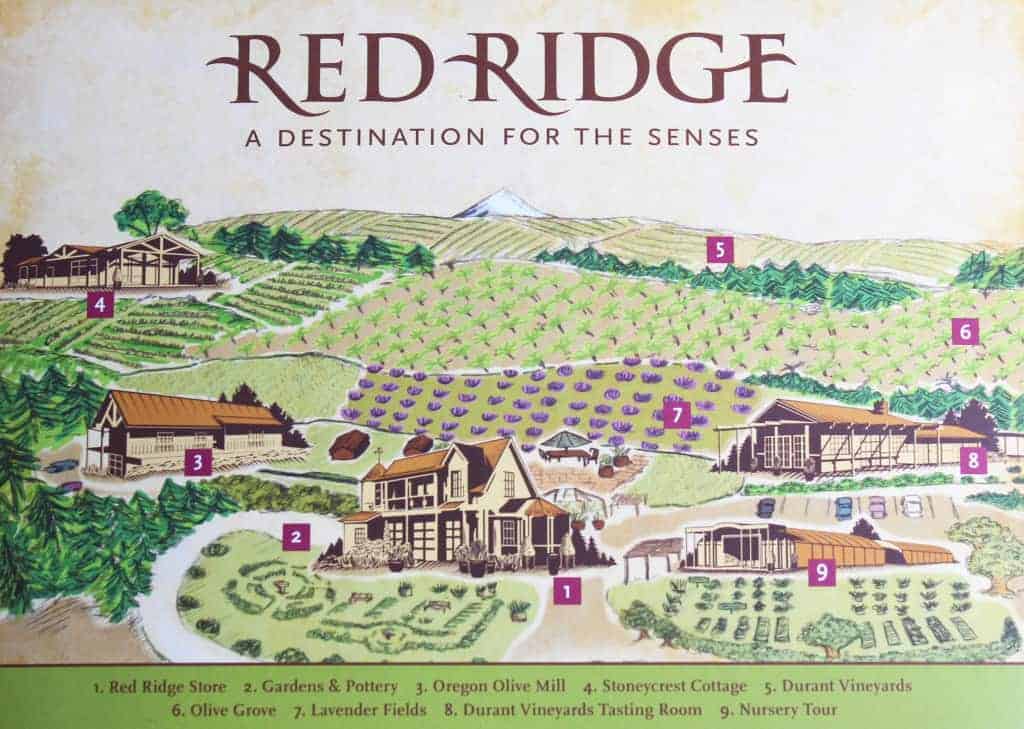 I was there a few weeks ago for their annual harvest dinner — five courses prepared by famed Portland chef, Vitaly Paley, and Patrick McKee, executive chef to the one and only Paley's Place. Each dish was created to highlight one of the Durant Family's three unique olive oils, and each dish was pared with one of the Durant Family's wines.
I've been to many cool themed wine dinners before, but never one focusing specifically on olive oil. I was in for quite a treat and left with inspiring ideas for using olive oils besides the typical salad.
We were greeted by the most beautiful afternoon I could have wished for with crisp air, clear skies, and stunning views of Mt. Hood in the distance (though my camera couldn't pick up those white peaks).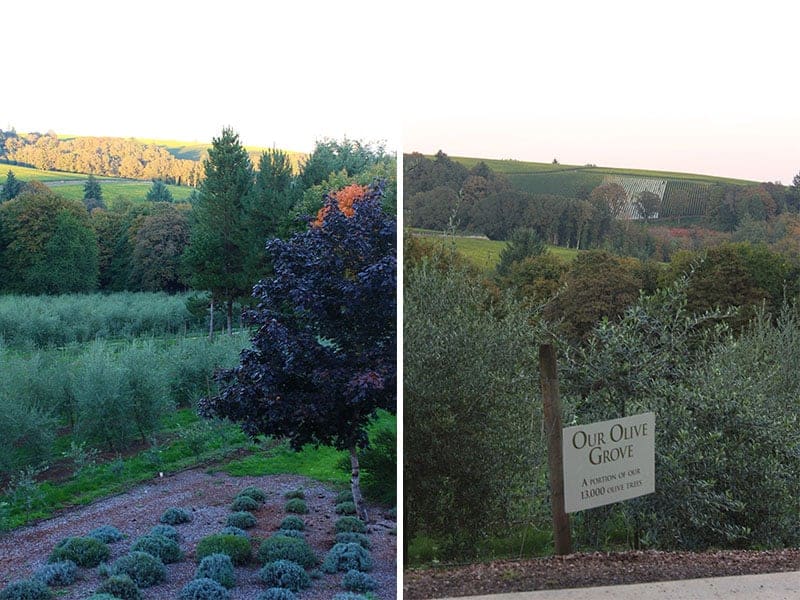 As we waited for dinner to begin we snacked on three delicious and beautifully presented Hors d'Oeuvres.
Grilled Flatbreads with House Mozzarella and Herbed White Bean Puree, featuring Oregon Olive Mill Arbequina Extra Virgin Olive Oil
Chilled Melon Soup with Crispty Speck, featuring Oregon Olive Mill Tuscan Extra Virgin Olive Oil
Clams Casino, featuring Koroneiki Extra Virgin Olive Oil
I have to admit, I was a sucker for the flatbreads with white bean puree and have tried to recreate it at home twice since the dinner. It's a simple dish to make, but that light drizzle of the Arbequina Extra Virgin Olive Oil adds the perfect elegant flavor to make this dish really pop.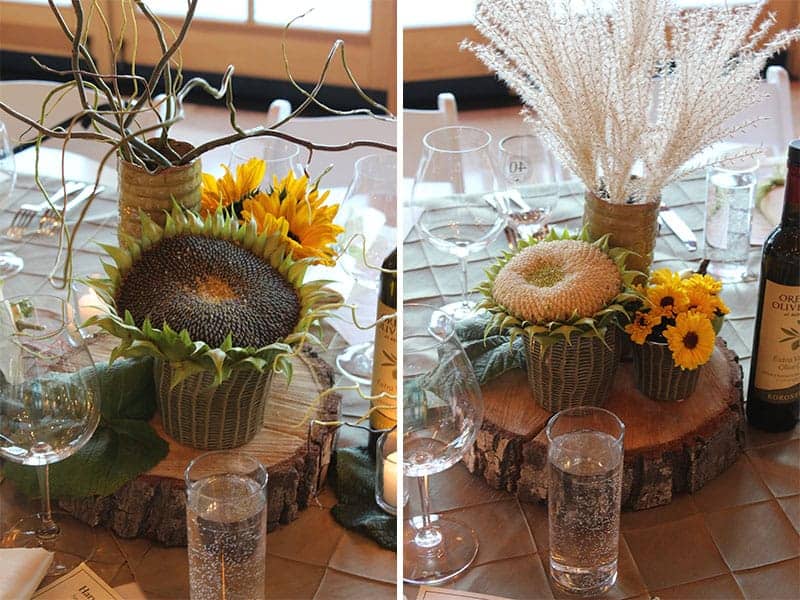 We then moved into the dining room, with the most beautiful, yet rustic and creative centerpieces, where I took my seat next to the cozy and warm fireplace. I was also lucky to have been seated just across from Ken Durant – Founder and co-owner of Red Ridge Farms. Well, lucky for me anyway as I was able to talk poor Ken's ear off all night with my many questions on his 40 year history as a viticulturist in the area, to transitioning to making wine (beginning in 2003), to the family's most recent venture into making olive oils (they've only been making the olive oils for about 5 years now, but the results are stunning).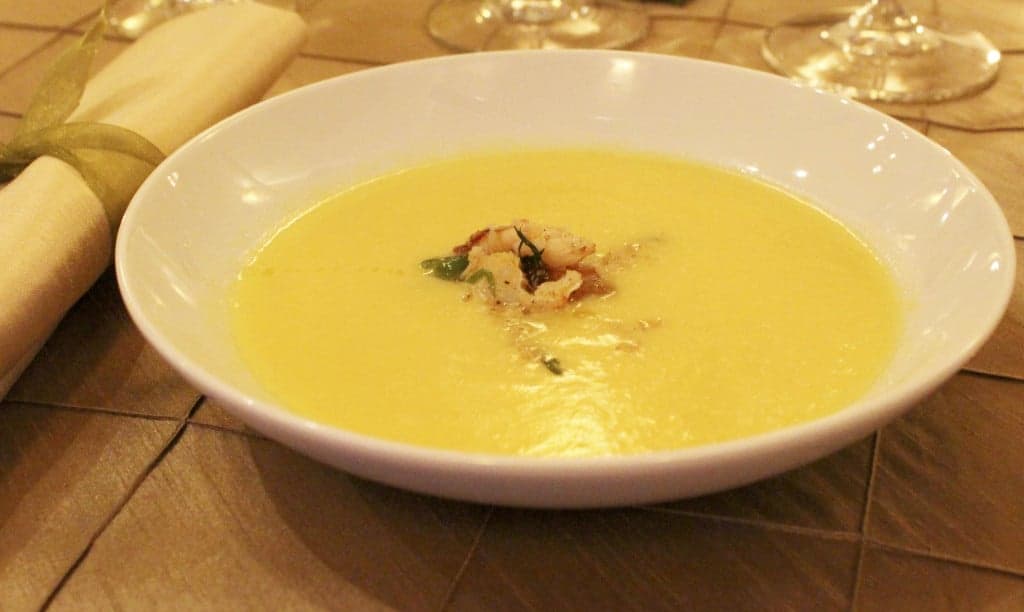 We began with a Creamy Corn Bisque with Bacon and Dungeness Crab Salad, featuring Oregon Olive Mill Tuscan Extra Virgin Olive Oil. The dish was paired with the crisp and bright 2011 Durant Vineyards Raven Chardonnay, a fresh approach to Chardonnay with very little oak interaction. When describing how he came up with the dish Chef Patrick McKee simply stated, "Fresh corn, cream, bacon, butter, crab? It's a no brainer." What's not to love about that?! He chose the Tuscan olive oil to drizzle over the top explaining that the fatty nature of the oil cuts through the cream. I would add that the crisp wine also worked well to cut through the rich soup and refresh the palate.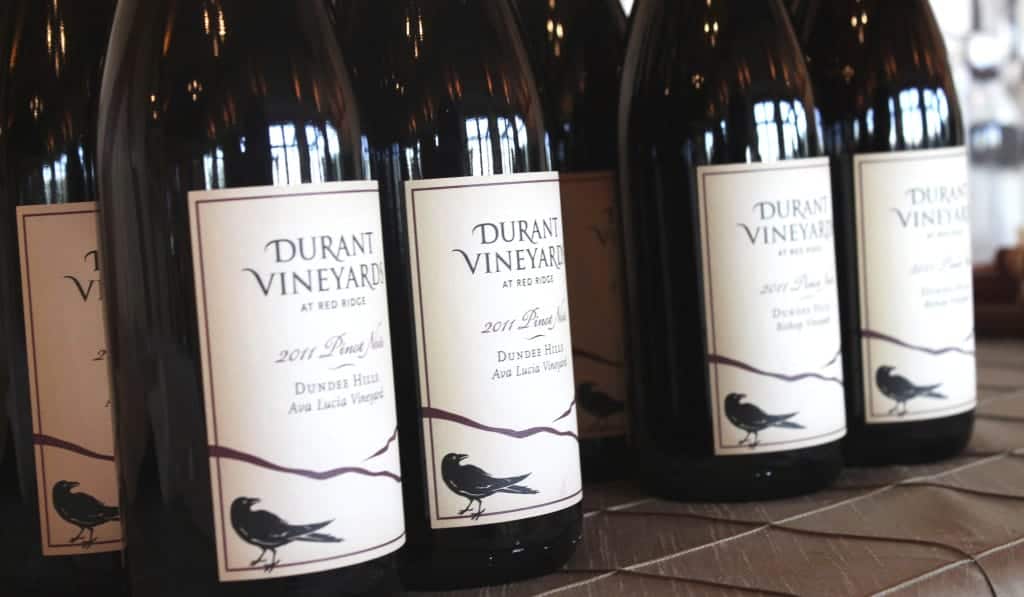 One of the most interesting facts I found out in talking to Ken is that they focus primarily on single vineyard designated Pinot Noirs in their wine production, and that they have six different winemakers. I asked him why they need so many winemakers when their wine production isn't that large (for example, there was only 315 cases of the Ava Lucia Pinot Noir produced). Ken explained that they believe each vineyard site expresses its own unique characteristics and they seek to find winemakers based on how well he or she can bring out the features of each site.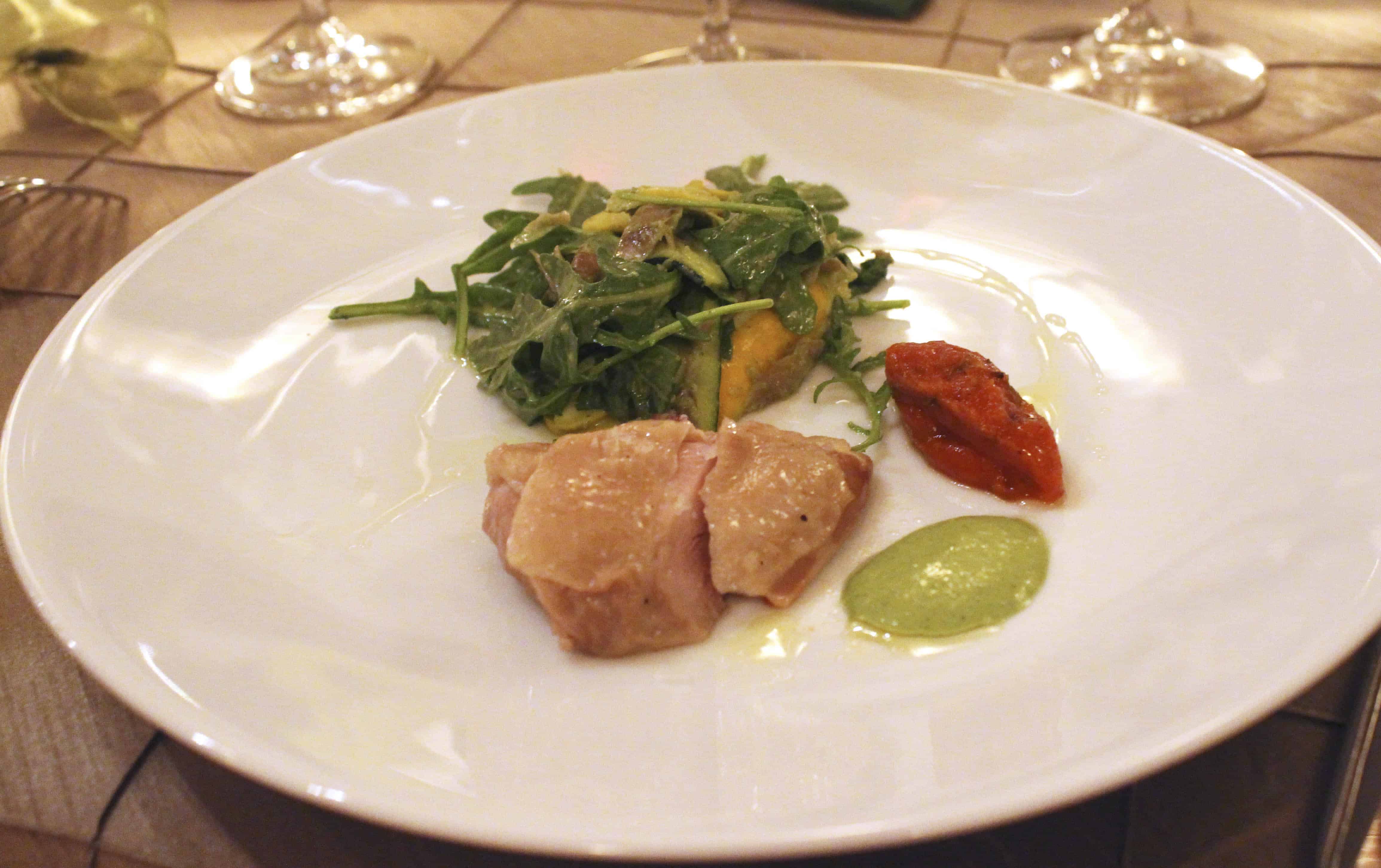 Speaking of the Ava Lucia Pinot Noir, it was paired with a Confit of Game Hen, Smoky Tomato Jam, Shaved Mushroom and Late Summer Squash Salad, Green Goddess Dressing, featuring Oregon Olive Mill Arbequina Extra Virgin Olive Oil. I was, and still am, blown away by the creative smoky tomato jam. After dinner I couldn't wait to ask the chefs about that unique accompiniment. Chef McKee happily shared the secret to his smoky tomato jam and you bet I'll be experimenting with it here at home on our smoker. I promise to report back with my results. I've already made it once since and can't wait to find some creative uses for it.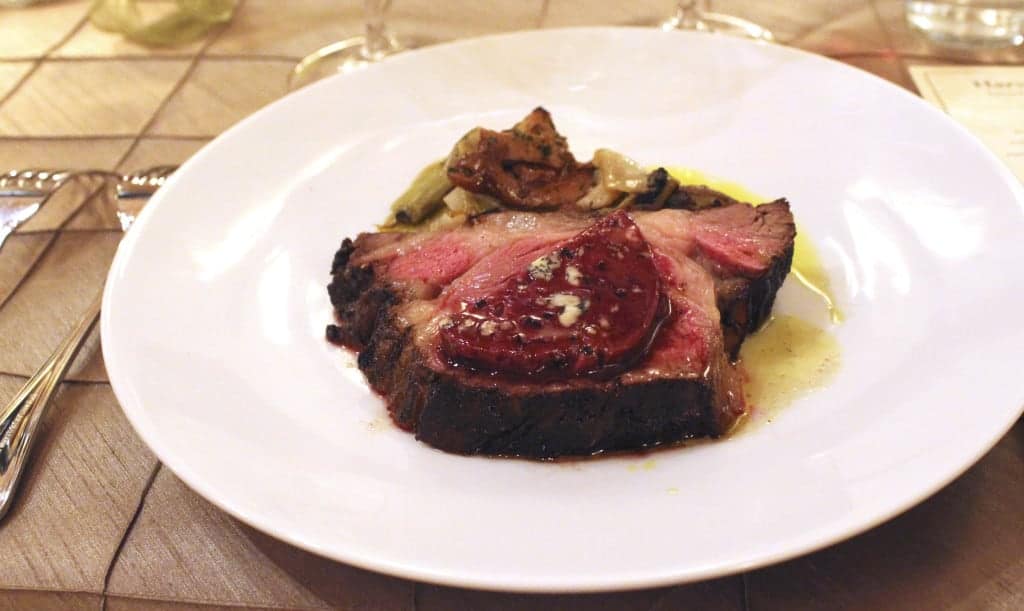 We then moved onto the fourth course — Barrel Stave Roasted Dry Aged Ribeye, Charred Leeks & Potatoes, Red-Wine Blue Cheese Butter, featuring Oregon Olive Mill Koroneiki Extra Virgin Olive Oil, paired with the 2011 Durant Vineyards Bishop Pinot Noir.
Oh. My. Goodness.
Chef McKee told me he was inspired by a steak they make at Imperial, one of Vitaly Paley's other Portland Restaurants. Now, I'm not typically one to go goo-goo over steak, but this was right up there with one of the most memorable steak dish's I've ever had. It was perfectly charred on the outside and perfectly medium on the inside, topped with a flavor packed indulgent red wine blue cheese butter that slowly melted and infused into the steak. And for those of you who think you shouldn't pair a wine as light and delicate as Pinot Noir with a steak, I dare you to try this pairing. It rocked. The wine was fuller bodied with deep and rich earthy flavors and just enough tannins for that steak.
And just in case we were still hungry, we were presented with this for dessert.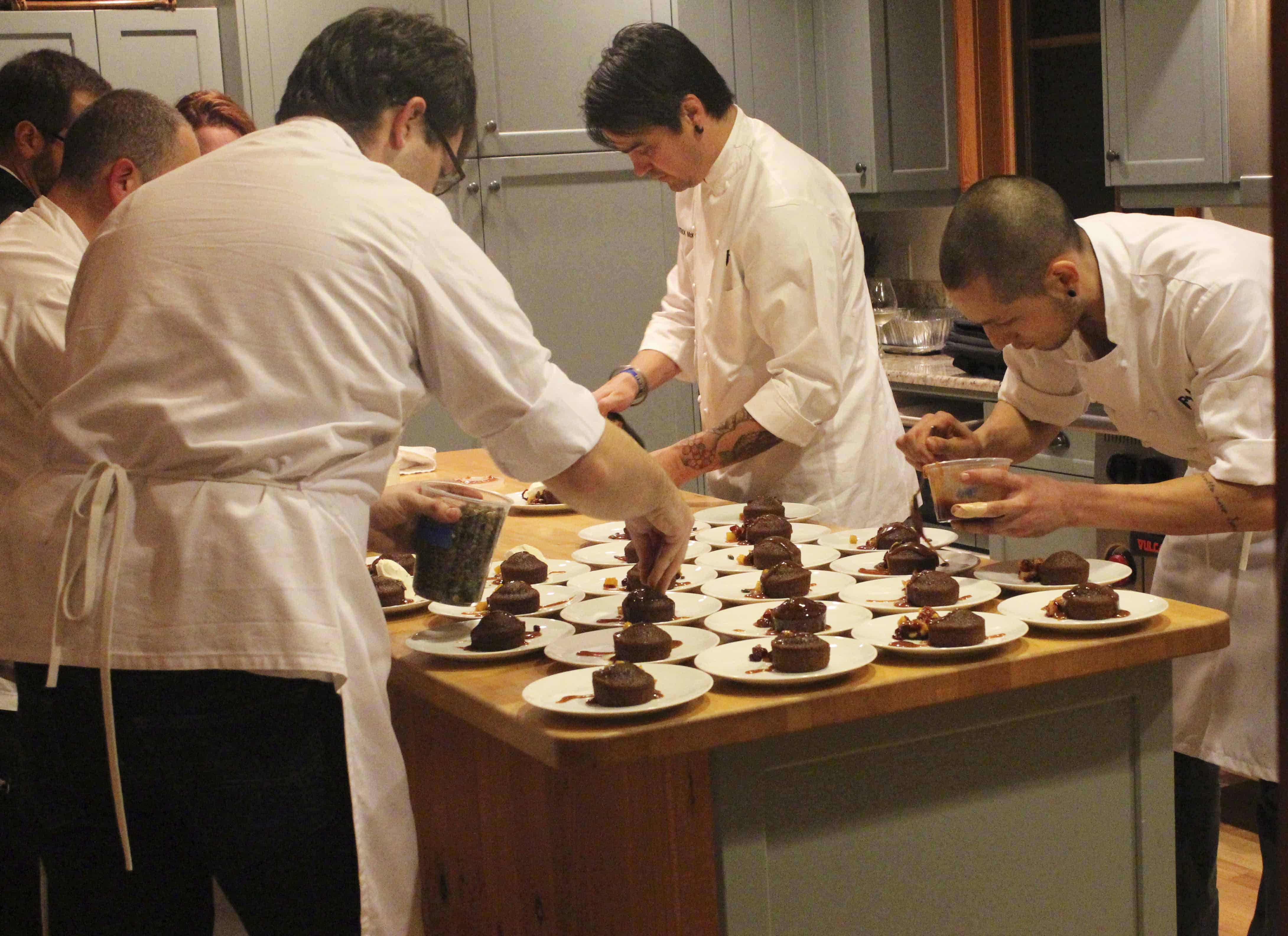 It takes a village to make a dish as decadent as this Spiced Gingerbread with Olive Oil Roasted Autumn Fruits and Toasted Pumpkin Seeds.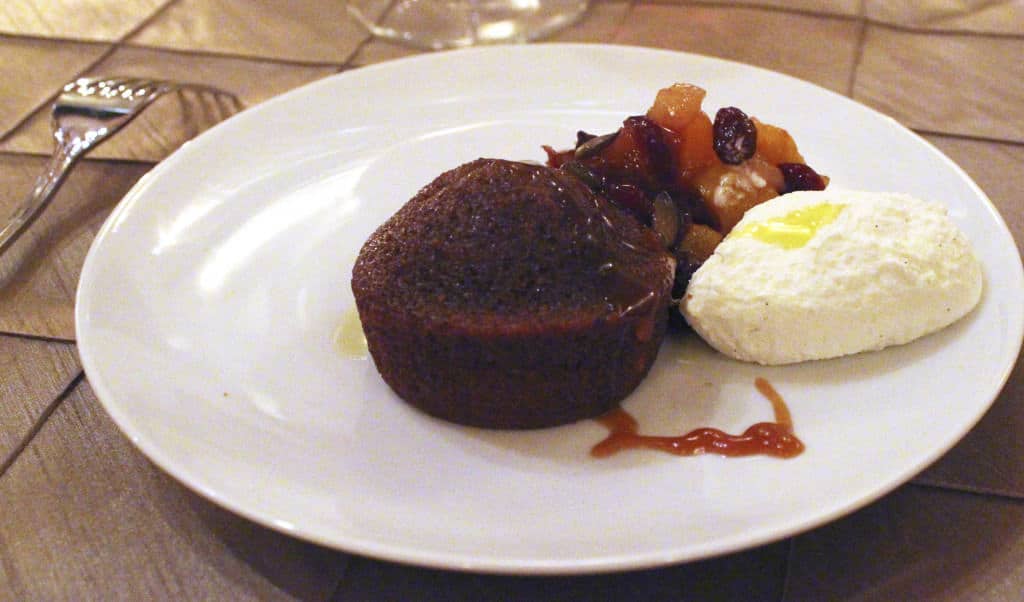 Let's just say I had no problem cleaning that plate to the very last crumb.
I was not only impressed by Vitaly Paley and Patrick McKee's creative dishes, but also how versatile the Durant family's olive oils are. It has encouraged me to be more creative at home with my (small but growing) olive oil collection. And I encourage you to experiment too. Don't just limit them to using as cooking oil, or making salad dressings. Top your soup (whether it's a creamy soup, lentil soup, or even chilled soup) with a drizzle of fresh olive oil. Drizzle a touch on grilled or oven-roasted meats. Pour some over homemade hummus or other pureed dips. Drizzle some over your homemade pizza when it comes out of the oven. Try it on dessert, like the example above! The ideas are endless.
The fresher the better. I'm told that good olive oil has less than a one-year shelf life! Good olive oils will often have the date bottled on the label. Try to consume your oil within that year for ideal flavor.
Finally, if you want to know how good fresh olive oil tastes, and I mean so fresh it was just pressed, check out the Duran't Family's 5th Annual Olio Nuovo Festa. This event, coming up on November 22nd-24th, is FREE and open to the public. This is your chance to taste freshly milled olive oils and learn about their many uses. Ken mentioned that this event gets busy, I can see why. I am going to do my best to be there and taste these freshly pressed olive oils. I hope to see you there too!
Special thanks to the Durant Family for your warm hospitality and to Vitaly Paley and Patrick McKee for such a memorable meal.
*****
Want more? If you liked what you read you can subscribe to Vindulge and have new posts delivered directly to your inbox.