Let the "official" grilling season begin!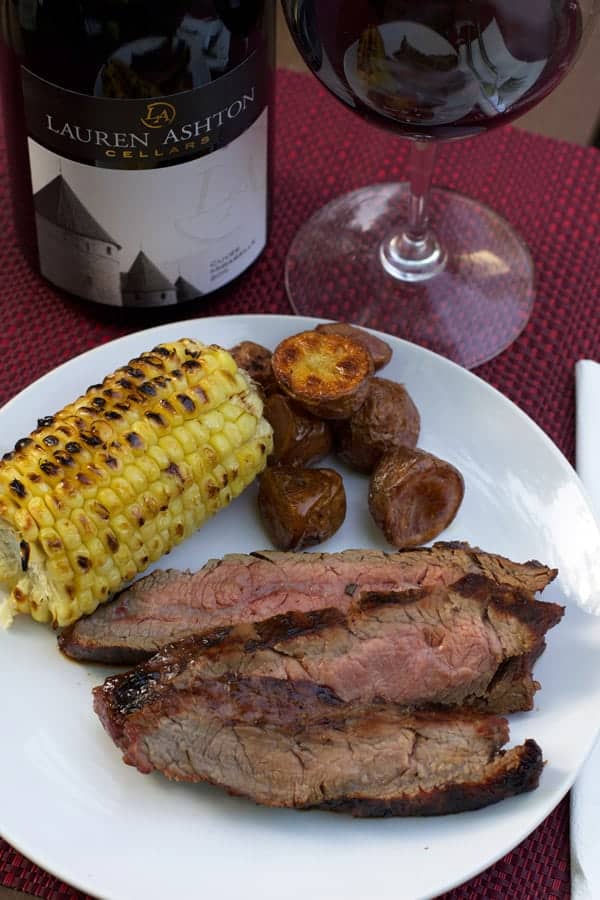 Last week during unending sunshine and near perfect weather we decided to revitalize an old favorite — Grilled Flank Steak Marinated in Rosemary and Soy. This is a recipe we created while on vacation several years ago in Hawaii. We grilled on the beach while watching the sunset with friends. Seriously, what could be better than that (besides adding a freshly made Mai Tai to the mix)? Since I won't be going to Hawaii anytime soon (except in my dreams), we decided to recreate the meal on a warm spring afternoon. Only this time we skipped the sandwiches, and instead of Mai Tais we drank an incredible red blend from Washington.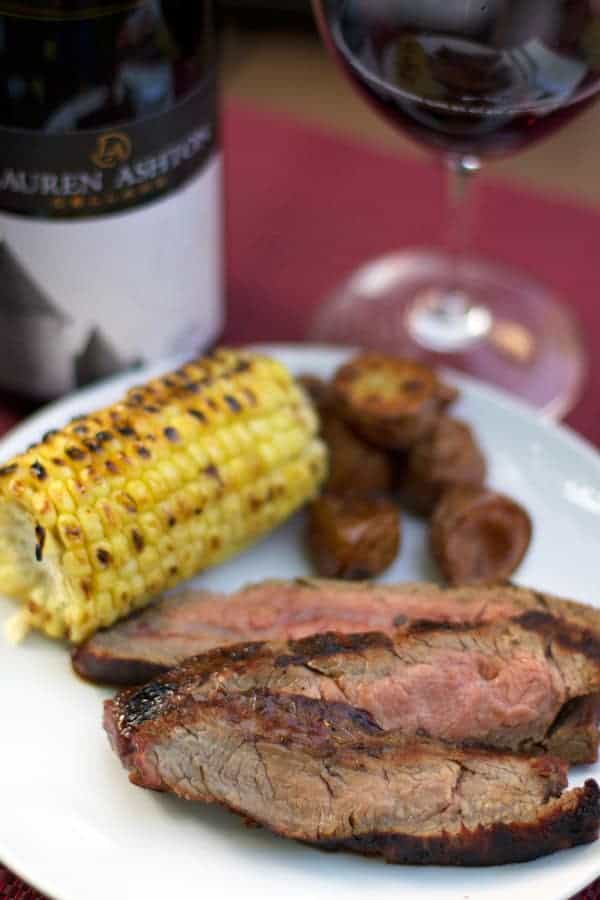 It's also Memorial Day Weekend coming up (wahooo!), which for most people around here means the official kick off to grilling season. This steak so happens to be ridiculously easy, yet tastes incredible, and yields a healthy portion for four, making it perfect for any Memorial Day BBQs you may be planning for a crowd. Unless you're a vegetarian that is. And if that's the case I dare you to try the marinade with tofu and report back to me.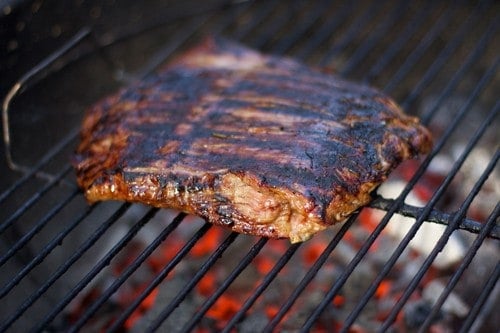 Make your dollar stretch even further by serving thin slices of the steak on a small ciabatta roll like we did in the original recipe we posted a couple years ago.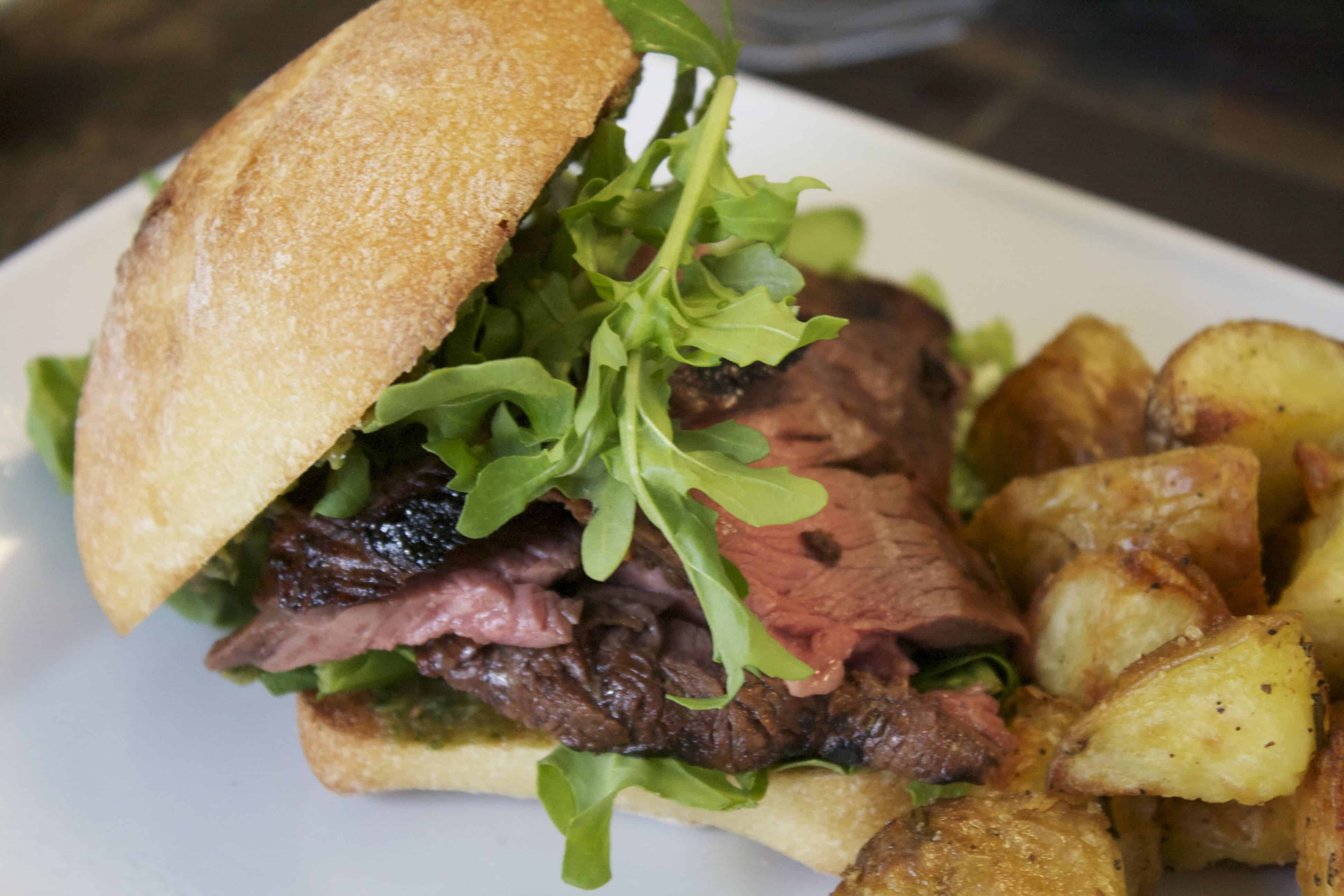 Serve it alongside a delicious red blend from Washington State, and you've got the perfect Memorial Day dish.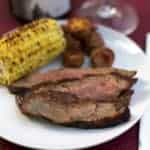 Rosemary and Soy Marinated Grilled Flank Steak
Ingredients
1

2-lb flank steak

Salt and pepper
Marinade
¼

cup

soy sauce

¼

cup

Worcestershire sauce

1

clove

of garlic

smashed and diced

½

tablespoon

fresh graded ginger

½

tablespoon

rosemary

finely diced

¼

teaspoon

fresh ground pepper

a few turns of the grinder
Instructions
Rinse the meat and pat dry.

In a large freezer bag add all the marinade ingredients and shake, combining it all together.

Add the meat to the bag, zip it, and try to avoid excess air.

Put freezer bag into the refrigerator for a couple of hours (up to six) and occasionally shake it up, making sure the marinade is being evenly distributed to the meat.

Warm up grill to medium high heat and remove meat from baggie.

Sprinkle the meat with salt and pepper on both sides.

Grill over direct heat for approximately five minutes on each side for a medium rare steak, but adjust time based on your desired doneness.

Remove from grill and let sit for up to 20 minutes letting juices settle.

Slice across the grain in thin slices and serve with your favorite sides (we did grilled corn and roasted potatoes).
Recipe Notes
Have leftovers? Layer up a few ciabatta rolls with pesto, arugula, and thin slices of the flank steak.
WINE PAIRING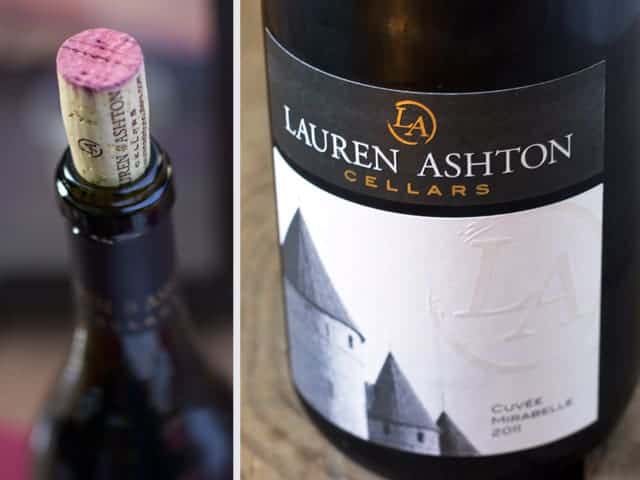 2011 Lauren Ashton Cellars, Cuvée Mirabelle
Columbia Valley, Washington
Grapes: Grenache (55%), Syrah (40%), and Mourvedre (5%)
14.5% abv  |  $50 (media sample)
I met winemaker Kit Singh of Lauren Ashton Cellars just a couple months ago at Taste Washington.  I was initially fascinated how this dentist turned winemaker became interested in making wine in Washington's Columbia Valley.  I also secretly wanted his dental advice on avoiding stains on my teeth from drinking red wine.
But by the time I started tasting his wines I was so enthralled by how great they all were, and in barely his 3rd vintage of winemaking, that I completely forgot to get my free dental advice (damn!).  This particular wine was among my favorites, and I was thrilled to receive a sample of it a few weeks ago so that I could give it the proper respect… by cooking up an excellent meal to pair with this Rhone style blend.
When I first smelled this wine I knew it begged for grilled red meat. Freshly ground pepper aromas jump from the glass, along with richly integrated dark cherry and blackberries. Some tannins hit you right away, but they smooth out after the wine has been opened a bit.  They are also balanced with the savory meat.  Speaking of savory, this wine has an intriguing mouth-watering savoriness that provided such a great compliment to the soy, Worchester, and herbal rosemary flavors from the marinade.  Overall the wine is dark, smoky, and savory with lots of balance and finesse, and a fantastic pairing for this steak.  Loved it!
If you can't find this wine, and honestly it will be hard to find outside Washington with such a limited production, seek out a GSM (Grenache, Syrah, Mourvedre) blend, ideally from WA or other Rhone style wines.
Have a fantastic Memorial Day everyone!
What's on the menu for you this weekend?
*****
Want more barbecue recipes and tips? Check out the recipe index on the blog for recipes and wine pairing ideas.